Toyota Supra GTS – "You can never have enough power" is a mantra often heard in car enthusiast circles and obviously, the words rang true at Toyota Head Office with their BMW-powered Supra.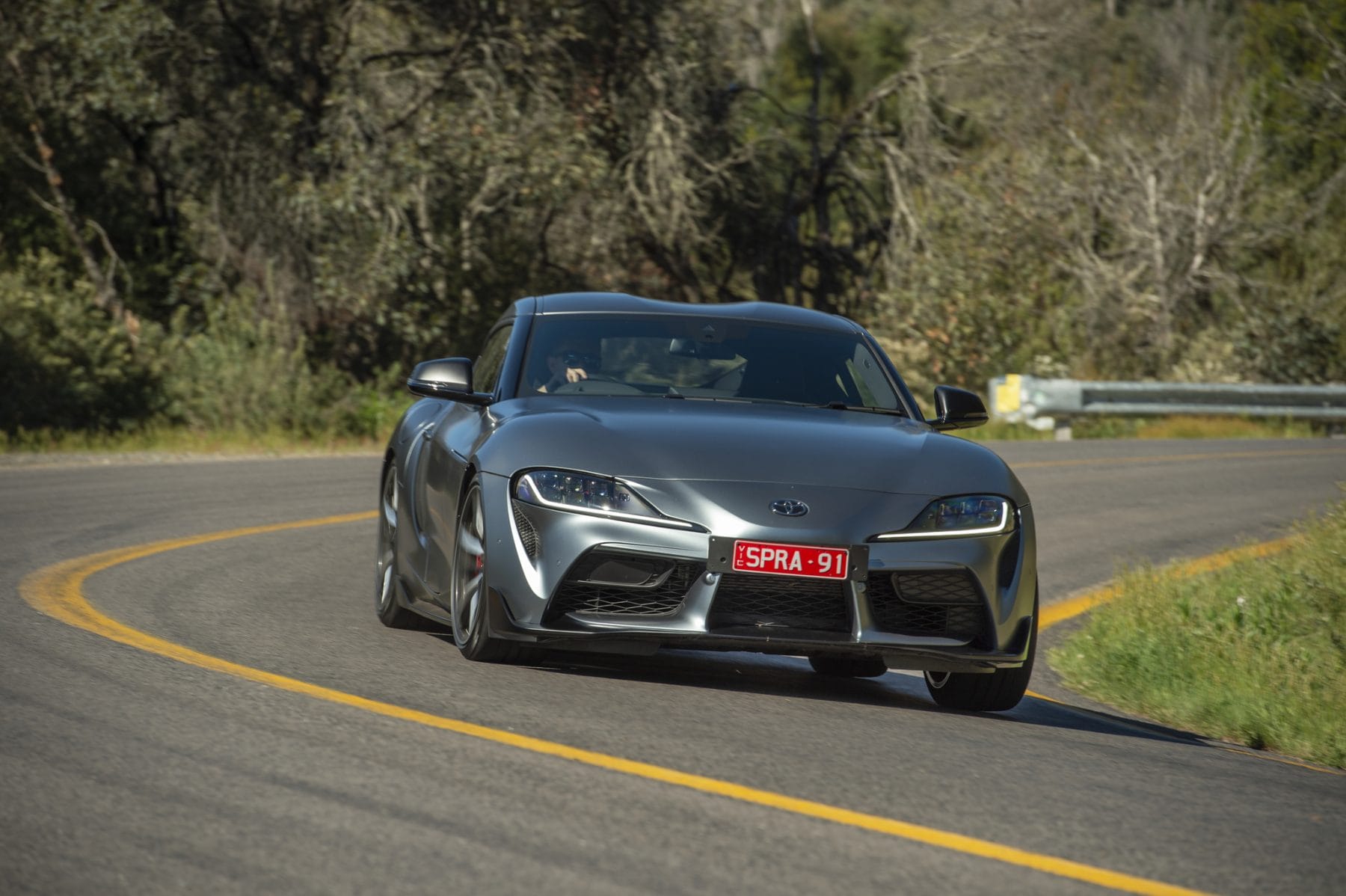 The curvaceous two seater sports coupe arrived in 2019 with, shock, horror less power than the donor BMW but that changed pretty smartly after Toyota no doubt copped heavy flack for the power deficit.
Why LESS power?
Would have been the question they were being asked.
That has been answered with a resounding "Yes we can " following the appearance of a revised Supra now with the full measure of BMW power rated at 285kW and 500Nm from the single turbo, 3.0-litre straight six cylinder engine and it's a  single scroll turbo by the way. That's 35kW more than before.
Not only that but the silky smooth running donk's compression ratio has dropped a notch or two with the power increase, no doubt to accommodate a boost increase from the turbo.
And boy oh boy does it make a difference.
The latest GR Supra is a wild animal when you push the right pedal spinning up the fat rear tyres in first, second and third under brute force and despite traction control.
It doesn't spin 'em up very long as you can't have a production car with hoon characteristics now can you?
As seen racing on the track a few weeks ago, the latest Supra is competitive against much more powerful and expensive cars… so-called "exotics" from Europe.
Of course, it has a lot to do with the driver but the Supra showed it has the capability to run with the wolves and beat many of them. Quite shocking actually, especially when you look at relative prices.
With the power upgrade came some ad-hoc looking under bonnet bracing for more chassis rigidity and theoretically better handling, and some other minor tweaks I couldn't identify.
It looks somewhat intimidating on the street and totally lives up to the reputation Supra has earned over decades as a fast and competent sports coupe.
The price is $97,126.00 for the top of the line GTS driven… a bargain when you compare it with even the BMW upon which it's based… and other Euro sports cars that cost hundreds of thousands more.  WTF.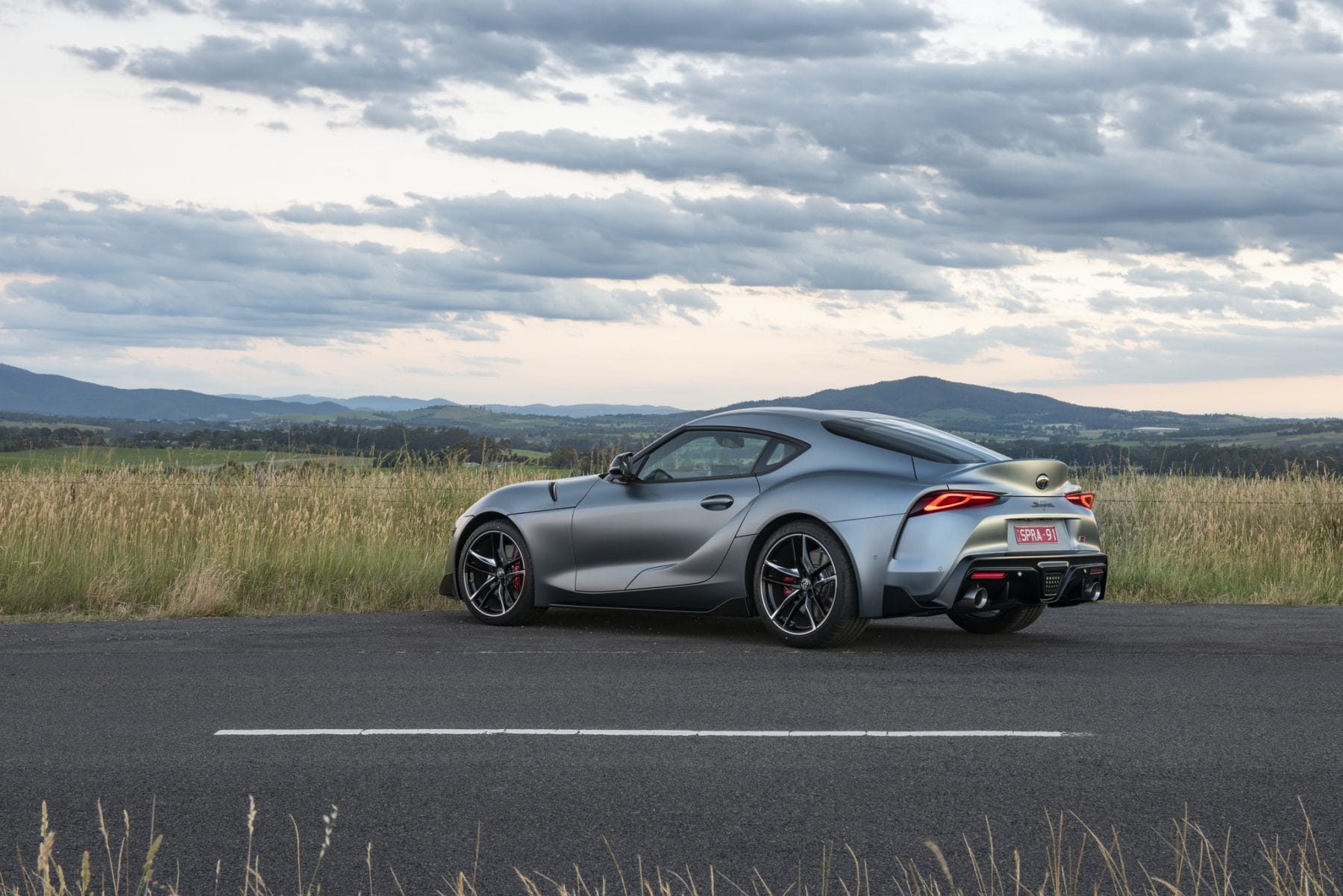 Supra GTS Exterior
It's a mean looking beast from all angles with a combination of curves and angles complementing those hugely pumped out guards. The clam-shell bonnet is a party starter opening to reveal a crammed engine bay and other entrails for this rear wheel drive super sports coupe.
The proboscis bonnet is completely in keeping with a dished out roof adding emphasis to the front air intakes and grille aperture.
Small side windows impart a stealth look to the profile which is accentuated by Supra's massive rear haunches that end in a curt, upturned and integrated boot lid/wing.
I really like the way Toyota integrated brake air scoops into the front and side of the car even though they are faux.
It sits low and lithe on big black 19-inch forged alloys with wider rubber at the rear for more grip.
At the rear a wide black applique houses twin wide spaced exhaust tips and an F1 style centre reversing LED cluster.
On top of that are perhaps the only jarring note in Supra's styling, the droopy tail light edges that look like an old Maserati. Plenty of aluminium used in those panels too.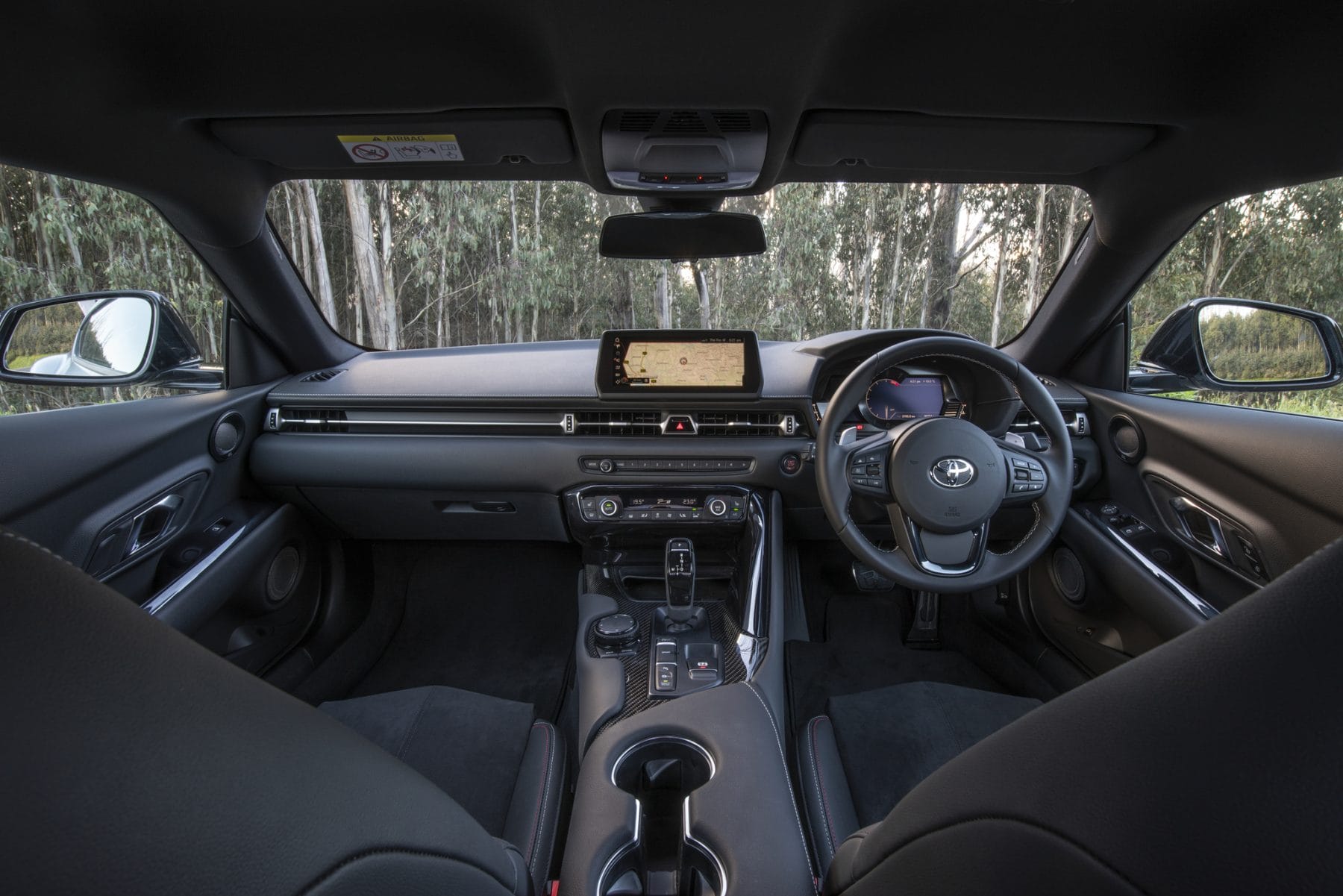 Supra GTS Interior
Inside is compact and functional with luxury car fittings and fixtures including two leather/suede clad sports seats with electric adjustment.
The low roofline compromises access for larger drivers a tad but the low mounted seats balance that out somewhat.
There's a chunky multi-function wheel in front of the driver backed by a comprehensive digital instrument cluster. A large control dial in the centre console looks after the infotainment and car function selection, all displayed on a wide dash mounted screen.
It's a conventional style interior in a dark grey tone with some metallic and carbon fibre highlights along with suede touch points.
Premium audio is welcome as are the switchable advanced driver assist features and launch control.
Adequate room for luggage is provided down the back and a number of storage compartments dot the cabin.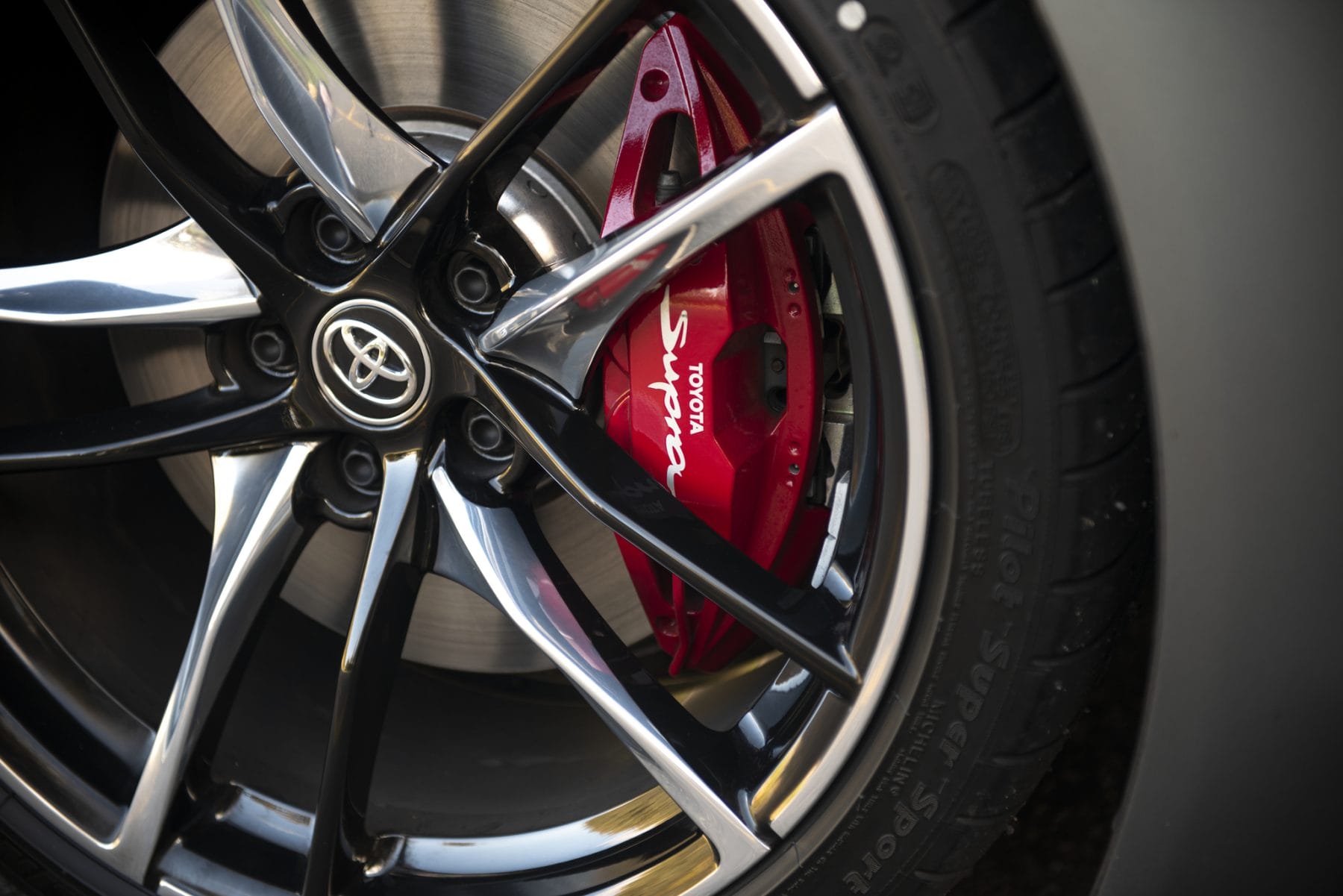 Supra GTS Features
You get comparatively spoiled for the money with:
Dual zone climate control
12 speaker JBL audio
Smart entry and start
Alloy pedals
Adaptive suspension
Toyota Safety Sense system
Limited slip differential
8-speed auto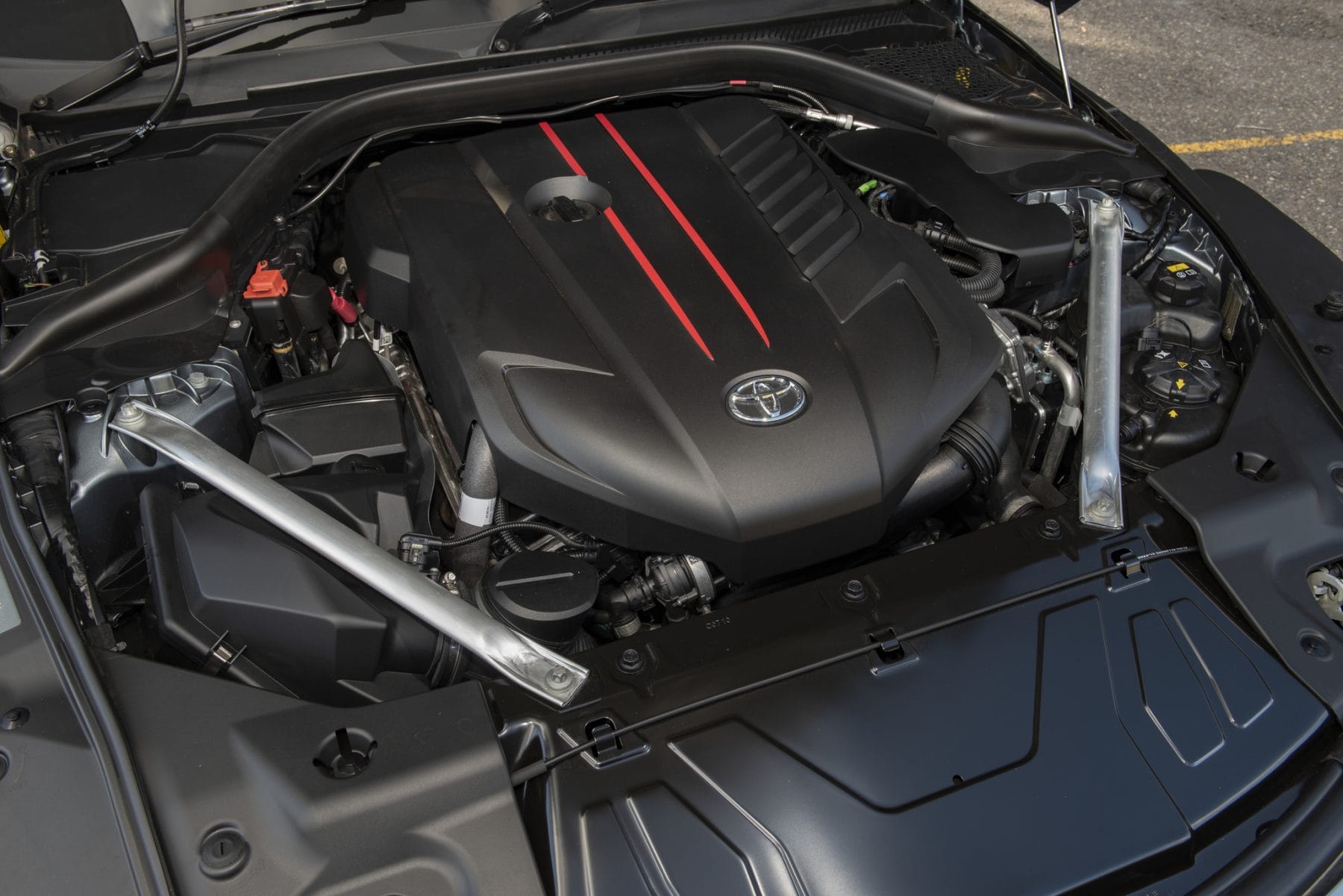 Supra GTS Drive and Engine
Wow, goes like a missile.  I watched one at Wakefield Park race track south of Sydney where it was rounding up a selection of BMW M cars and AMG Benzs both of which cost tens of thousands more.
On road performance is at a supercar level with brutal acceleration available at will. It is delivered like an electric motor… smooth and sharp with no lag to speak of which is surprising given the single turbo set-up.
The 8-speed auto is perfectly suited to Supra's power delivery and contributes to its linear acceleration.
Coupled with this is fuel economy that can be as low as 7.7-litrtes/100km.
The auto is sharp and slick and offers paddle shift in normal or sports modes along with a launch control function.
Using this, Supra can almost dip into the 3 second bracket for a 400 metre sprint.
This is accompanied by a stirring howl from the six pot power plant.
Combined with 50/50 weight distribution, they used a quick steering rack with 2.1 turns lock to lock giving Supra kart-like responses.
And the big brakes match the whole package in terms of stopping ability and resistance to fade.
Adaptive suspension gives the best of both worlds – comfort and control but you can dial in Supra for near track level responses to its dynamics.
It's a gratifying car to drive at any speed and attracts looks like you wouldn't believe.
A "nasty" exhaust mode would be an improvement many owners would welcome.
Supra GTS Safety
Not rated by ANCAP but has a full suite of active and passive safety features along with Toyota Safety Sense advanced driver assistance systems.
What is good?

What is not so good?

Stunning looks
Stunning performance
Incredible value compared to European competitors

Tight cabin
Auto only
Needs bimodal exhaust
Supra GTS Summary
Yep, I'd have one of these in a blink. It's more your GT type of coupe than a sports car though with its sharp reflexes, you can drive it like you stole it….
Super strong engine, well sorted dynamics and plenty of luxury kit make this Supra a worthy successor to Supra's of old.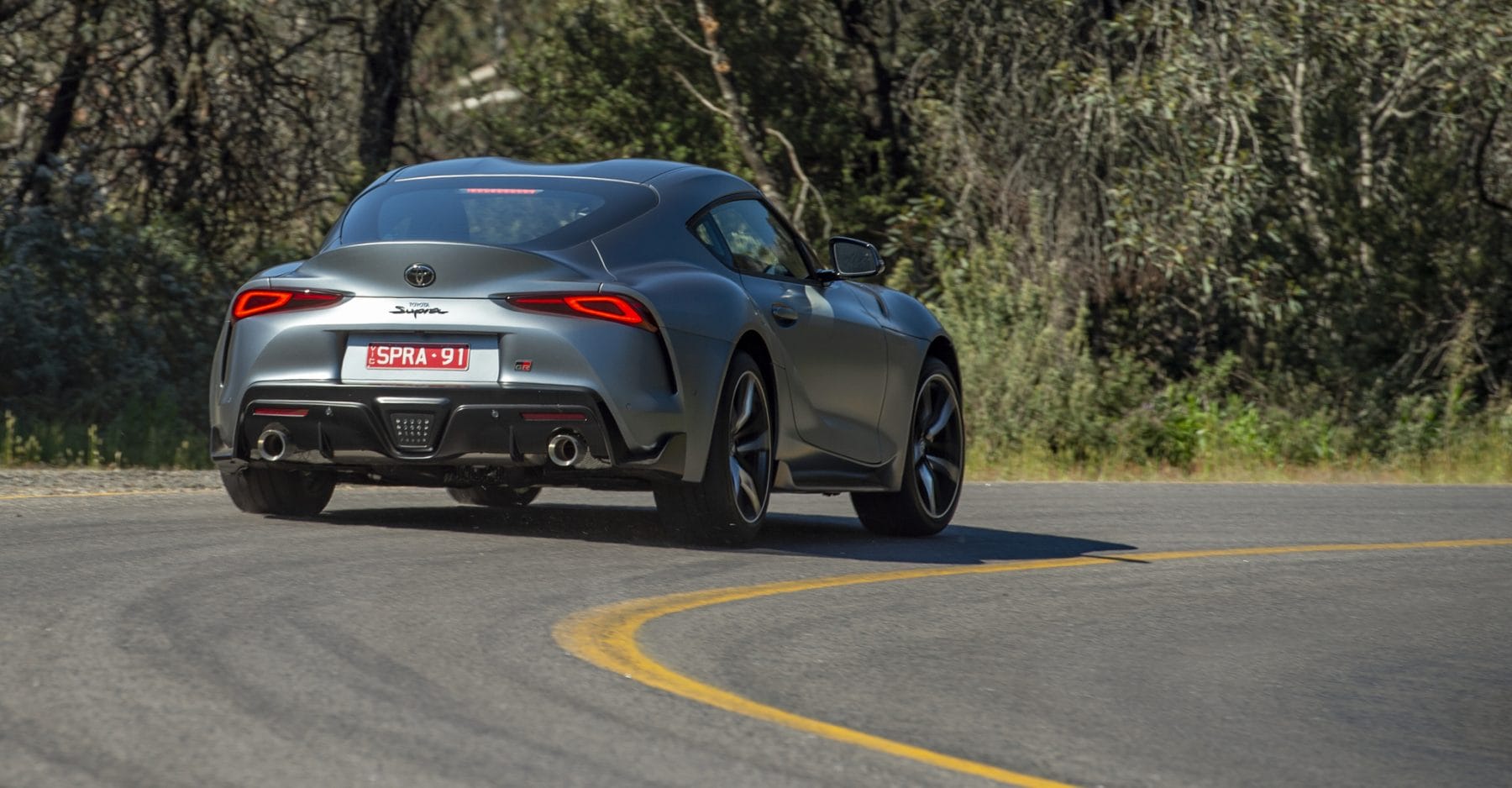 | | |
| --- | --- |
| Model    | Toyota GR Supra GTS |
| Model Price | From $97,126 MLP* |
| Engine | 3.0L Inline 6 Cyl Petrol |
| Drivetrain | 8 speed Sports AT RWD |
| Power | 285W at 6,500rpm |
| Torque | 500 Nm @ 1,800-5,000rpm |
| Safety | N/A |
| CO2 Emissions | 177 g/km |
| 0-100kmh / top speed | 4.1 sec / 250 kmh |
| Economy ADR / Tank | 7.7 L/100km | 10.9 L/100km over our test | 52L |
| Servicing | 12 months / 15,000 km | Pre Paid service plans available |
| Warranty | 5yr/ Unlimited km with 5 Yr. conditional roadside assist |
 *MLP Includes GST and LCT but excluding statutory charges, dealer costs and dealer delivery. See your dealer for RDAP. Does not include price of options. Some features mentioned in the article are options.
Overall Rating -

9/10
Summary
Yep, I'd have one of these in a blink. It's more your GT type of coupe than a sports car though with its sharp reflexes, you can drive it like you stole it….
Super strong engine, well sorted dynamics and plenty of luxury kit make this Supra a worthy successor to Supra's of old.