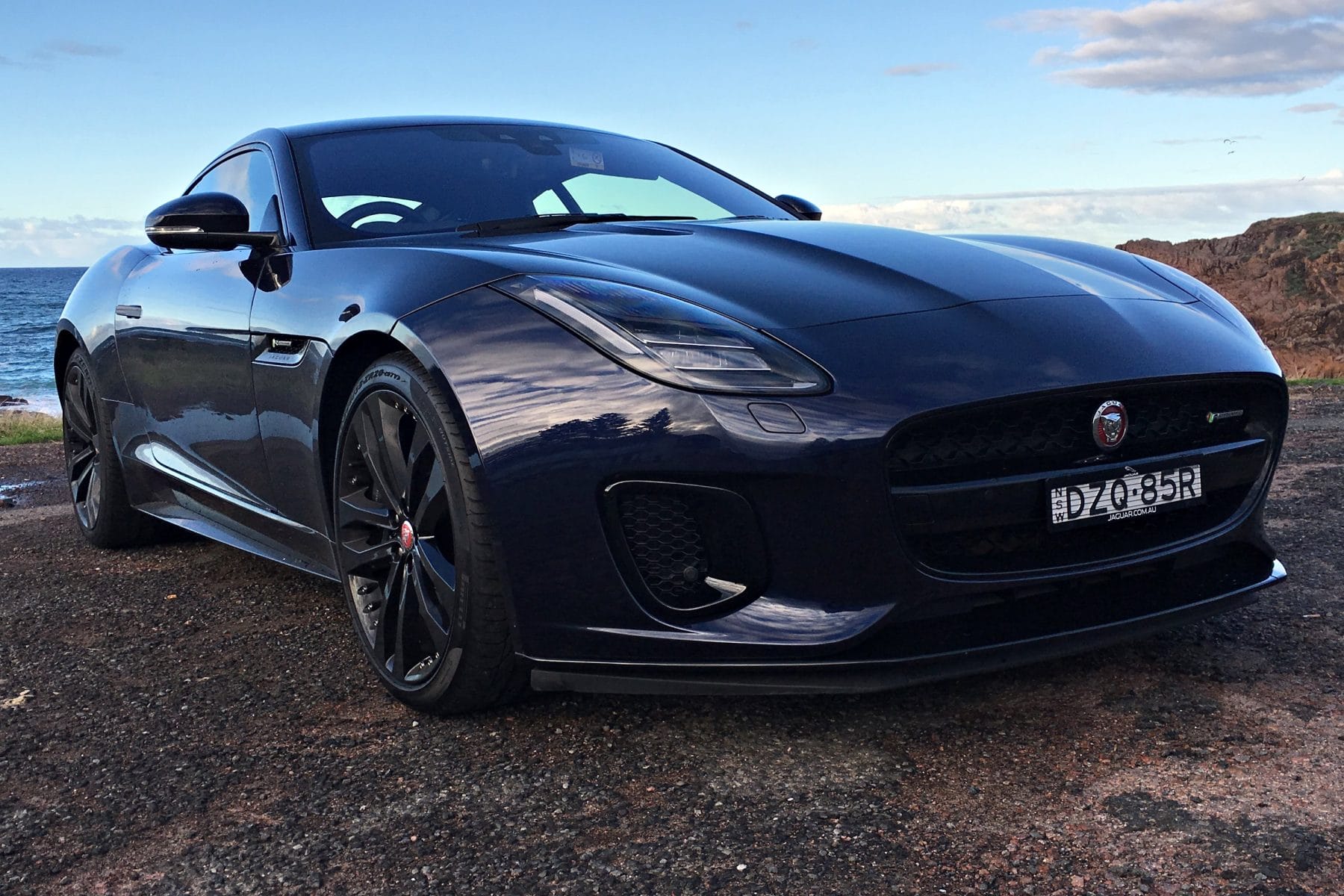 Jaguar F-TYPE, first launched in 2012, is the spiritual and visual embodiment of the E-TYPE classic sports car. The all-aluminium sports car is a unique design that has received acclaim worldwide.
There are now over 36 different variations including a 2.0L version and today we are driving the P380 R Dynamic RWD 8 Speed Auto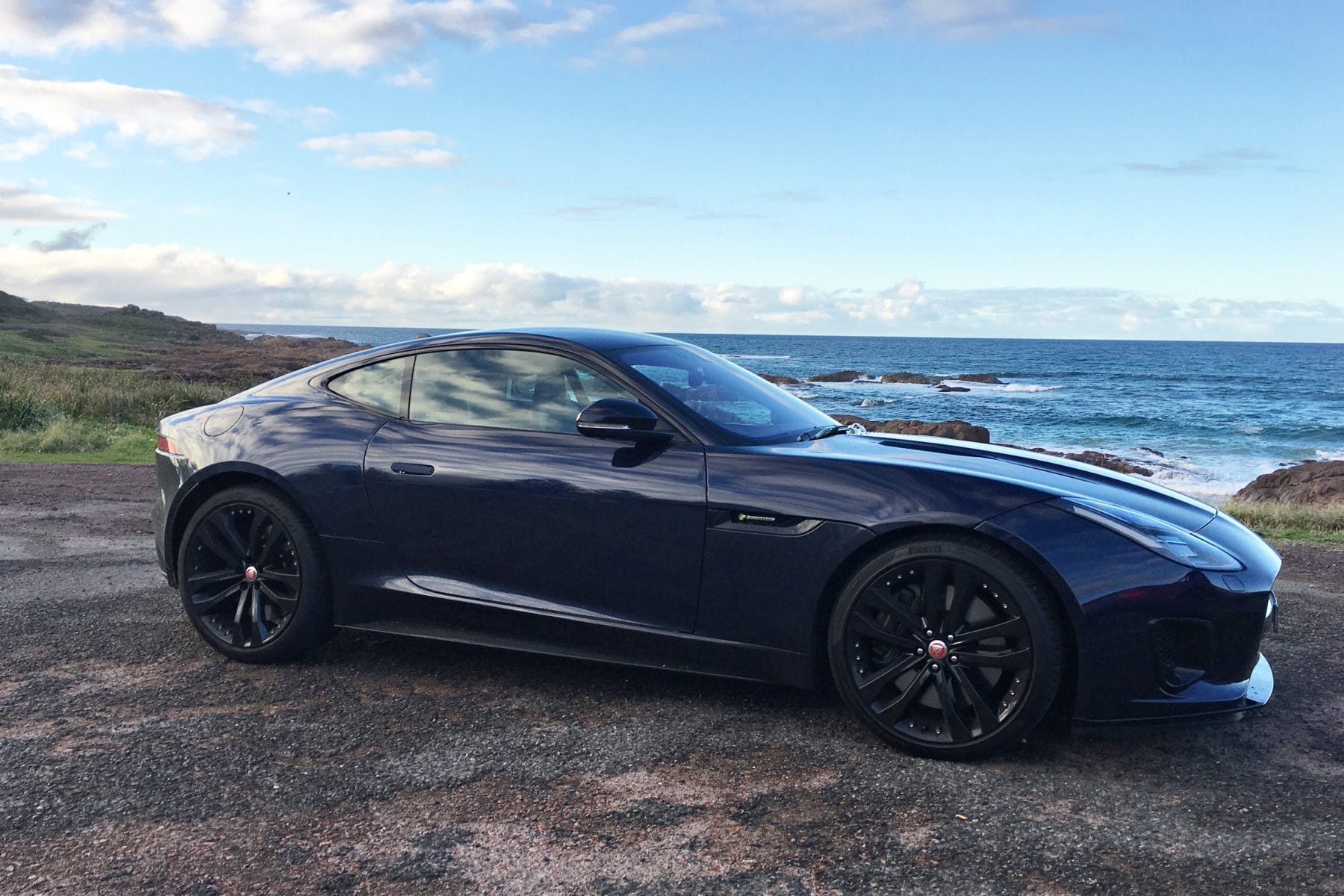 2019 Jaguar F-TYPE P380 R Dynamic Coupé Exterior
Well, what can you say about one of the most stunning designs available now. The F-TYPE is simply gorgeous. The Loire Blue exterior colour was not as bright as other choices, but added a cool touch.
From the low sloping bonnet with power bulges and vents to the rounded hatchback design its pure symmetry. I got more people stopping and looking or watching as I drove past in this car than almost anything else I have driven. People love the design.
The full LED headlights boost visual appeal still further and help improve driver safety and comfort. Jaguar's distinctive J-Blade daytime running lights now double as the direction indicators.
The P380 R Dynamic is differentiated by the front bumper's Gloss Black aperture bezels. The distinctive Gloss Black finish is also applied to the front splitter, bonnet vents, side sills and rear diffuser. On the rear is also the P380 badge as well as central dual exhausts.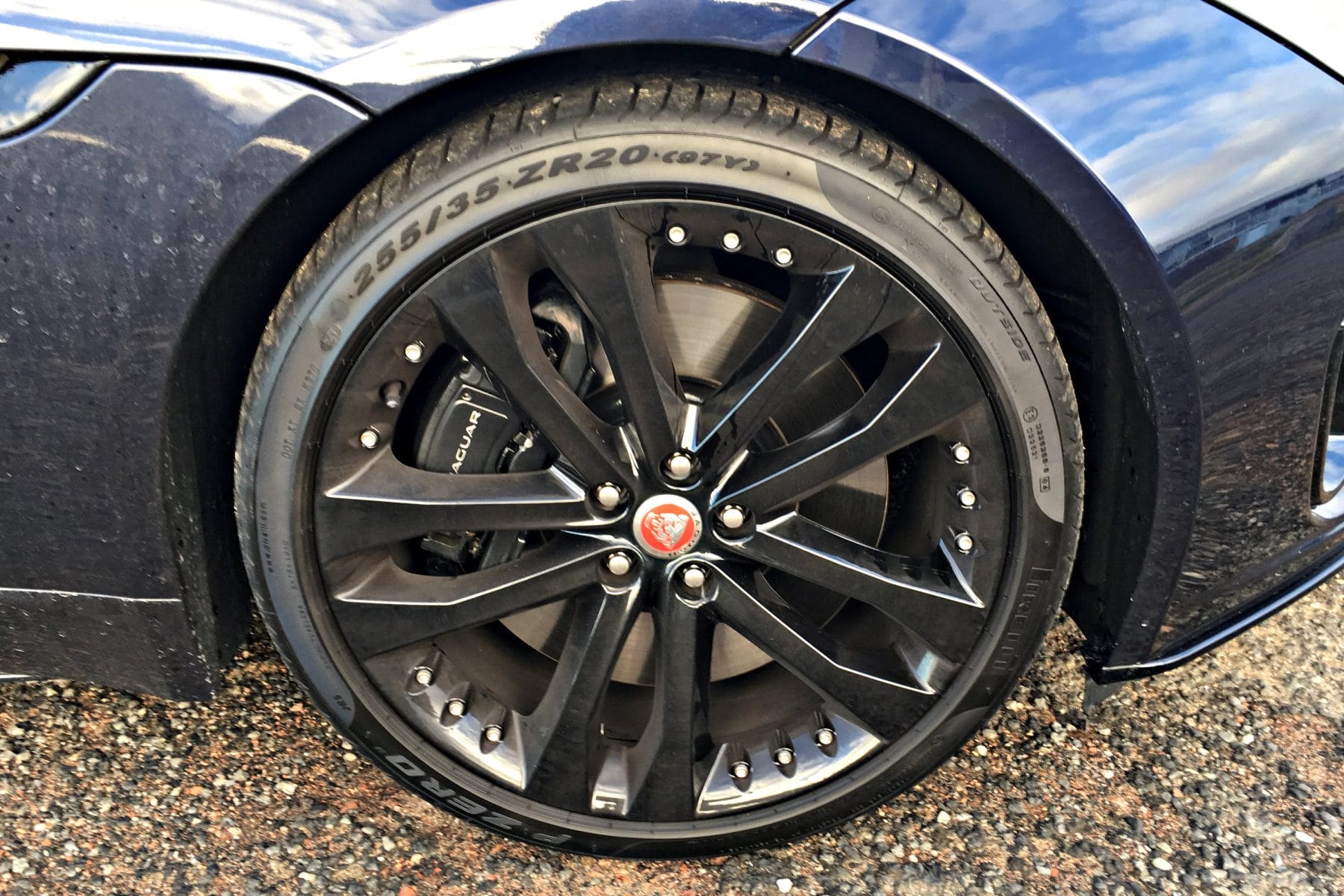 Looking sharp are the 20-inch alloy wheel designs with 255/35/ZR20 tyres on the front and 295/30 ZR 20 tyres on the rear.
It would be remiss of me not to mention the flush pop out door handles, very cool and the deployable rear spoiler.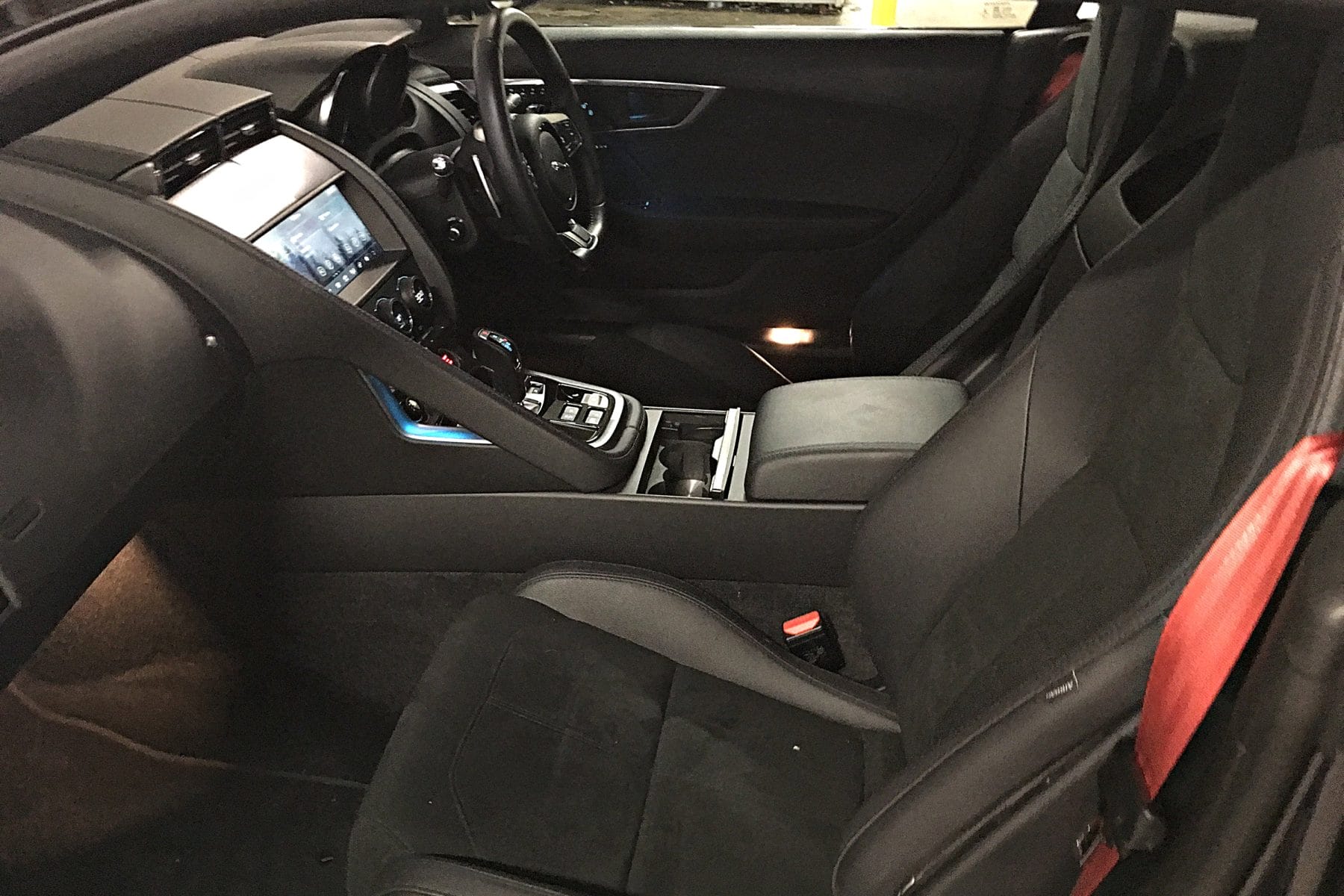 2019 Jaguar F-TYPE P380 R Dynamic Coupé Interior
There is a sense of sophisticated simplicity about the interior.
For a two seat sports car the F-TYPE is surprisingly roomy. Being 190cm tall and larger than the average bear, I often struggle to fit, but had no such issues with the F-TYPE.  I recently tested the BMW Z4 and it was tighter than this. There is more room inside for the driver than a Lexus LC 500 as well.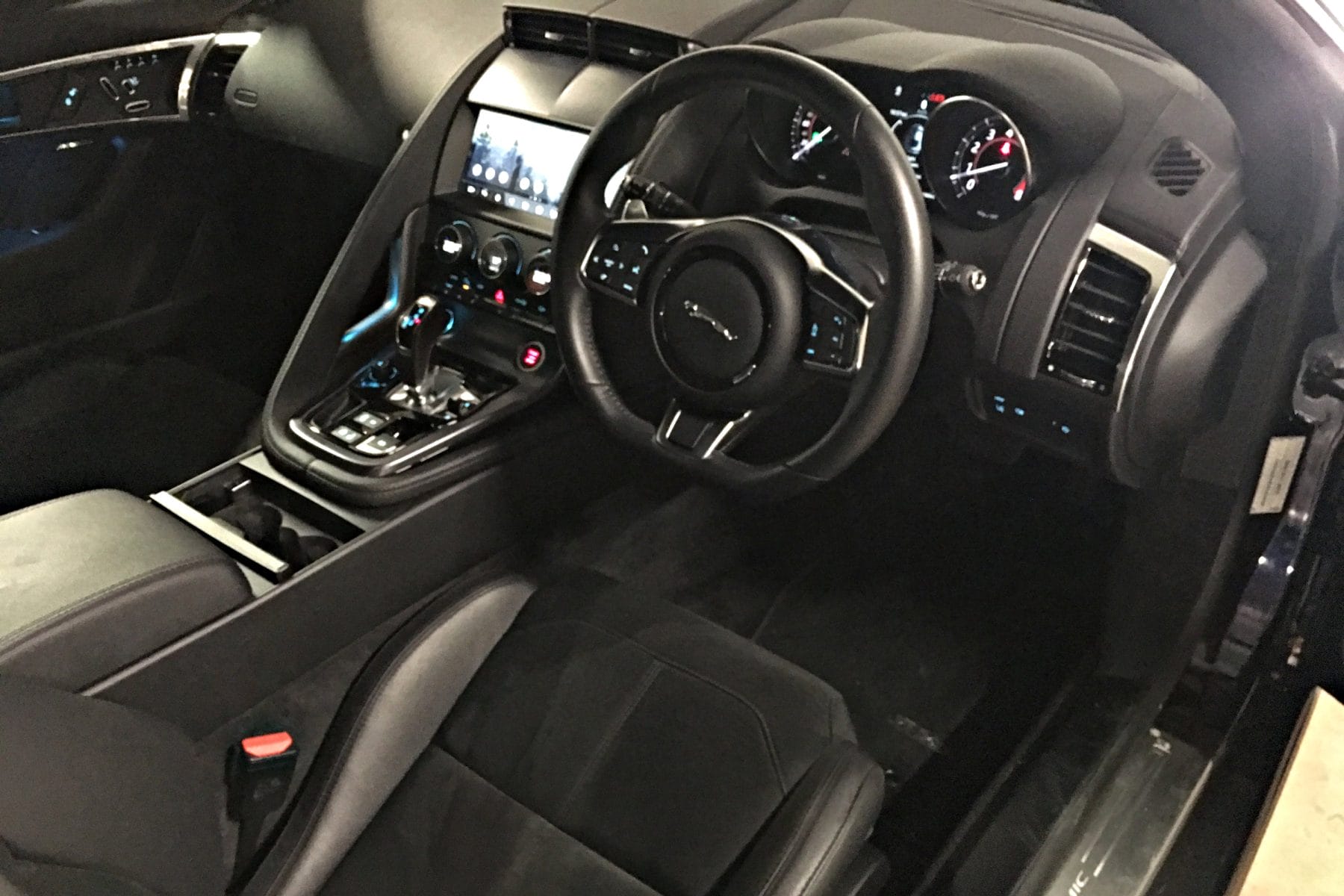 For me it was the old man entry and exit. Bum in first, but there was plenty of room to swing the legs in and enough seat travel for me to find a comfortable driving position. The slimline lightweight Grained Leather and Suedecloth seats have a lot to do with that. Also the raised channels with aluminium trim finishes helps protect the sides.
The 12 way electronic memory seats were part of an option package, and while very comfortable, weren't air-conditioned. There is also the option of the Sienna Tan leather option, but the seats were spot on as they were. While the seat base and sides have bolsters, they don't have any adjustments.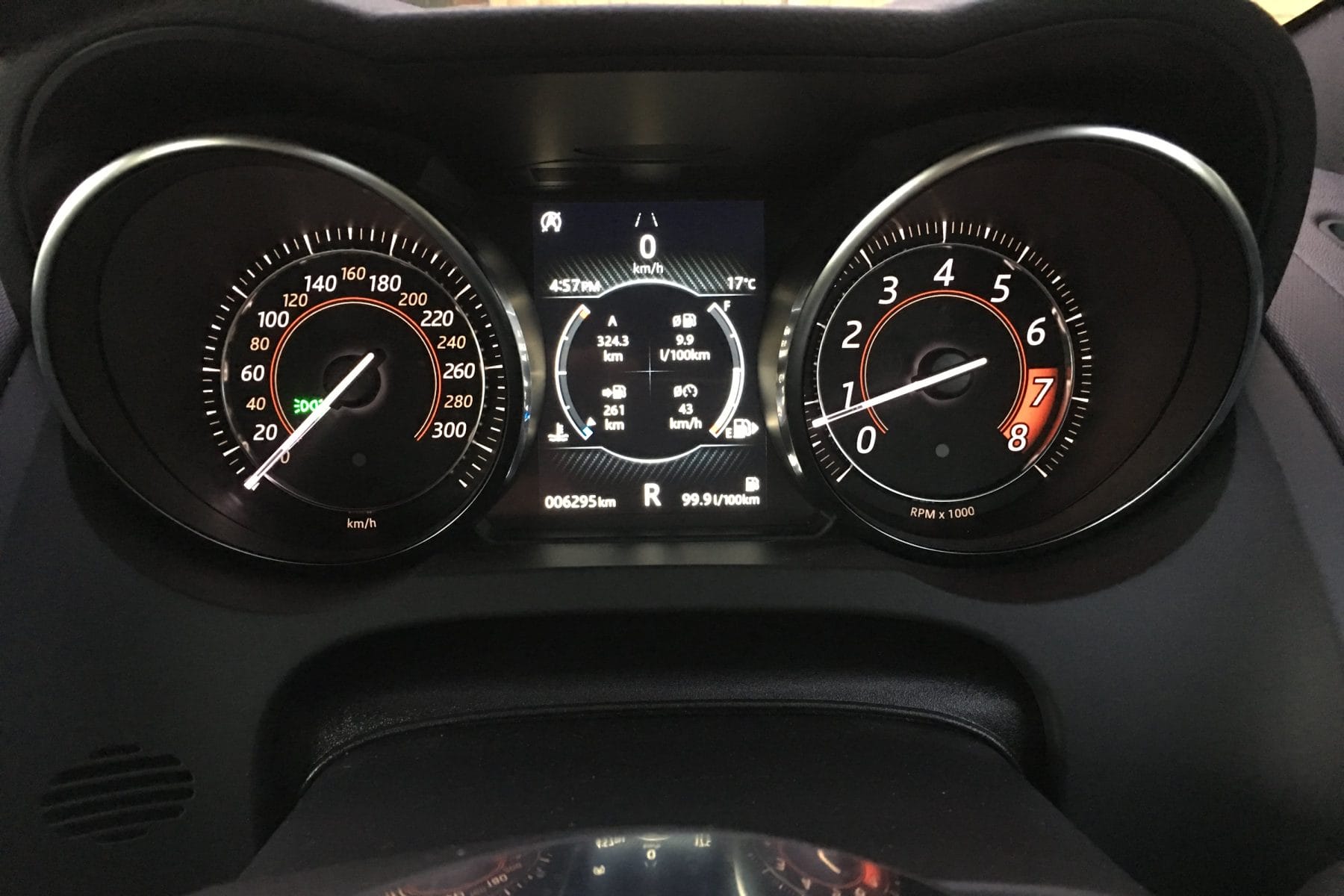 In front of the driver is the perfectly sized electronically adjustable three spoked, flat bottomed leather steering wheel, which frames a three sectional instrument panel. Twin external dials with humps over them and a configurable MFD in-between. The indicator and light stalks sit above the spokes for easy visibility and there are paddle shift levers (which I never use).
Between the seats is a smallish console bin with USB and other plugs and a lid that allows free movement of the cords, which is clever. Two cup holders sits behind the transmission section. I love the transmission lever, but not a huge fan of the requirement to pull the button in to change gears, it seems unnecessarily fiddly. There are a few controls for stop start, snow and ice starting etc. and overall it's well laid out. To me the manual quickshift is counter intuitive. I know I have many discussions with people about this but you push forward to change up and down to down shift!
Air conditioning controls are easy to use, but like a lot of cars now you have to press the recycle button for 3-5 seconds to keep it on, then remember to do that every time you start the car. My A/C runs 24/7/365 on recycle and this annoys the bejeezus out of me. Often these type of vehicles will stop the timed recycle function, just as you're entering a tunnel and you wonder why you're dying of exhaust gas poisoning. The central air vents rise upon use in a very theatrical way.
Above is the 10 inch Touch Pro infotainment screen. This is easy to use, now allows Apple CarPlay and Android. It also houses the reversing camera. The graphics are excellent. To be honest I didn't really test out the audio system, just a bit and it was cool, but I spent most of the time listening to the engine.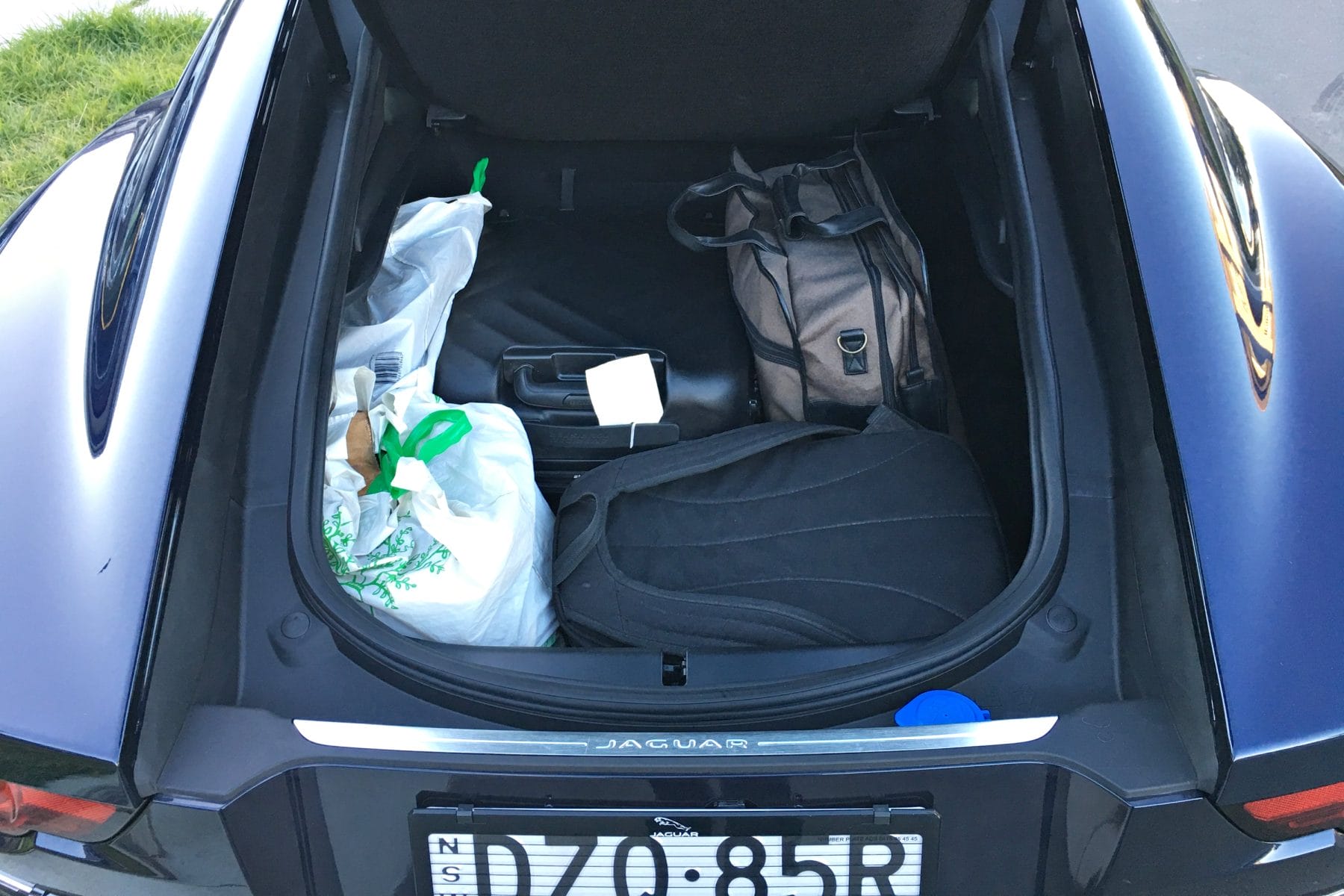 Overall visibility is better than you might expect. The bonnet disappears in front of you but you quickly get a feel for where the edges are. The reversing camera is excellent and over the shoulder visibility is greatly enhanced by rear quarter windows. The rear window is a little small.
Boot space is larger than you would imagine, plenty of room for luggage for two for a weekend or even a week. Soft bags are best and the wide rear wheel arches provides little pockets for extra bits as does a small hidden bin below the floor.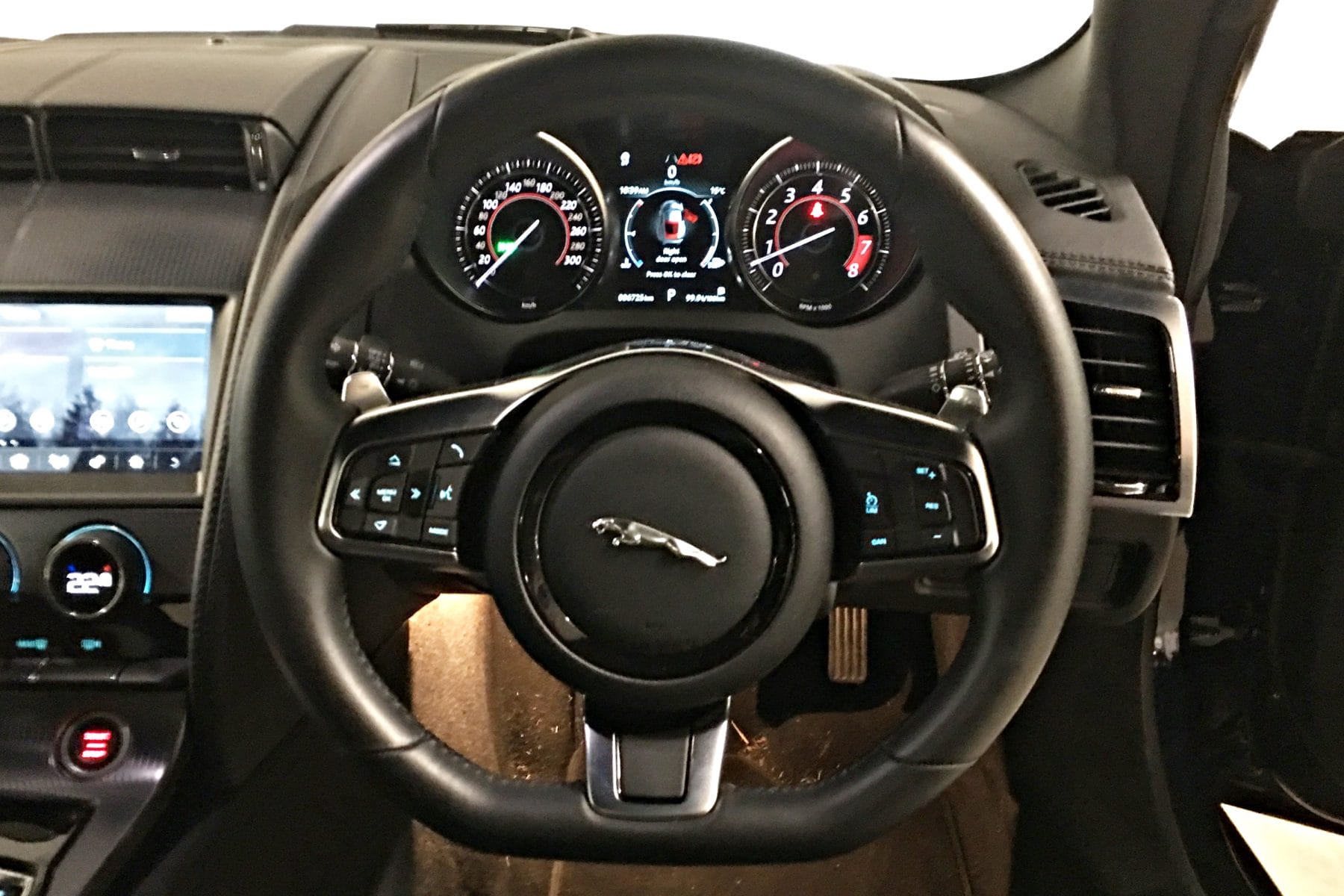 2019 Jaguar F-TYPE P380 R Dynamic Coupé Features
Every F-TYPE features the Touch Pro infotainment system with 10-inch touchscreen. Its super-fast responses with a quad core processor, intuitive tablet-style operation, intelligent navigation functions such as Share ETA and online services through an ultra-fast Ethernet network provides real-time traffic and live weather reports. There is also a high speed 60GB SSD.
The home screen is configurable and now comes with a choice as the F-TYPE includes Apple CarPlay and Android auto to make it easier than ever to access tailored smartphone apps using the vehicle's touchscreen. It also houses the standard 10 speaker Meridian™ Sound system. You can either store your own music on the SSD or Jaguar has developed a unique app in collaboration with Spotify for streaming music.
Options fitted to the test car include: Metallic Paint (Loire) – $2,950 Seat Memory Pack (incl. Auto-dimming, power fold, heated door mirrors with memory, 12-way Electric Front Seats with Memory, Electrically Adjustable Steering Column with Memory) – $2,150  20″ 5 split-spoke 'Style 5039' with Gloss Black Finish Wheels – $1,790  380mm front and 376mm rear brakes – $1,690  Black Exterior Pack – $1,350  Keyless Entry – $1,200 Rear Camera – $1,060 Blind Spot Assist – $900 Front Parking Aid – $710 Digital Audio Broadcast (DAB+) Radio – $640  Flat-bottom Leather Steering Wheel  Red Seat Belt – $270 Sun visors with Vanity Mirrors – $110 Rear Traffic Monitor – NCO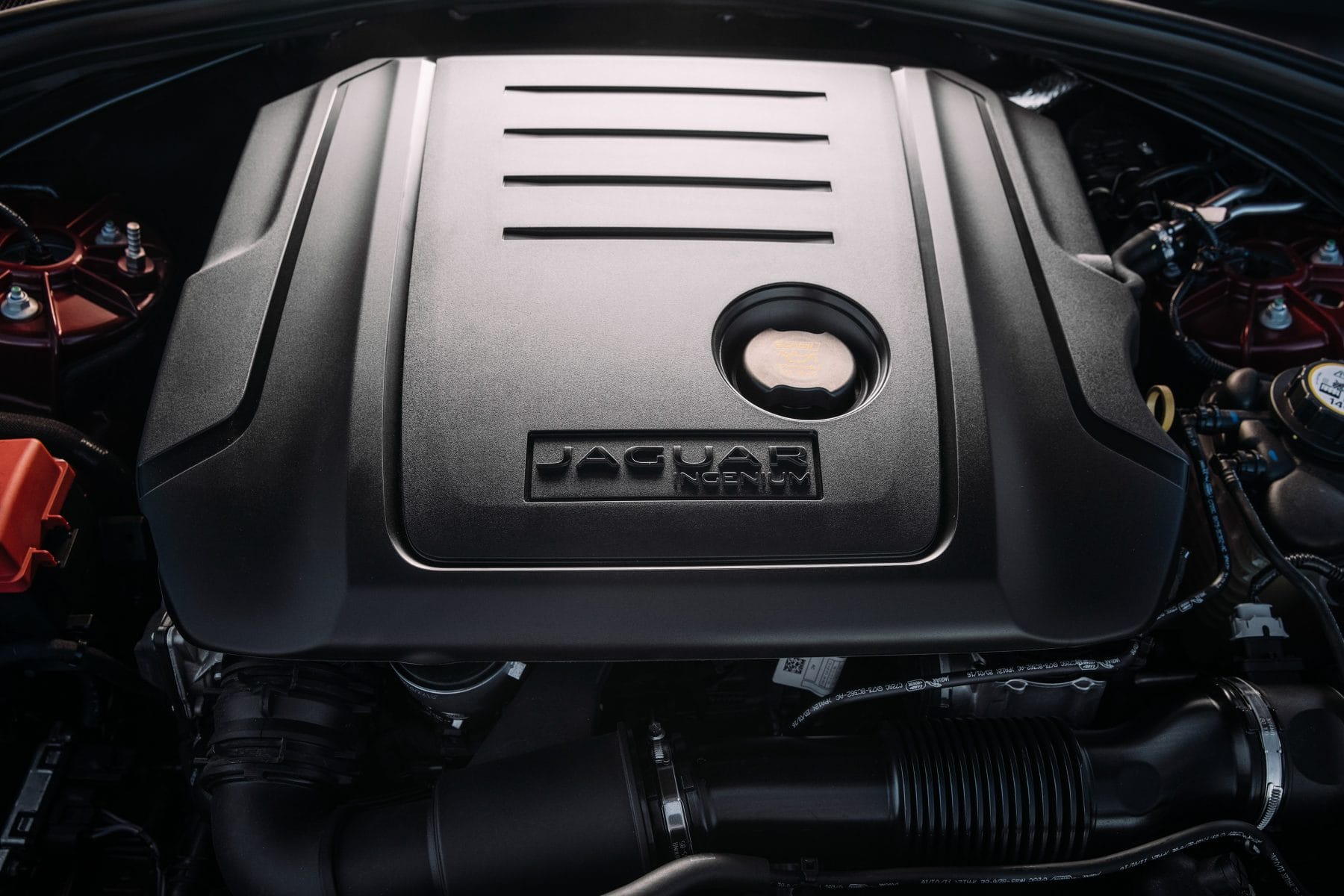 2019 Jaguar F-TYPE P380 R Dynamic Coupé Engine and Drivetrain
The P380 R Dynamic if powered by the 3.0L Supercharged V6 engine that produces power of 280Kw @ 6,500rpm and torque of 460 Nm @ 3,500-5,500rpm. This drives the rear wheels through an eight speed Quickshift transmission. The P380 will go from 0-100km/h in 4.9 seconds and tops out at 275 km/h.
This is the same engine as used in the F-PACE 35t S that we reviewed earlier in the year.
Fuel usage is rated at an ADR figure of 8.6L/100K and Co2 is 203g/km
It's fairly lightweight at a touch over 1500kg and both front and rear suspension is Double wishbone style. There are 380mm ventilated discs on the frons and 376mm on the rear.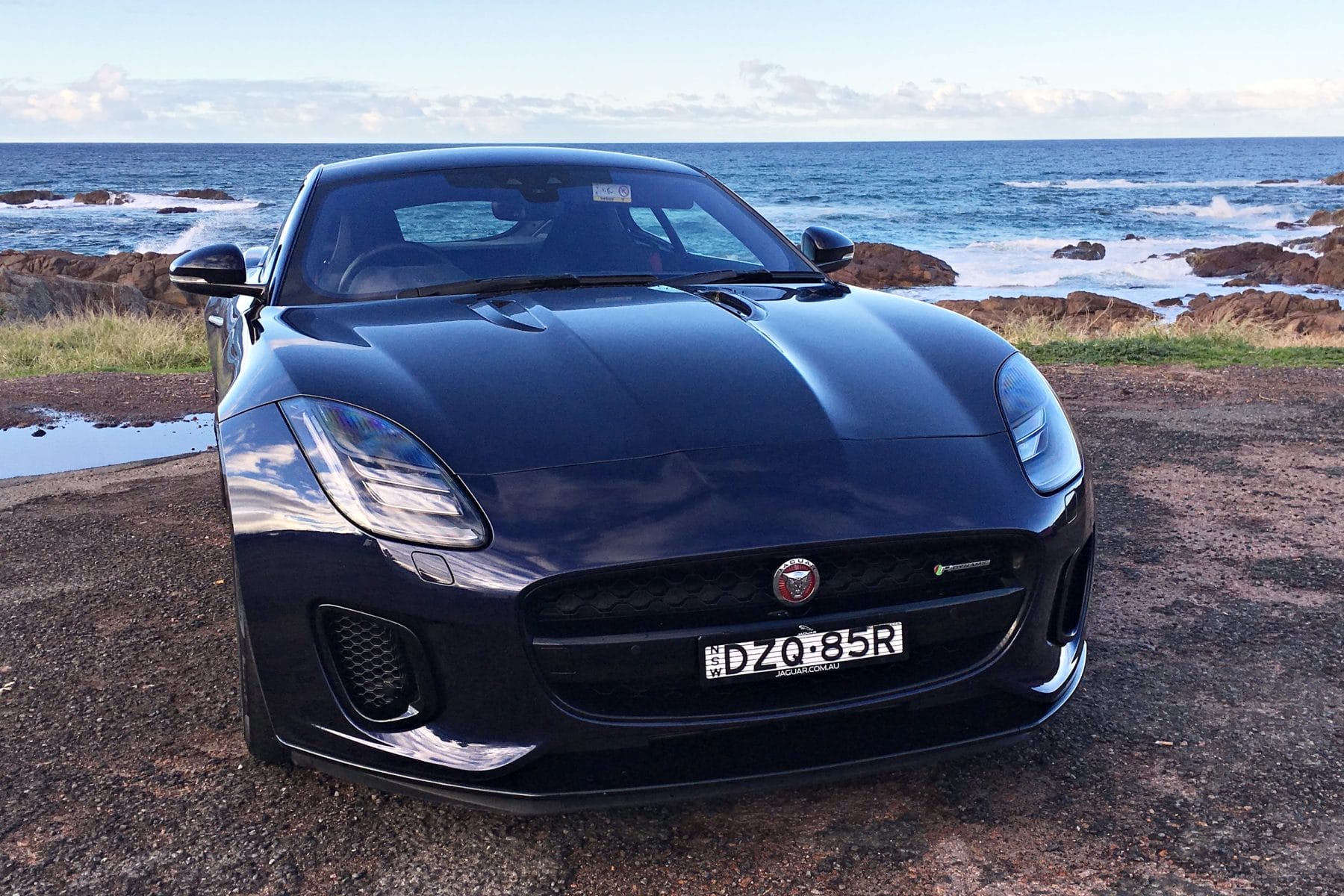 2019 Jaguar F-TYPE P380 R Dynamic Coupé Driving Experience
This is what the F-TYPE is all about. Its pure hedonistic pleasure. The supercharged V6 is powerful enough for most drivers. There is a miniscule wait under heavy acceleration but for the most part it just goes, especially on the move.
The engine sound is a blat rather than a burble, but the tuned exhaust provides enough aural stimulation to encourage a heavy right foot.
Unlike a lot of Coupé or convertibles, there is no rough edges. The suspension soaks up almost all road irregularities, although the extremely low profile tyres occasionally let you feel them through the steering wheel. That makes you connected to the road.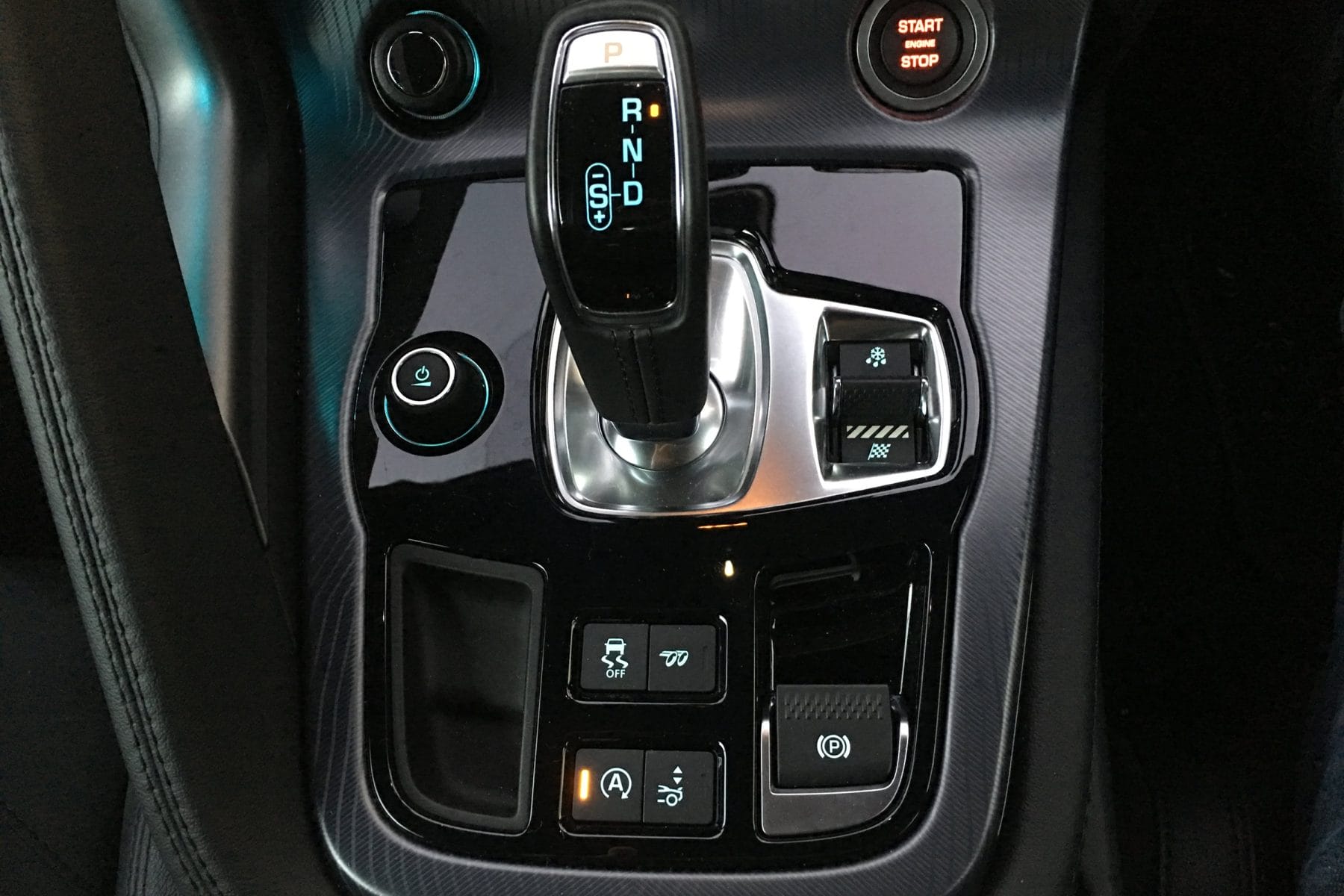 Steering is precise and direct and there is excellent feedback. The steering wheel is perfectly proportioned, not too thick like some.
You can literally drive around like it's a normal sedan every day, thanks to the refined damper tuning, without a hint of what lies beneath. In normal mode the acceleration is more than enough. Play with the dynamics and the car transforms. Plant the right foot and hold on, its screams into action.
Configurable Dynamics, enables the driver to tailor the vehicle's character by individually selecting dynamic or normal modes for the throttle mapping, transmission shift strategy, steering feel.
The key for me is that at no time did I feel I was fighting the car for control. It simply did what was asked of it without fuss and always under control. The balance is superb and the driver feels absolutely connected to the car and the road.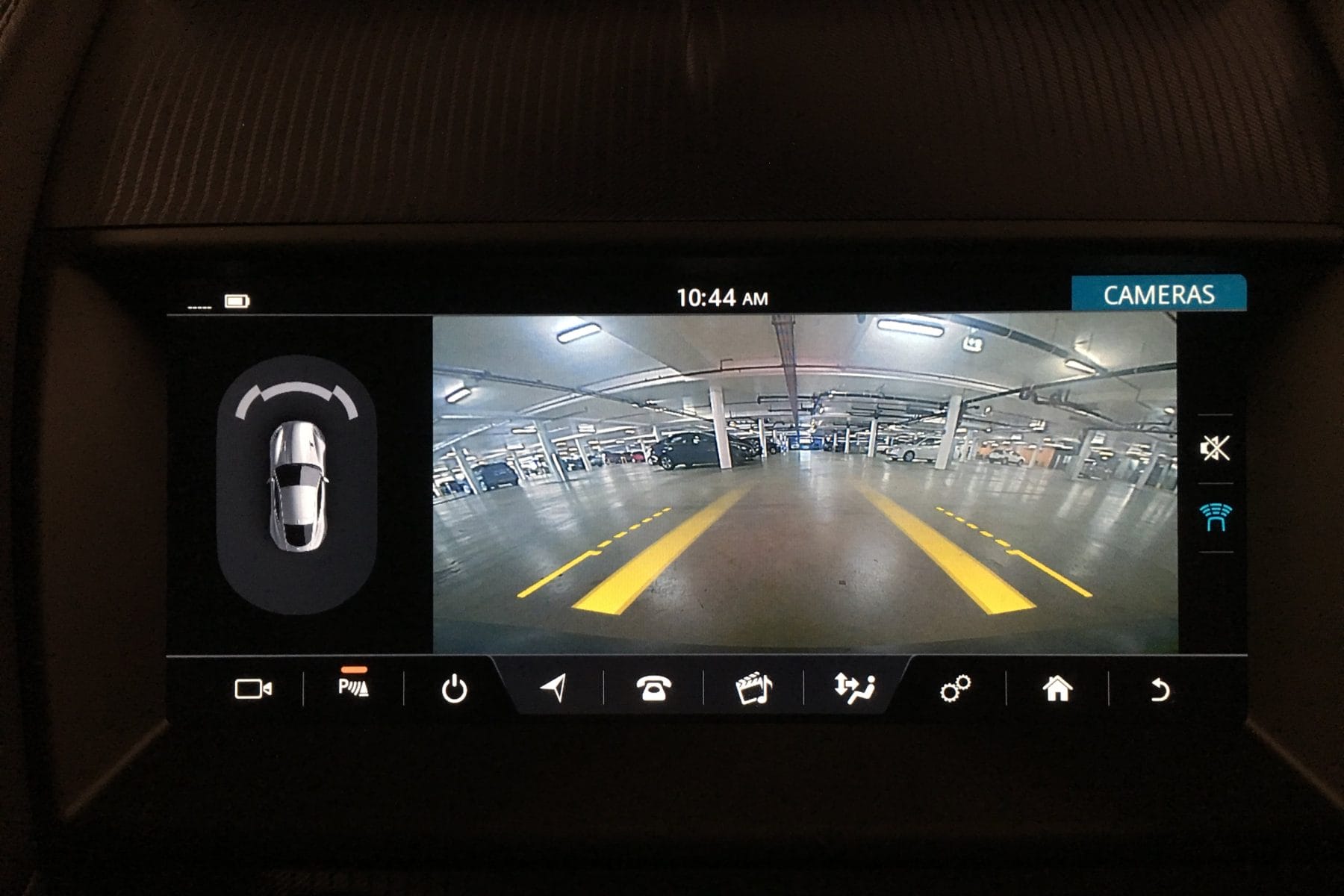 2019 Jaguar F-TYPE P380 R Dynamic Coupé Safety
The latest F-TYPE range also offers a wide range of advanced driver assistance systems underpinned by the integration of a highly sophisticated forward-facing stereo camera. These systems help to improve safety and reduce driver workload, and include Autonomous Emergency Braking, Auto High Beam Assist, Lane Departure Warning and Lane Keep Assist, Adaptive Speed Limiter and Driver Condition Monitor.
The rear camera and front park aid are now provided as standard.
There's also a semi-automated park-assist function designed to make parallel parking in even the tightest of spaces quicker and easier. When passing a potential space, the car's ultrasonic parking sensors measure its length. If suitable, the system takes care of the steering: all the driver has to do is press a button, engage reverse and control the throttle and brakes. The system will also guide the vehicle out of the space when it's time to leave.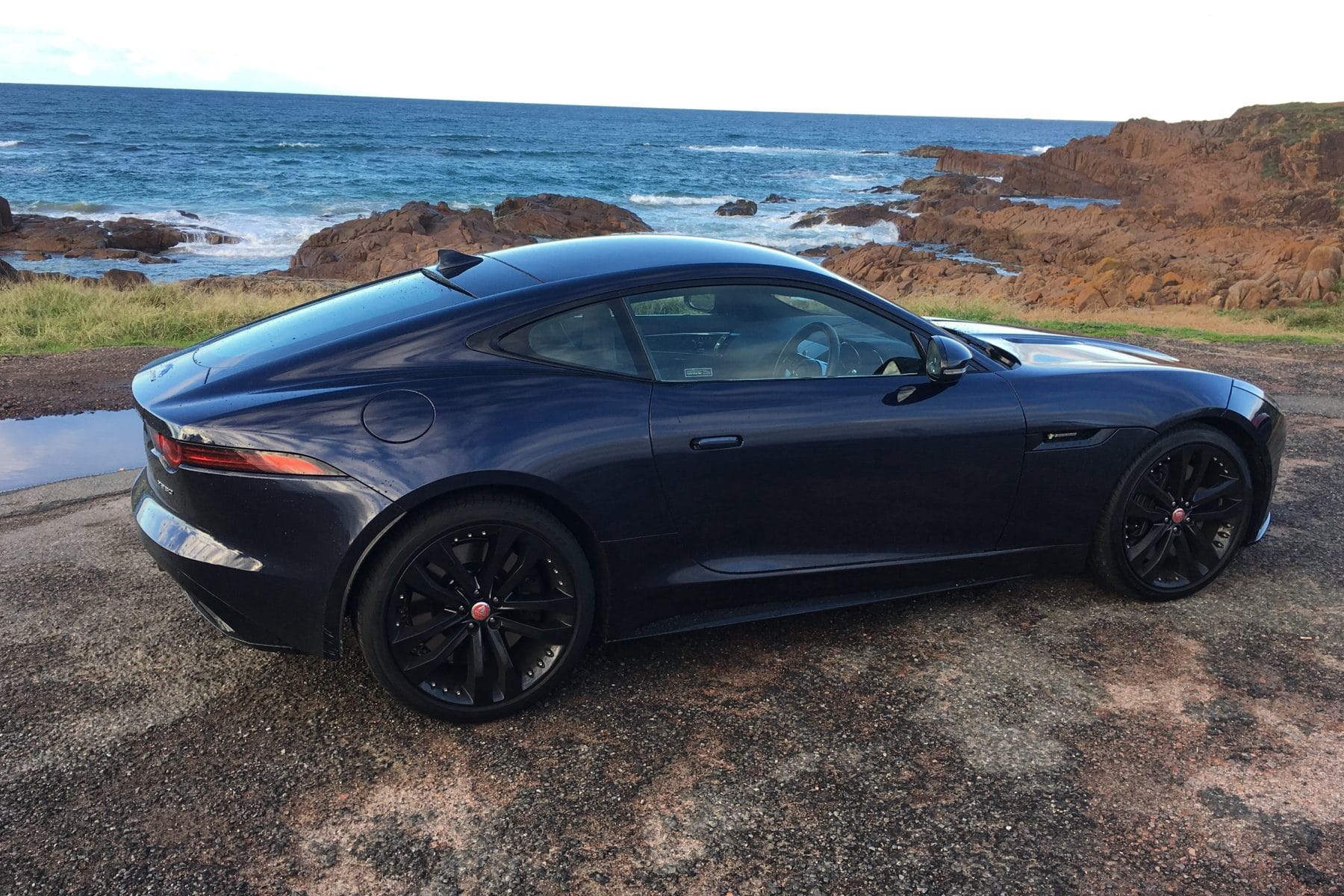 2019 Jaguar F-TYPE P380 R Dynamic Coupé Summary
Ok let's see, what is the F-TYPE like?
It is amongst the most beautifully designed and styled Coupé available in a new car at the moment.
It displays a level of handling dynamics equaled by few combined with road manners that makes for an extremely comfortable ride.
Possessing a level of sophisticated simplicity that not only pays homage to its heritage but also belies its futuristic appeal it has character aplenty.
The 3.0L V6 supercharged engine provides more than enough performance for all but the picky few.
There is always the SVR AWD convertible version for buyers that need to knock another 1.2 seconds off the 0-100km/h time and add another 40 odd km/h to the top speed. They will also pay another $140,000 odd for the pleasure.
I'll stick to the P380 R Dynamic thanks. I might be tempted for the convertible though.
If it is possible for a car to become an extension of a person, for a driver to be at one with the machine, the F-TYPE was that for me.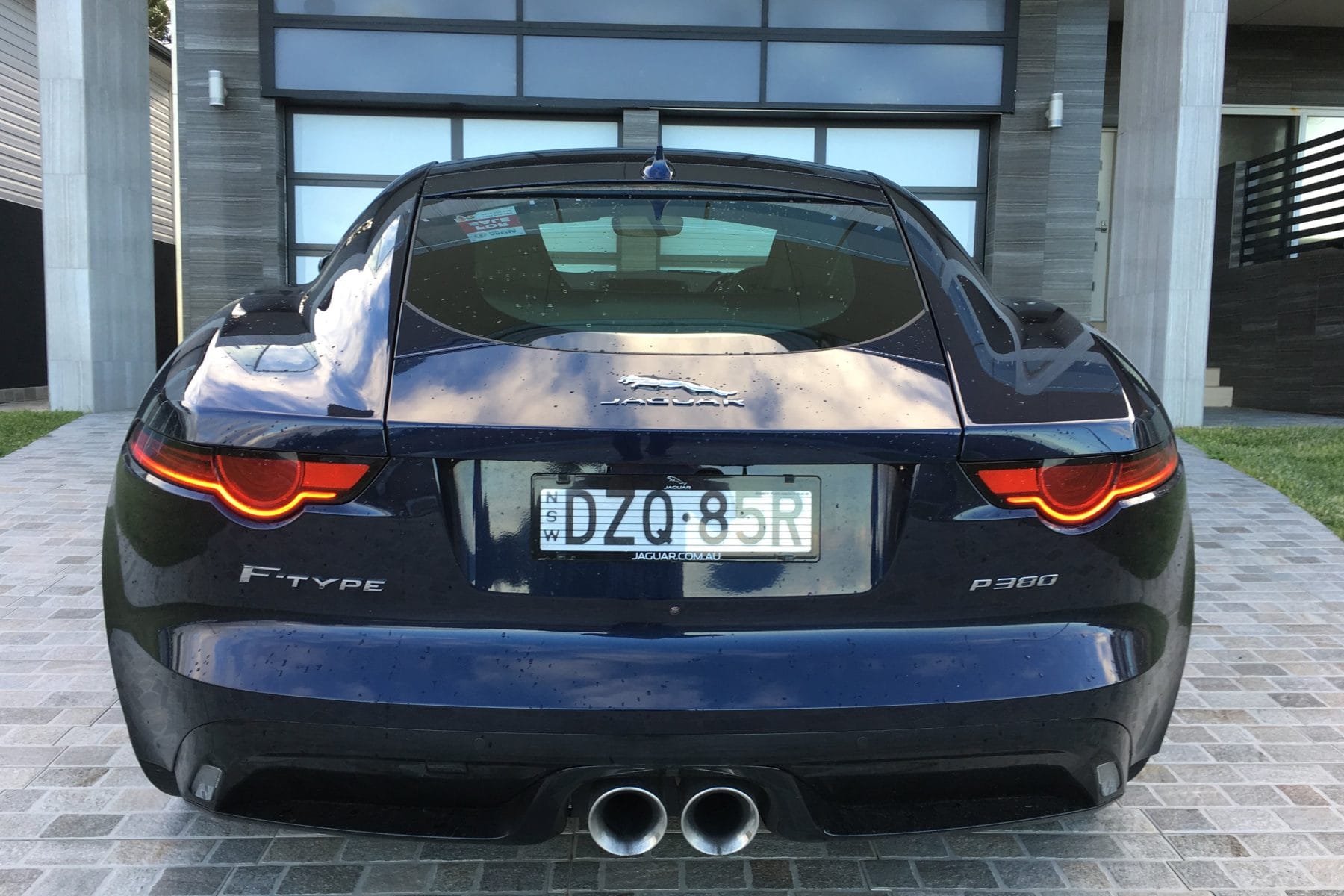 Also look at:
What's Good:
Simply beautiful design
Hedonistic pleasure
Overall balance and Engine/transmission
What's Not:
Long and expensive options list
No air conditioned seats
Hated giving it back to Jaguar
Model    2019 Jaguar F-TYPE P380 R Dynamic Coupé
Model Price        From $158,778 MLP* $173,598 MLP* as tested.
Engine                  3.0L V6 Supercharged petrol
Drivetrain            8 Sp AT RWD
Power                280 kW @ 6500 rpm
Torque               460 Nm @ 3500 – 5500 rpm
Safety                TBA ANCAP
CO2                      148 g/km
Economy             8.6L/100 km ADR
Servicing            Condition based Plan $
0-100km/h          4.9 secs
Top Speed           275km/h
Warranty             3 Yrs. / 100,000 km 3 Yrs. Roadside Assist
*Includes GST and LCT but excluding statutory charges, dealer costs and dealer delivery. See your dealer for RDAP. Does not include price of options. Some features mentioned in the article are options
Overall Rating    88/100
Behind the Wheel 9
Comfort 9
Equipment 8
Practicality 8
Performance 9
Ride & Handling 9
Fit for Purpose 10
Street Appeal 10
Fun Factor 9
Value for Money 7
2019 Jaguar F-TYPE P380 R Dynamic Coupé
Summary
Jaguar F-TYPE, If it is possible for a car to become an extension of a person, for a driver to be at one with the machine, the F-TYPE was that for me. It displays a level of handling dynamics equaled by few combined with road manners that makes for an extremely comfortable ride.