Subaru Crosstrek – Subaru has just released the all new Crosstrek, to replace the ageing XV. The new Crosstrek is similar but better in every aspect.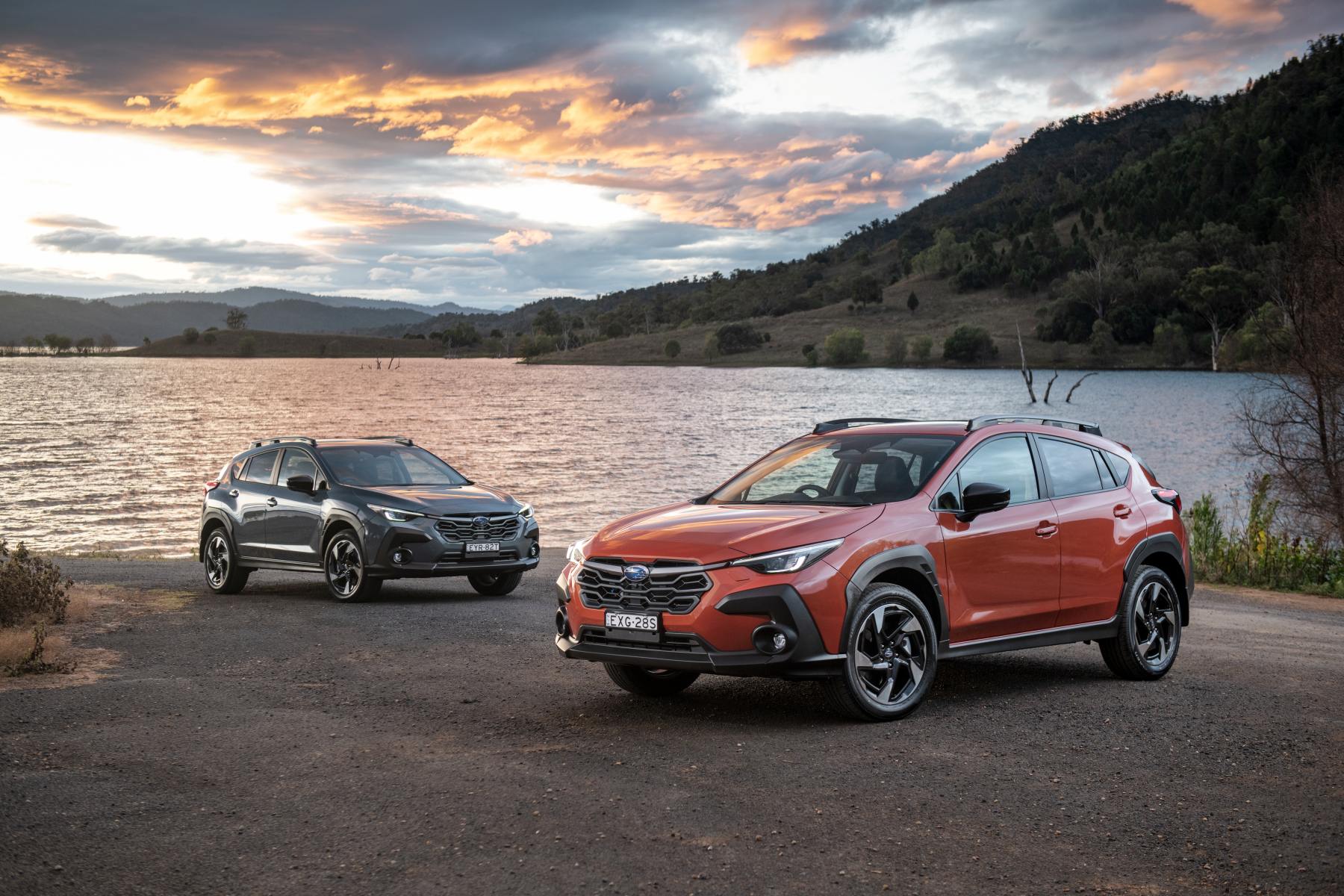 The new model comes in a choice of three petrol engine and two mild hybrid models.
Both variants have the 2.0L boxer engine, with either a seven step CVT for the hybrid version or 8 step Lineartronic CVT for the normal version. Both have similar power and torque outputs.
All models come with the brilliant symmetrical AWD system that Subaru is famous for and the X-Mode functionality. Combine that with 220mm of ground clearance and its easy to see why they are so popular with the more adventurous buyers.
Crosstrek also has class leading safety features with the clever EyeSight® Driver Assist system standard in all models.
Other premium features include wireless smart phone charging and wireless connectivity for Apple CarPlay and Android Auto. There is a huge 11.6-inch vertical multi zone central touch screen, first seen in the Outback. Little luxuries like driver monitoring, dusk sensing LED headlights, and Subaru Si dive are all standard.
Pricing is from a touch under $35,000 through to around $45,000 for the top hybrid model.
This is a Motoring Minute
I'm Rob Fraser
A full model walk can be found HERE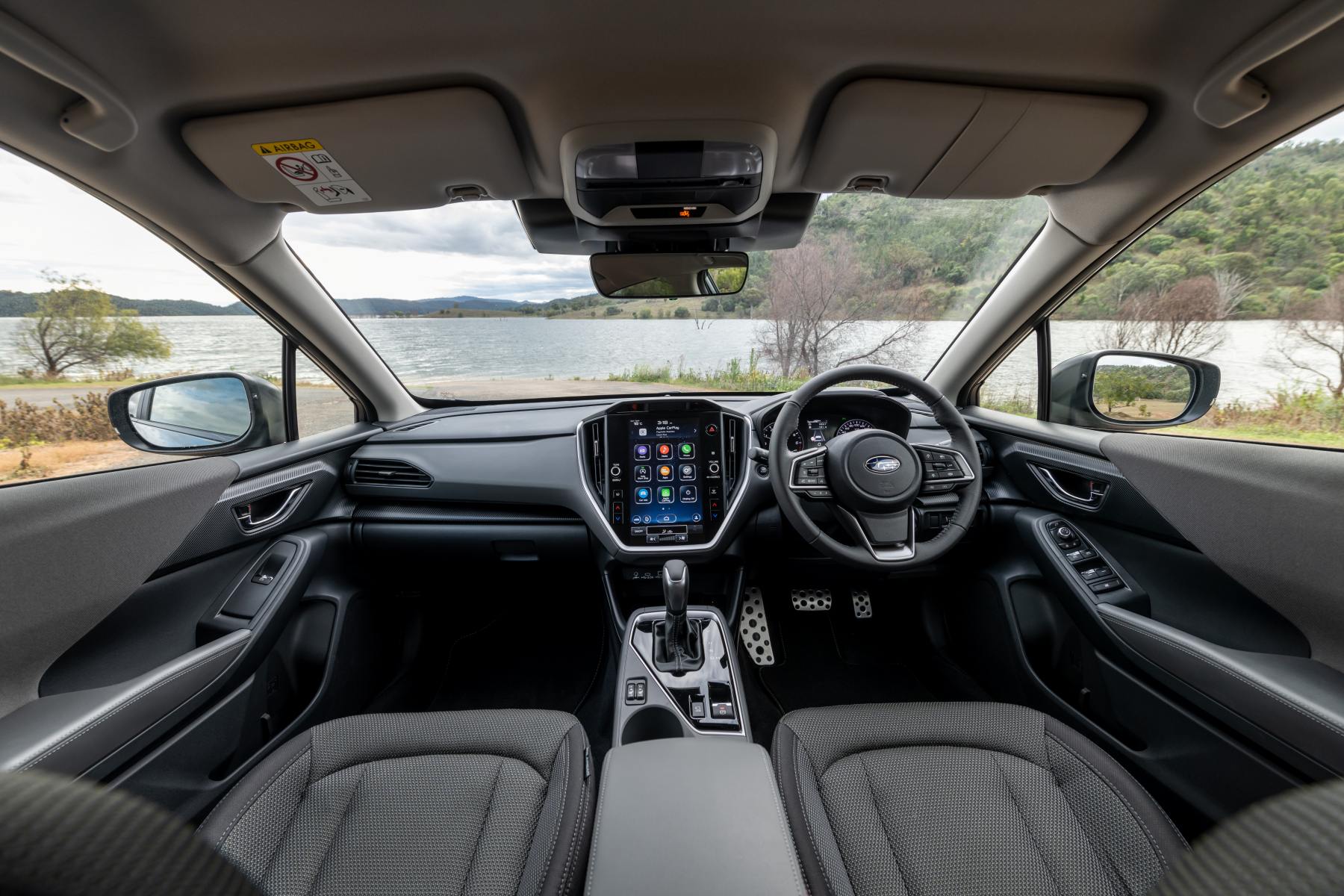 TO LISTEN TO THE SUBARU CROSSTREK RADIO REVIEW CLICK BELOW
AnyAutoTV Video
Other Subaru Crosstrek Articles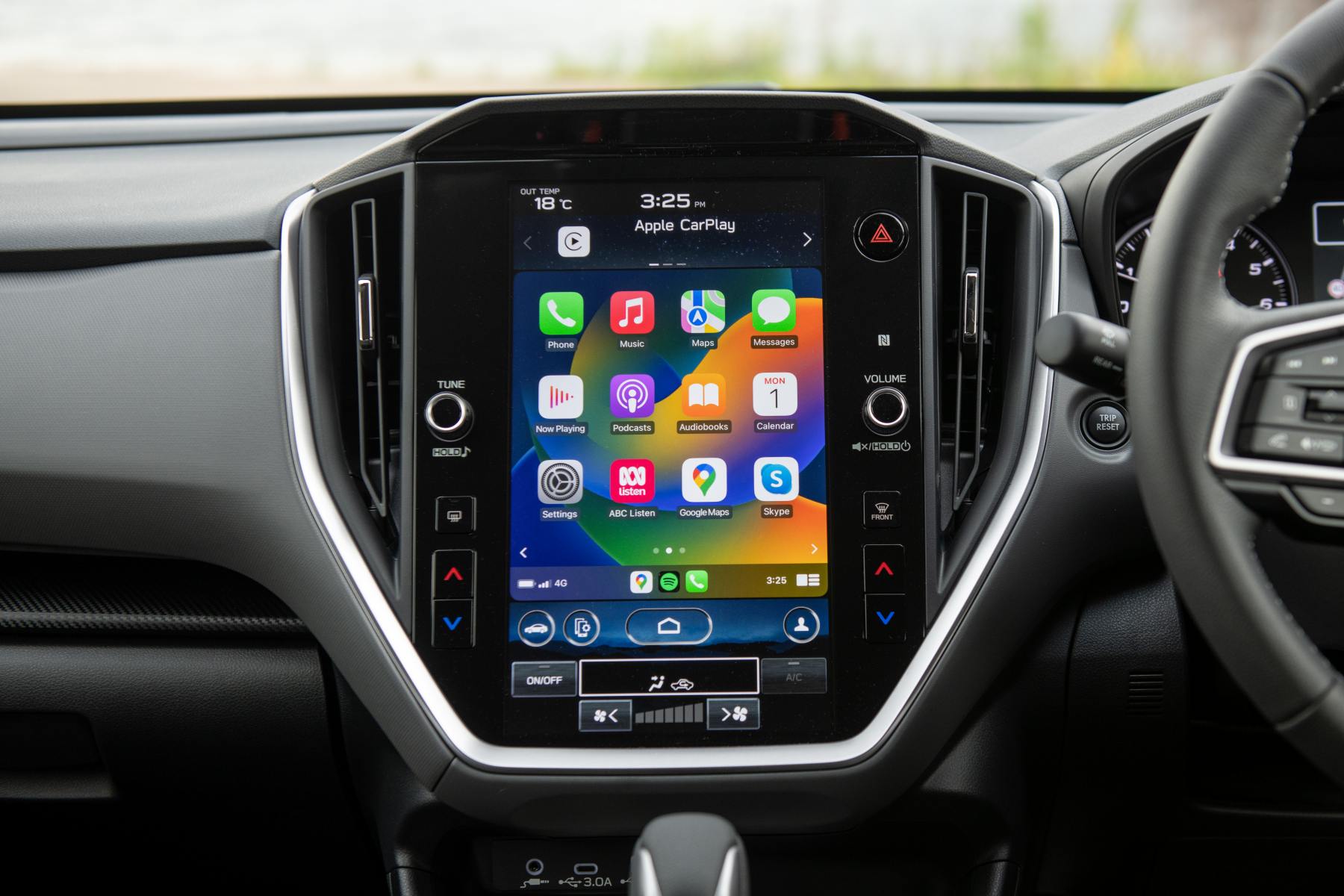 What is good?
AWD Capability
Wireless Connectivity
Central touchscreen
What is not so good?

Subaru Crosstrek Drive impressions
The 2.0L boxer engine produces 115kW and 196Nm which is ok. However the delivery matched with the CVT allows it to freely take off from a standstill. Its definitely not a sports SUV but more than adequate you could say.
The new Global platform, with improved torsional rigidity,  underpins the Crosstrek, and retuned suspension combined with recalibrated spring rates ensures a compliant and responsive ride.
Handling is better than most others in the segment. Permanent active torque split symmetrical AWD allows drive to all four wheels at all times. The balance has been moved from 50/50 to 60/40 for the Crosstrek, but it practice you would be hard pressed to notice the difference.
Combine this with Subaru Si Drive and auto step control, the CVT feels more like a conventional Auto transmission, while benefiting from the infinite gear changes.
Crosstrek can tow 1400kg with a 140kg tow ball weight. Amongst AWD SUVs in the segment its class leading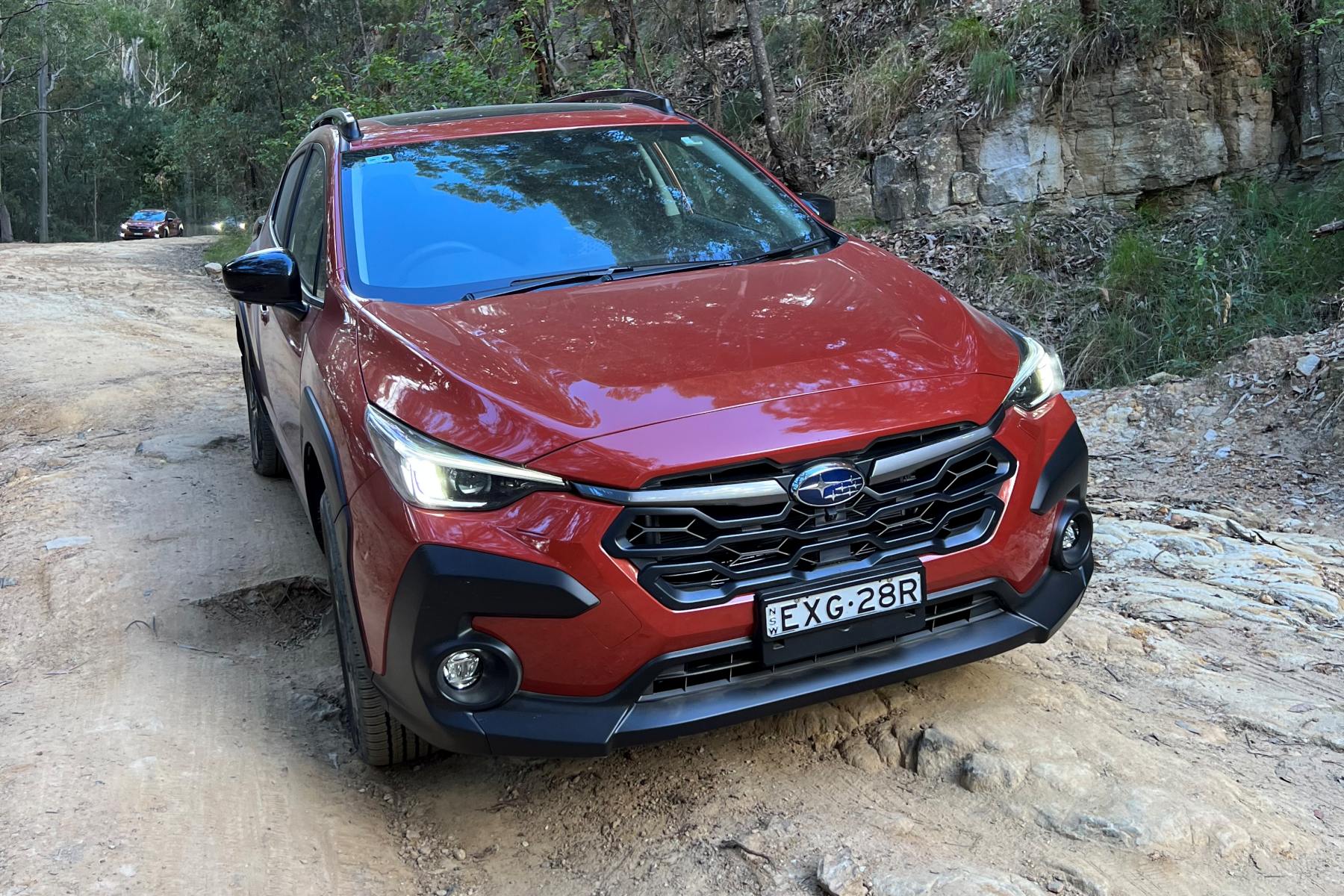 Off road capability
In the new world of smaller AWD SUV's there are AWD SUV's then there are Subaru AWD's. They are virtually unmatched in capability.
Ideal for dirt roads, snowy or icy conditions and wet slippery surfaces.
Just to prove the point, on the launch we took the Crosstrek on a forest trail that a few 4WDs would have issues with.
It reminded me of a scene from the old classic Australian movie. The Man from Snowy River.
The scene is where the drovers are all chasing the wild brumby's and they come to a cliff top. All the drovers stop and decide its not worth it.
Yet along comes young Jim, and without a moments hesitation, launches himself over the edge.
I can just imagine there would be a long line of AWD SUV's at the start of the track we went on and them all saying, nope, nuh uh, not going there. The Crosstrek calmly says – hold my beer, and proceeds to effortlessly traverse the rutted, rocky, slippery forest trail without hesitation.
I have driven this track some dozen times in everything from a an older Suzuki Vitara true 4WD, Land Cruisers, Patrols, Prado, FJ Cruiser, a multitude of 4WD Utes and more.
In all those times I've never seen the track in worse condition.
The combination of 220mm ground clearance, permanent AWD (effectively like a diff lock front and back) and two stage X-Mode controls, meant that the Crosstrek drove it as well as anything else on there.
The limiting factors are low approach angles, which mean very carefully picking your line, and road based tyres. Fit it with a set of decent all terrains and it will put many 4WDs to shame.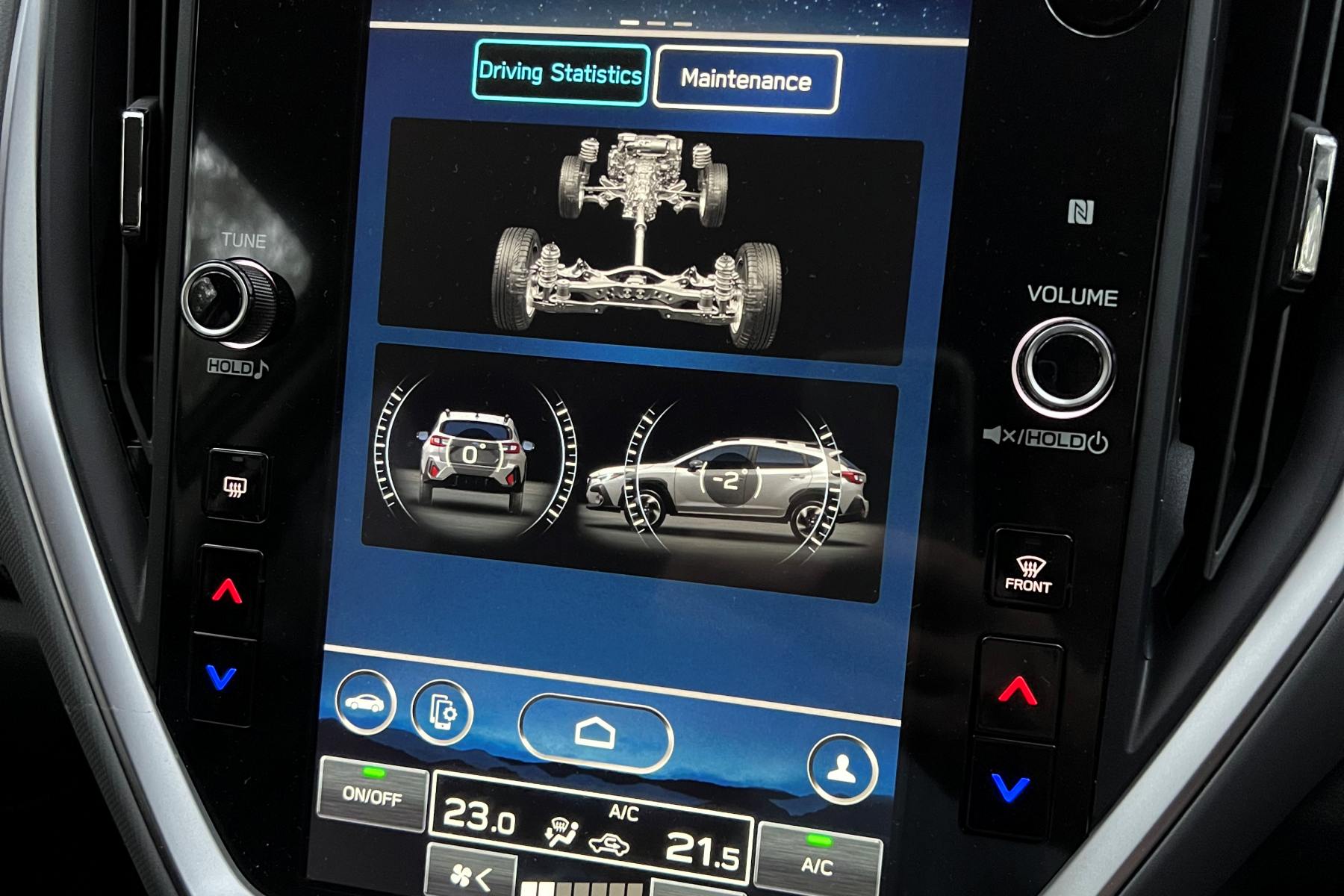 X-Mode
All Crosstrek variants feature X-Mode as standard, available via the touch of a button.
X-Mode enhances the vehicle's off-road capability by optimising various systems to provide better traction and control in challenging driving conditions.
We used the X-Mode in a demonstration of steep slippery dirt track, where is climbed and descended with ease and without complaining, like a lot of hill descent controls.
Possibly the best example of just how good X-Mode truly is could be when we went to Jacobs Ladder in Tasmania a few years ago, The dirt road was wet, icy and snowy and treacherous. The Forester at that time simply drove down under its own steam like it was backing out of a driveway.
When activated, X-Mode adjusts the engine output, transmission settings, AWD system, and other parameters to provide better traction and stability when driving on slippery surfaces, such as mud, snow or gravel.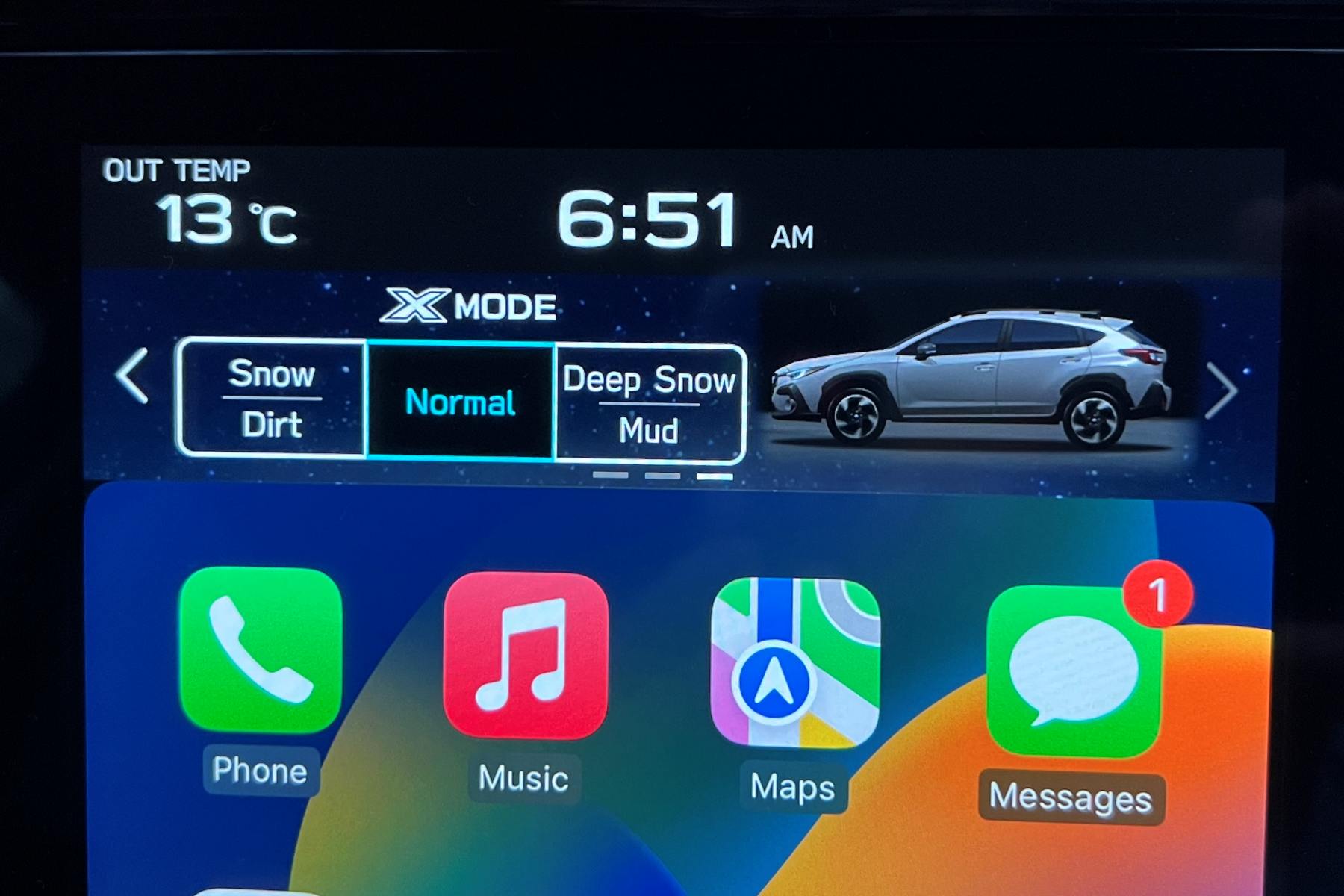 Two stage X-Mode
X-Mode is a low-speed operating system that operates below 40 km/h and has two modes:
Deep Snow/Mud: Turns off traction control and switches the engine management computer to quickly generate maximum torque when accelerating, causing the wheels to spin and slip. This allows tyres to easily escape when they become bogged in deep snow, sand or mud.
Snow/Dirt: Turns on traction control; engine torque delivery is smooth and progressive to prevent sudden engine power causing wheel slip. This mode is most suited to slippery snow-covered roads, black ice, gravel and unpaved surfaces like riverbeds and pebbles.
At low speeds (under 20 km/h) Hill Descent Control helps maintain the speed the vehicle is travelling at when the driver removes their foot from the accelerator or the brake pedal, to allow the driver to fully concentrate on steering.
Hill Descent Control can operate in both forward and reverse. Operation in reverse is particularly useful when forward movement up a steep incline becomes blocked, and the driver is required to reverse down.
Hill Descent Control is monitored and displayed on the Multi Information Display by the flashing of the green vehicle icon.
The X-Mode function enters standby mode when the vehicle speed is approximately 40 km/h or higher. It will automatically reactivate when the vehicle speed returns to a speed below approximately 35 km/h.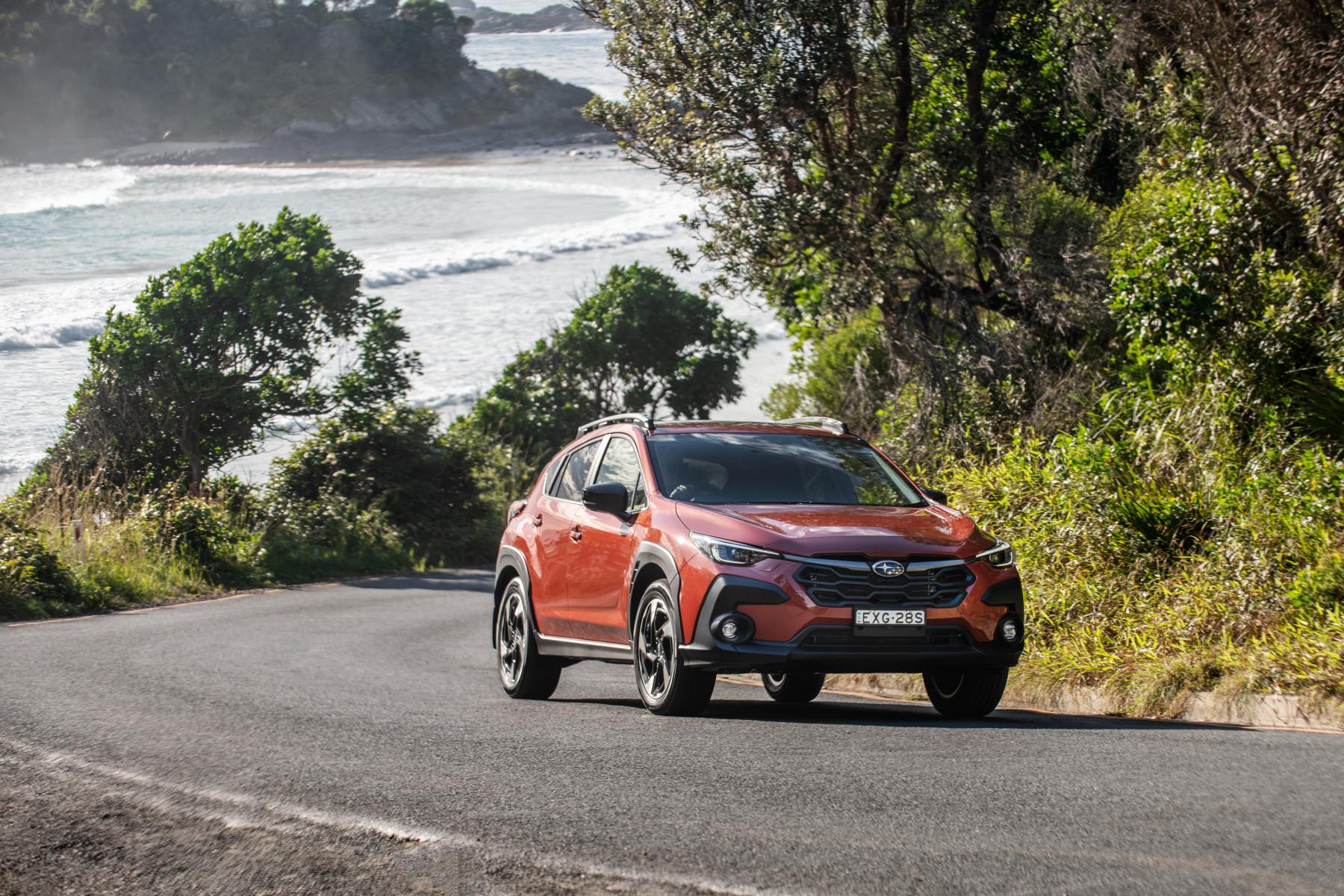 Back roads and open freeway driving. 
The test drive took in a fair bit of freeway driving along with windy, hilly back roads. They had suffered badly from recent rains and poor road maintenance, so were littered with potholes and road imperfections.
On the freeway the Crosstrek cruised along quietly and smoothly. We averaged around 5.9l/100k on these sections. In the new North Connex tunnel heading out of Sydney, we were in peak hour surrounded by trucks, and there was a little bit of noise intrusion, otherwise its quite and cocooned.
One thing I appreciated is the ability to select whether you want the adaptive cruise function or not. Its selectable and that's a bonus.
The back roads provided excellent driver engagement. There was some heavy feedback on some of the worst sections, but better than almost every other SUV in the class. Fuel use on these sections was about 8.5l/100k.
The new global platform and suspension mentioned above allowed spirited driving. For a non sports SUV its excellent.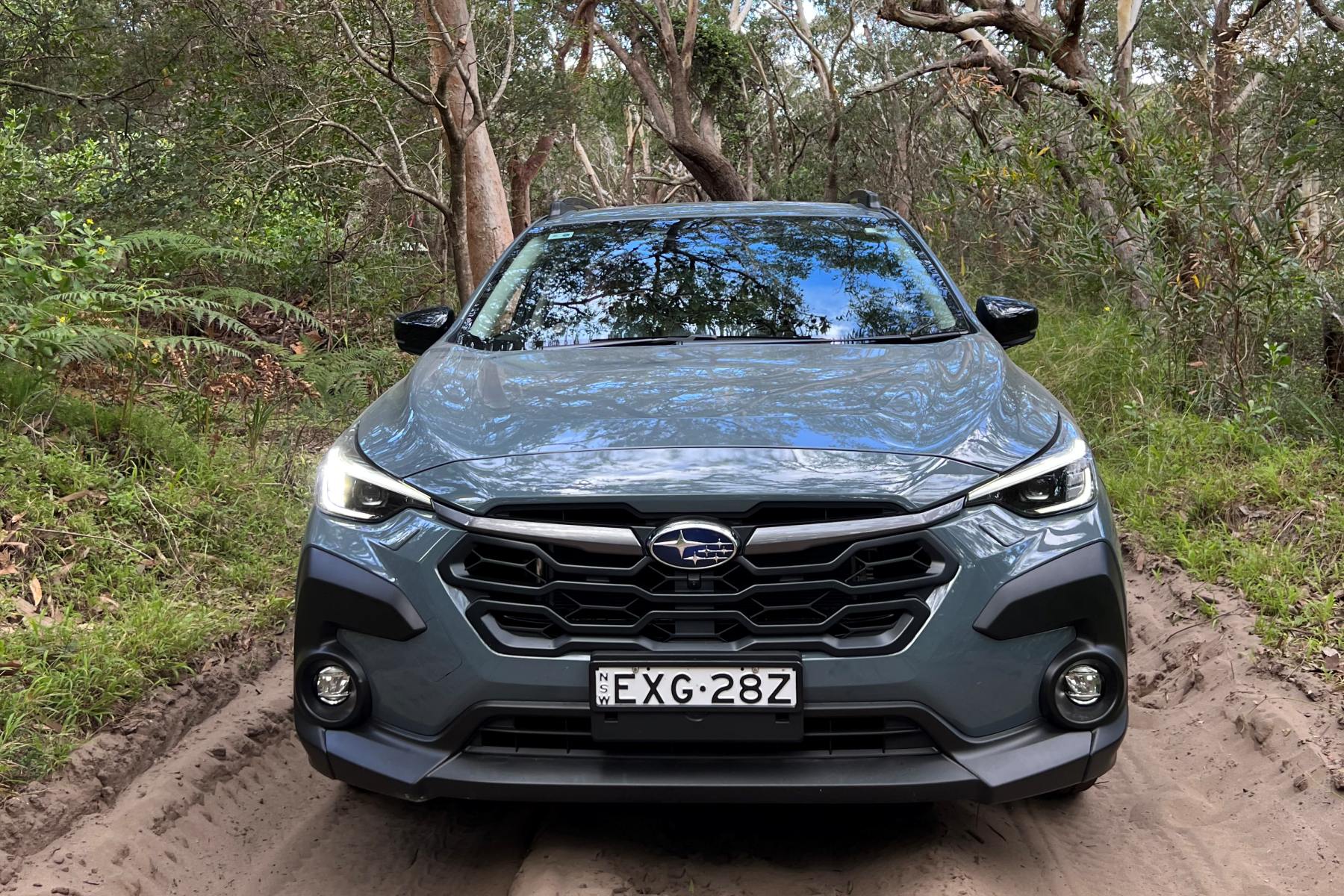 Some other thoughts about everyday things
Crosstrek is comfortable to sit in and driver ergonomics are well designed
Cruise control adaptive function is selectable which is excellent.
Lane keep assist, if you turn it off it will stay off until you turn it back on again, which i like.
The large central screen is best in class for functionality, clarity and user interface
Wireless Connectivity and charging is welcomed, as are the three points of connection, USB type A and USB type C ports (power supply and communication) plus auxiliary input jack
RCB, USB2, USB3 and rear USB inputs
There is plenty of head room for driver and occupants
Rear seats are comfortable and have good knee room
Rear seats fold flat which is good and there are multiple tie hooks
Three isofix points for kids seats
Boot opens tall, but no push button close on any model
Overall visibility is great, especially through the front 'A' pillar quarter windows
Headlights have auto on functionality, but no auto high-beam.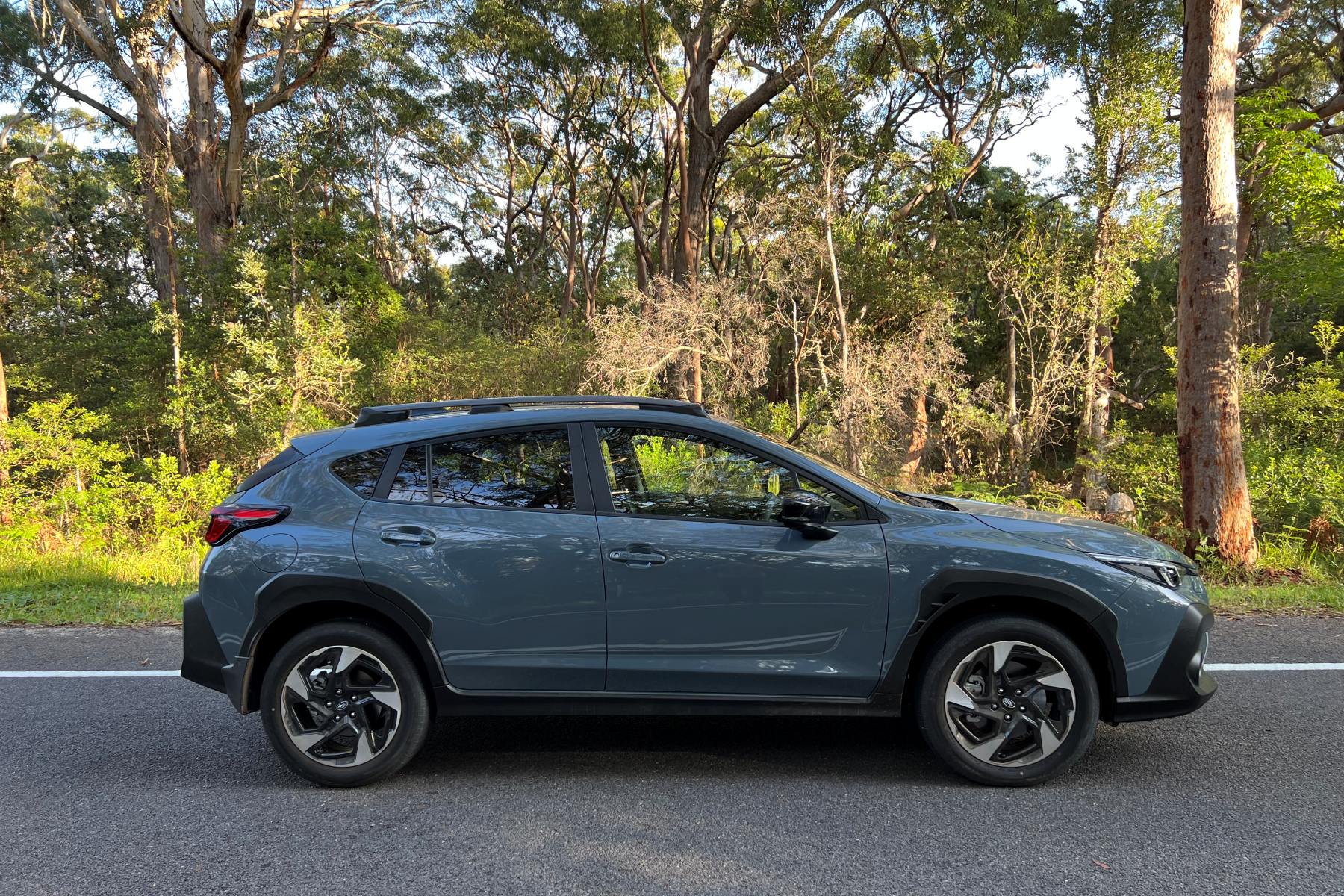 Subaru Crosstrek Final thoughts
Buying a car, especially an SUV, is all about matching the capabilities of the SUV to your needs.
People will  buy the Subaru Crosstrek because they want more. More adventure, lifestyle and the ability to explore further.
Crosstrek is ideal for snowy or icy conditions, and is extremely popular in Australian snow fields.
It  defines the adage, you get what you pay for.
Crosstrek has class leading safety features, ground clearance, towing capacity and AWD capability.
Subaru Crosstrek makes a perfect partner in the search for life's #OneLittleMoment.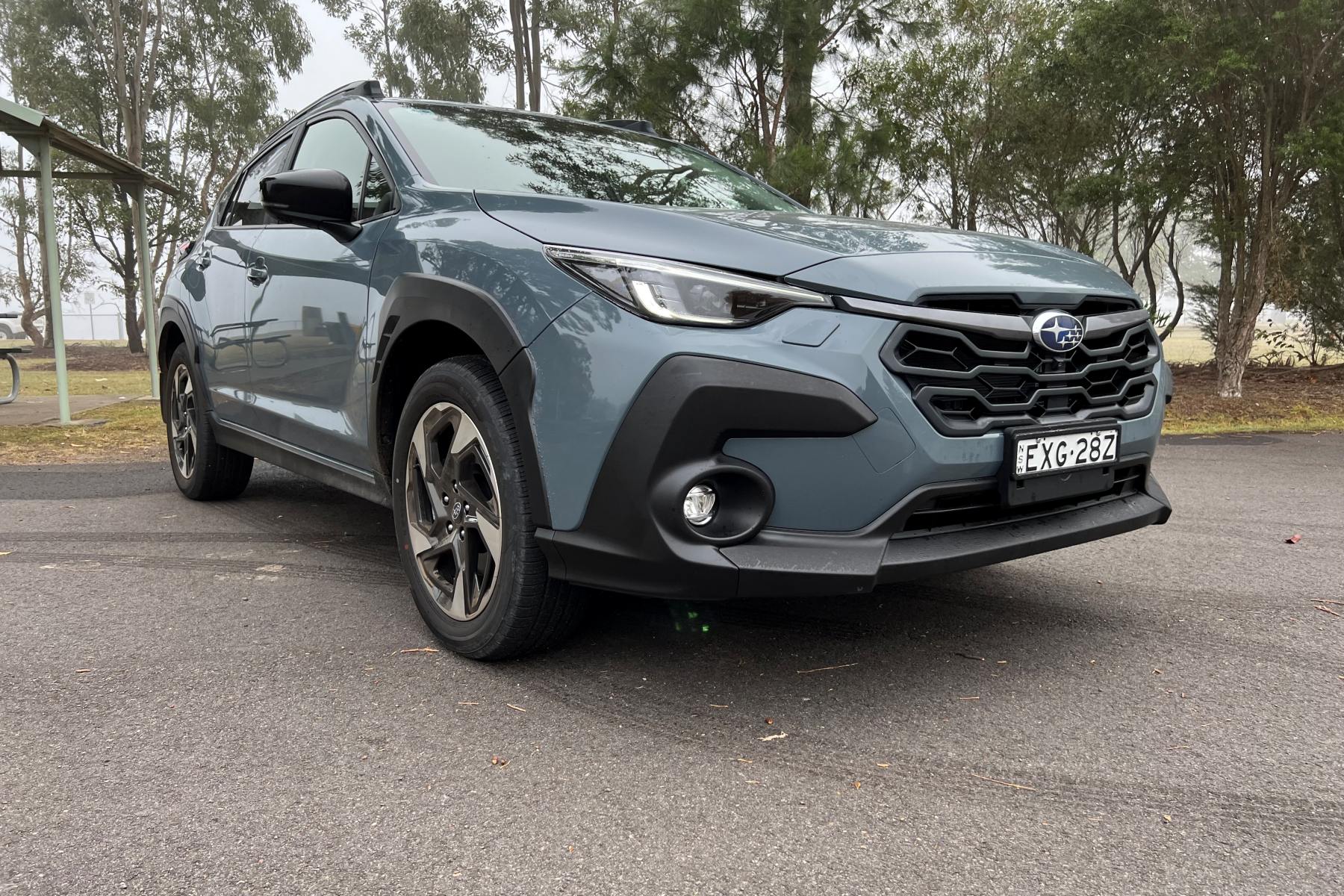 Also look at.
Serious adventure AWD SUVs or even 4WD SUVs in the smaller size are few and far between.
Buyers could look at the Jeep Compass, Suzuki Jimny,  Toyota RAV4 Edge,
Other SUVs that aren't quite as adventure focused but worth a look at include: Nissan QASHQAI, Kia Seltos, Mazda MX-30, Audi Q2, Toyota Corolla Cross, Peugeot 2008 GT, Citroen C4, Haval Jolion HEV.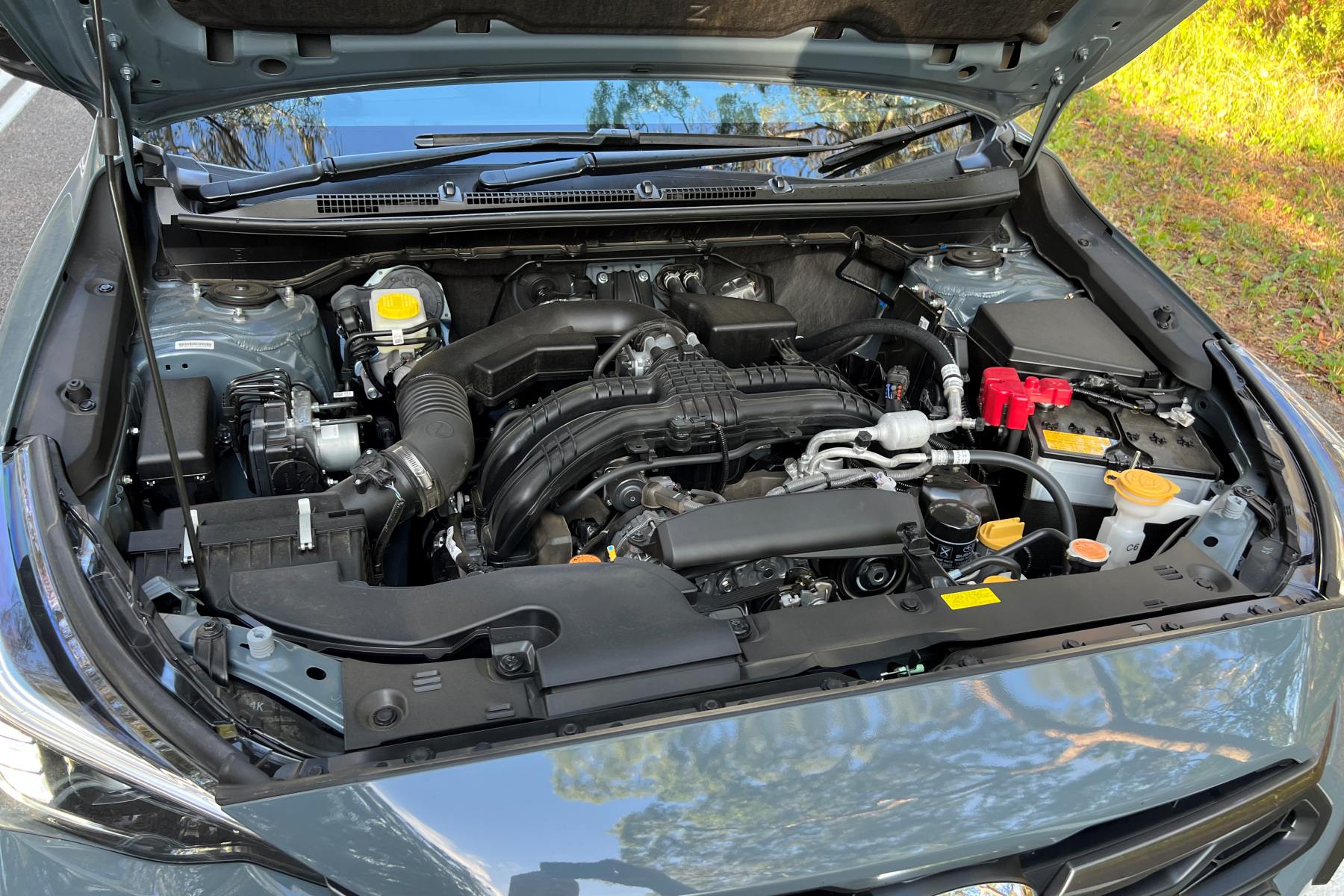 Subaru Crosstrek

Model

Crosstrek 2.0S AWD

Model Price
$41,490 MLP*
Engine
2.0L 4 Cyl Boxer Petrol Euro 6b
Drivetrain
8 Step Lineartronic CVT Symmetrical AWD
Power
115kW @ 6,000rpm
Torque
196Nm @ 4,000rpm
Safety
TBC (XV was 5 star)
0-100kmh / Top Speed
10.5 secs / 198km/h
CO2 Emissions
165g/km
Economy ADR
7.2L/100km / 63L capacity
Economy on test
TBA
Max Range
1050km
Servicing
12Mth / 12,000km Capped Price
Warranty
5yr/ Unlimited km
Roadside Assist
5Yr. conditional roadside assist
*MLP Includes GST and LCT but excluding statutory charges, dealer costs and dealer delivery. See your dealer for RDAP. Does not include price of options. Some features mentioned in the article are options. RDAP means Recommended Drive Away Price (without options but including all other charges)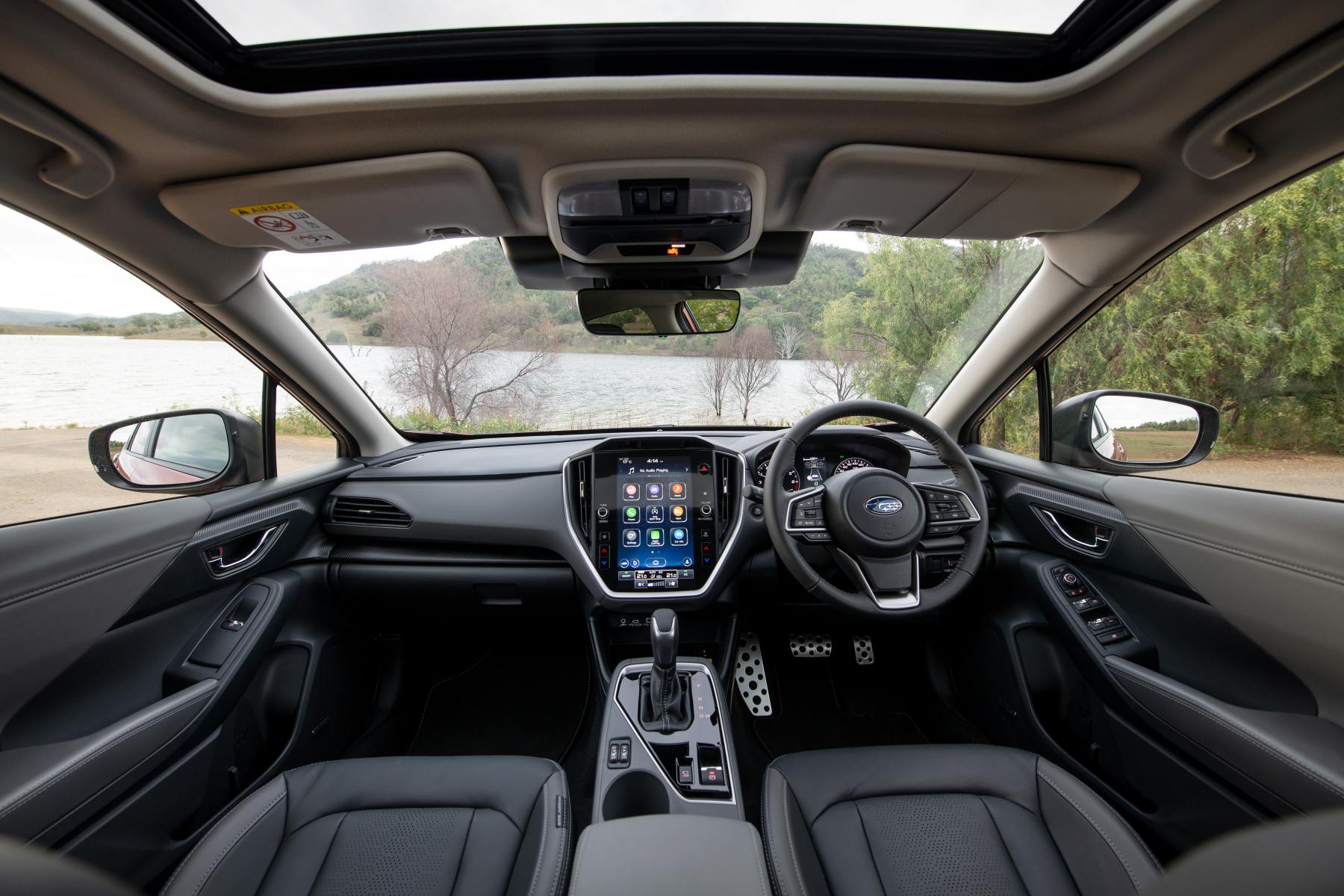 | | |
| --- | --- |
| Overall Rating     | 90/100 |
| Behind the Wheel | 9 |
| Comfort | 9 |
| Equipment | 9 |
| Performance | 8 |
| Ride and Handling | 9 |
| Practicality | 9 |
| Fit for Purpose | 9 |
| AWD/Towing Capability* | 10 (AWD 5/5 – Towing 5/5) |
| Technology/connectivity | 9 |
| Value for Money | 9 |
*Towing and AWD capability is measured against similar vehicles in the same class.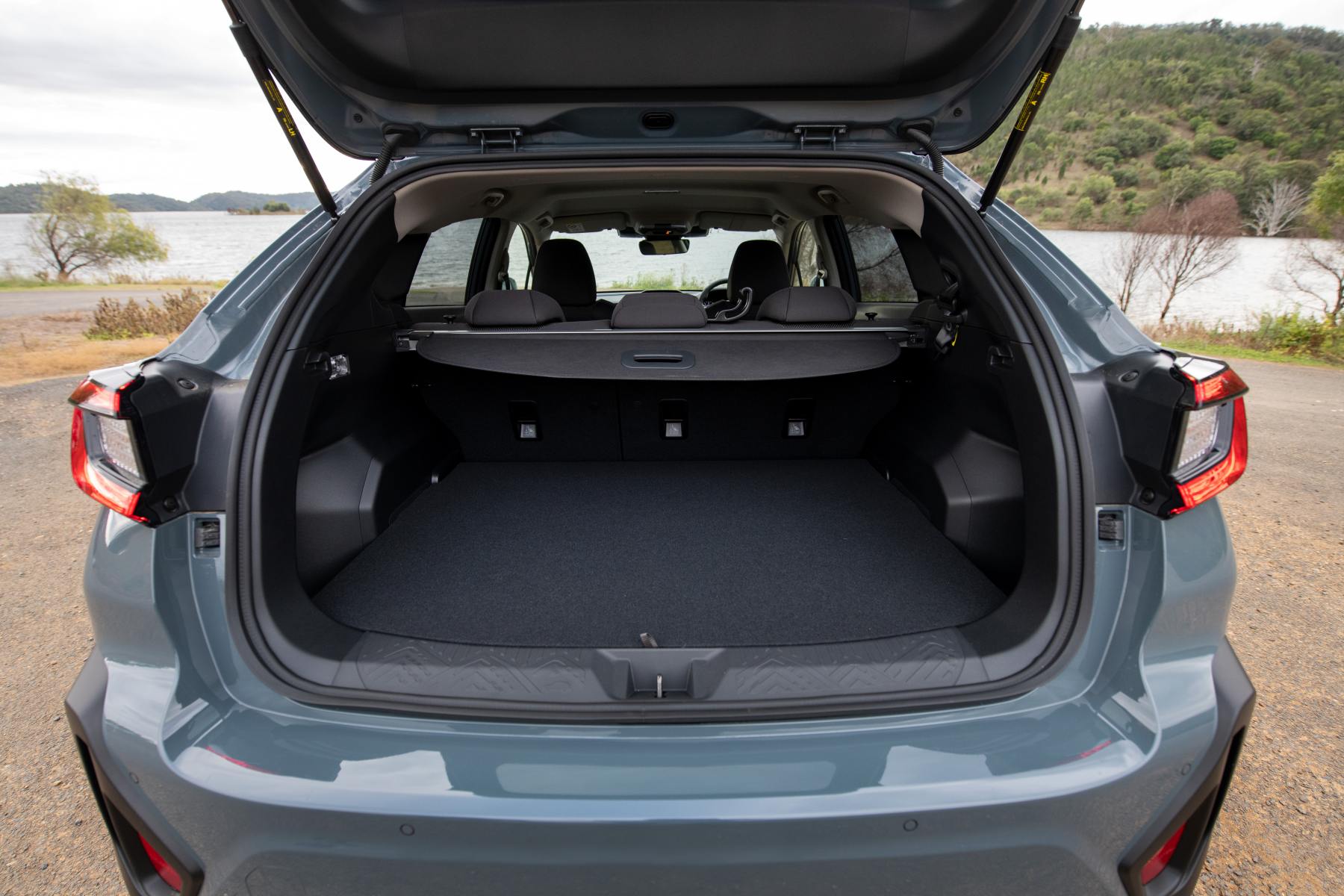 | | |
| --- | --- |
| Dimensions |   |
| Overall Length | 4495mm |
| Wheelbase | 2670mm |
| Width | 1800mm |
| Height | 1600mm |
| Wheels | 18×7.0 Alloy |
| Tyres | 225/55 R18 |
| Max ground clearance | Up to 220mm |
| Wading Depth | TBA |
| Approach | 18 degrees |
| Rampover | 19.7 degrees |
| Departure angle | 30.1 degrees |
| Turning Circle KTK | 10.80m |
| Boot space min | 291L |
| Boot space Max | 883L |
| Tub Depth | N/A |
| Kerb Weight | 1532kg |
| Payload (kg) | TBA |
| GVM (kg) | 2100kg |
| GCM | 3500kg |
| Towing Capacity | 1400kg |
| Tow Ball rating | 140kg |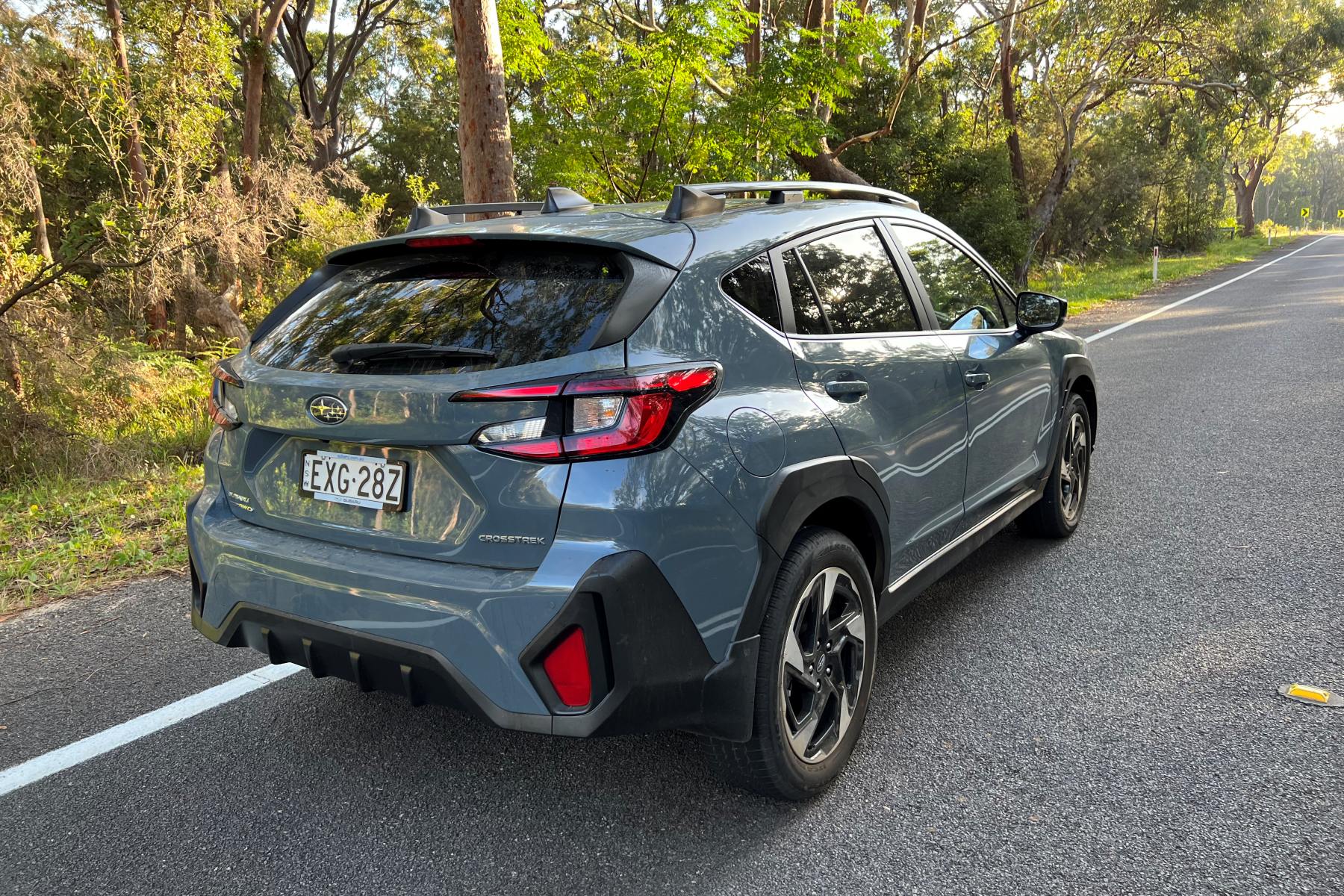 Motoring Minute is heard around Australia every day on over 50 radio channels through the Torque Radio network. 
Motoring Minute has an average daily audience of over 550,000 listeners. They are also syndicated through various news sites around Australia.
Additionally Motoring Minute is also broadcast as part of Overdrive Radio Program. This is broadcast through the Community Radio Network across Australia.
Overall Rating -

9/10
Summary
Buying a car, especially an SUV, is all about matching the capabilities of SUV to your needs. 
People will  buy the Subaru Crosstrek because they want more. More adventure, lifestyle and the ability to explore further.
Crosstrek is ideal for snowy or icy conditions, and is extremely popular in Australian snow fields. 
Crosstrek has class leading safety features, ground clearance, towing capacity and AWD capability. 
It  defines the adage, you get what you pay for.