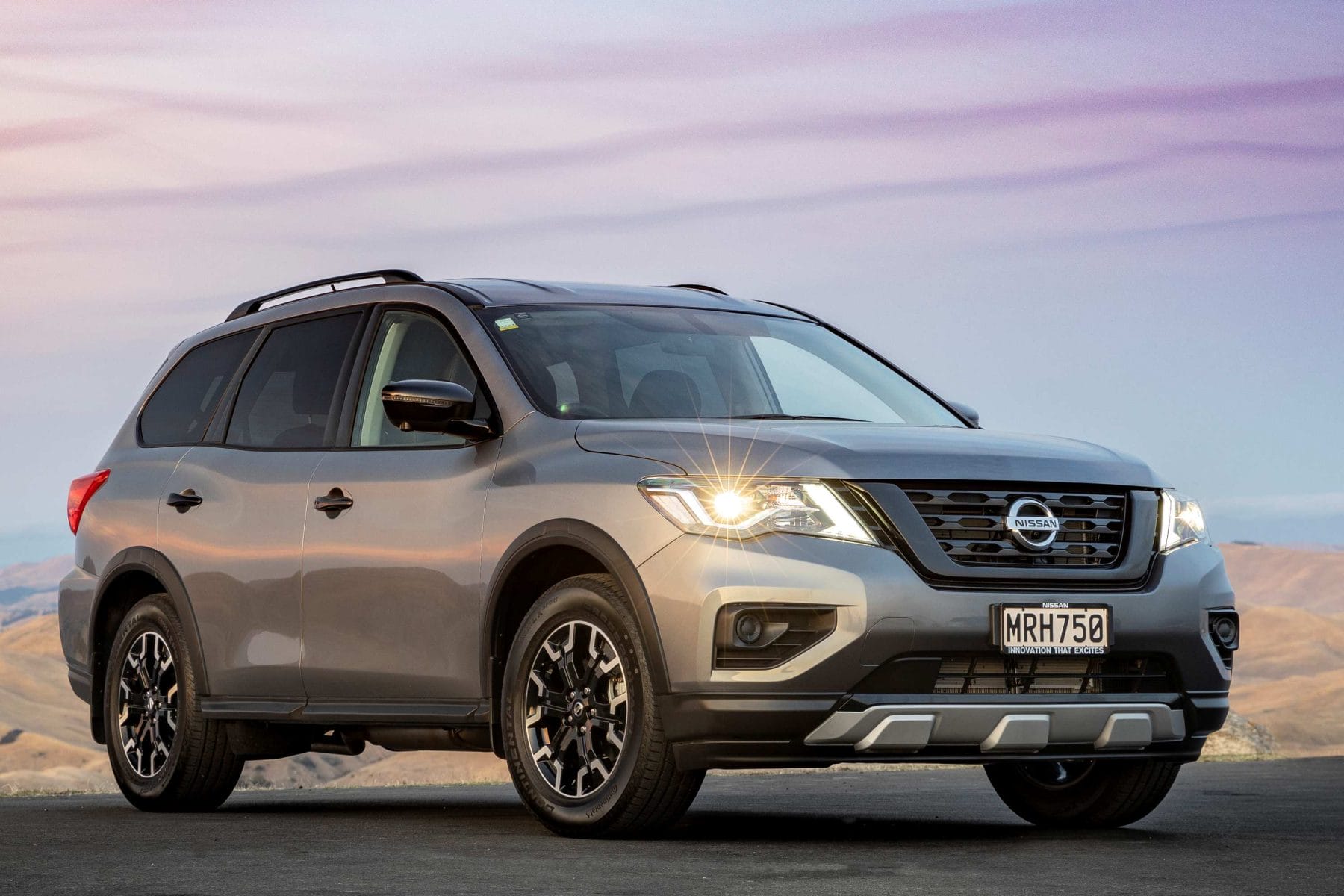 Nissan Pathfinder N-TREK – savvy Aussie consumers looking for a large family friendly and practical SUV will find everything plus more they could possibly hope for in this bold looking and competitive priced Pathfinder N-TREK. 
With a reasonable price tag, great looks and a tonne of comfort and functional features this has been a great move by Nissan!

Pathfinder N-TREK Exterior
The N-TREK  exterior design pack looked super cool to the eye and gave the pathfinder a bold and modern look. While it is a 7 seater SUV designed for a family i personally found it quite eye catching and it looked super sleek. The ivory pearl colour tone really popped thanks to the all black trim the N trek style featured around the vehicle.
The front grille, roof rails, all door handles, mirror caps, plus front and rear lower bumper all is trimmed in black which to me give off a sinister finish to the eye.
The set of alloy wheels while very unique to the Pathfinder N-TREK weren't really amazing in my eyes but it did go with the overall look of the vehicle had so i cant really complain! This car does seem targeted towards a more trendy young family kind of vibe and i can appreciate that because it does look very cool overall for a SUV.
Its worth noting the N-TREK does have a very long design just tipping over 5 metres in length, and i was surprised at how much space i needed when looking for parking spaces around the tight streets of the inner west Sydney area for work! But being a 7 seater vehicle its kind of what you would expect.

Pathfinder N-TREK Interior
Being a driver in the Pathfinder felt super comfortable and spacious, I could instantly relax thanks to the super soft leather seat. The electronic adjusters allowed me to easily find a great position and the leg room was generous and much appreciated for a bigger bloke like me!
Overall the Space up front was excellent and additionally provided me with good head, shoulder and elbow room as well.
Practicality rather then innovation seemed to be the theme with the old school buttons and adjusters for the climate control and car media panel settings, I wasn't a big fan of all the buttons that to me should all be on a touch screen panel like Most SUV models in the market currently, but it might appeal to a more mature customer who is used to older designed media controls in a car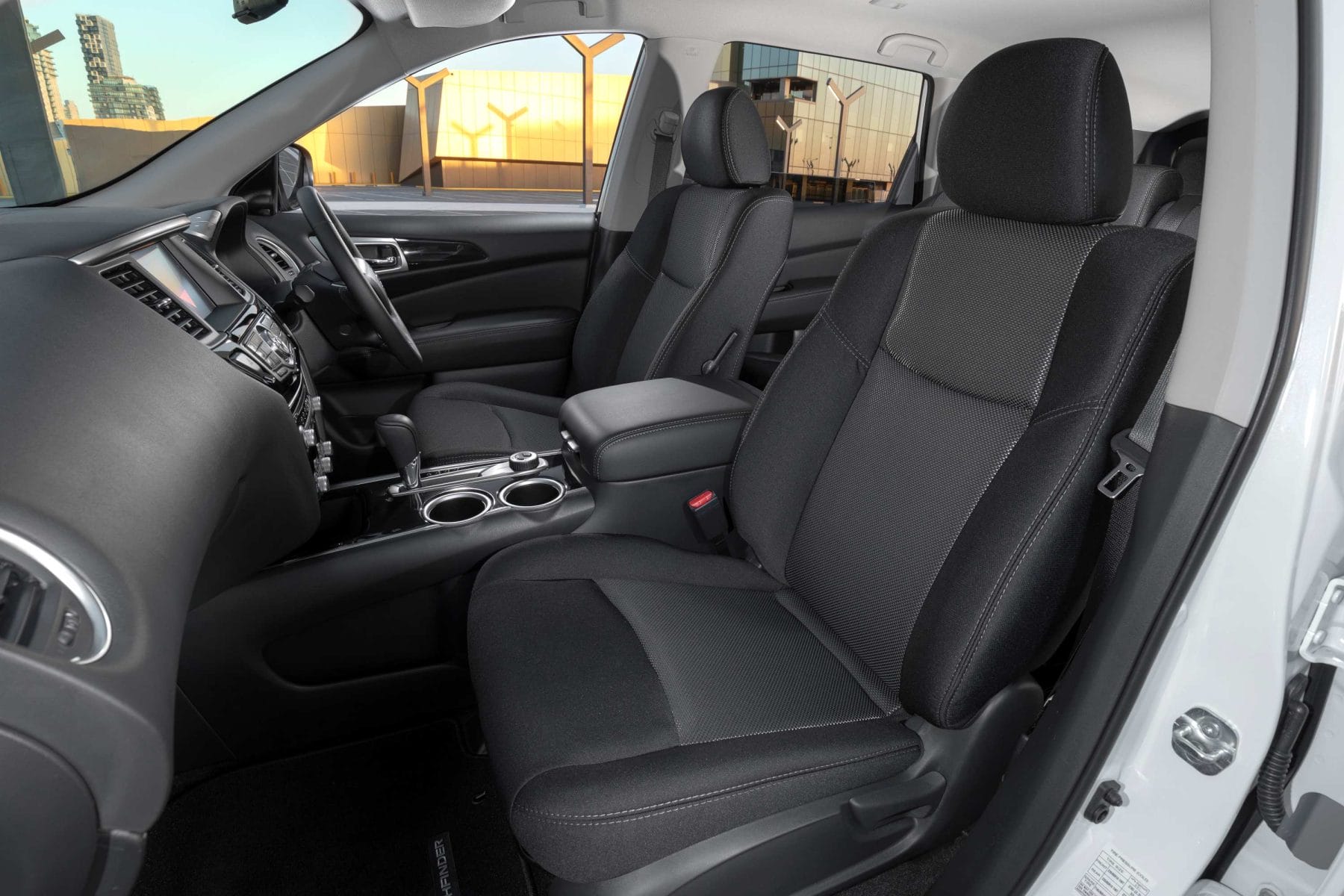 The media system did have apple car play and android plus which is perfect for my lifestyle of needing my device running through the car for all my personal work needs, music and navigation. Connecting my device was also very pain free which was much appreciated!
The 8 speaker sound system was well above average for an SUV in this range and it made my life very enjoyable having such an immersive listening experience when i could play my music and podcasts for my long commutes into the city and back for work.
Directional air vents in all three rows, plus large windows made life super comfortable for everybody as well as I the driver, my passengers in the back were also able to adjust the temperature to there own area as desired.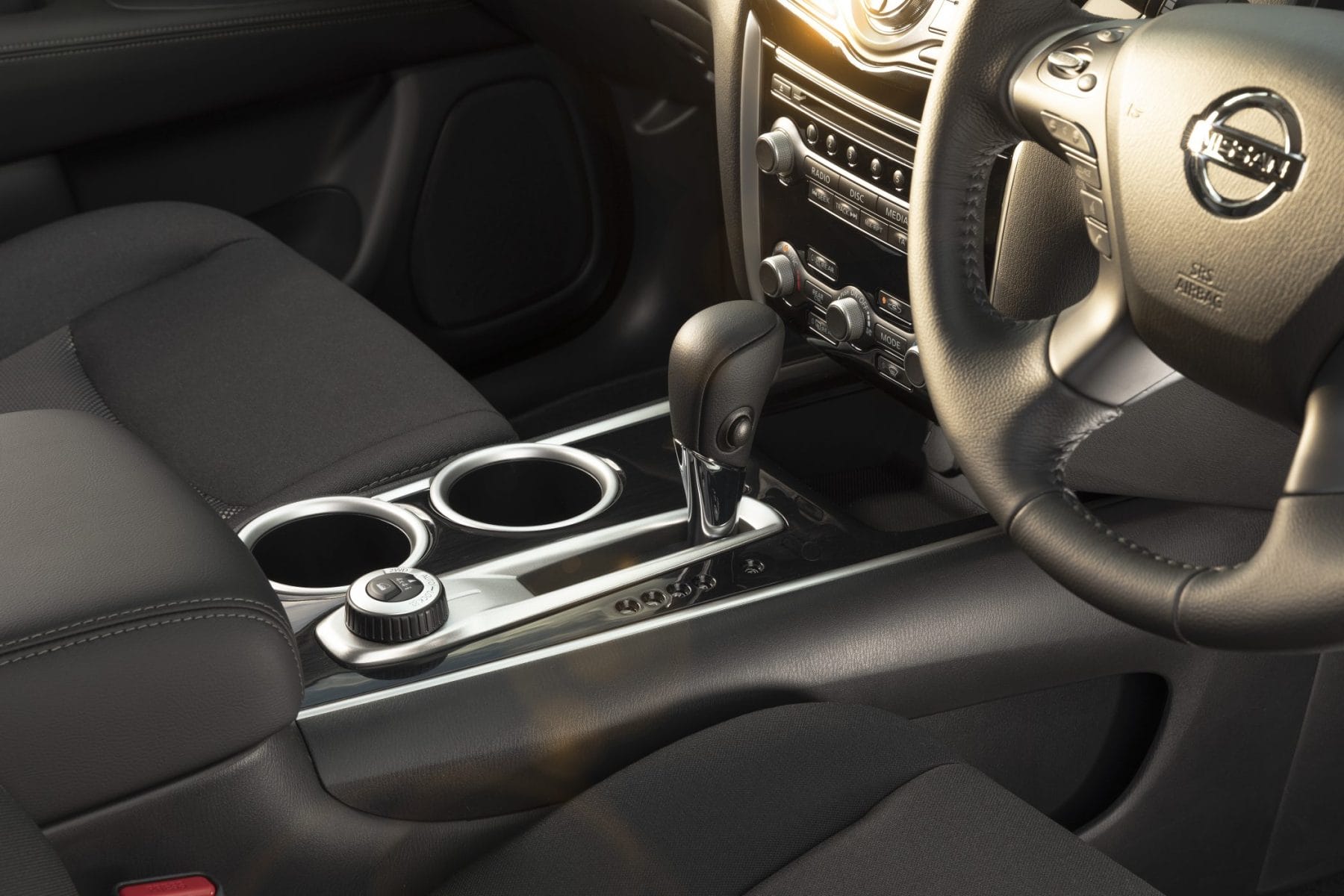 The floor did seem overly elevated in the Pathfinder, which placed the knees of second and third-row passengers higher particularly some of my mates who are also larger sized blokes! However my mates highly praised how much space they had to stretch there legs in the 2nd row section and the size of the seats and comfort.
Storage for drinks and miscellaneous was excellent with 10 cup holders (yes, 10) on board (two up front, four in the second row and another four in the back row); large door pockets, a tray in front of the shifter and a deep centre-console storage bin.
For charging and media there were three 12-volt and two USB outlets up front and two USB charging points and a media USB port in the second row allowing everyone the opportunity to charge devices of needed which was much appreciated by all!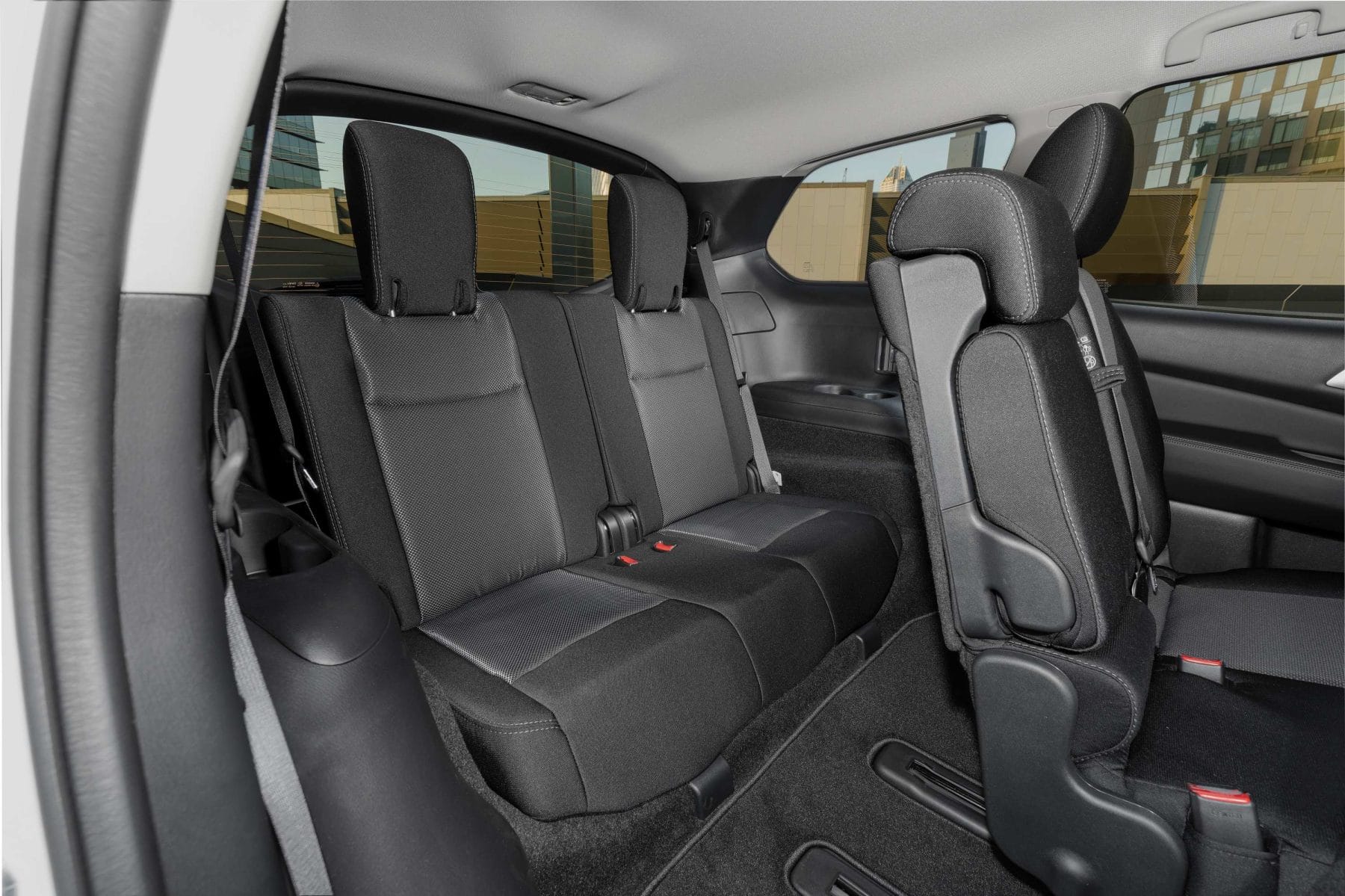 Boot space with the third row toddler seats is nearly 450 litres of room and up to 1354 litres with them folded flat and the second row in place. There was also extra storage space under the boot floor which i was able to make use of for my work if i had to deliver parcels and miscellaneous goods that wouldn't normally fit in a smaller vehicle.
A standout feature for this already jammed pack interior cabin was the addition of both a sunroof and moon roof which gave my passengers and I great overhead views of the passing scenery and great natural light.
Overall The N-TREK really makes an effort on comfort and space and i was very impressed!

Pathfinder N-TREK Engine and Drive
The N-Trek special edition comes with the same 3.5-litre V6 petrol engine found in the regular Pathfinder, with the same 202kW and 340Nm in output although i found it didn't produce the greatest acceleration and i could hear a small drony sound that was a tad annoying to hear rather then a roar you would expect from a engine like this. Travelling at the highway speeds i go on for my various travels and work felt super smooth and effortless as well.
Unfortunately being a petrol engine meant if i had to accelerate and get through peak hour traffic it did chew a fair bit of petrol! Saying that though again, it was an incredibly smooth ride and felt well balanced all over, driving through the tight inner west road systems felt super breezy despite the size of the vehicle and the handling and braking felt on point! I drove this vehicle through a particularly wet week in Sydney and the grip and traction control really executed well along with the ABS braking when i needed it to.
The fuel economy was just shy of 11L/100km and it did improve when i did major highway driving but not drastically as i was expecting but for a family who most likely wont do the high amount of kilometres i do for my lifestyle and work it shouldn't be an issue at all.
Extra features like the blind spot camera and reverse camera came to be super handy, the blind spot sensors gave me great peace of mind and an extra safety buffer when scanning my surrounds. The amount of reverse parking i need to do on a daily basis is ridiculous so as you could imagine a great reverse camera makes my life very easy and the n trek camera was incredible and super accurate, it has to be one of the best reverse cameras i have used in a car of this range before to be honest.

Pathfinder N-TREK Conclusion
My week of lifestyle and work was made very comfortable and enjoyable thanks to the new design N-TREK and while I necessarily really don't personally have the need for a 7 seater SUV there is no denying how handy the space and practically of it is.
Plenty of space for both passengers and drivers really does create an overall pleasant driving experience. While yes it is heavy handed on the fuel i found it a well balanced drive for its size and the extra tech and safety features made it feel like a stress free drive which will be a great benefit for a family commuting in this car. For its price range and new bold look i think this series is definitely worth investing into for a family who want reliability and functionality.
Nissan Pathfinder N-TREK
Summary
My week of lifestyle and work was made very comfortable and enjoyable thanks to the new design N-TREK and while I necessarily really don't personally have the need for a 7 seater SUV there is no denying how handy the space and practically of it is.