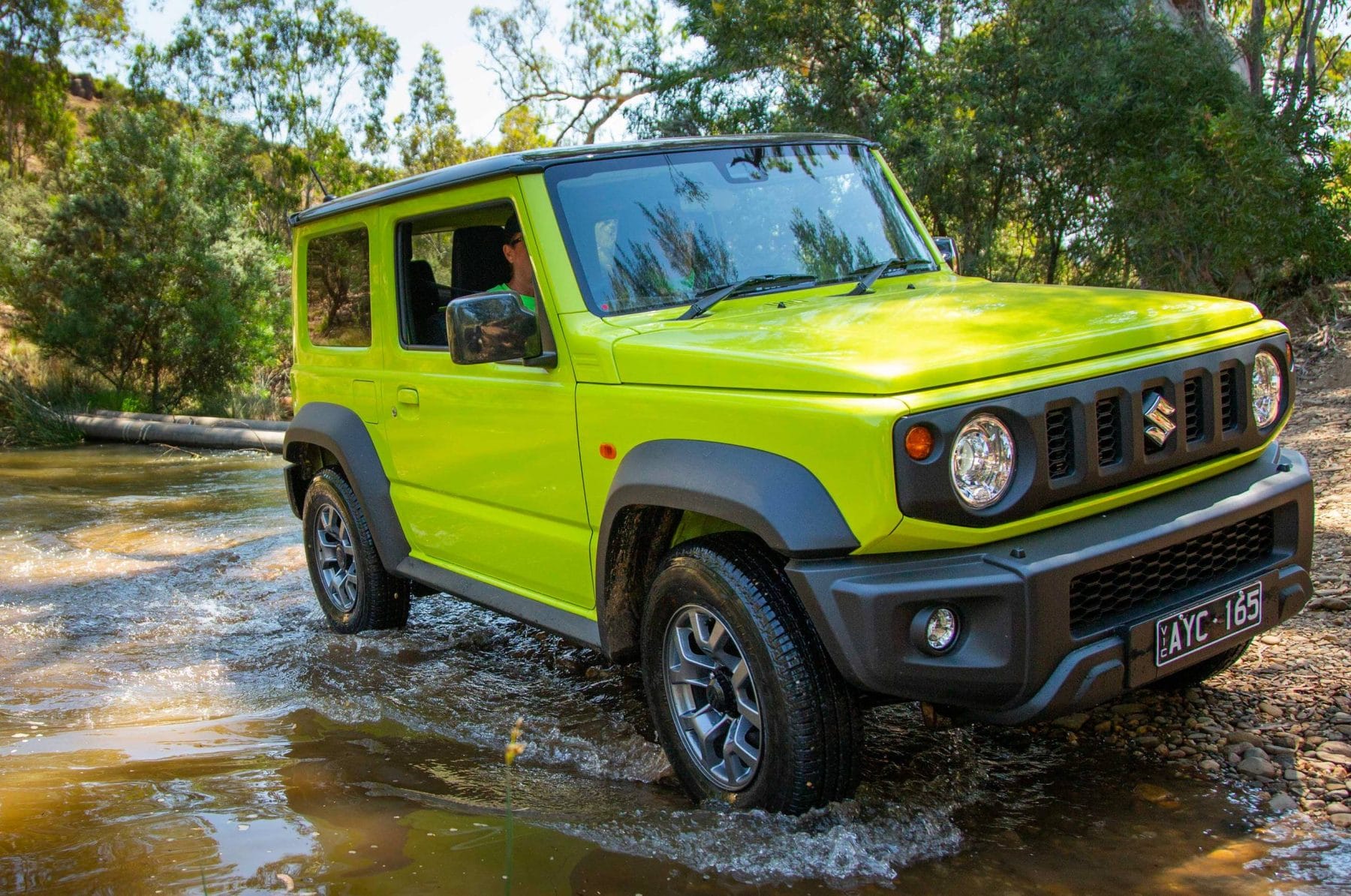 At $23,990, Suzuki Jimny has to be the best value four-wheel drive on the market. Why then, do 2nd hand examples cost so much? There is a 12-month waiting list, that's why.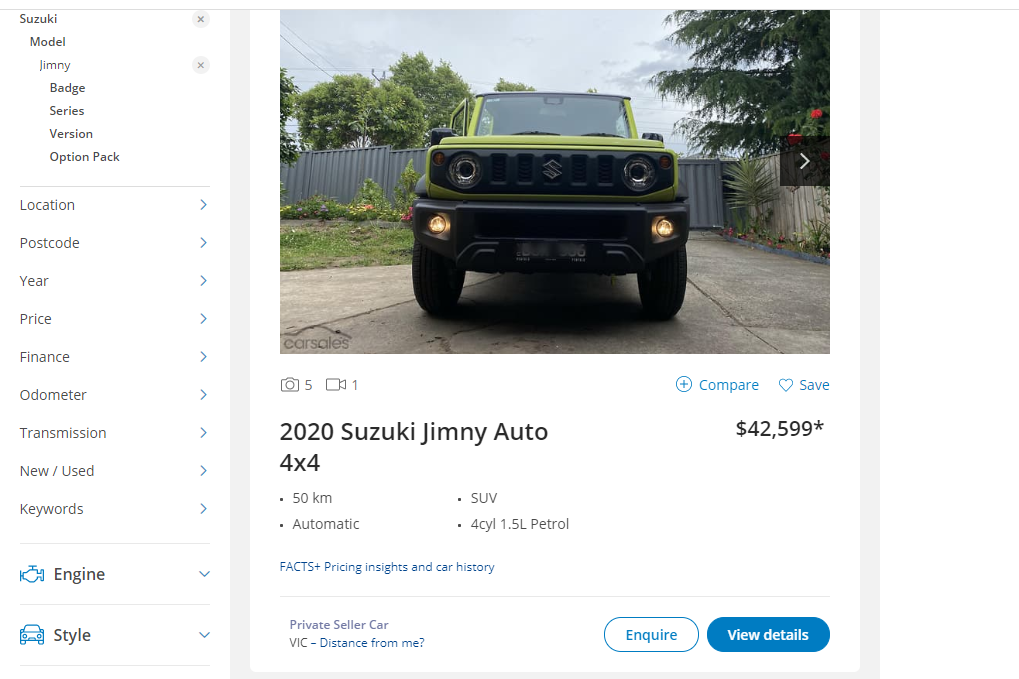 Supply is short, so they register cars and sell them 2nd hand. That RRP of $23,990 becomes more like $42,599, and as much as 45k.
A Suzuki spokesman said, "Jimny has been much sought-after."
What do you get for you money?
You get one of the best value SUVs on the road. But it is off-road where Jimny shines.
Jimny has 210mm of ground clearance, but weighs just 1095kg, about the same as a small hatch.
Outside, theretro- boxy shape evokes off-roading.
15" alloys look great, and come with 195/80 tyres. Those nice tall sidewalls mean you're ready for the very first bush track you see.
Automatic headlights are (projector) LED and include a dusk sensing function.
The huge rear door swings out, and has a full-size spare mounted on it. It doesn't block much ot the view rearward. To make sure, Jimny has a reversing camera.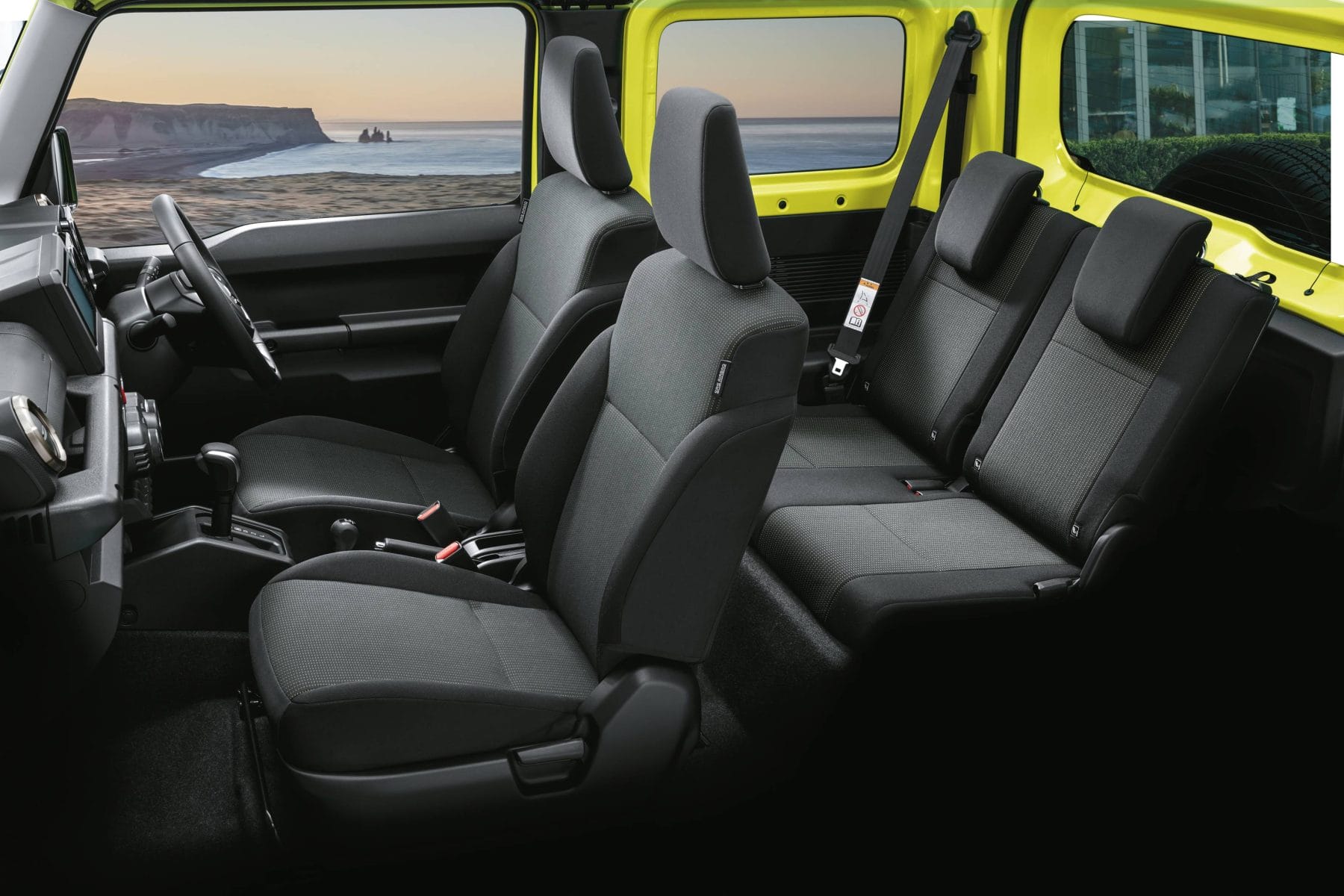 What's the cabin like?
Nothing about Jimny is too precious to be used as designed.
Floor and seat coverings feel sturdy. The seats are on the small side, and don't provide a huge amount of support for larger people.
Front passengers will still be fairly comfy, while rear seaters will prefer shorter trips only.
The doors have small bins, but no bottle holders. Detritus will have to be consigned to a plakky bag. Cup holders on the rear of the centre console, and are difficult to reach from the front seats.
The dash has a built-in grab handle, and a nifty allen-key detail.
The driver's instruments have the usual dials, with a small LCD for other data. A 7" screen sits atop the centre stack, and includes CarPlay/Android Auto, and built-in navigation. Sound is adequate, but there is no DAB,.
Luggage is a limited to 85L with the rear seats up. This expands to 377L when they're folded down, and I suspect this is where they'll stay.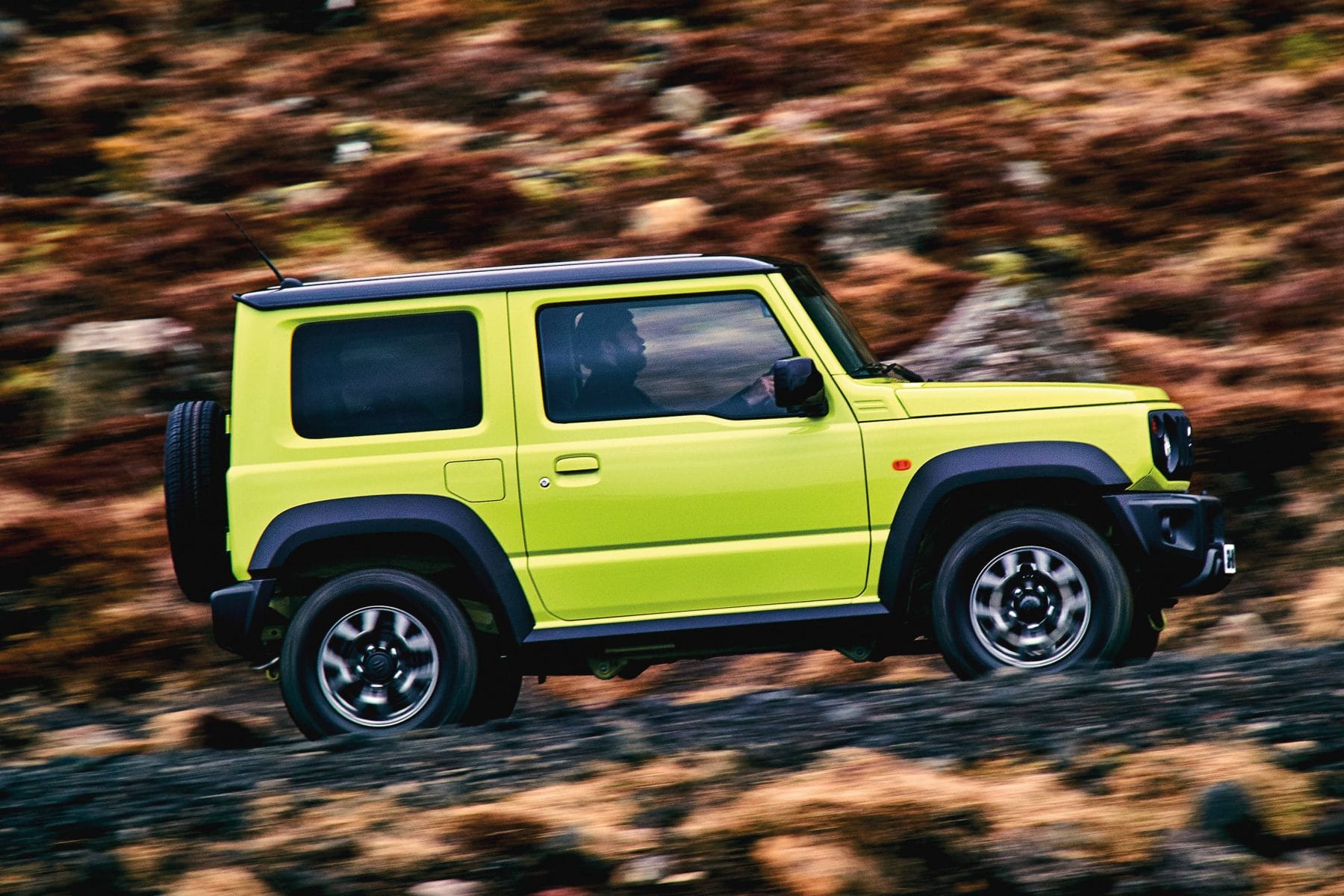 What's Jimny like on the road?
Jimny drives like an old-school 4X4.
My mini road trip to Picton took in highway, city and winding country roads. 110kph sorts out the foibles. To be honest, Jimny felt like it was all over the place. Steering feels approximate and the ride is bouncy.
As the kilometres passed, i got used to the odd steering feel, and the ride felt rather good.
The more relaxed I got, the better Jimny felt. After an hour, I was hooked.
Jimny is fairly tall, at 1725mm. It gets knocked around by the wind, so you do have to keep your wits about you.
Cabin noise is low around town, but rises substantially at speed. It isn't so loud that it drowns out you chats, but you definitely need the audi up a peg or two.
Jimny is only 3645mm long, so fits into tiny spaces. Shopping trips are a pleasure, and Jimny darts around city traffic.
The 5-speed manual is a cog short of what I'd expect. The automatic is even worse. It only has 4 speeds. that is practically Jurassic. You notice this on the highway where you're constantly reaching to 6th.
Like the rest of Jimny's miniscule stats, the motor is tiny too. The 1.5L puts out 75kw/ 230Nm with a linear progression thanks to the naturally aspirated set up. It could definitely use a little more power.
When you get the chance to shift in to "4L", the covers come off the true abilities.
Off-road performance is unmatched for the price. Jimny is a lightweight, so scampers over rough terrain. The ride is even more bouncy, but always remains the fun machine it was on the tarmac. You're limited in off-road assistance. Hill hold and hill descent help, and there is low-range 4X4 for the tough stuff.
Sure, you won't be as comfortable as you would be in a 200 series, but you could get 3 or 4 Jimnys for the price of a base model LC200.
Safety:
You get lane departure warning, and AEB, but active cruise is a distant memory. Jimny scores 3 ANCAP stars for safety. Although Jimny scored 73% for adult protection, and 84% for child protection, vulnerable users just passed with 53%, and the lack of active safety meant just 50% for that criterion.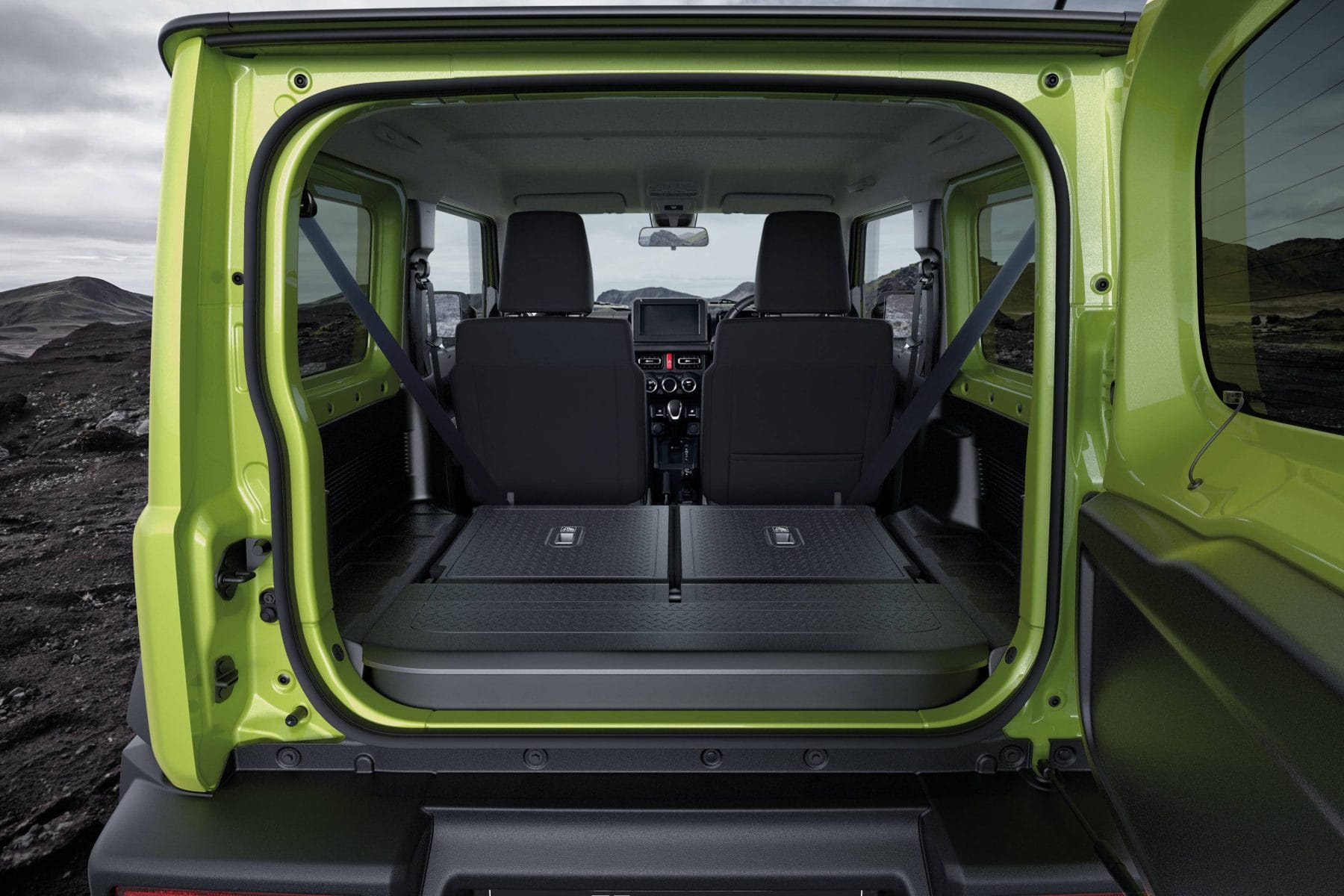 Uses:
For the sporty/camping types, you are well catered for. There is 1300kg of braked towing, so a small camper-trailer is perfect.
Farmers will be very happy, but it is more likely will find many more homes in town.
Buyers will like the stylish looks.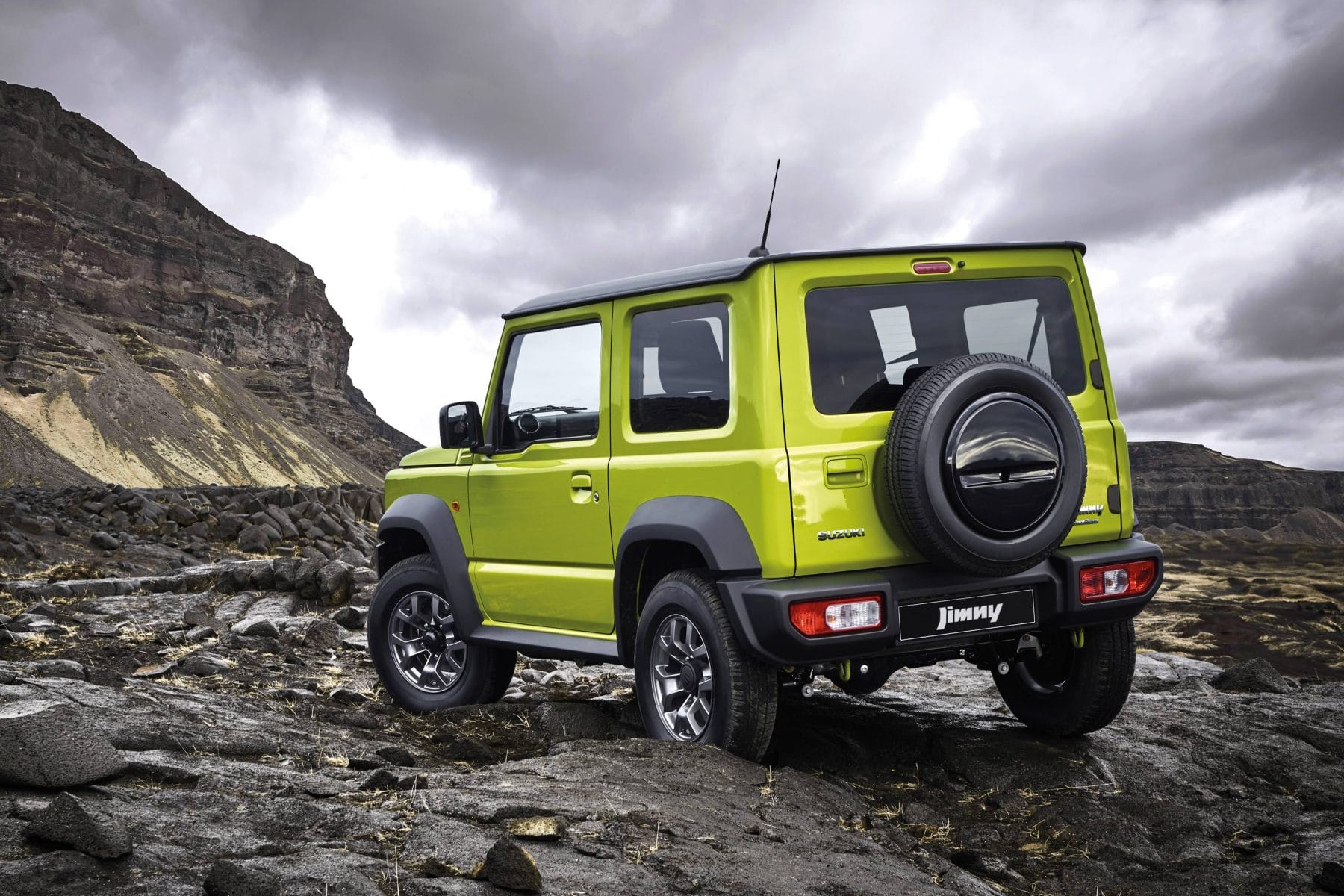 Conclusion:
Jimny is the perfect blend of ability, function, and fun.
Jimny is cheap as long as you don't lose you head in the 2nd-hand shuffle. There is more than enough room for you and your hunny, and no matter how far you go, you'll both manage to look really cool.
And, that does it for me.
I didn't want to hand it back.
Also Look At