Subaru BRZ was first launched in Australia in 2012 I think it was and has been a sales success for the brand ever since. Fast forward to January 2022 and the latest version has just been launched and we went along for the release.
 For those that want the quick version
The BRZ is simply FUN to drive.
New 2.4l naturally aspirated Boxer engine.
Power 174 kW @ 7,000 rpm and Torque of 250Nm @ 3,700 rpm
Choice of 6 Sp MT or 6 Sp AT with paddle shifters and a Torsen® rear limited-slip differential.
AT versions get the award-winning EyeSight® Driver Assist technologies.
Revised suspension, wider real wheel track, lower centre of gravity, new performance tyres.
Redesigned interior featuring improved infotainment and connectivity technology.
Subtle exterior freshen up.
Two versions, BRZ Coupe and BRZ Coupe S, Two transmissions, one engine.

What is the BRZ like to drive?
As this is a driver's car, the key thing readers want to know is what is it like to drive.
FUN is the operative word.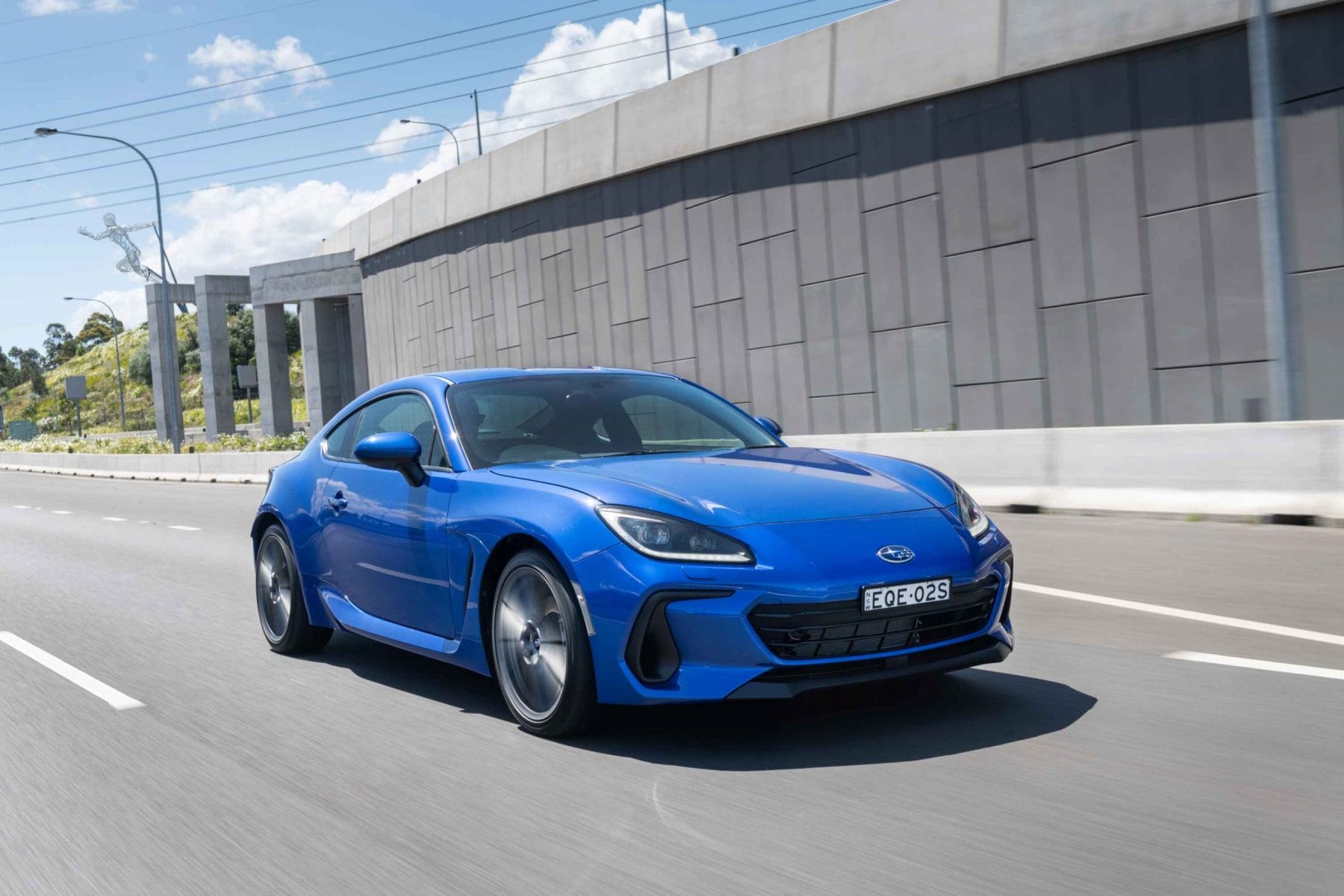 Let's discuss daily driving first.
We had the opportunity to take the BRZ on a loop of normal motorway and suburban roads. Typical of most driving.
One thing that stood out to me was the compliance of the suspension. In many sports cars, they are a little harsh, often jiggling around on suburban roads and some you need a kidney belt to survive them.
Not so with the BRZ. It was quiet, smooth, ironed out many road irregularities and easy to drive around town. That's important as often these cars are bought and used every day with a run on weekends away.
I would be happy to drive the BRZ every day.
Another thing that stood out was the room for someone like me that is slightly larger than the average bear.
There was enough room for me to find a comfortable driving position, with enough leg, head and shoulder room to not feel squished. That is a huge bonus as many two door sports cars I can't wait to get out of them or simply don't fit.
On the Race Track
On the track at Eastern Creek, I had the opportunity to drive the old model and the new model back to back. Old model first. It's really good, quick, and responsive and feels like a part of the driver.
The old model is good, the new model is so much better.
It's not really any one thing, more a myriad of little things that go into making the new model a significant improvement.
More direct response from the electrically-assisted rack and pinion steering, a 4 cm lower centre of gravity, revised suspension damping, 18 inch wheels and performance tyres, wider rear wheel track and noticeable improvement in useable power and torque from the new 2.4L Boxer engine.
Driver engagement is paramount.
Everything works together with synchronicity to extract the maximum benefit for the driver.
A number of laps around the short circuit following Rally Champion Molly Taylor and I got to experience what it's like to pretend I was a race car driver. Even on a slippery track with light rain falling.
I've driven quite a few sports cars around the track there and others, but the BRZ goes close to being the most fun of any of them. It's not the fastest but perhaps the most balanced.
Later in the day I had a few hot laps with former Rally Champion Cody Crocker as well, and apart from the obvious skill differential between him and me, he showcased what the BRZ was truly capable of. It's tenacious in its grip, willingly and instantly responding to every little input he gave.
Skid Pan Motorkhana
I then headed to the skid pan, traction control off and away I went. Anyone that enjoys driving needs to experience the sheer joy of slipping and sliding around the skid pan or a club Motorkhana. Thrills with safety.
Then the serious bit started, an "M" shaped motorkhana track, timed to see who was the fastest on the day.
Traction control back on, well because I'm not an idiot, and away I went again. The little BRZ bolted out of the gate, hit the brakes hard, U turn down to the middle apex, round the bottom marker, flat out acceleration to round the top marker, then as fast as I could through the slalom witches hats then slam on the brakes to park in the "garage"
The BRZ performed without a fault.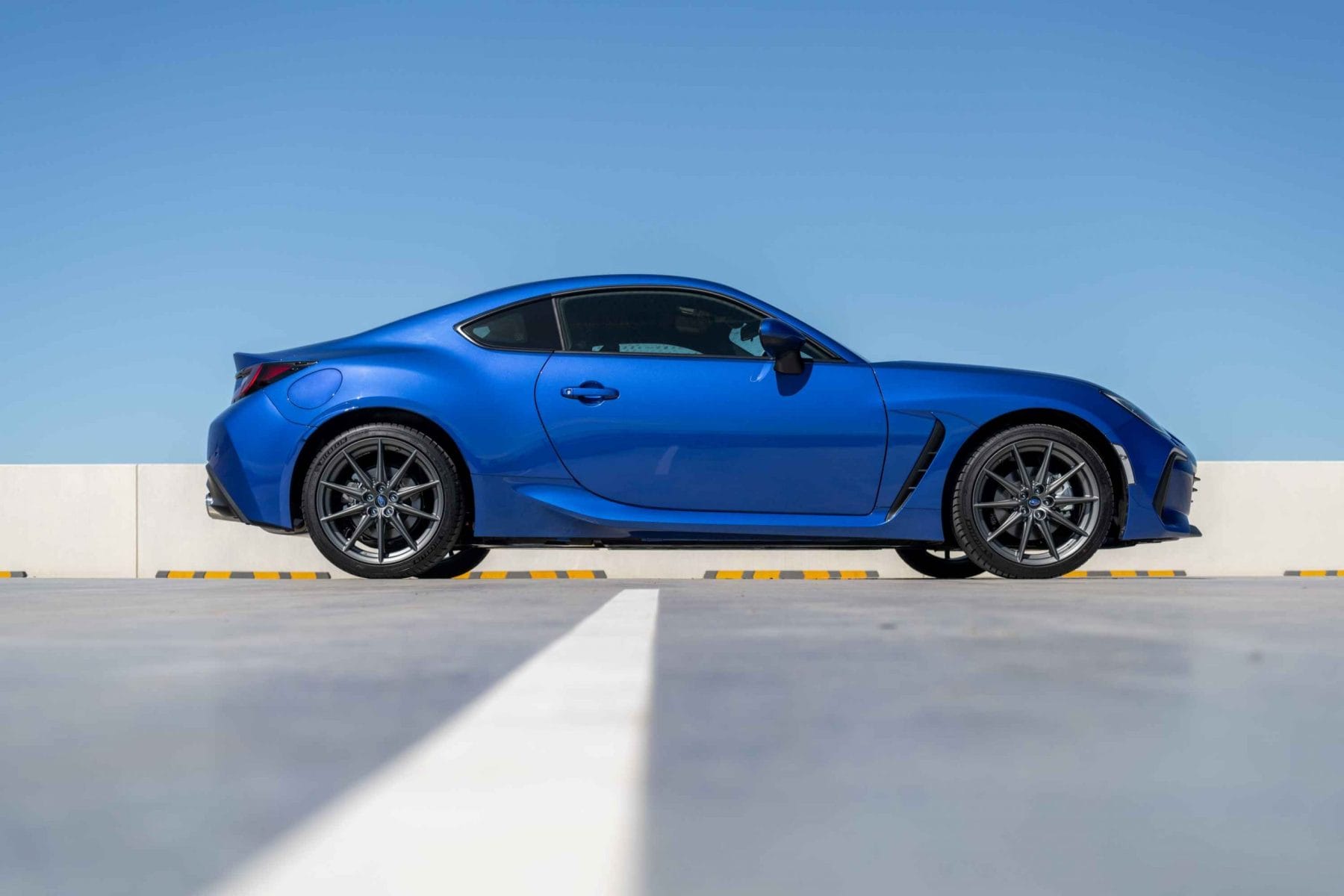 What does the BRZ look like?
Well to be honest the exterior change is more evolution rather than revolution, that's because they got the initial two door coupe style right first time around. Similar to the Mazda MX-5.
There are weight improvements with aluminium bonnet, front fenders and roof as well as improved aerodynamics with a slippery grill. The duck bill rear spoiler adds to the aesthetics as well as stability. There is a big rear spoiler as an option for those that feel the need to express more.
Newly-designed full LED headlights are standard for all BRZ variants and each features a long positioning lamp – which doubles as the daytime running light.
Clever, functional and stylish air vents aid in improving the stability and aerodynamics as well as keeping the wheel housings cool. Even the exterior mirrors have been redesigned for smoother wind resistance.
A minor thing that demonstrates attention to detail is that the new BRZ's fuel filler door material has been changed from steel to resin, providing a weight saving of 470 grams. Further, the gap between the fuel filler lid and the car's bodywork has been significantly reduced from 3.5mm to 2.8mm, creating a neater, higher quality fit.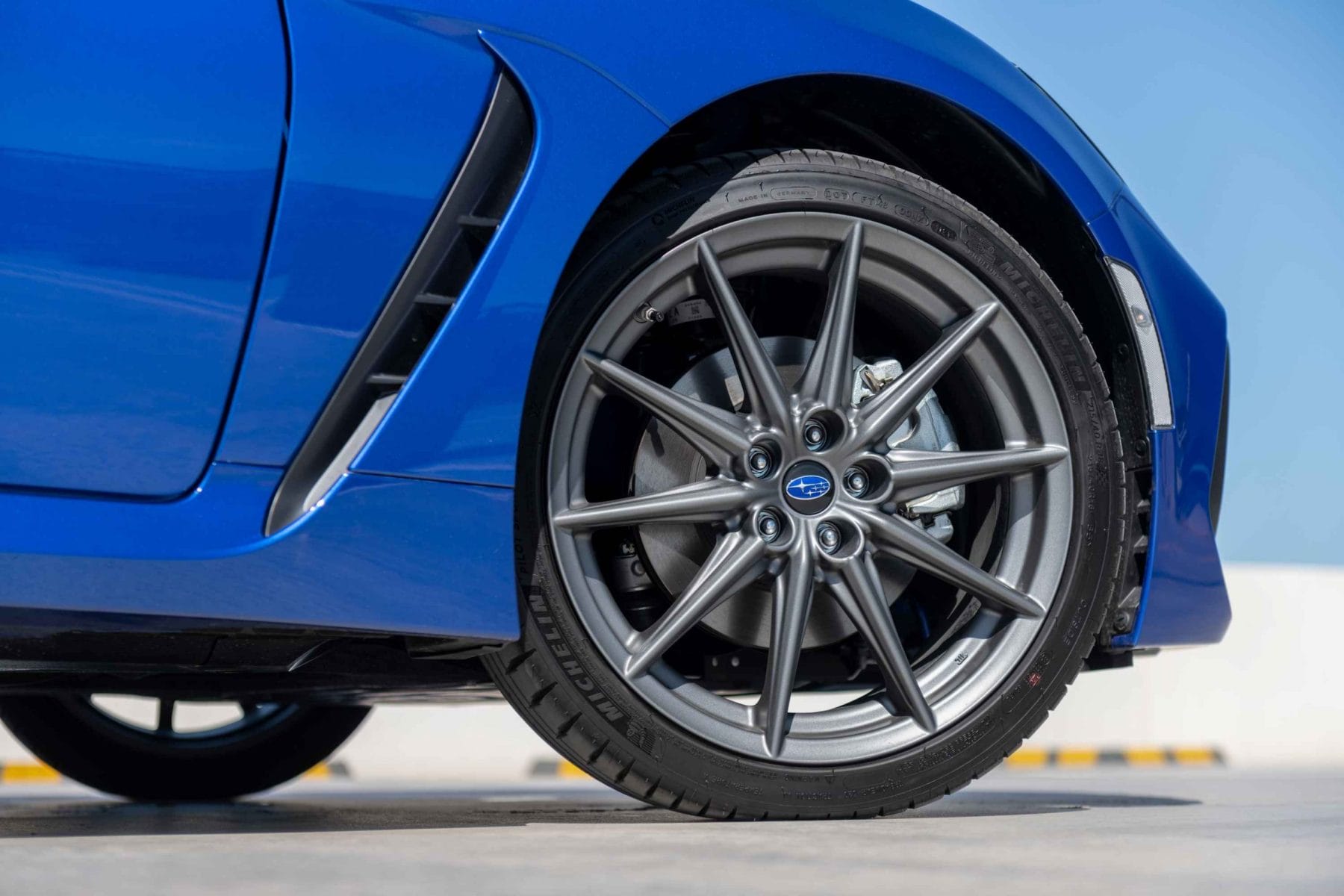 All second-generation BRZ variants are fitted with 18-inch diameter alloy wheels in a 10-spoke design with a matte dark gunmetal finish and carrying a 'Subaru' logo on the centre cap.
Michelin Pilot Sport 4 tyres (215/40R18) are standard and, importantly, new BRZ carries a full-sized spare wheel and tyre. This causes an issue with boot space but is a benefit if you get a flat.
A Tyre Pressure Monitoring System (TPMS) is fitted to all variants with tyre inflation pressures shown on the car's Multi-Information Display (MID).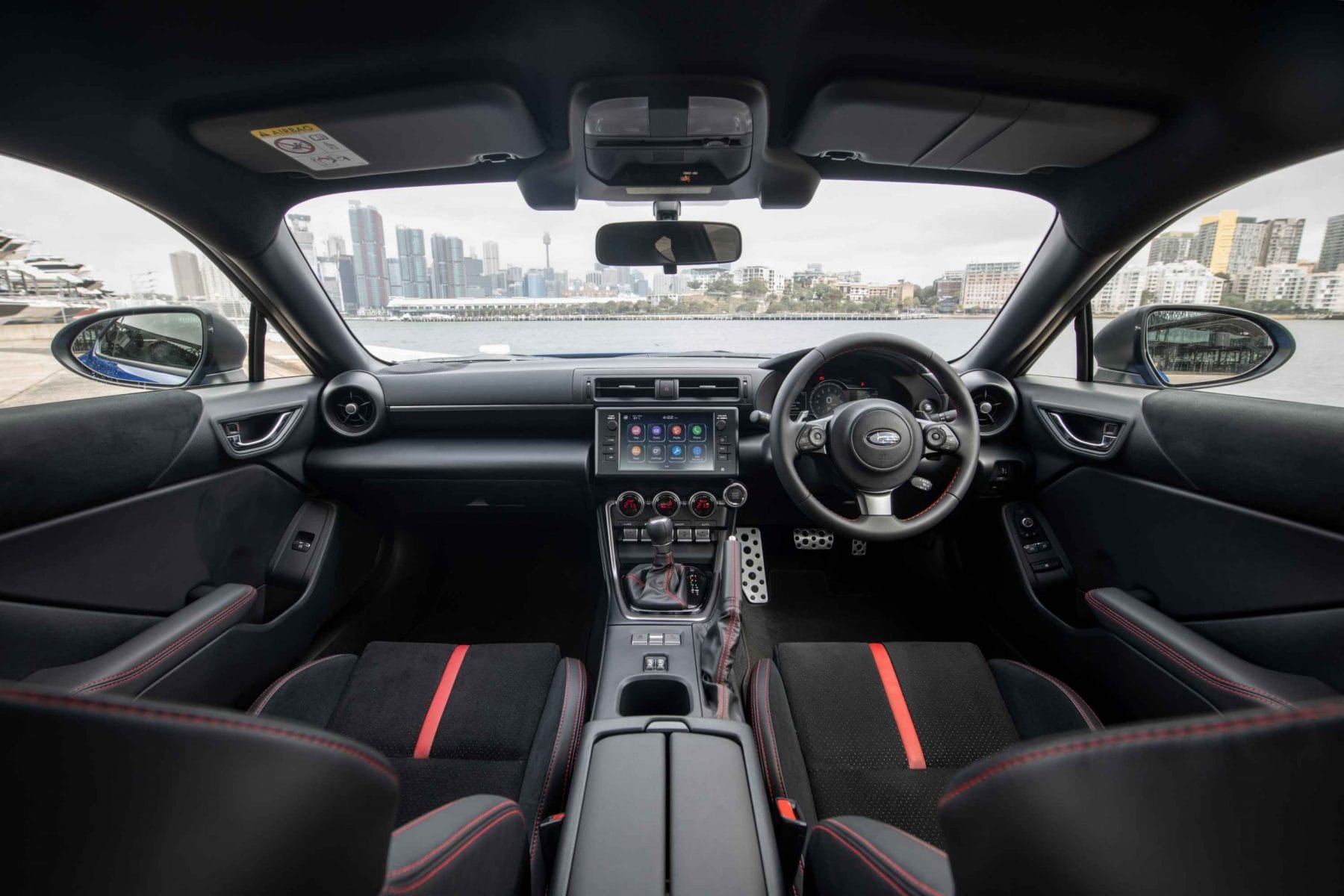 So let's go inside
First things first. I can fit which is a bonus. Not with a helmet on, but for normal driving it's surprisingly spacious for larger drivers. Secondly, I truthfully didn't pay all that much attention to the interior layout, focusing more on the driving aspect of the day.
BRZ's new cockpit design features a clean, intuitive layout with highly visible and readily accessible instruments and controls.
A new 7-inch, customisable digital instrument cluster puts the tachometer at its centre and features a digital speedometer readout while a large 8-inch central touchscreen infotainment system makes easy operation of key systems including:
Apple CarPlay® and Android Auto™ connectivity
Digital radio (DAB+)
Satellite navigation
Vehicle settings
Inside, the cabin is finished in sporty black upholstery and features a leather-wrapped steering wheel and gearshift.
BRZ Coupe's sports seats are cloth-trimmed while Coupe S seats are finished in a combination of Ultrasuede® and leather-accented trim. Driver and front passenger seats are heated in the Coupe S.
Rear seats are practically useless as it would almost be impossible to get anyone in there for any length of time. They are relegated to the very occasional, very short trip or more practically, some soft bags for luggage.
Surprisingly for a two door coupe, visibility is good.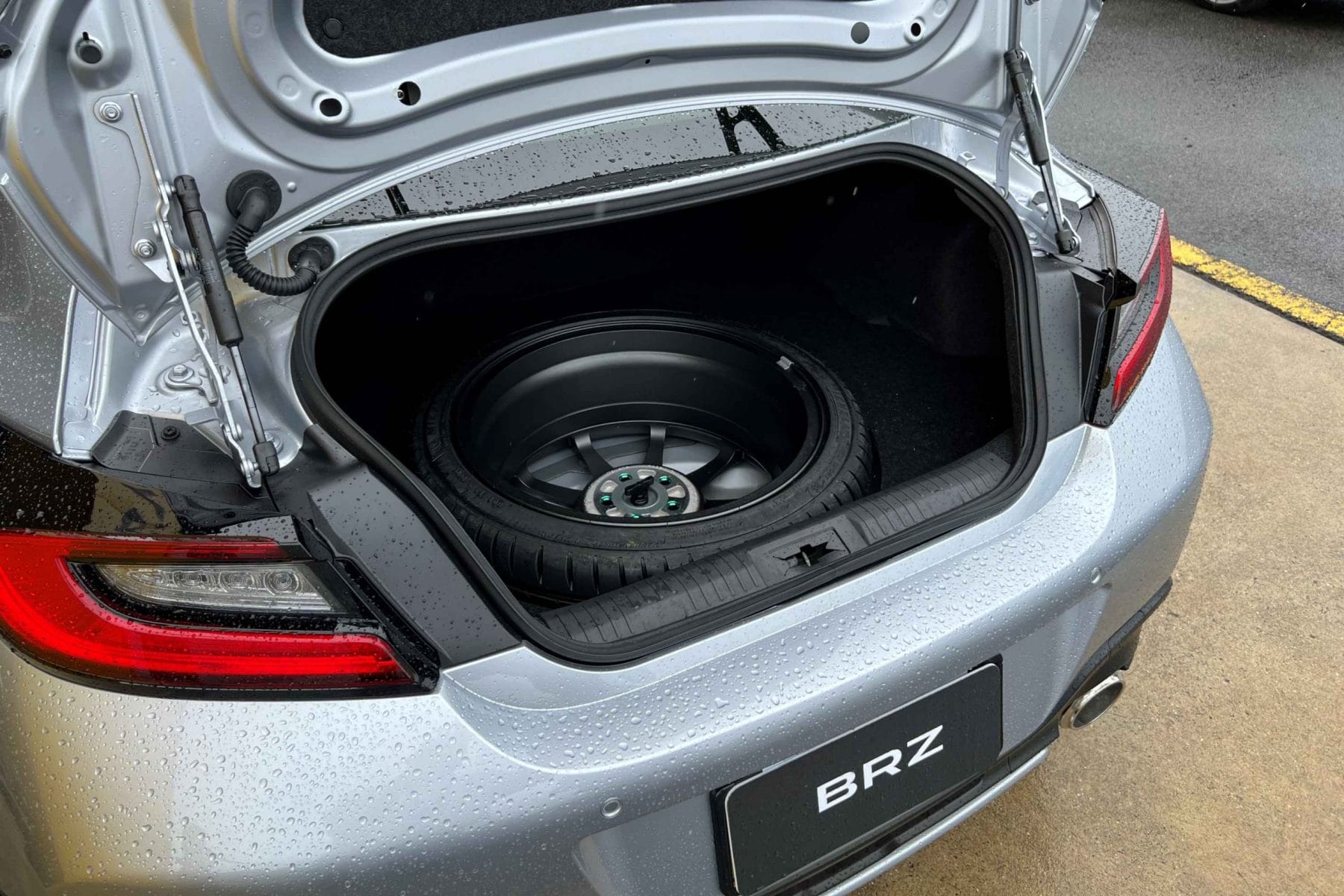 The boot as mentioned is "limited" especially with the full size spare wheel. Think soft bags that can be stuffed in and moulded to the available space.
I can't help but feel just how much more practical a two seat lift back version would be. Same shape though.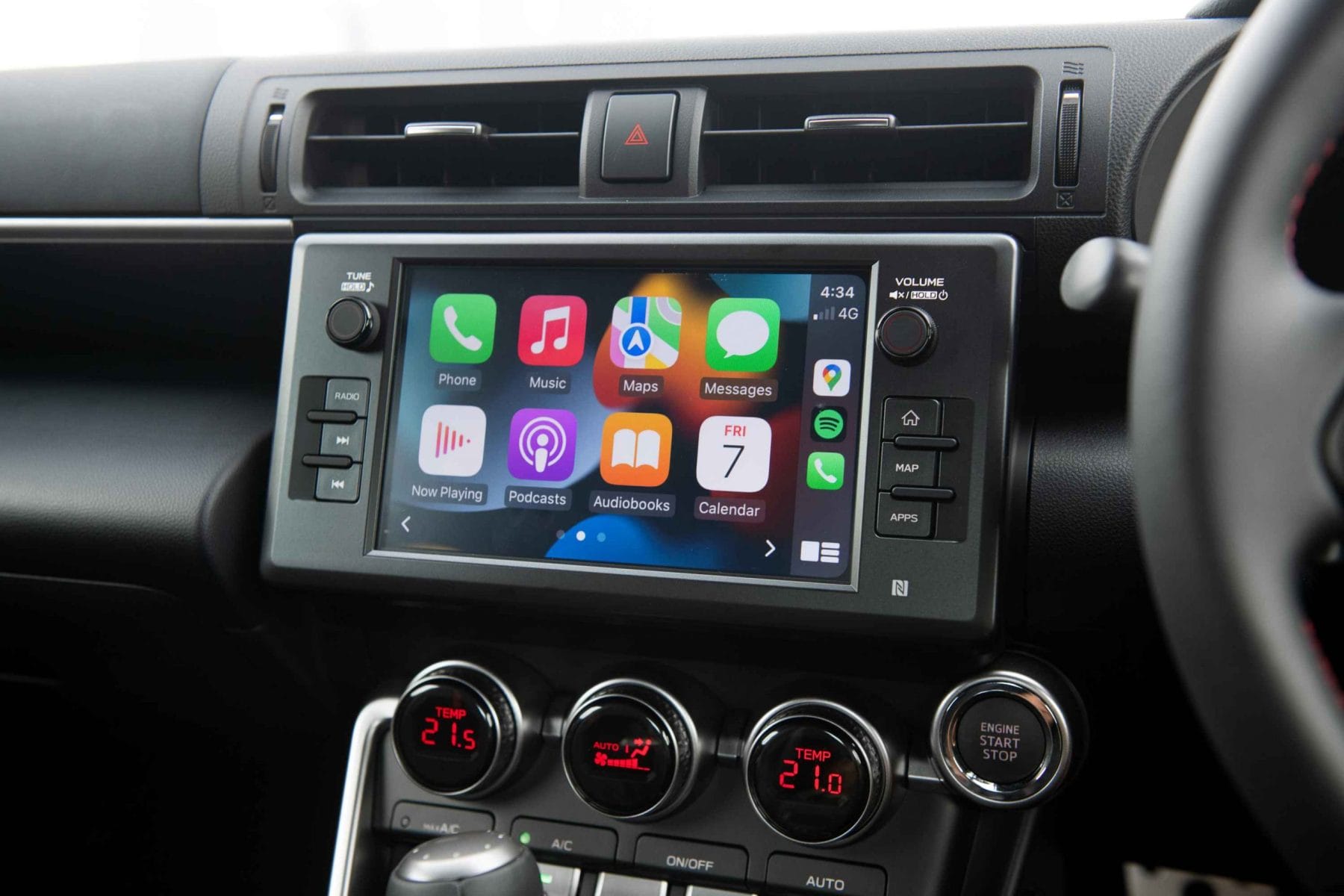 Subaru BRZ Features and Technology
Two model variants, BRZ Coupe and BRZ Coupe S are available, both offering an extensive standard equipment list that includes:
smart key access with push button start,
LED headlights with automatic height adjustment,
Vehicle Dynamics Control,
18-inch alloy wheels,
dual-zone automatic climate control air-conditioning,
Active Sound Control to enhance engine sound inside the cabin for a more engaging driving experience and
A strong suite of safety features.
Connectivity
Apple CarPlay® and Android Auto™ connectivity is standard on all BRZ variants and can be activated by voice commands for safe smartphone use, enabling drivers to keep their hands on the wheel and their eyes on the road.
Voice command of compatible smartphone apps ensures entertainment is always safely available. Drivers can also listen to and send text messages via their smartphones using voice commands.
Connectivity to external devices is provided via Bluetooth® wireless technology, an AUX auxiliary jack and USB ports. All BRZ variants are fitted with two USB ports located in the central armrest storage compartment to both power mobile devices and provide connectivity for compatible devices.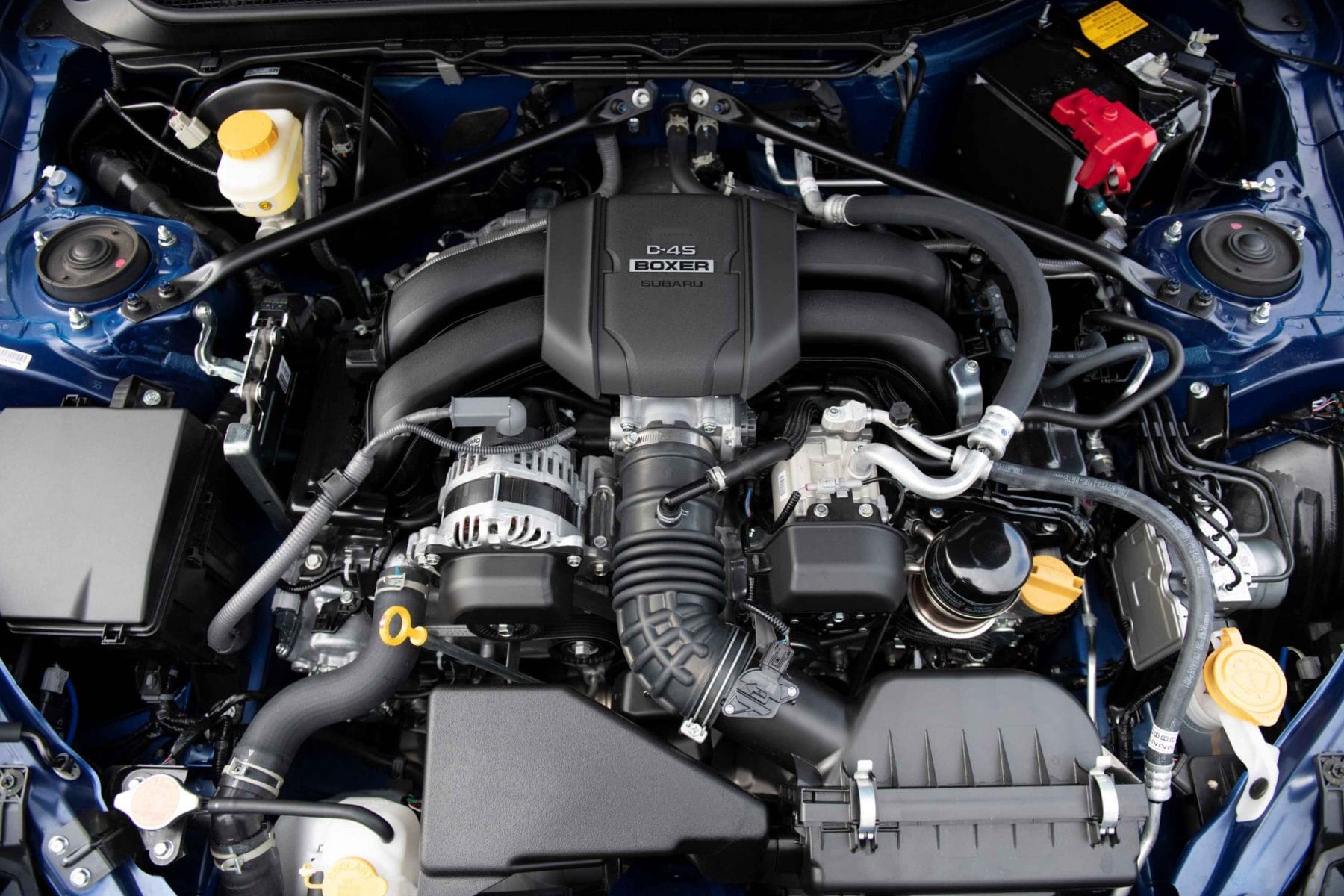 Engine and Drivetrain
A powerful new 2.4-litre, naturally-aspirated, horizontally-opposed Boxer engine fitted with both direct and port fuel-injection systems brings improved performance, delivering a handy 174 kW of power and 250 Nm of torque with spritely acceleration.
For automatic, power is up 27 kW over the outgoing model and torque by 45 Nm. For manual, power is increased by 22kW and torque by 38Nm.
BRZ's new Boxer engine gets its power to the rear wheels through either a precision six-speed, close-ratio manual or performance-oriented six-speed automatic transmission with steering wheel-mounted paddle shifters. Both transmissions get the engine's power to the road through a Torsen® rear limited-slip differential.
BRZ's key feature, the thing that sets it apart from every other Subaru, its rear-wheel-drive platform, is also the thing that gives it a near-perfect 53:47 front/rear weight distribution, resulting in a car that bonds with its driver and is immediately responsive.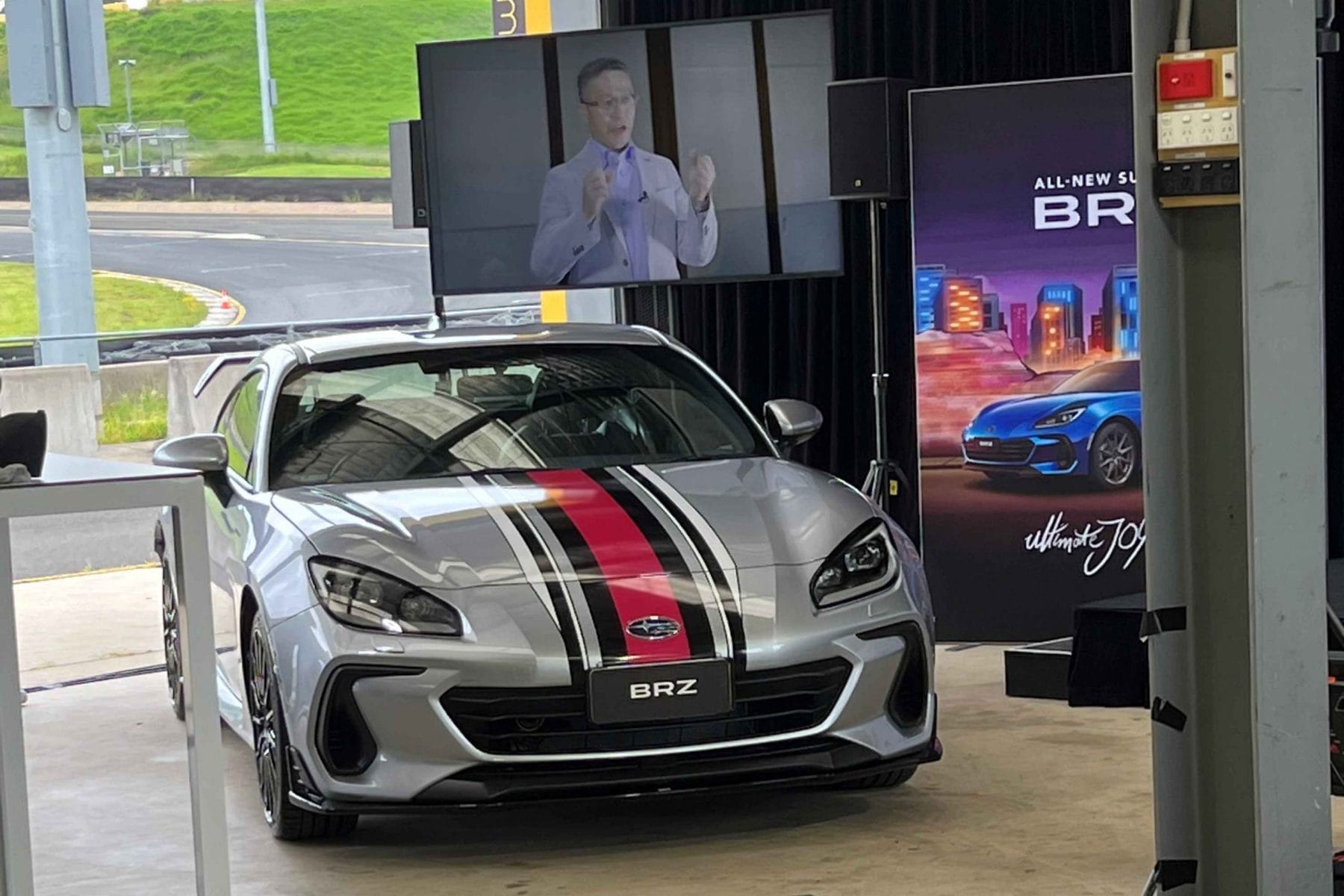 Drive modes
New BRZ features a number of selectable drive modes that vary between which VDC technologies are active, have their time-to-intervention reduced or are deactivated.
Number
Mode
Switching Method
VDC
TCS
Brake LSD
1
NORMAL
Start the

engine

NORMAL
NORMAL
NORMAL
2
TCS OFF
Short push 'VDC OFF' switch
NORMAL
OFF
NORMAL
3
TRACK
Push the 'TRACK' switch
TRACK
TRACK
TRACK
4
VDC OFF
Push and hold 'VDC OFF' switch
OFF
OFF
AT: TRACK

MT: OFF
NORMAL: Automatically adjusts to provide drivers with 'as close to ideal' driving conditions.
TCS OFF: Intentionally deactivates the Traction Control System when wheel slip is needed – on sandy or muddy surfaces, for example.
TRACK: Increases control intervention timing for a sportier, more enjoyable drive. (Note: Intervention is not disabled but time before intervention is increased.)
VDC OFF: Gives drivers maximum control but extra care needs to be taken because some safety devices are disabled in this mode.
New BRZ variants with automatic transmission have a 'SPORT' mode for faster downshifting, increasing engine braking and maintaining higher engine speeds. A 'SNOW' mode automatically selects second gear for take-off, limiting wheelspin in slippery conditions.
Safety Features
Automatic variants introduce Subaru's award-winning EyeSight® Driver Assist technologies to the sporty coupe for the first time.
A more detailed list of safety features can be found HERE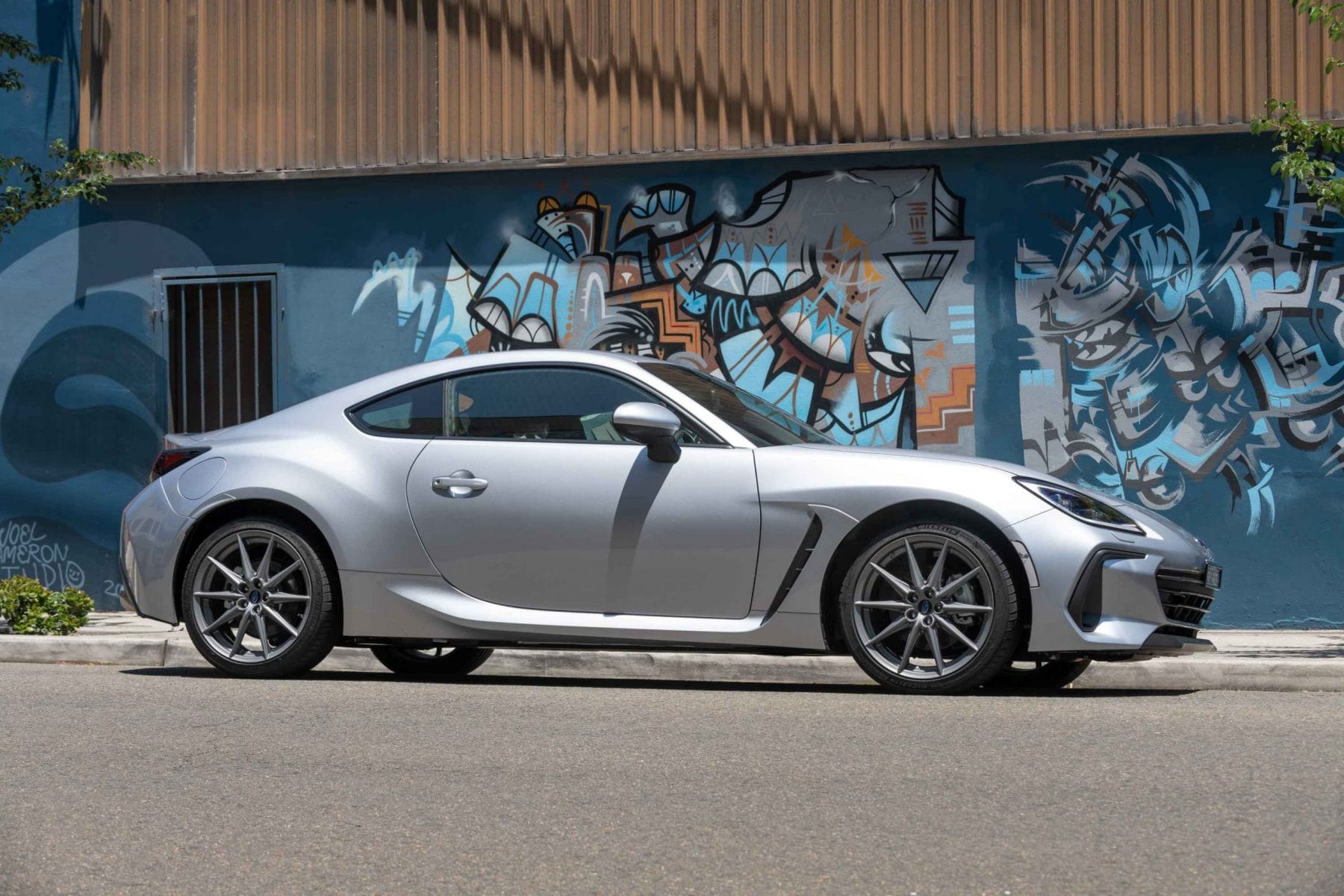 Where can I buy one?
Well currently you can't. The first allocation of 500 units sold out in the blink of an eye and the best you can do is register your interest either online or through a dealer for the next allocation, which is planned to come second quarter, depending on global supply issues. Its first in best dressed and it doesn't make any difference between online and dealer.
The good thing is that of the initial 500 units there was a significant percentage of buyers that are new to the brand for Subaru.
Fun transcends brand loyalties.
Now Australian car enthusiasts get the chance to own the next generation of Subaru's BRZ sports coupe, a car building on the core characteristics of the original
Colour and trim
New BRZ offers seven exciting colours for MY22 with two of them, Sapphire Blue and Ignition Red, new additions.
Exterior Colours
BRZ Coupe
BRZ Coupe S

 

Crystal White Pearl
·
·
Ice Silver Metallic
·
·
Magnetite Grey Metallic
·
·
Crystal Black Silica
·
·
Sapphire Blue Pearl
·
·
Ignition Red
·
·
WR Blue Pearl
·
·
| | | |
| --- | --- | --- |
| Seat Trims | BRZ Coupe | BRZ Coupe S |
| Cloth – Black | · | |
| Ultrasuede® and leather accented – Black | | · |
Pricing
BRZ Coupe (manual) $38,990 MLP*
BRZ Coupe (automatic) $42,790 MLP*
BRZ Coupe S (manual) $40,190 MLP*
BRZ Coupe S (automatic) $43,990 MLP*
 *MLP Includes GST and LCT but excluding statutory charges, dealer costs and dealer delivery. See your dealer for RDAP. Does not include price of options. Some features mentioned in the article are options.
Warranty & Service
The all-new Subaru BRZ comes standard with Subaru's five-year, unlimited kilometre warranty, five-year Capped Price Servicing Program and twelve months Roadside Assistance Program. This does not limit the customer's rights under the Australian Consumer Law.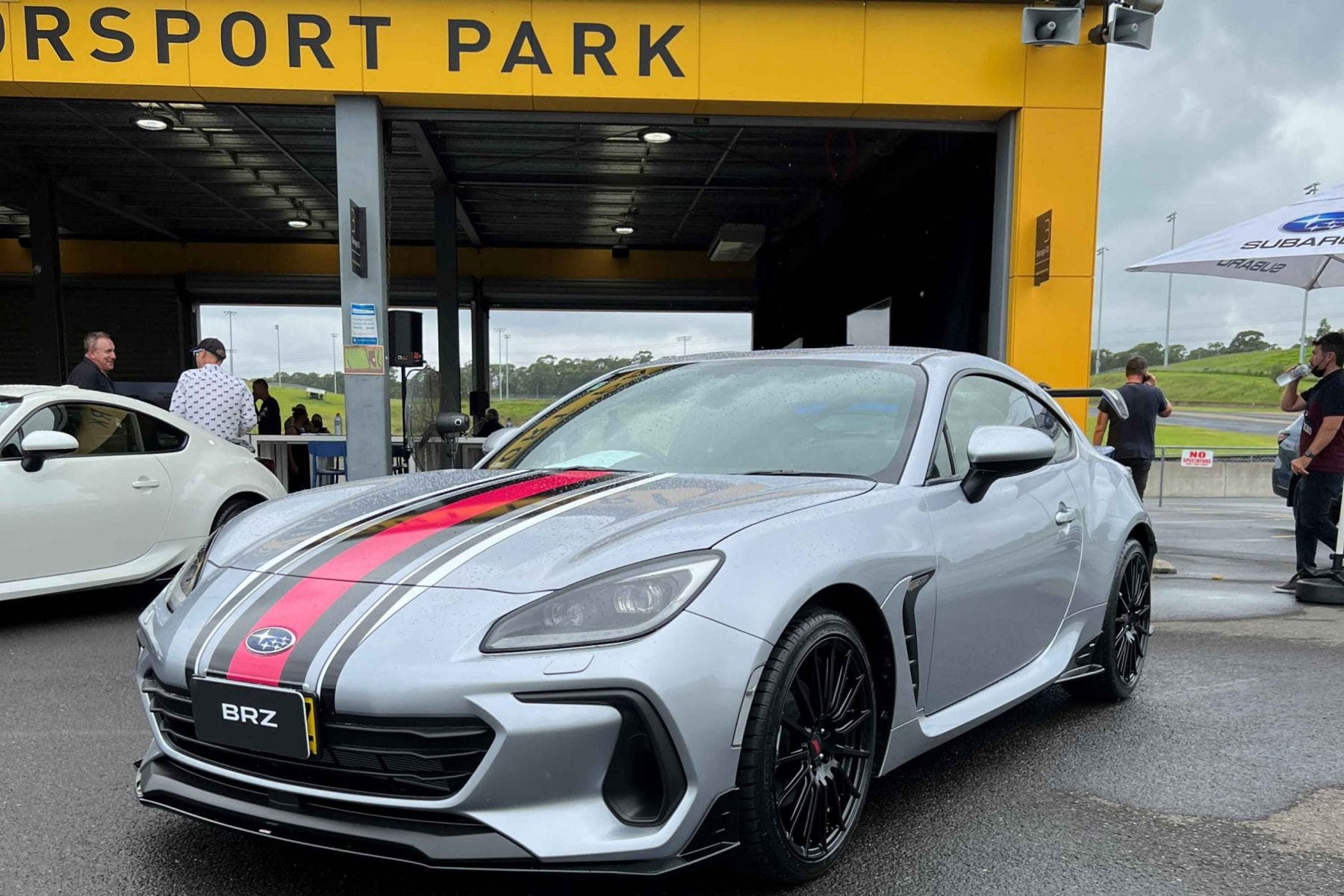 Subaru BRZ Final thoughts
The old model was very good, the new model is a large improvement in almost every aspect.
There is a significant evolution in outstanding safety features (for the automatic version) and greatly improved ride, handling and performance.
The BRZ is old school mixed with advanced technologies.
Old school in that it is naturally aspirated, drives the rear wheels and favours driver engagement and vehicle balance over outright speed.
It also looks cool and has an almost universal appeal about it.
A more detailed review will follow in a few weeks when we have the car for a longer drive. But my initial impression is that if you are looking, don't hesitate, register your interest NOW as the next shipment will sell out quickly.
Also look at

BRZ Specifications
BRZ Engine Specifications

Type

Cylinders

Displacement

Bore x stroke

Compression ratio

Cam-train system

Fuel system

Maximum power

Maximum torque

Emissions

Horizontally opposed, naturally aspirated

Four

2387cc

94 x 86

12.5:1

DOHC with dual AVCS

Direct Injection / Port Injection

174 kW/7,000 rpm

250 Nm/3,700 rpm

EURO 6b

Transmission

First
3.626 (MT) / 3.538 (AT)
Second
2.189 (MT) / 2.060 (AT)
Third
1.541 (MT) / 1.405 (AT)
Fourth
1.213 (MT) / 1.000 (AT)
Fifth
1.000 (MT) / 0.713 (AT)
Sixth
0.767 (MT) / 0.582 (AT)
Reverse
3.438 (MT) / 3.168 (AT)
Final reduction
4.100 (MT) / 3.909 (AT)

Exterior Dimensions And Weight

Overall length mm
4,265
Overall width mm
1,775
Overall height mm
1,310
Wheelbase mm
2,575
Track – front mm
1,520
Track – rear mm
1,550
Min. ground clearance mm
130
Kerb weight kg:
BRZ Coupe
BRZ Coupe S
1286 (MT)

1307 (AT)

1289 (MT)

1310 (AT)

Fuel

Fuel consumption (L/100km) combined:

9.5 (MT) / 8.8 (AT)
Carbondioxide (g/km) combined:

217 (MT) / 201 (AT)
Fuel tank capacity
50 litres
Minimum fuel requirement:
98 RON

Steering, Brakes, & Tyres

Steering
Electric power assistance rack and pinion
Turning circle (metres)
10.8
Turning radius
5.4
Suspension:

Front

Rear

MacPherson strut type suspension

Double wishbone type suspension

Brakes:

Front

Rear

Ventilated discs

Ventilated discs

Tyres:
215/40 R18 85Y
Rim:
18-inch alloy x7.5J