Mazda's super popular CX-5 is getting a touch long in the tooth but was recently upgraded to help maintain its station at the top of the medium SUV segment.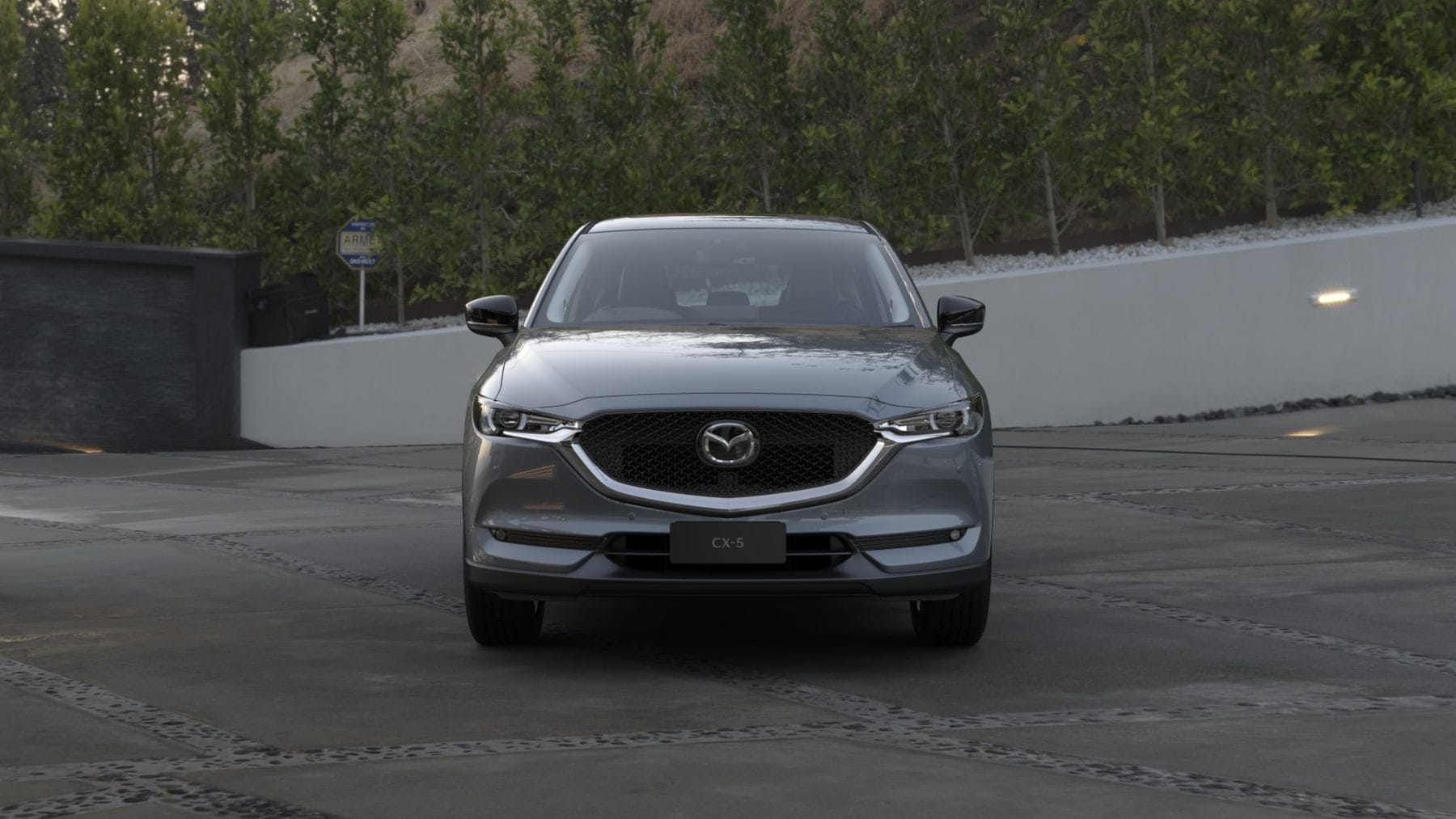 Part of the upgrade included the resurrection of Mazda Australia's SP performance brand, first coming to light perhaps 20 years ago in the MX-5 SP, a locally fettled turbo sports car.
The new CX-5 GT SP is turbo charged (also available as a non-turbo) and performance enhanced but local input has gone as it comes ready to rock and roll direct from Japan.
Driven was the GT SP Turbo AWD which goes for $49,990 and offers a high level of luxury and safety kit to compliment the get-go.
Power comes from a 2.5-litre, turbo petrol four cylinder driving predominantly the front wheels with the rears engaged as needed. An AWD lock mode is provided for driving in bad conditions.
The GT SP turbo is one step down from the top CX-5 but misses out on little comparatively speaking. It has a distinctive look heightened by black wheels and exterior body parts as well as inside.
In conjunction with the model upgrade a few months ago, the new CX-5 gets a faster acting MazdaConnect infotainment system and upgraded audio.
The test model is only available with a 6-speed auto and all-wheel drive.
Additional advanced driver assist technology is fitted some of which is a touch intrusive.
Styling changes are minimal but the CX-5 remains one of the better looking offerings in this segment.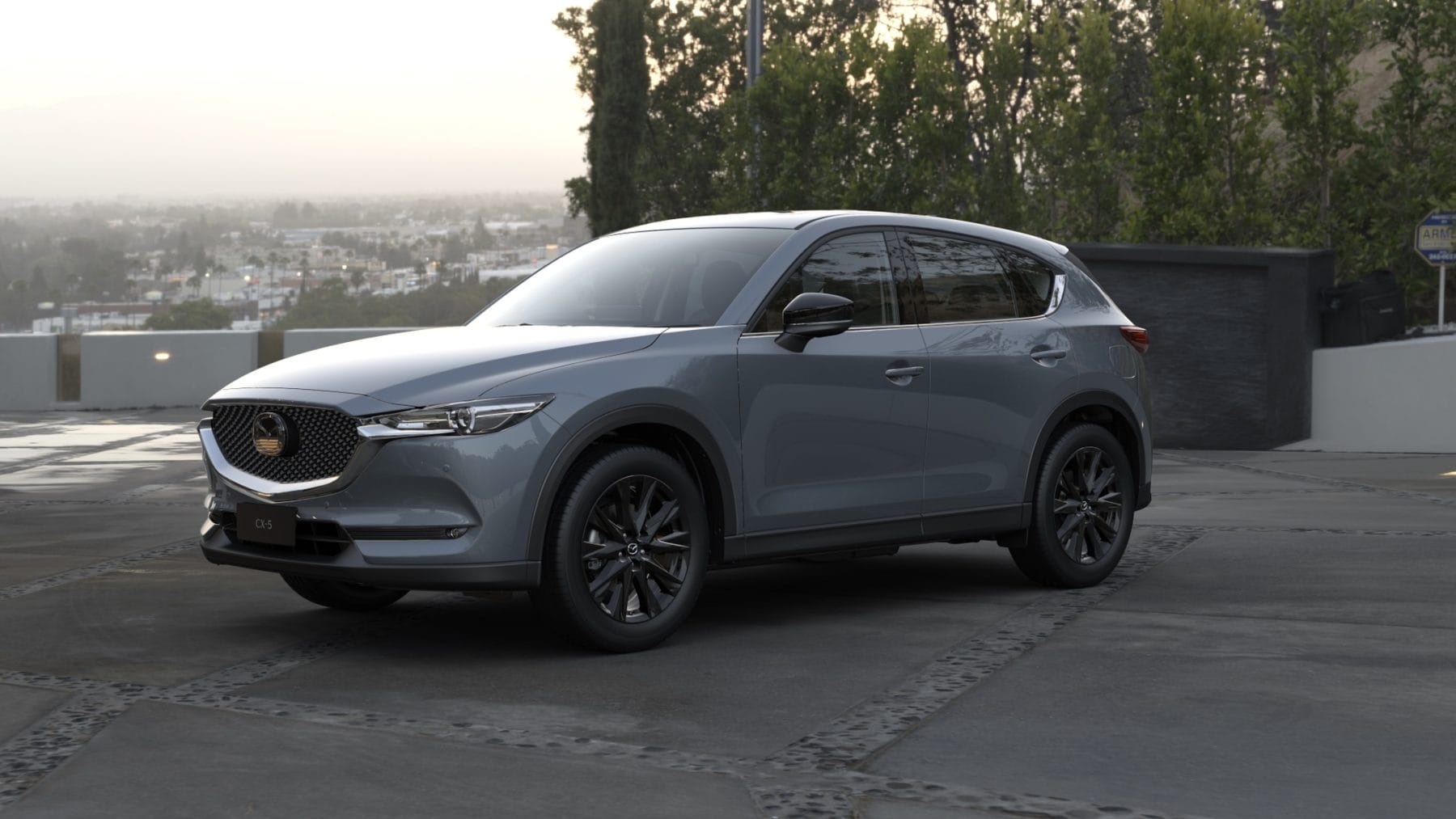 Exterior
The shape emerged perhaps 7 years ago and has been refined over the intervening period with changes to the grille, headlights and tail lights along with some sharp edges and minor body hardware changes. It still looks good on the road though is somewhat more rounded compared to newer, more angular offerings such as Toyota's RAV-4.
The focal point is CX-5s striking frontal styling that is copied by many, bettered by none.
So-called Kodo design (used on all new Mazdas) gives a cut through look that's unmistakeable with links to predatory animals, (birds, cheetah) and is super appealing even this far into the vehicle's  model life.
It looks compact on the road with a mildly sloping roofline culminating in the high and rounded off rear end. There's possibly a little too much air under the wheel arches on some models but the SP looks sporty with blacked out components and minimal use of chrome.
Judging by CX-5's popularity, the styling nails it with buyers as the vehicle is edgy, sleek and classy all rolled into one. It will be interesting to see Mazda's replacement for this super popular vehicle in a year or two….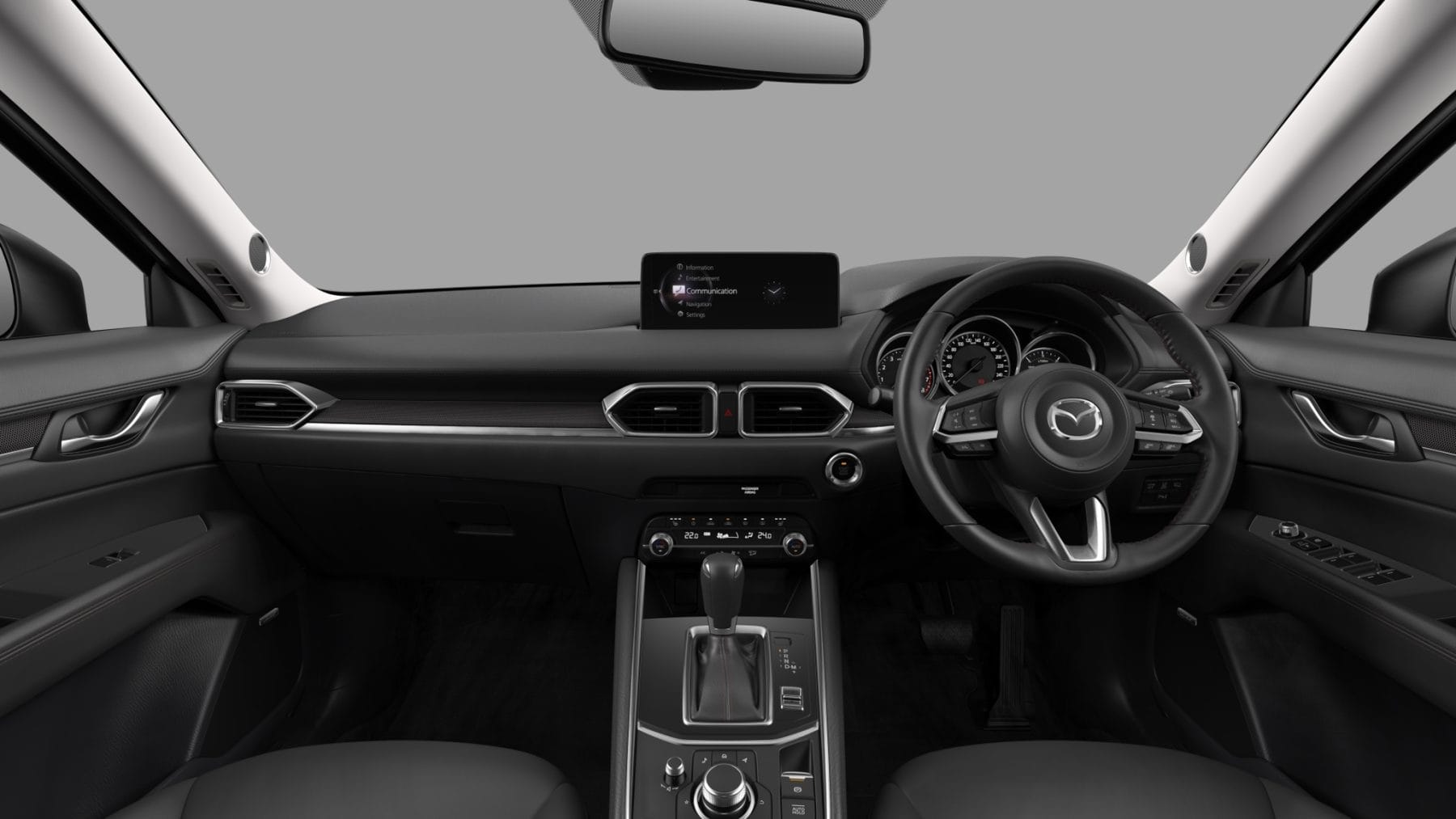 Interior
Pretty standard Mazda inside in various tones of grey, beige and black. That means you get a sporty looking, multi-function steering wheel with paddle shift and a fairly spartan dash with the obligatory centre touchscreen utilising MazdaConnect rolling app functionality.
This particular models scores so-called MazTex "leather" upholstery with suede inserts complete with go-fast red stitching. Some carbon look fascia add a splash of flash to various interior panels
It's a five seater with the rear folding pew creating a large load space if required.
The tailgate is power operated and the front seats have power adjustment.
Plenty of room is provided inside and access is easy through large front doors and the relatively high roofline even with a sunroof.
Bose audio pumps through 10 speakers and there are numerous luxury features in the passenger compartment to pamper occupants on long drives.
The driver is kept informed with plenty of info' readouts and through a cluster of dials in the instrument pod.
It's quiet and smooth to travel in is refreshingly simple to operate compared to many other offerings these days.
Features
As the penultimate CX-5 the GT SP doesn't miss much with goodies like;
Hardwired satnav
Bose 10 speaker audio
Paddle shift with multiple drive modes
Heated exterior mirrors
Off road mode
Active AWD
Cylinder deactivation
Power tailgate
Power front seat adjustment
Black body hardware

Drive and Engine
There's no issue with performance on the GT SP Turbo as it calls up 170kW and 420Nm from the 2.5-litre, direct injection turbo petrol engine. You get more power if you put 98RON premium fuel in the tank…. but it doesn't need the extra get-go.
The engine is in a number of other Mazda vehicles and makes maximum torque (pulling power) at a low engine speed of just 2000rpm. That translates into super responsive acceleration in most driving situations and also aids towing for which the test vehicle is rated at 2.0 tonnes.
It's smooth and quiet running and puts power to the ground efficiently thanks in part to the all-wheel drive system which is on demand. You can lock it in for dirt road and snow driving.
The transmission is a 6-speed conventional auto with multiple drive modes altering various dynamic functions such as the transmission and engine revs.
The CX-5 tested has a sporty flavour and can be pushed through turns with confidence. Grippy 19-inch rubber aids this as do the strong brakes and well sorted suspension.
It rides comfortably and steers precisely for a medium size SUV weighing in at 1718kg.
Fuel consumption on test hovered around the 9.5-litres/100km mark but you could better than with a little concentration… and it uses regular 91RON unleaded unlike some of the competition.
As is the case with all new Mazda vehicles some of the advanced driver assist tech is over intrusive such as the active lane keeping assist and high beam assist that doesn't always get it right.
You can switch off some of this stuff if desired, I did.
Safety
Five stars augmented on this model upgrade with additional advanced driver assist features. The GTSP gets a swag of this technology including blind spot monitor, parking sensors, rear cross traffic alert, driver attention assist, lane departure warning, radar cruise tyre pressure monitor and other handy tech.
And the fact that it's a responsive vehicle tells in its favour if an emergency arises.
The active AWD would be really handy in the wet or on icy/snowy roads.  Bright LED headlights light the way and quality rubber adds to the CX-5's safety margins in poor driving conditions.
Good Bits
Still handsome
Generous advanced safety kit
Strong engine performance
Not So Good Bits
Likes a drink
Some intrusive safety kit
Tops $50 grand on the road.
Summary
Yep, this is an excellent all round family sporty SUV offering luxury, safety and performance in a stylish package. The upgrade provides an even greater measure of safety and luxury that will no doubt help the CX-5 maintain station at the top of the medium SUV tree.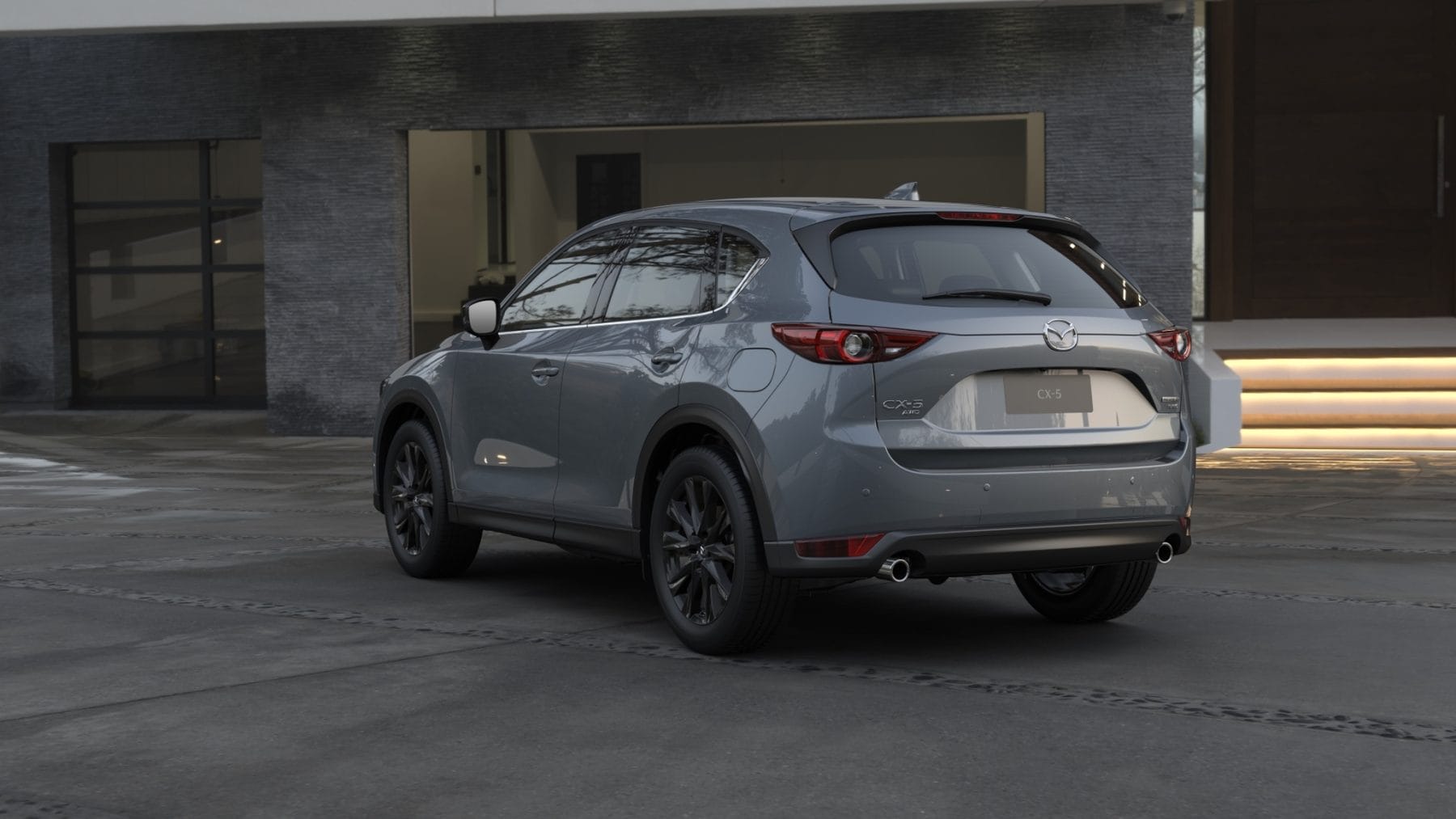 Also look at;
| | |
| --- | --- |
| Model | Mazda CX-5 GT SP Turbo AWD |
| Price | $ MLP 49,990 |
| Engine | 2.5-litre, turbo petrol four cylinder with direct fuel injection and cylinder deactivation |
| Drivetrain | 6-speed automatic with on demand AWD |
| Power | 170kW @ 5000rpm |
| Torque | 420Nm  @ 2000rpm |
| Safety | 5-star ANCAP |
| CO2 Emissions | 191 g/km |
| Economy ADR/ Capacity | 8.2L/100km / 58L |
| Towing/Tow ball |  2000Kg /  150Kg |
| Servicing |  10,000km/12 months intervals $349/$379 alternate services |
| Warranty | 5yr/Unlimited Km with 5yr roadside assist |
*MLP – Manufacturers List Price includes GST and LCT but excluding statutory charges, dealer costs and dealer delivery. See your dealer for RDAP. Does not include price of any options.
Summary
Yep, this is an excellent all round family sporty SUV offering luxury, safety and performance in a stylish package. The upgrade provides an even greater measure of safety and luxury that will no doubt help the CX-5 maintain station at the top of the medium SUV tree.