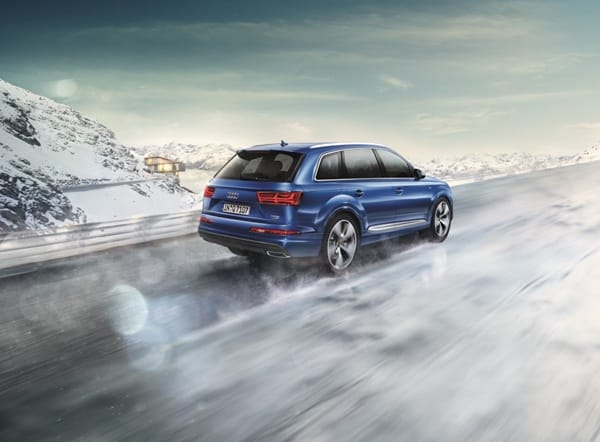 To celebrate a new partnership with Mount Hotham, Audi is launching the first Audi quattro snow driving experience in this country. Open to the public from Wednesday 2nd until Tuesday 8th September 2015 at Mount Hotham, the Audi quattro snow driving experience will put drivers through a number of challenging and exhilarating alpine activities designed to showcase Audi's advanced quattro all-wheel-drive capabilities.
The snow driving experience features the company's soon-to-be-launched all-new Q7 SUV, and will help to equip drivers with skills to handle the extremes of driving in icy conditions, thanks to expert guidance from Audi's professional driving instructors, led by Top Gear Australia Alumni Steve Pizzati.
The all-new Audi Q7 will be available in Australia from mid-September, and its advanced traction and capable driving dynamics, thanks to Audi quattro active safety technology, will be clearly highlighted by the snow drive in Mount Hotham.
"We have a global legacy of creating unique and innovative programs that educate drivers on how to handle different terrains, including ice and snow. These experiences are also a fantastic way to showcase our world class technology," said Andrew Doyle, Managing Director of Audi Australia Pty Ltd.
"Through our partnership with Mount Hotham, we are excited to be inviting both existing and potential customers to experience a completely new extreme environment to demonstrate why Audi quattro is superior technology, and how our new model is the perfect vehicle for all terrains," added Mr Doyle.
Audi Australia's partnership with Mount Hotham will give current and future customers a true VIP experience that reflects Audi's unique style.
Audi customers heading to Mount Hotham throughout the 2015 and 2016 snow season will be offered access to reserved parking spaces across the resort and an express lane at the quattro chair lift.
The cost of the Audi quattro snow driving experience from 2-8 September is $600 and customers can register by visiting this link.