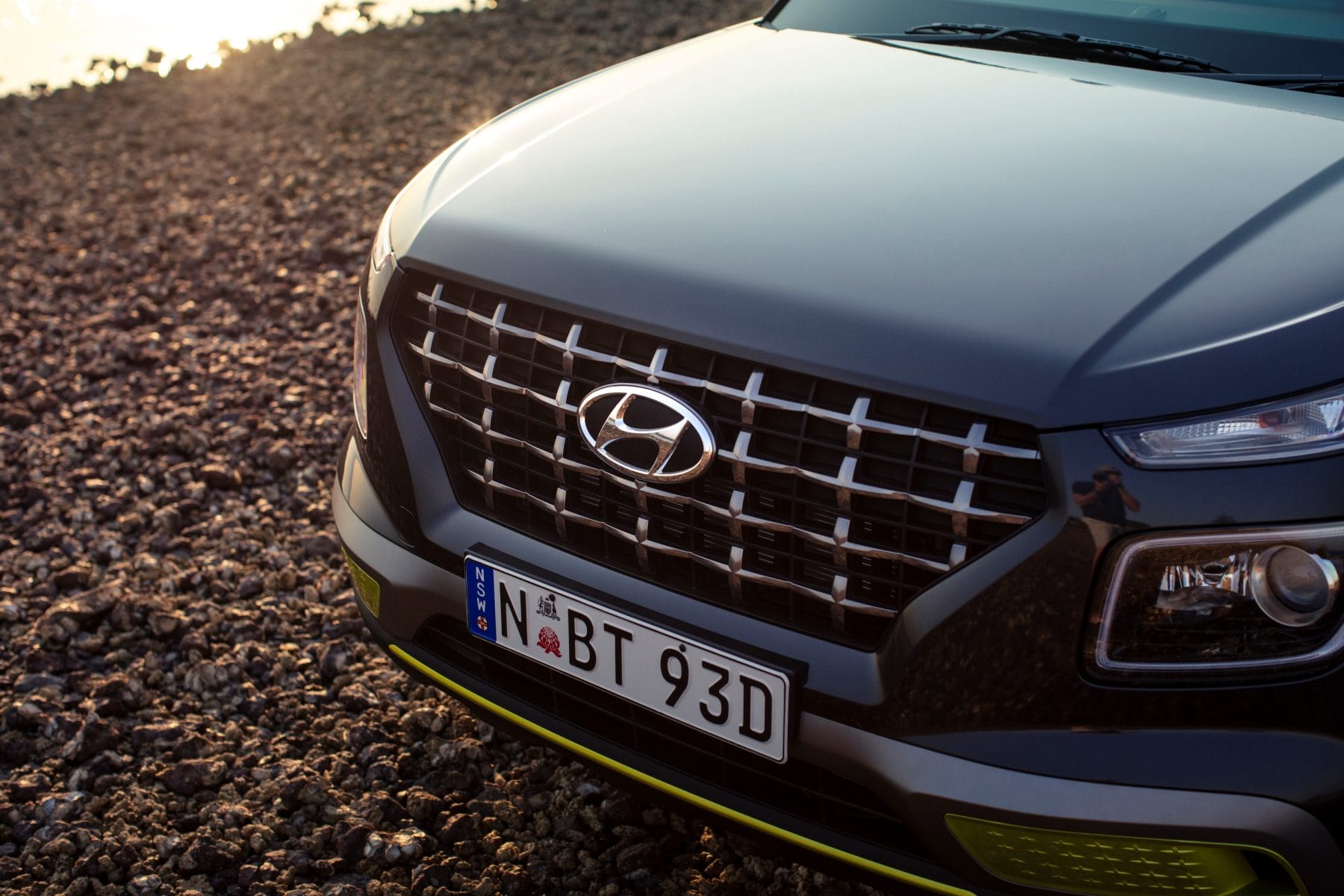 Hyundai Venue – Hyundai have launched a new SUV onto the market, the Venue.  They picked the name because they want you to think that it is "the place to be!": clever marketing.  They are also calling it an SUV – that needs more clarification.
It is at the small end of the market; it is only available in 2-wheel drive and is targeted at the practical urban dweller. The promotional material says "it combines the rugged looks of SUV styling with light-car economy and maneuverability". So it looks like an SUV but has the practical features of a hatchback.  Just right for the market?
It is an important car for Hyundai because they are no longer going to sell their small sedan, the Accent so the Venue is an important entry level vehicle for the brand.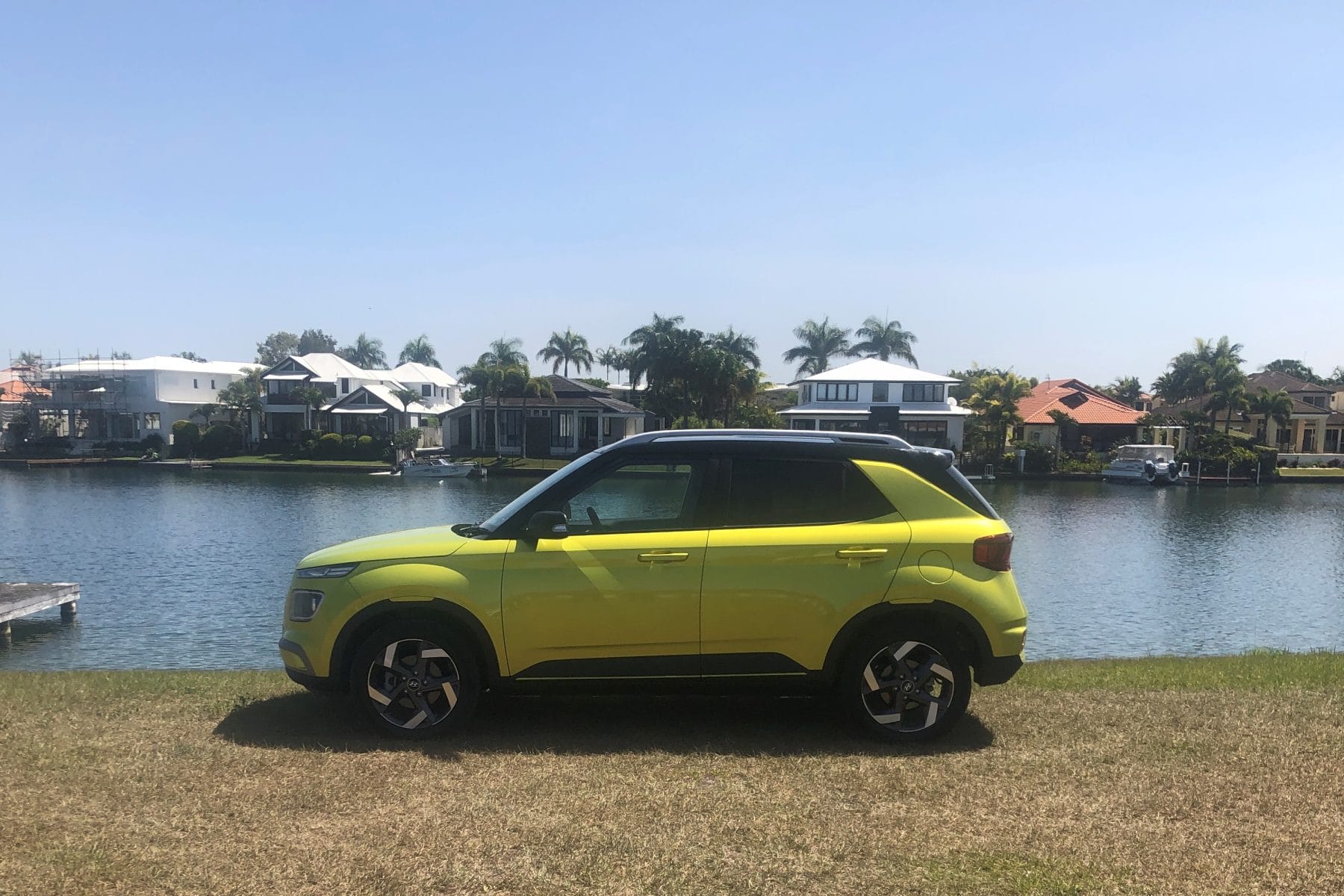 Hyundai Venue – Exterior
From the side it looks like a tallish hatchback with a roofline that gently slopes down toward the back, a little like a Range Rover Evoke but not quite as pronounced.
The most SUV aspect is a strong bonnet line and a grille at the front that has a pronounced pattern.
The vehicle is clearly similar to Hyundai's slightly bigger Kona.
You can get one of a range of traditional colours or a standout, bright apple green hue.
The vehicle comes in three specification levels: Go; Active; and Elite.  For Elite models, you can get a two-tone roof.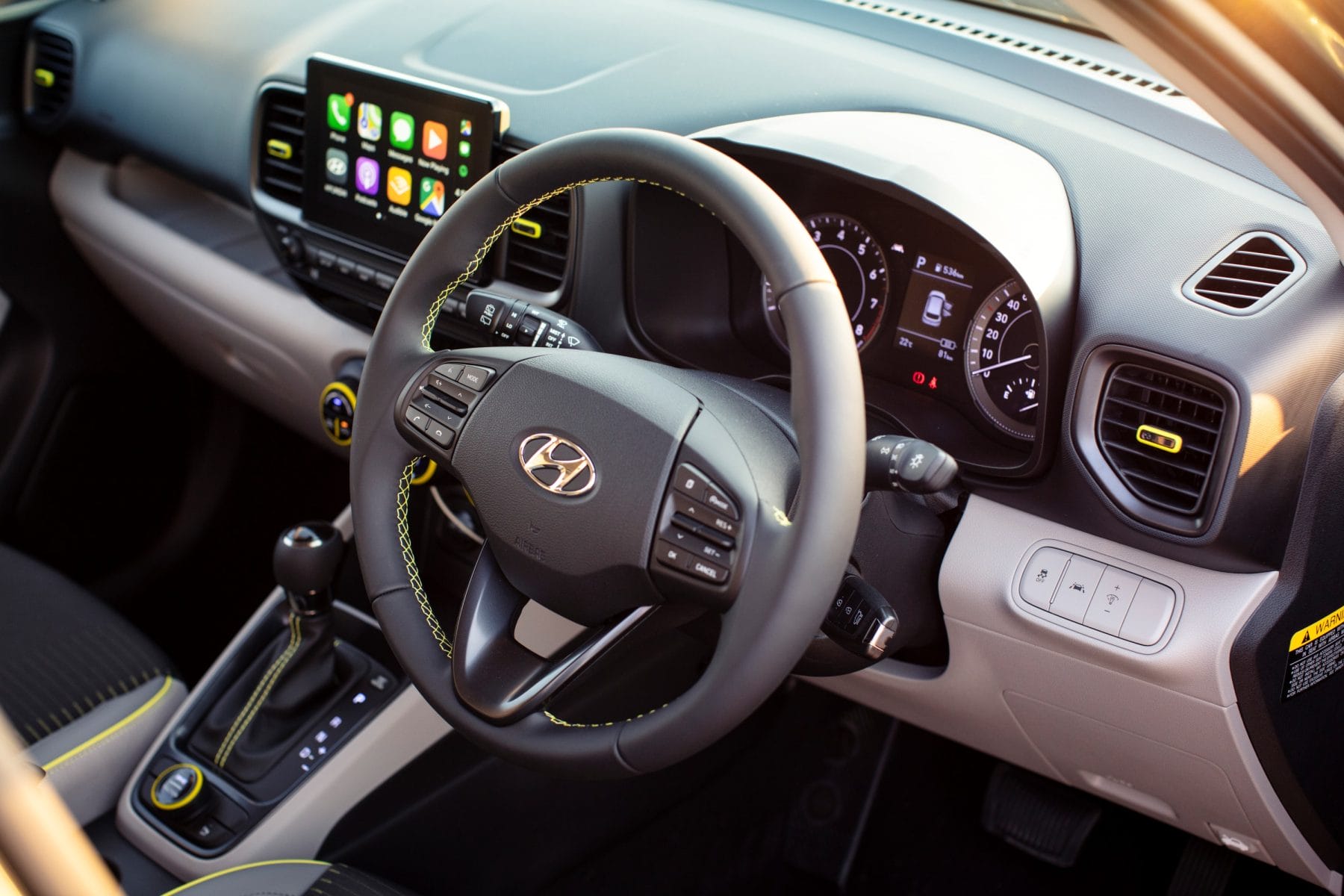 Hyundai Venue – Interior
As befitting an SUV there is good headroom front and back as well as good front seat adjustment.  I particularly liked the fact the rear seats that are high enough to give solid support to your calves while also giving acceptable legroom for a car of this size.
The front layout is dominated by an 8-inch "tablet-style" infotainment screen which is functional but "tablet-style "also means it looks like a new feature placed on an older design; an afterthought that is placed where wider air vents had once been. The rest of the layout is simple in design and materials.
The dash layout in front of the driver is simple with round dials for a tachometer and a speedo and a 3.5-inch info screen between the two.
The luggage space is for luggage which I think is very usable for this size of vehicle.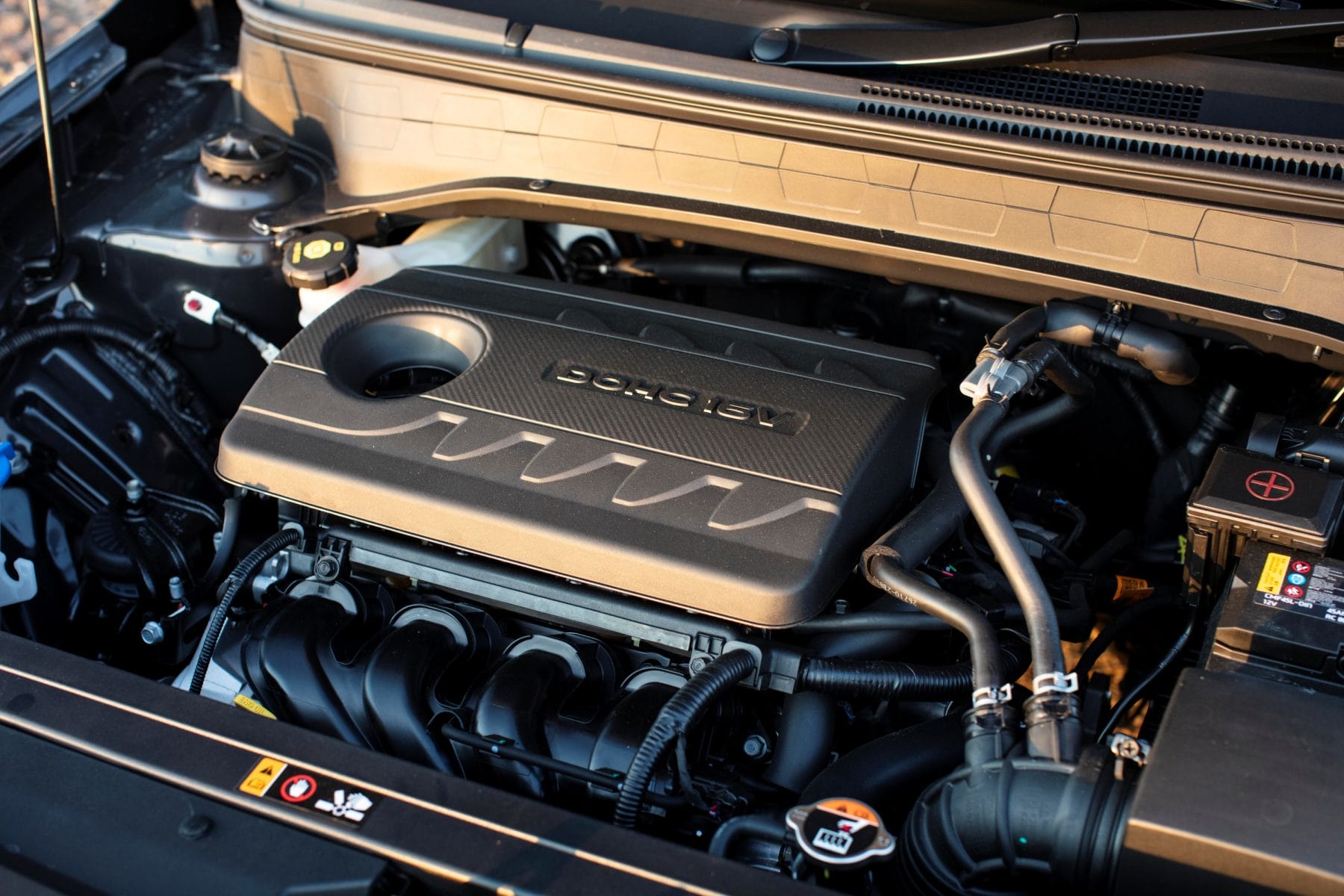 Hyundai Venue – Driven train
There is only one engine: a 1.6 litre, normally aspirated, four-cylinder with 90kW and 151Nm.  Hyundai has had the engine, with a few improvements, for quite some time.  It comes with dual continuously variable valve timing (D-CVVT) and a two-stage variable intake system designed to maximise low-end torque and drivability.
As it is not turbocharged, the engine gets its maximum power at the top end of its rev range: maximum power is at 6,300 rpm, maximum torque is at 4,850 rpm.
You can get a manual gearbox in the base model Go and the middle model Active, or the six-speed automatic in all the models.  Like the engine, the six-speed automatic has been around for a while but I still think it is a good one. It matched well to the little engine.
Some of my colleagues found the engine sounded a bit wheezy but that is only when you are pushing it hard, say, to overtake on a country road; a very rare event for how these cars are to be used.  The engine and gearbox are not intrusive for city driving.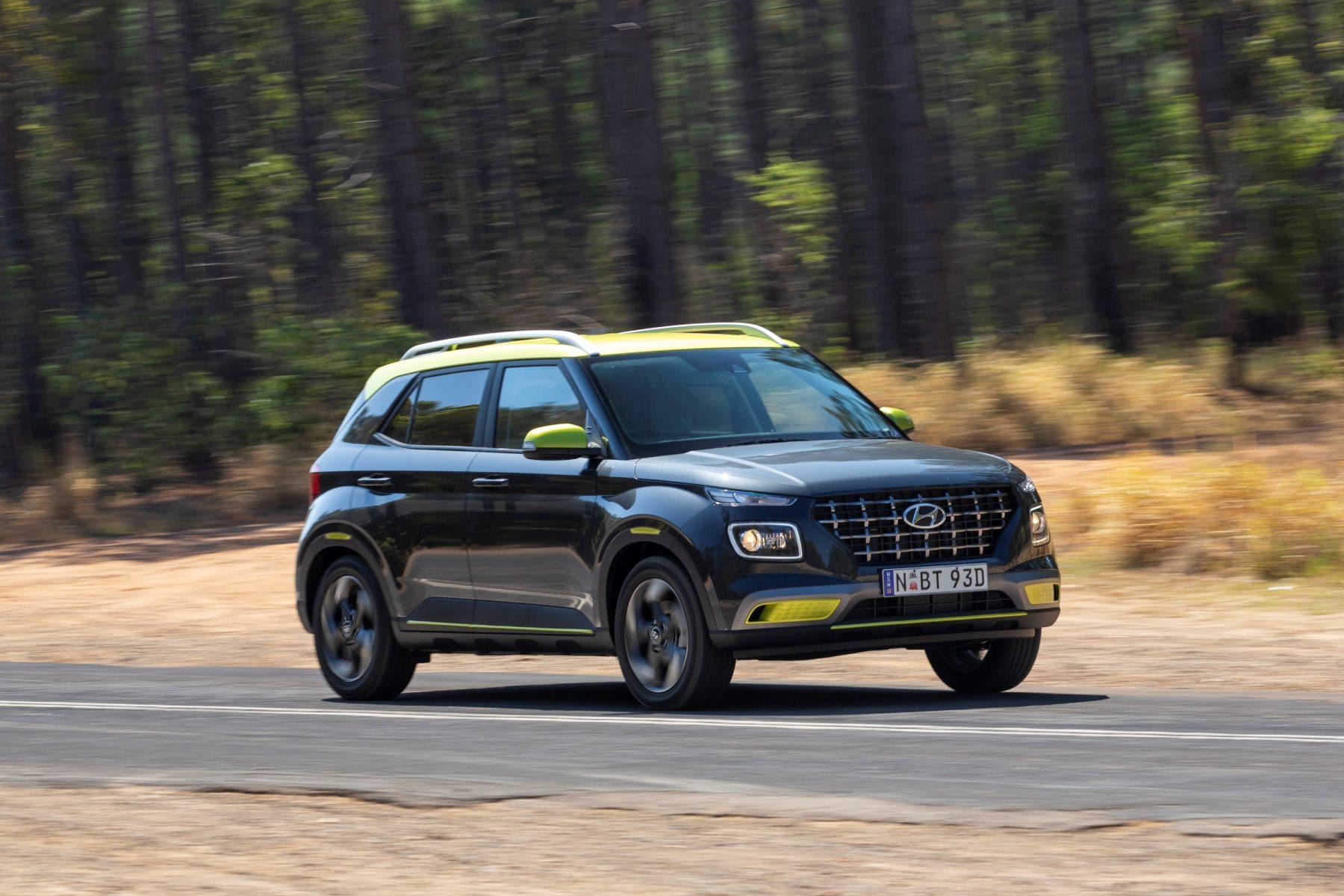 Hyundai Venue – Driveability
The main word for Venue is easy. It is light and comfortable and has been turned "for Australian conditions".
On the open road, the active lane control technology has developed and works is a wider range of situations than the early versions even in luxury cars. In the past, it was a system mainly for high-quality straight se3ctions of motorway roads. The Venue, like some of its stablemates, can tug on the steering wheel when travelling around a sweeping corner.
This means, however, that the response is variable in its intensity.  You can be driving along a straight stretch of road, you wander a little in the lane, the lane departure warning goes off but you do not (or at least I did not) sense any intervention.  But on a tighter corner, the system can give a strong pull on the wheel. It will take a bit of getting used to I suppose.
There are three drive modes: Eco; Normal; and Sport and as a concession to calling it an SUV the automatic versions have an all-new Traction Mode, featuring Snow, Mud, and Sand settings which will vary the amount of power and torque to the front wheels depending on the conditions.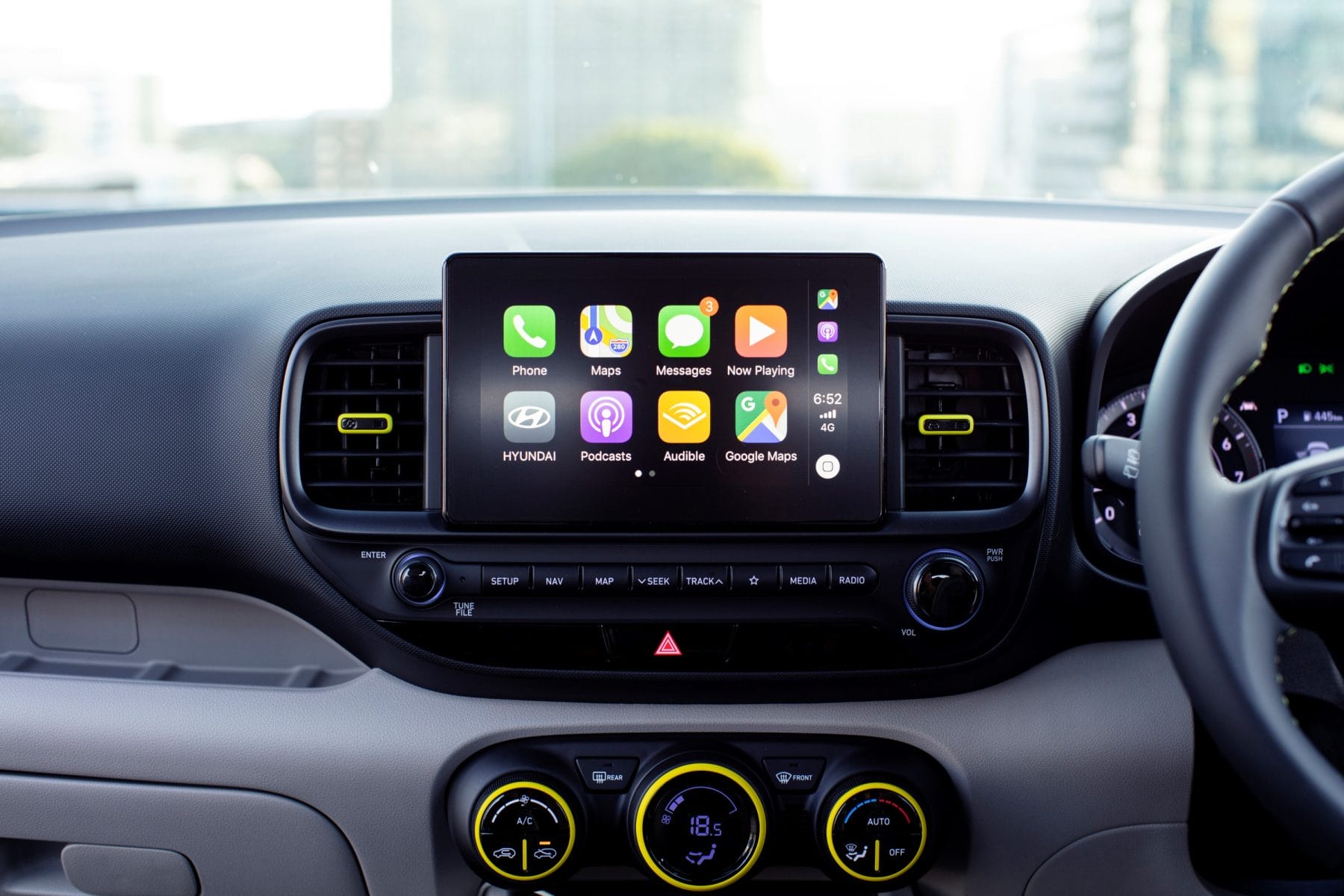 Hyundai Venue – Features
All Venue models come with an 8.0-inch touchscreen multimedia display with Bluetooth streaming (phone calls and audio), Apple CarPlay, Android Auto, reversing camera, and tyre pressure monitoring.
The base model Go has 15-inch steel wheels, cruise control, and a four-speaker audio system.
For an extra $1,500 (plus the impact on on-road costs) you can move up to the Active which has among other things: 15-inch alloy wheels; LED day-light running lights; parking distance warning; and a six-speaker audio system.
An automatic is an extra $2,000.
If you move up to the top of the range Elite it will cost a further $2,000 over an automatic Active while adding things such as 17-inch Alloys, Sat nav, single-zone climate control, a USB power outlet and two-tone roof and side mirrors.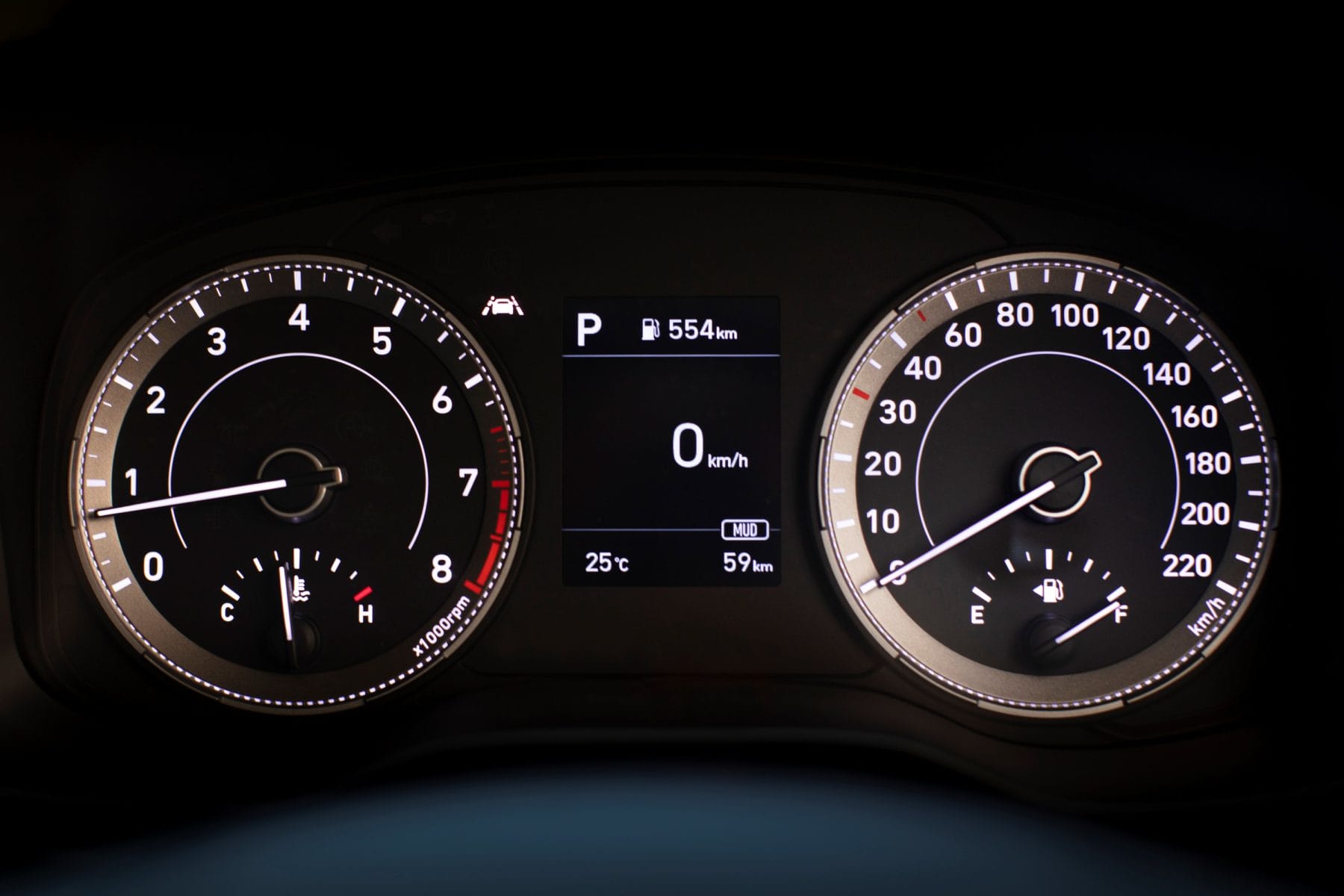 Hyundai Venue – Safety
Hyundai's SmartSense safety suite is standard in every Venue, with Forward Collision-Avoidance Assist (FCA), Lane Keeping Assist (LKA-L/R), Driver Attention Warning (DAW), High Beam Assist (HBA) and tyre-pressure monitoring.
The Venue Active adds Rear Parking Distance Warning (PDW-R) system, LED daytime running lights.
Elite customers also get Blind-Spot Collision Warning (BCW) and Rear Cross-Traffic Collision Warning (RCCW) systems.
Hyundai Venue – Fit for purpose
Hyundai sees three main groups for the Venue none of which have a focus on a family with children.
Middle-aged couples (very charitably they define middle age up to 60 years old)
Young singles (typically female)
Young couples (no children but family planning)
There is a strong assumption that the cars will be overwhelmingly based in urban environments.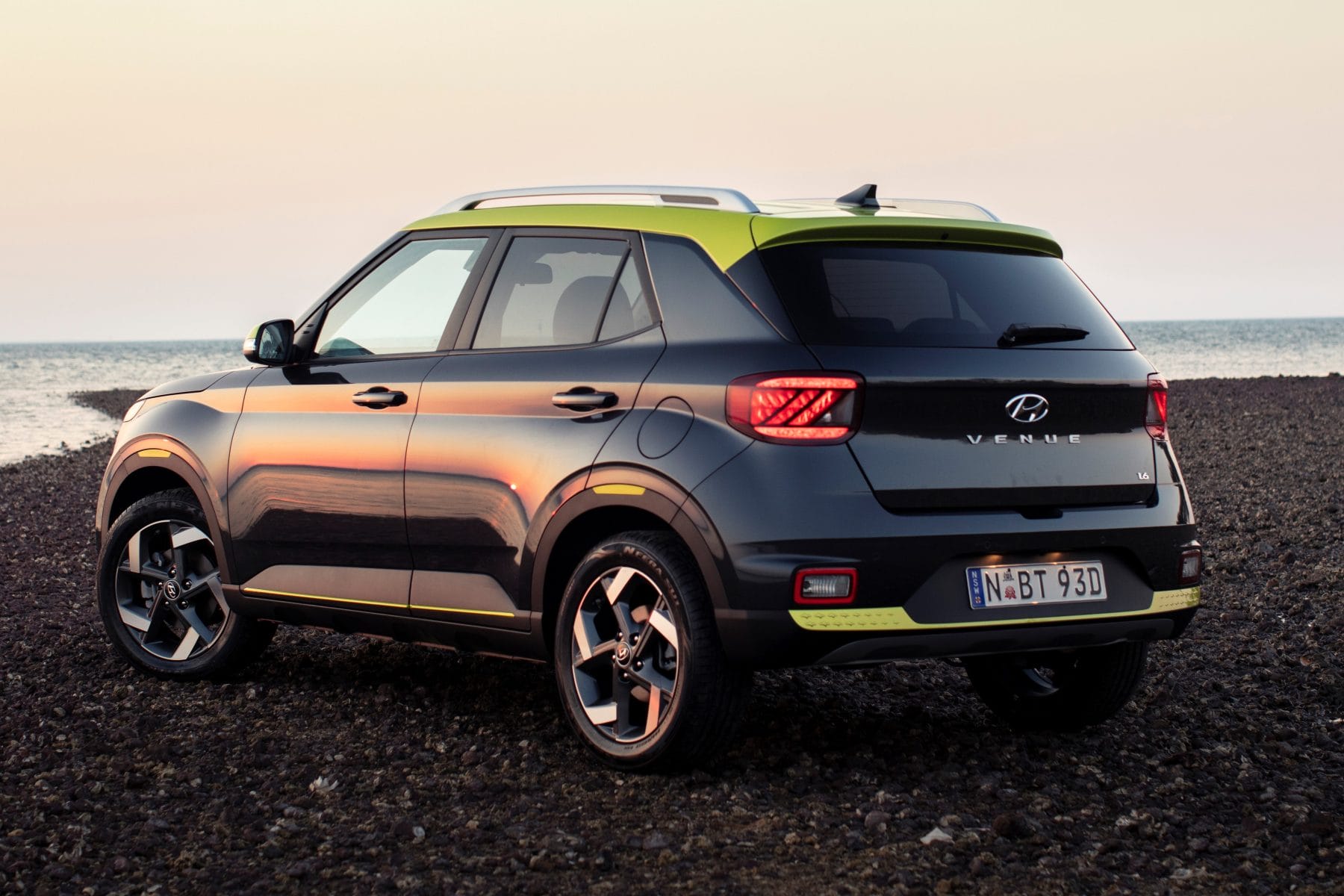 Summary
The Venue is "fit-for-purpose", with the understanding that it is an urban car, you will be paying $2,000-3,000 above the price for a similar sedan in order to get an SUV image and a car you can step up into rather than struggle to get down
It has a distinctive look without being as over the tp as a Toyota C-HR.
It is a pleasant, easy-to-drive vehicle with good features at an entry-level price for an SUV.
What's Good:
Good looks
Good pricing for an SUV
Good features and safety
What's Not:
Increased price over a sedan
Somewhat aging engine design
The interior lacks a completeness of style.
Also look at:
Model            Hyundai Venue
Model Price   $19,990 – $25,490  MLP*
Engine           1.6 litre, four Cylinder Petrol
Drivetrain      2WD  6 speed manual or automatic
Power             90 kW @ 6300 rpm
Torque           152 Nm @ 4850 rpm
Safety             Not tested yet but expecting 4 stars
CO2 Emissions      160 g/km (manual) 165 g/km (automatic)
Economy ADR      7.0 l/100km (manual); 7.2 l/100km (Automatic)
Tow Capacity 1,100 kg (Manual); 800kgs (automatic)
Tow Ball Rating    50 kg
Servicing       1,500km complimentary first service,
Warranty       5 Year Unlimited Km, complimentary Roadside Assist for 12 months
*MLP – Manufacturers List Price includes GST and LCT but excluding statutory charges, dealer costs and dealer delivery. See your dealer for RDAP. Does not include price of any options.
Overall Rating: 77/100
Behind the Wheel
7
Comfort
8
Equipment
9
Performance
8
Ride & Handling
7
Practicality
9
Fit for Purpose
9
Towing Ability
6
Off Road Ability
6
Value for Money
8