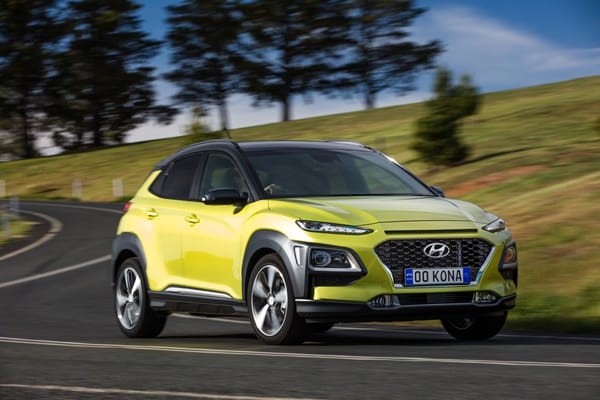 Overview
Hyundai has launched its unusually named Kona into the small SUV segment. Kona is named after Hawaii's "Kona Coast" region which is famous among thrill-seeking travellers. The Hyundai Kona comes in both 2WD and AWD versions with two different petrol engine options and two different transmissions.
The small SUV market segment has undergone huge growth and transformation over the last few years. No longer does being small mean missing out on the extra safety and luxuries that previously were only for the larger vehicles.
The small SUV segment is primarily aimed at the Urbanites that populate the inner city and expand their horizons beyond the city on weekends. I remarked that I would love to live the life that the marketing people portray potential buyers have. They have it all.
Being both 2WD and AWD, the Kona is perfectly pitched for those that want to have the look and those that want to actively participate. Let's not forget the aspirational buyers that want to be perceived as having an active lifestyle or even the downsizers from larger vehicles.
Hyundai and its close relative Kia have strong footholds on the medium and larger SUV segments but until now have neglected this segment.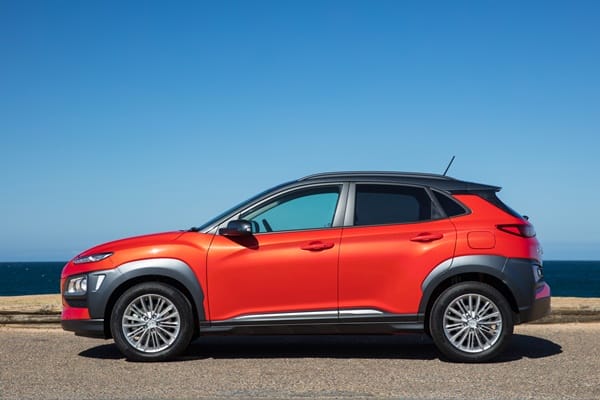 How will the Kona fare in what is already an established and crowded market. You can either jump in to get the first mover market advantage or wait for others to establish the market and hopefully develop something better than the competitors. Hyundai has done neither. However that doesn't mean that the Kona isn't a good thing. It's just not a category killer.
Well it certainly has the looks to attract the target market, The Kona looks chunky, not in a Jeep Renegade style but with more character than the Mitsubishi ASX, but less 'style' than the Toyota C-HR.
Measuring 4,165mm in overall length, 1,800mm wide. 1565mm high, riding on a 2,600mm wheelbase and with 170mm minimum ground clearance it sits about middle of the pack of the smaller SUV's. It's like a box on wheels. A good looking box, mind you.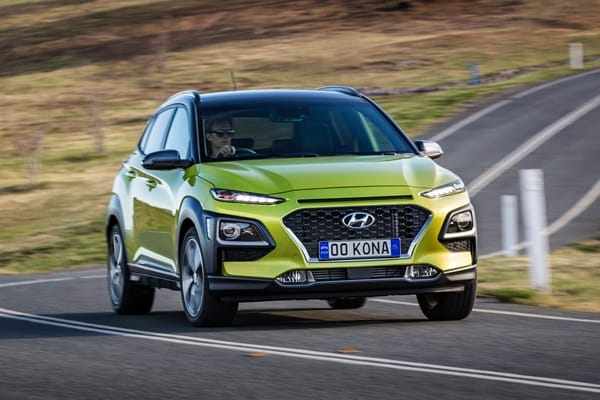 Hyundai has however developed the Kona with interior space in mind and buyers also have plenty of customisation choices for Hyundai's compact SUV. Kona's optional contrasting roof colours make it easier to choose a unique exterior colour combination. There is a choice of 22 combinations in all. This doesn't even touch on the internal colour options.
Every Kona trim grade has alloy wheels as a standard fit with a different size and pattern for each model. Hyundai iCare, offers a comprehensive suite of owner benefits including; Lifetime Service Plan, 5 Year Unlimited Km Warranty, complimentary Roadside Assist for 12 months on new vehicles, 1,500km complimentary first service, a dedicated Customer Care Centre, and myHyundai – an exclusive owner website.
When servicing with Hyundai, customers will also receive a 5 Year Sat Nav Update Plan, a Roadside Support Plan for up to 10 years and Kona Lifetime Service Plan Pricing.
Hyundai Kona Overview and Exterior
Hyundai Kona Interior
The interior of the Hyundai Kona is …well a little different. It certainly is aimed at the inner city trendy buyer, especially the top of the range Highlander.
Please do not mistake trendy or "on trend" to forsake functionality.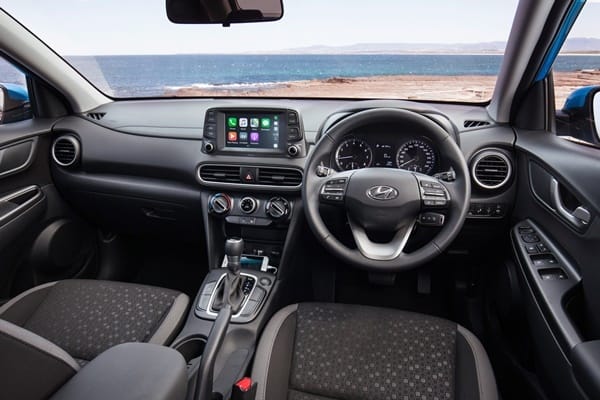 The overall feeling when first sitting inside is of space, which is perpetuated by the high roof and a strong horizontal character line giving a wide, spacious feeling.
The front seats are fairly comfortable, the Highlander with its leather covering and electrically adjustable lumbar support, is the most comfortable.
There is enough front space for taller drivers, without feeling cramped. 4In front of the driver is a typical twin dial dash with a MFD between the dials. This is a tried and true design and in the case of the KONA works pretty good.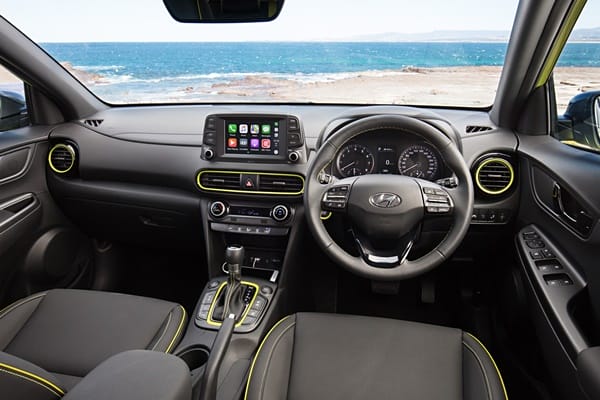 The steering wheel again has controls for the cruise control and infotainment system on the central spokes. Happily the indicator and wiper stalks sit a little above the wheel spokes to aid in visibility.
The central stack is dominated by a 7 inch touchscreen, tablet style infotainment system, which houses the Android Auto and Apple Car Play system. There is no in-house navigation system, relying on the smart phone systems.
Below the screen sits the air conditioning vents and again below that the controls. To the side there are two large round vents that not only feel integrated, look cool but provide plenty of air movement.
Two other clever features include wireless phone charging and in top spec Highlander, a head up display.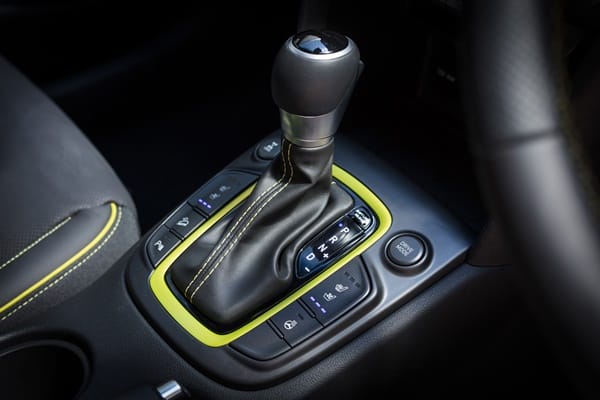 The central console houses the transmission, cup holders, and on the higher spec models a range of buttons for various features.
It seems that younger buyers are all about customisation for their vehicles. It is an extension of their differing personalities.
While the interior provides a spacious feel and certainly has some clever design features, it does feel like there is a little too much plastic everywhere. Some soft touch rubberised surfaces would soften the interior a lot.
On the launch I sat in the back seat for a while and both the front passenger and I had enough room. This is impressive, given my rather large 190cm frame. I wouldn't want to be three passengers up back there though.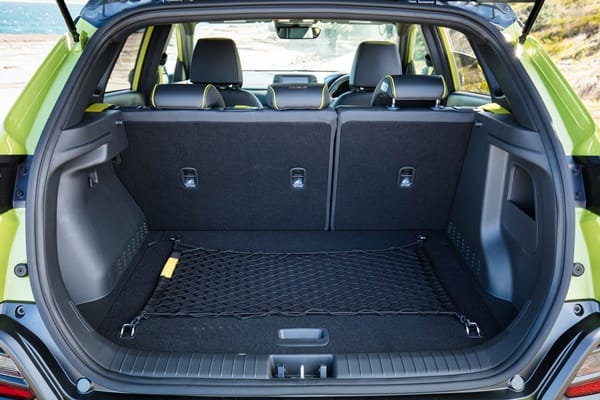 There is adequate storage with cup holders, in-door bottle holders, centre console, and reasonable glove box. The boot appears small, but has a high load lip and the rear seats will fold down in a 60/40 format, to give more flexibility. The rear door opens fairly high but taller people will hit their head. The rear suspension was engineered to allow a lower floor height and an improved rear seating position.
Hyundai Kona Engine and Performance
The first thing to note is that there is no diesel option, which considering how good the larger diesels are from the Hyundai/Kia stable, is a shame.
The second thing to note is that the two petrol engines on offer aren't too bad.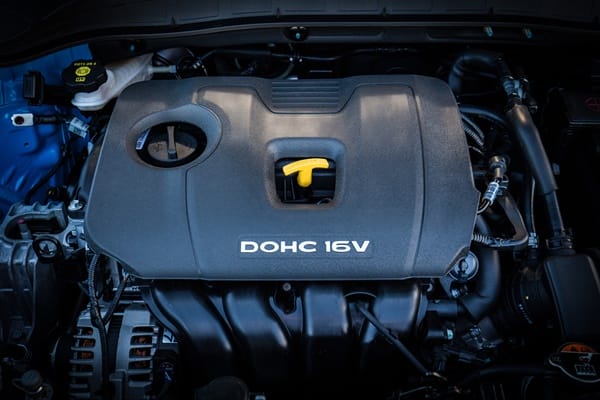 The two engines come with individually mated transmissions. Buyers can choose a 2WD with a 2.0-litre, naturally-aspirated, four-cylinder engine with conventional six-speed automatic and front-wheel-drive, or an AWD with a  1.6-litre TurboGDI with seven-speed dual-cutch transmission (DCT) and all-wheel-drive.
The 2.0-litre engine produces 110kW at 6,200rpm and 180Nm at 4,500rpm. Paired with the six-speed automatic transmission, it accelerates the front-wheel-drive Kona from standstill to 100km/h in 10 seconds flat.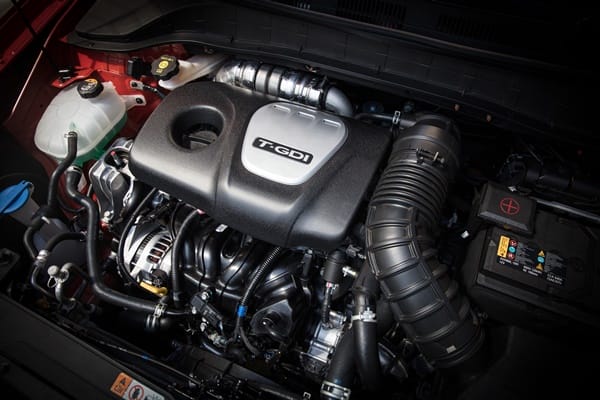 Hyundai's 1.6-litre 'Gamma' four-cylinder engine features gasoline-direct injection (GDi) and a mixed-flow turbocharger for a sharp throttle response and impressive low-end torque. Power output is 130kW at 5,500rpm and torque – a generous 265Nm – starts at 1,500rpm and stays at its peak through to 4,500rpm. It translates to an almost diesel like drive experience and a 7.9 second 0-100km/h time.
The turbo engine is mated to Hyundai's efficient and responsive seven-speed, dual-clutch transmission (DCT) with three drive modes. .
The pick of the two to my mind is the 1.6 TurboGDI, however the 2.0L surprised me with its willingness and smoothness.
As far as drivetrains, suspension geometry and chassis tuning, the Kona is almost two different cars in one outer body shell. The front suspension is the same for both cars with a proven independent MacPherson strut design with the geometry optimised for ride and handling locally.
The rear suspension changes depending on what drivetrain is chosen. The 2WD variants uses a torsion beam suspension rear end, while the AWD's dual-arm, multi-link suspension has been designed for refined driving dynamics over a broad range of road surfaces.
Think of the Kona as a more adventurous hatchback rather than a true AWD SUV.
Hyundai Kona Engine and Performance

Hyundai AUTOLINK
Perhaps one of Kona's most unusual and some say coolest features is Hyundai Auto Link, technology that connects your car's smart computer to your mobile phone via Bluetooth, keeping track of your car's performance and providing analytical information to enable you to get more out of life with your Kona.
Being an older version of a driver, my immediate question was why didn't they make all this information available within the cars MFD, rather than have another App on your phone, especially as drivers aren't meant to touch their phone while driving. However I was politely reminded that I was approaching a dinosaur and that intended buyers will 'LOVE' this feature.
Hyundai Auto Link offers seamless access to everything from real-time vehicle diagnostics, including tyre pressure monitoring and vehicle 'health-check' status, to driving history statistics, parking management, and easy service scheduling and automatic access to roadside assistance if required.
Hyundai Kona Safety
Hyundai hasn't received an official ANCAP safety rating yet but first impressions are that there is a heap of features. All models from the Active have a good standard level of features. The Active with Safety Pack adds another layer of features and the top of the range Highlander has the most safety features.
Being small no longer means that buyers have to go without top safety features. This is a growing trend and one that should be applauded.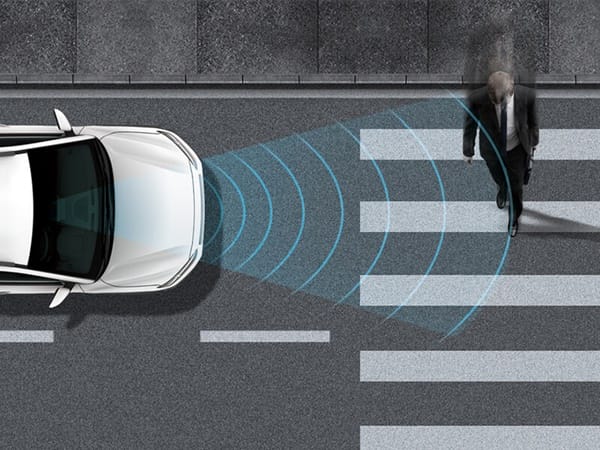 One thing that I did notice is a slight renaming of a few features to better reflect their intended function. Take for example the Forward Collision Avoidance Assist. It was previously known as Emergency Brake Assist, EBA or a variation of that. However the FCA is more than braking and is reflected in it new name.
The other subtle but intuitive naming method with the Kona features is that everything that ends in 'A' is an assist feature and everything that ends in 'W' is a warning. Simple but clever and you might say 'DUH' but not all manufacturers are as intuitive.
Safety features include: Forward Collision-Avoidance Assist (FCA, Lane Keeping Assist (LKA) System has three modes: Lane Departure Warning (LDW), Standard Lane Keeping Assist and Active Lane Keeping Assist. Driver Attention Warning (DAW), Blind Spot Collision Warning (BCW), Rear Cross-Traffic Collision Warning (RCCW), High Beam Assist (HBA).
Kona also has a full array of active safety features which include:
Electronic stability control (ESC) with Vehicle Stability Management (VSM) Encompasses a wide array of features with Traction Control System (TCS), Anti-lock Braking System (ABS), Electronic Brake-force Distribution (EBD), Brake Assist System (BAS), Downhill Brake Control (DBC) and Hill-start Assist Control (HAC), LED Daytime Running Lights (DRL's), Emergency Stop Signal (ESS), Tyre Pressure Monitoring System (TPMS) and Rear view camera and park assist system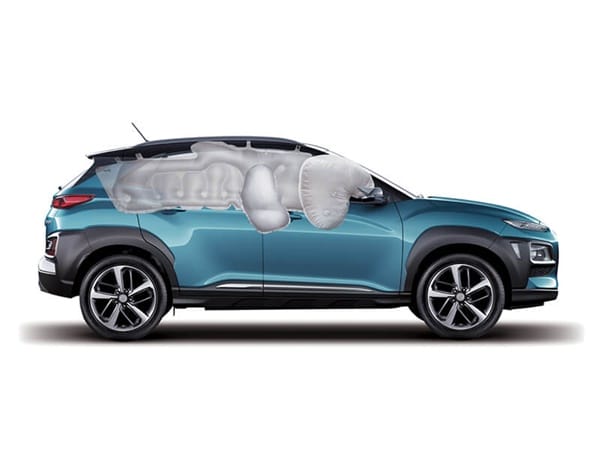 Every Kona incorporates a full suite of passive safety features. Six airbags are included as standard on all variants (driver and front passenger, driver and front passenger side (thorax), and full length curtains). Additionally, the increased chassis rigidity through the use of advanced high strength steel and structural adhesives ensures utmost safety for all occupants