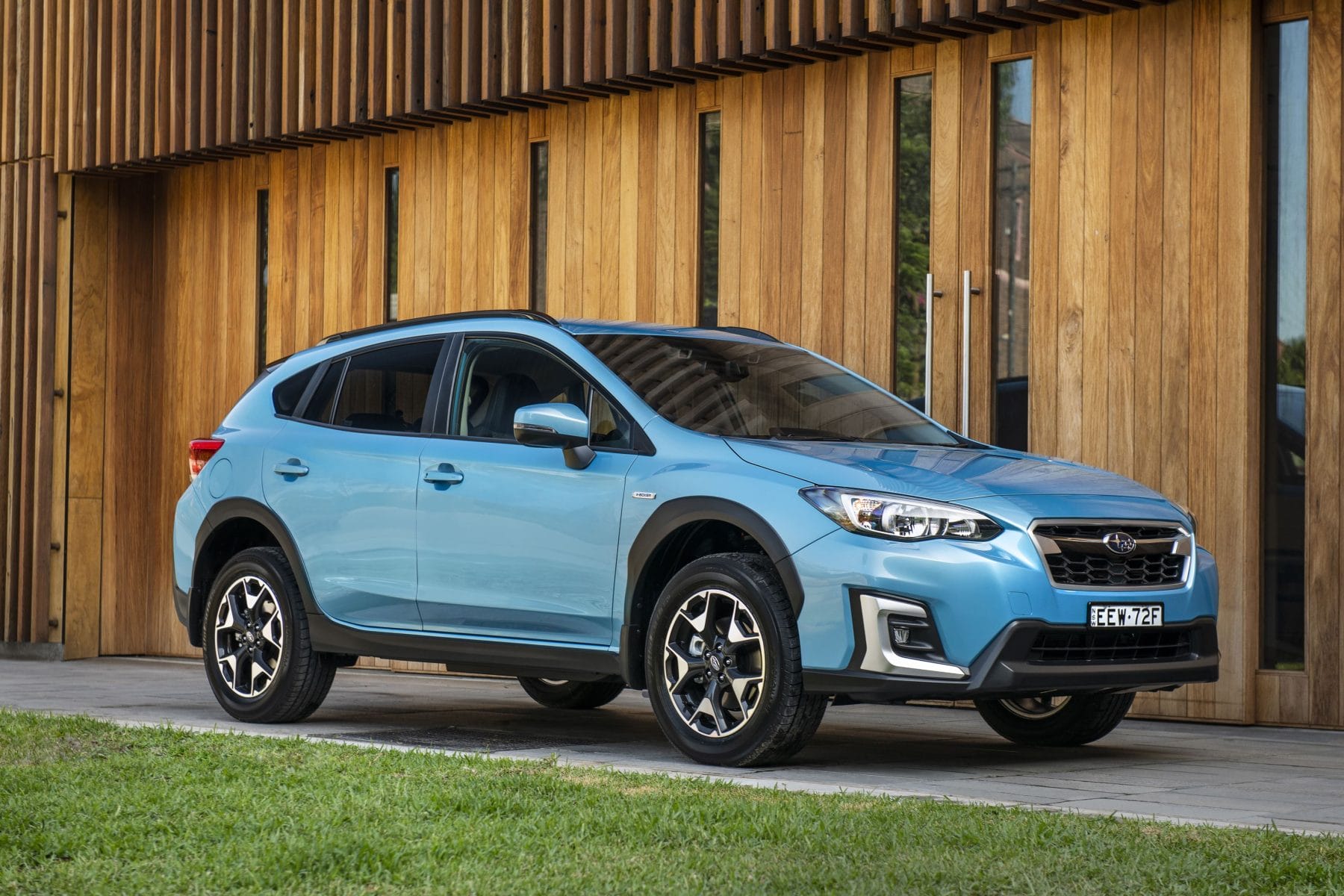 Subaru XV Hybrid adds a 2.0l mild hybrid engine to the XV. If XV vaguely looks like an Impreza on stilts, that's because it is.
We have reviewed XV many times. Here are those, and other Subaru stories:

XV Outside:
XV is handsome. Big, bold, light clusters include automatic halogen headlights with high beam assist.
There are built in roof rails, and deep body carving to add a play of light under the doors and on the front and rear facades.
The lower body and wheel arches have sacrificial black plastic trim.  Better to scratch that than the duco.
Measurements:
220mm ground clearance
4465mm long, 1800mm wide,
1595mm high (20mm lower than petrol models), and has a
wheelbase 2665mm
Cargo volume is 345L/919L (petrol models at 310L/765L)
Subaru has no spare tyre. Instead, that excess space is split between battery and cargo volume. There is a puncture repair kit so if you're heading to your country cottage high on a remote peak, put a spare on the roof.
The only hint of the hybrid drivetrain is a discrete Eboxer badge on the front guards and rear hatch. One doesn't want to be too ostentatious.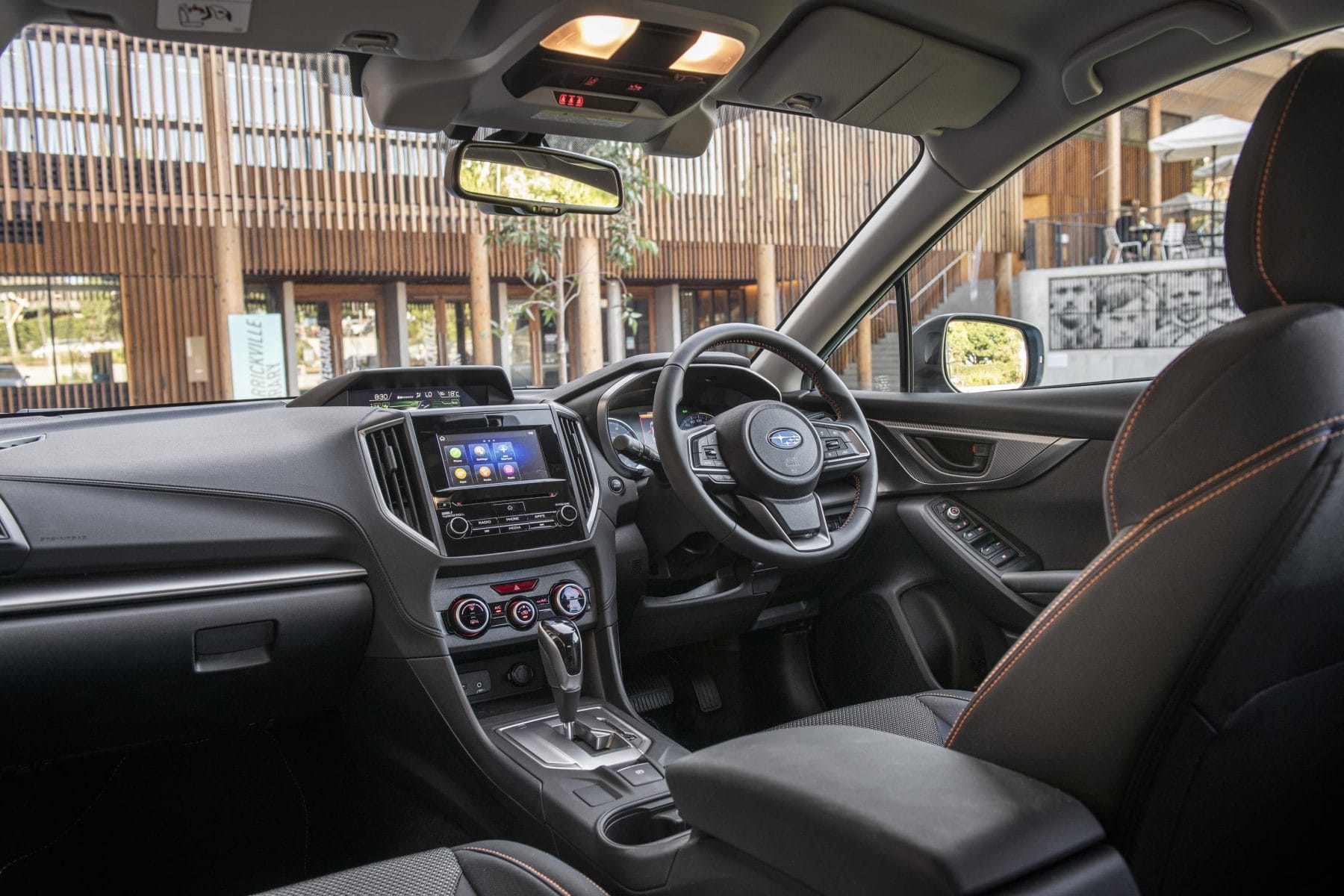 XV Cabin:
All XVs have Smart Key entry, and push-button start. Inside, a clever identification system scans and welcomes the driver, and sets the profile accordingly.
Subaru covered the seats premium cloth, which has a slightly industrial feel. The dash has a similar sturdiness to it. The lines are complex, and the materials soft. Everything is where you expect it to be.
XV Hybrid has one trim level, a mix of the various trim levels in the other models.
Uou get single zone climate control, but all the EYESIGHT safety features. Only the Premium and S XVs have built in navigation. On all other XVs, you can use Apple CarPlay/Android Auto and the maps contained therein.
This phone mirroring gives you full control via the 6.5" touch screen, and there is voice control too. Use Siri for full voice control, but if you prefer radio, DAB/FM/AM stations can be stored as favourites.
Displays:
Functions are cleverly split, and in some cases duplicated. Driver displays have twin dials, and a 4.2" MFD (multi-function display).
On the centre stack, another MFD is set above the touch screen. Both MFDs are shielded by deep visors to prevent excess glare from the sun. Other surfaces are matte to stop the afternoon sun from blinding the driver. Only the touch screen and gear knob have shiny piano black. That's a fashion I hope soon will pass.
You get 2X 12v sockets, a AUX socket, and a USB jack, as well as a bin to rest your phone while plugged in. There are a further 2 USB charging points trussed up in the centre console armrest bin.
There are 2X cupholders in front of the gear selector, large bin/bottle holders in all 4 doors, a cargo blind, and some neat hooks for bags and so forth.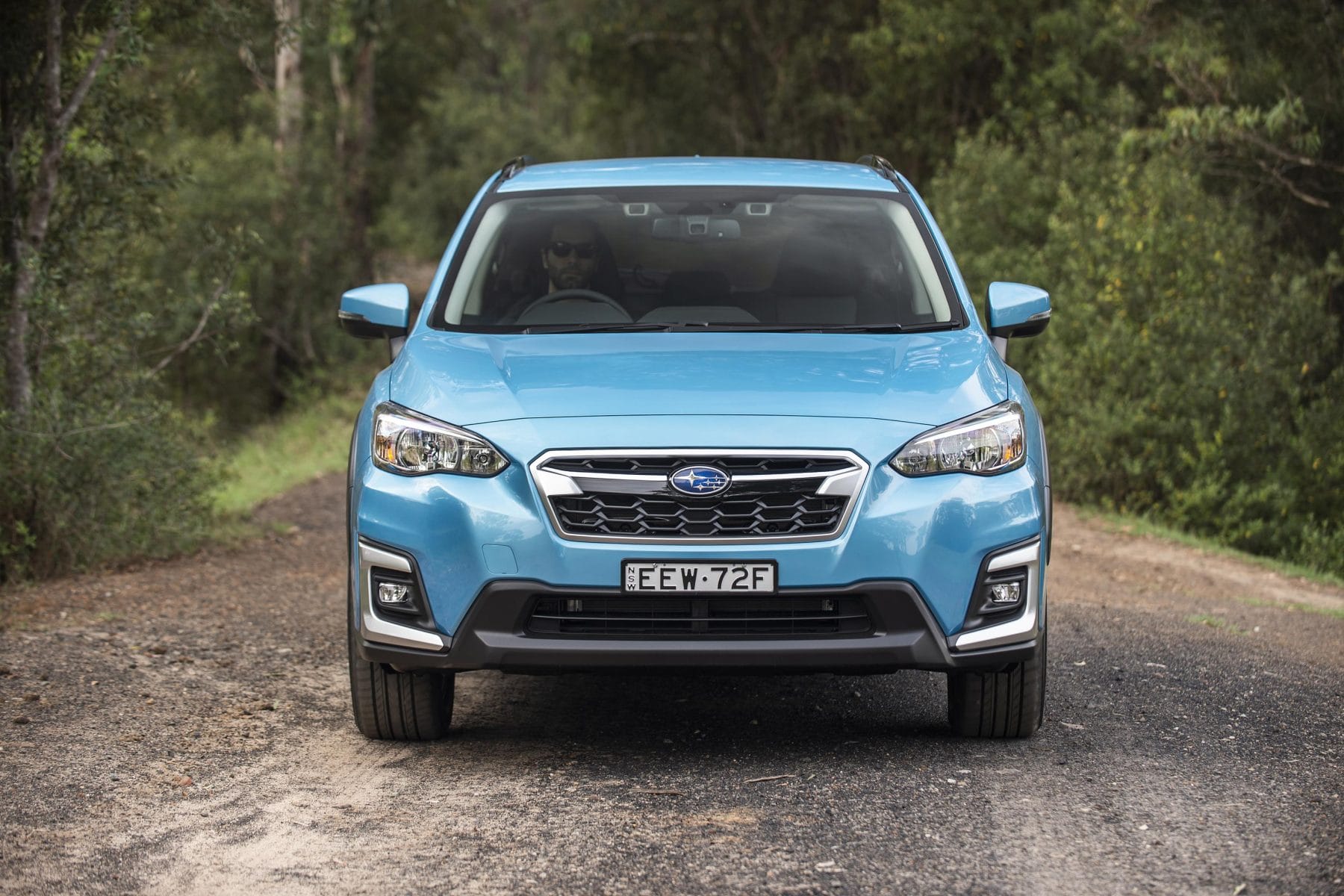 XV Driving:
XV has supportive seats and a perfect driving position. There is plenty or room. Even the rear passengers find more than enough room even with all occupants being adults.
Although the XV Hybrid misses power adjustment and heating, the driver can still lift the seat manually. The steering wheel adjusts for reach and height, and all controls fall easily to hand.
There are driver aids and safety gizmos galore. EYESIGHT's twin cameras work with radar and parking sensors to provide:
Active lane control
active cruise control
active blind spot monitor
AEB forward/reverse
Brake light recognition
Lane sway warning
Lead vehicle alert
Pre-collision braking/brake assist
Pre-collision throttle management
Rear cross traffic alert
High beam assist
Lane change assist
Reversing camera
Kids are forgotten either. There are 3 child anchor points and 2 ISOFIX points along with rear door child locks.
The Ride:
The ride is brilliant. XV has sophisticated suspension: stabiliser bars front and back, Macpherson struts up front, and double wishbones at the back.
In the bends, that smooth ride morphs into sporty grip. You dart into corners with the clever electronics working to brake wayward wheels. It makes good drivers even better. Bad drivers should just stay off the road for everyone's sakes.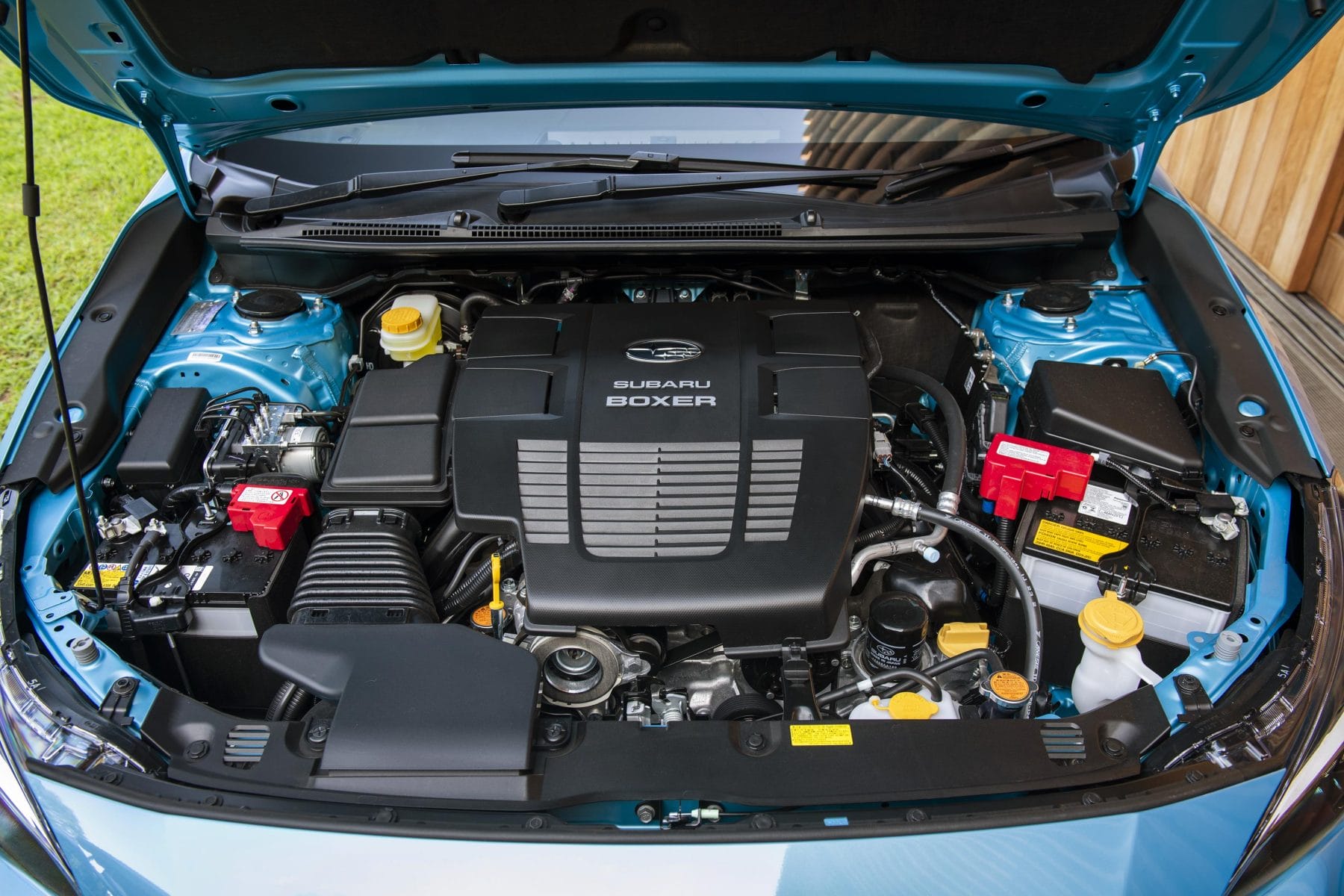 XV Hybrid Engine and Transmission:
XV Hybrid has 110kw/196Nm, with the electric motor adding a further 12.3kw and 66Nm. Like all Subarus (except for BRZ) XV Hybrid has AWD. The power gets to the wheels via a CVT automatic. The CVT has no physical gears but will simulate gear rations when pushed. There are manual gear paddles on the steering wheel to suit sporty drivers.
As you get to cruising speed, or simply beetling about the town, revs go up and down to find the perfect match of performance and economy.
There are slight fuel savings over the petrol-only XV models. 6.5L/100 vs 7L/100k and CO2 of 147g/km vs 159g/k may not sound like much, but it adds up. Forester is slightly better with a 19% fuel saving around town.
XV Hybrid will run for short periods in EV mode, using only the electric motor as long as the batteries are charged up. The hypnotic display above the touch screen tells you battery charging, and what engine is driving the wheels..
You do not need to plug in to a socket. XV Hybrid charges as you drive.
XV Hybrid differs from full hybrids. The motor and batteries are much smaller than Prius for example.
Conclusion:
XV Hybrid uses Subaru's new platform that can take petrol, hybrid, or electric drive trains. It has the symmetrical AWD system Subaru is famous for. That alone puts it ahead of most other brands in the segment.
It comes with a 5 year warranty, 5 year/62,000km capped price servicing,  batteries have a separate 8 year/160,000km warranty. With most electric cars, the batteries will outlast the car. Warranty usually kicks in if the batteries are at 70% or less efficiency, but check with you dealer when you have a service..
The important thing is you can drive this car just like any other car. You can go as far as the 48L petrol tank will get you, then you just fill up again.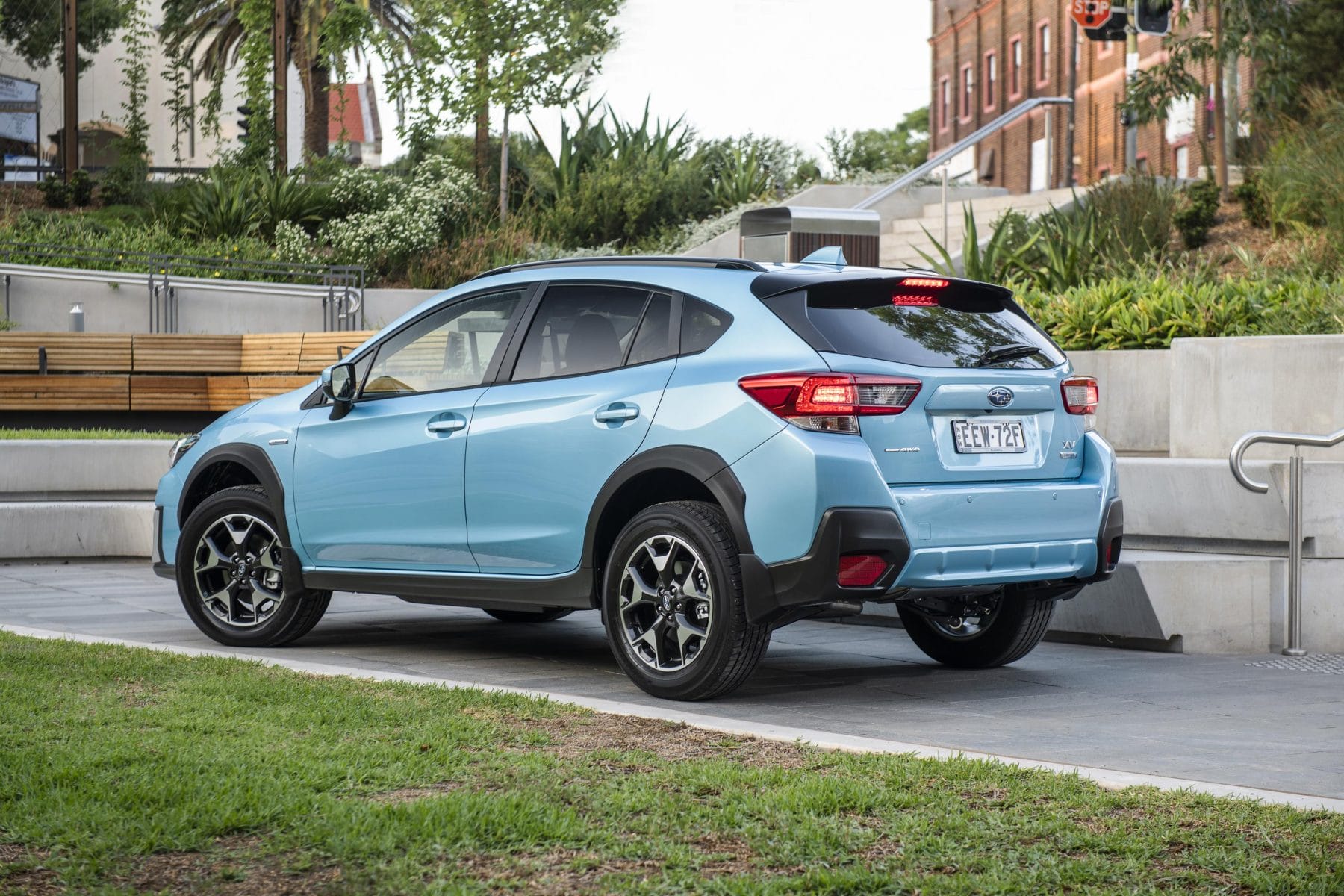 Subaru XV Hybrid
Price: $35,580 (plus onroads)
Engine:
petrol – boxer, 2.0L, 91ron
Electric – Permanent magnet AC synchronous motor
Power:
petrol – 110kw
Electric – 12.3kw
Torque:
petrol – 196Nm
Electric – 66Nm
Econ: 6.5L/100k (7.5 city, 5.9 highway)
CO2: 147g/km