Yaris GR Rallye – Toyota put a rocket up the performance car world last year when they introduced the 3-door Yaris GR, a 1.6-litre, three cylinder, turbo-powered missile aimed at qualifying the giant Japanese manufacturer  for the World Rally Championship… a "homologation" model as they say.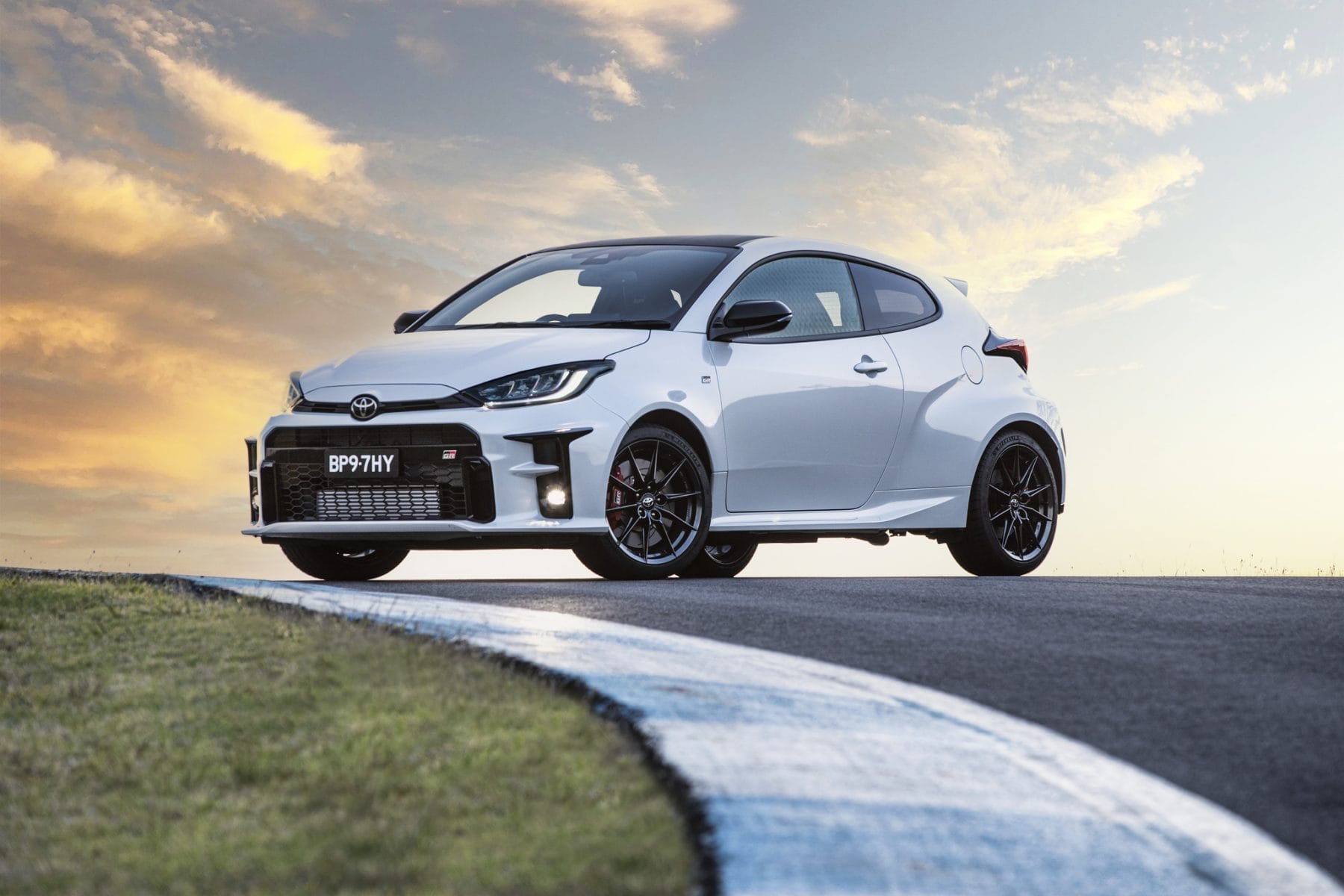 Little did Toyota realise how popular such a vehicle would be ringing bells around the globe in markets where it was available, being snapped up by fast car fans and motorsport competitors alike.
There's one in our family but it's the lower spec' GR unlike this Rallye version that gets a lot more go fast kit along with a heftier price attracting a $5000 premium over the $49,500 'base' model .
Is it worth the extra?
Unequivocally yes especially when you boil it all down to lap times at which the Rallye would be, on most tracks, a couple of seconds quicker.
That's because it has a pair of limited slip (Torsen) differentials controlling traction at the front and rear axles, adjustable suspension offering firmer settings to the springs, dampers and sway bars for motorsport applications, stickier soft compound tyres and lighter, stronger forged BBS alloys.
Taken individually, the cost of these high performance parts would add up to much more than five grand retail, probably more like $10-15 grand.
So it's a bargain and you'd be nuts not to tick the Rallye box if you could stretch to the extra $5 large.
Rallye has leather accented sports seats with suede inserts, sundry badging, red painted brake calipers and additional brake ducting and is only available in pearl white which suits the car and highlights its muscular looking body panels.
Apart from plastic bumpers aluminium is used for all bolt on panels along with a carbon fibre roof insert… for strength and lightness.
Rallye shares the same 1.6-litre turbo, three pot delivering 200kW and 370Nm of torque as the standard GR model. The Rallye is possibly a touch quicker to 100kmh thanks to the controlled traction through those twin LSDs and softer tyres.
All safety kit is the same, interior features are the same and it looks pretty much the same as the GR.
Personally, I'd really like to see a Yaris GR Rallye race special stripped of all the road going safety and luxury paraphernalia. That would probably shave 250kg from the already svelte 1280kg…. not bad for an all-wheel-drive, rally focussed turbo hot hatch.
I want one…
Exterior
It is about as squat as a road car can get especially when viewed from the rear and the face is angry and sharp. There's a large grille covering radiator and intercooler with additional vents each side for brake cooling while all the guards are flared to accommodate large 18-inch low profile tyres.
The Rallye's multi spoke forged alloy wheels with red calipers underneath look suitably sporty and the new softer tyres adequately fill Rallye's wheel arches. You could possibly fit wide 255s under the rears without too much trouble.
There would be no shared panels between the GR Yaris and the garden variety, something immediately evident by the lower roofline, hunkered down stance and three door cabin.
The headlights might be shared.
Rallye has intimidating rear styling matching the front, possibly more so thanks to the super wide track and pumped out rear guards. The tail lights are neatly integrated into an applique in the middle of the tailgate and on top of the small rear window is an integrated diffuser that would possibly work together to combat  drag/turbulence at Rallye top speed, said to be over 230kmh.
Wide spaced dual exhaust tips finish the rear look surrounded by a lower black bumper panel.
Rallye's pearl white only colour is striking and suits the car with its additional black panels and red highlights.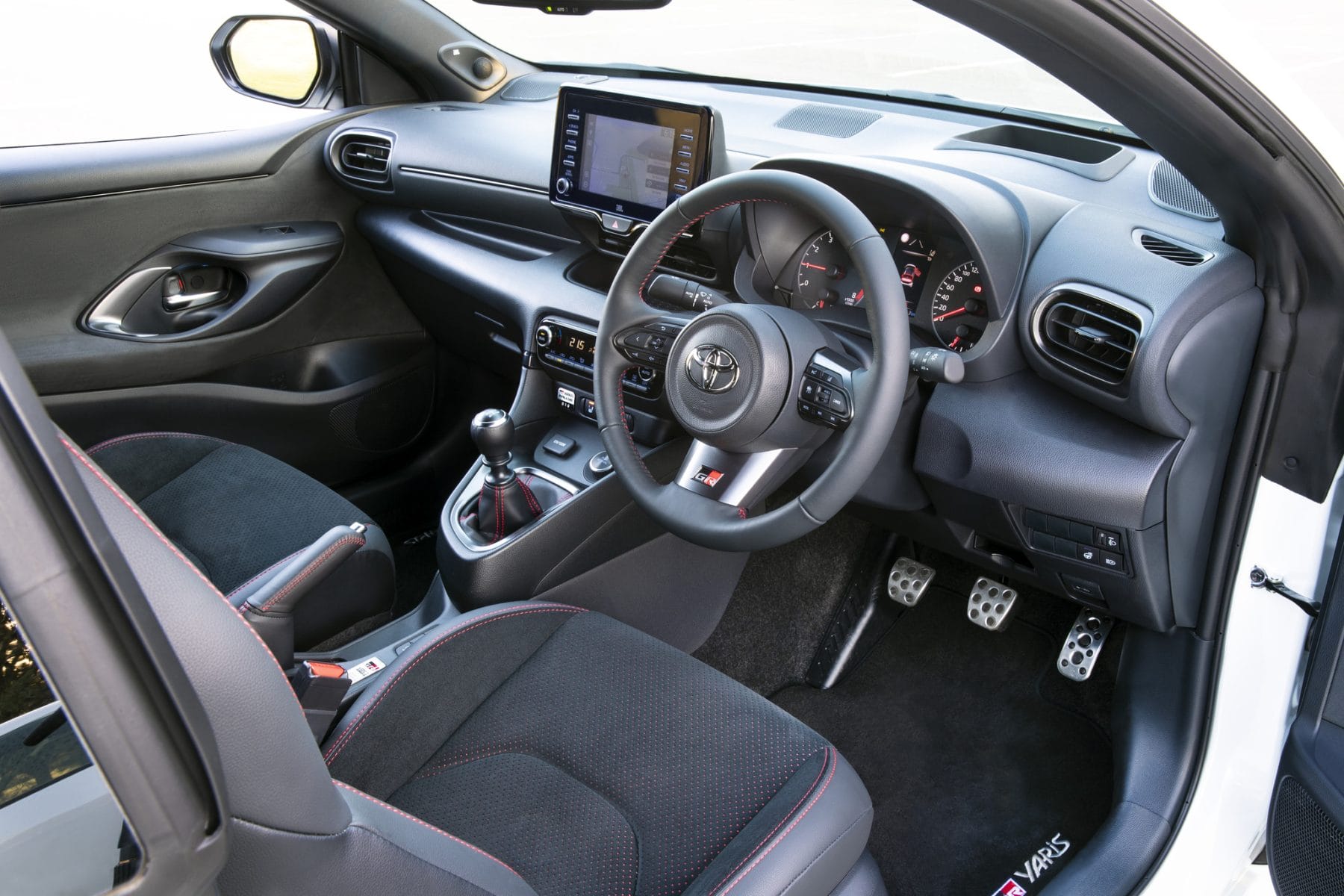 Interior
Inside is compact and functional complete with leather /suede faced sports seats and chunky multi-function sports wheel.
There's a large speedo and tacho in the driver's instrument pod and an info' display in the middle of the dash. Additional dials give turbo pressure and gear shift prompt. A head-up display shows critical numbers to the driver.
The manual transmission has a short shifter and there's a JBL audio system in there too.
The centre screen is 7-inch a number of soft feel surfaces are provided inside the cabin.
Rear seat headroom is tight but the rear seats fold for a larger load space.
It's in predominantly grey/silver tones and totally in keeping with a sporty car such as the Rallye.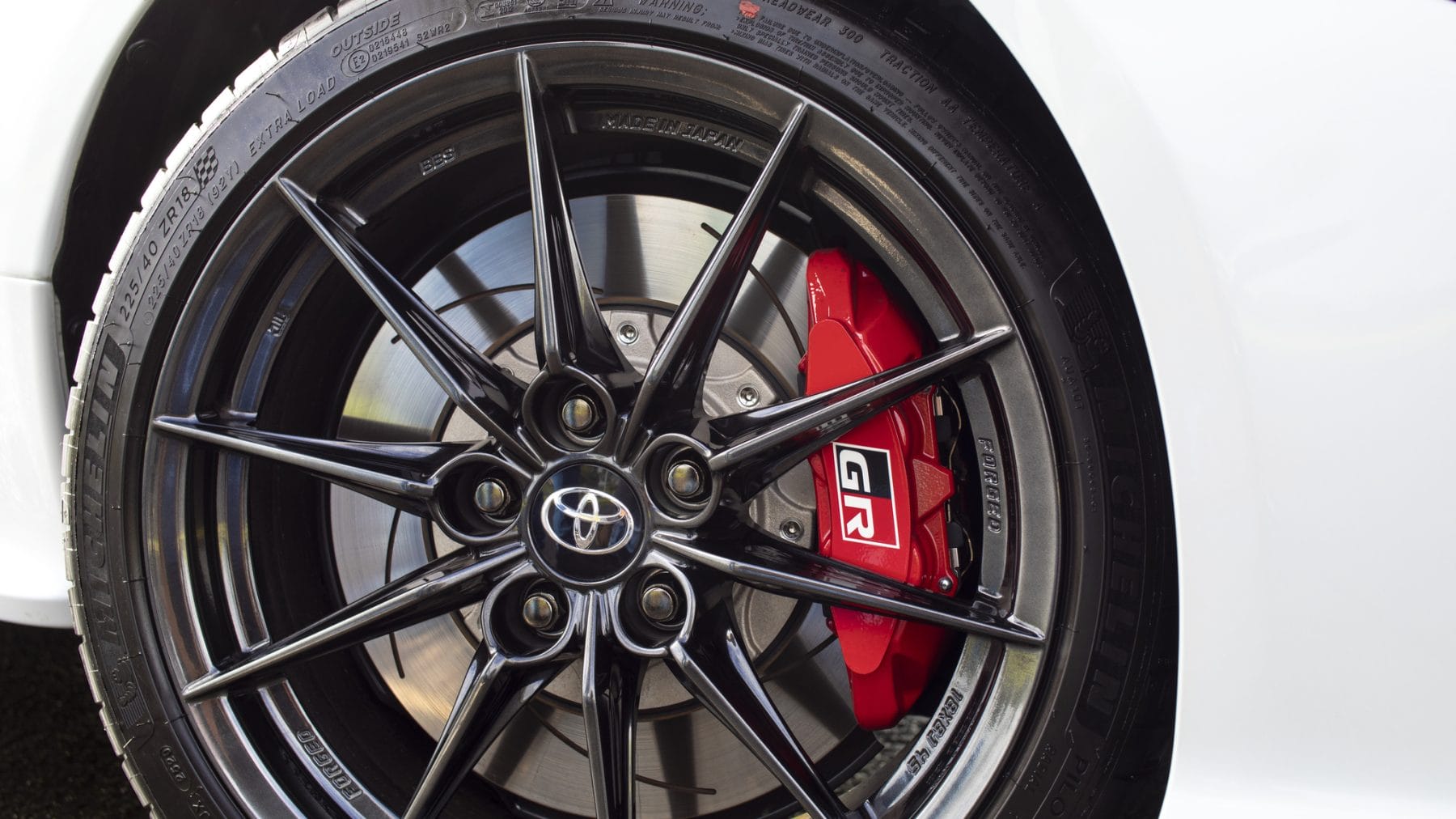 Features
Dual zone climate control
Satnav
Voice recognition
Smart entry and start
Reverse camera
Drive select
Downshift rev matching

Drive and Engine
Whip crackin' performance comes from the high-tech 1.6-litre, three-cylinder turbo good for 200kW and 370Nm. Toyota says 5.2 seconds for the 0-100kmh sprint, we say quicker than that.
It has direct and port fuel injection for efficiency and a single scroll turbo provides boost of up to nearly 1.4 bar (21psi).
Toyota has cleverly designed this engine with an offset crankshaft allowing it to spin freely and safely to high revolutions.
Engine internals are forged for extra strength. The six speed manual transmission offers close ratios while the all-wheel drive system can be set to full front wheel drive, 30/70 front to rear and 50/50 front to rear.
The engine sounds good producing a low, muted growl and provides instant performance at the driver's whim.  Brutal performance is ready if required making Rallye one of the quickest point to point cars on the road even outpacing cars with nearly twice the power.
That's because it has incredible cornering grip, traction and  drive through and out of corners  accompanied by superlative brakes. It puts 'everything" to the road.
And so much fun to drive you can't get enough.
Then, tone things down and the Rallye becomes a handy little runabout with a seriously big attitude.
The ride can be choppy, the steering is direct and you need to be on your game driving with intent…. Take lessons if you need because you will then get the most from your Yaris GR Rallye.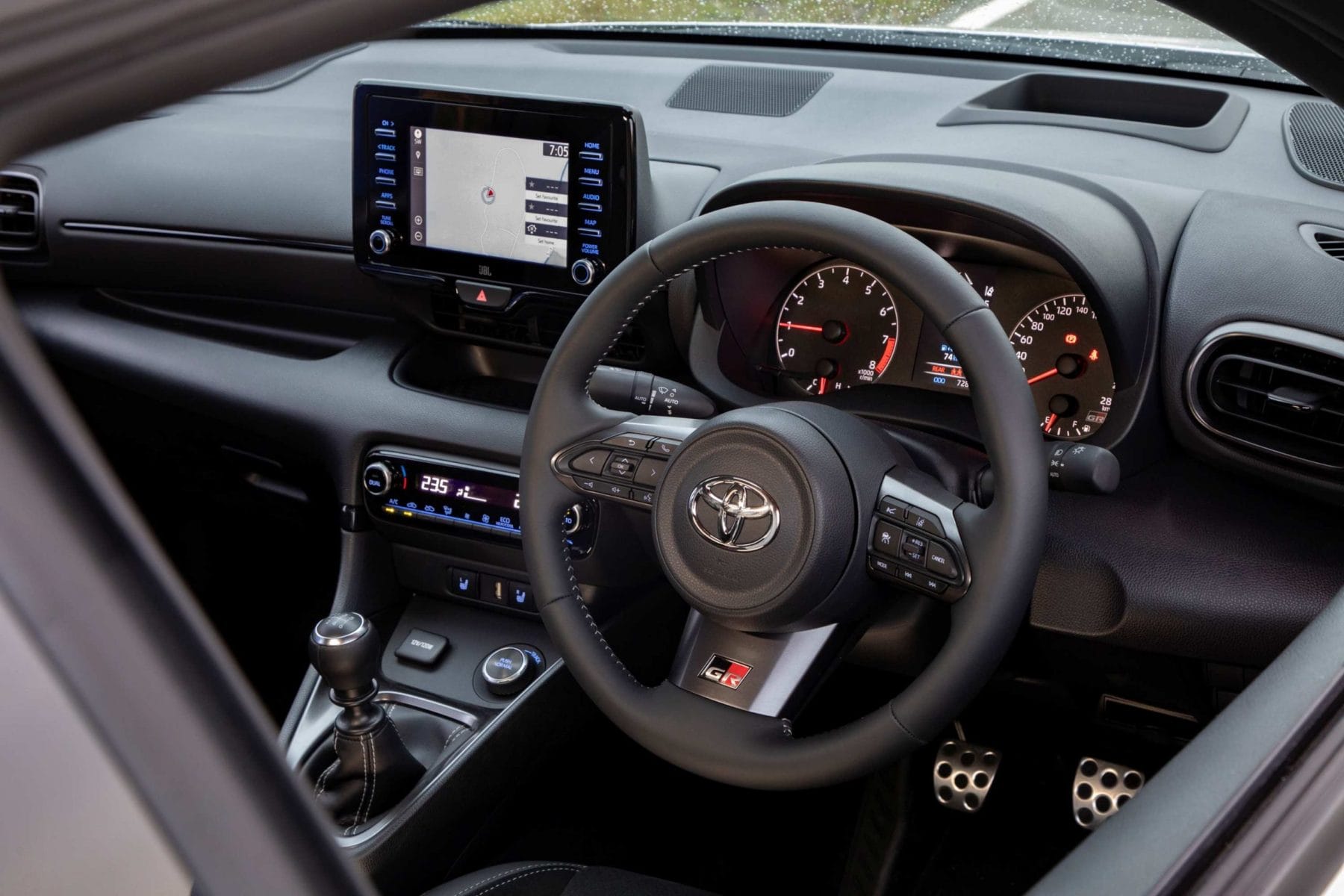 Safety
ANCAP gives Yaris a 5-star rating and the GR Rallye gets the full Toyota SafetySense treatment including, in my opinion, too much advanced driver assist technology.
But that's the name of the game today and you can switch most of it off if you go to the track. Some inside knowledge is needed to fully disengage all electronic modulations.
Then as a bonus, you'll be driving one of the most nimble cars on the road right now so that in itself is a strong safety benefit…. being able to avoid a collision in the first place through the Rallye highly developed dynamics.
What is good?

What is not so good?

Incredible dynamics
Incredible fun
Incredible performance for the money

Some pesky advanced driver assist technology
The price gets you into some tasty and larger sporty cars
Should be a stripped out race version
Summary
This car is about as much fun to drive as you could possibly want. Stack it up against all comers and the Rallye acquits itself well, seeing off most performance cars this side of $100 grand when you factor in acceleration, braking and cornering. And you can drive it around town too… in commuter mode….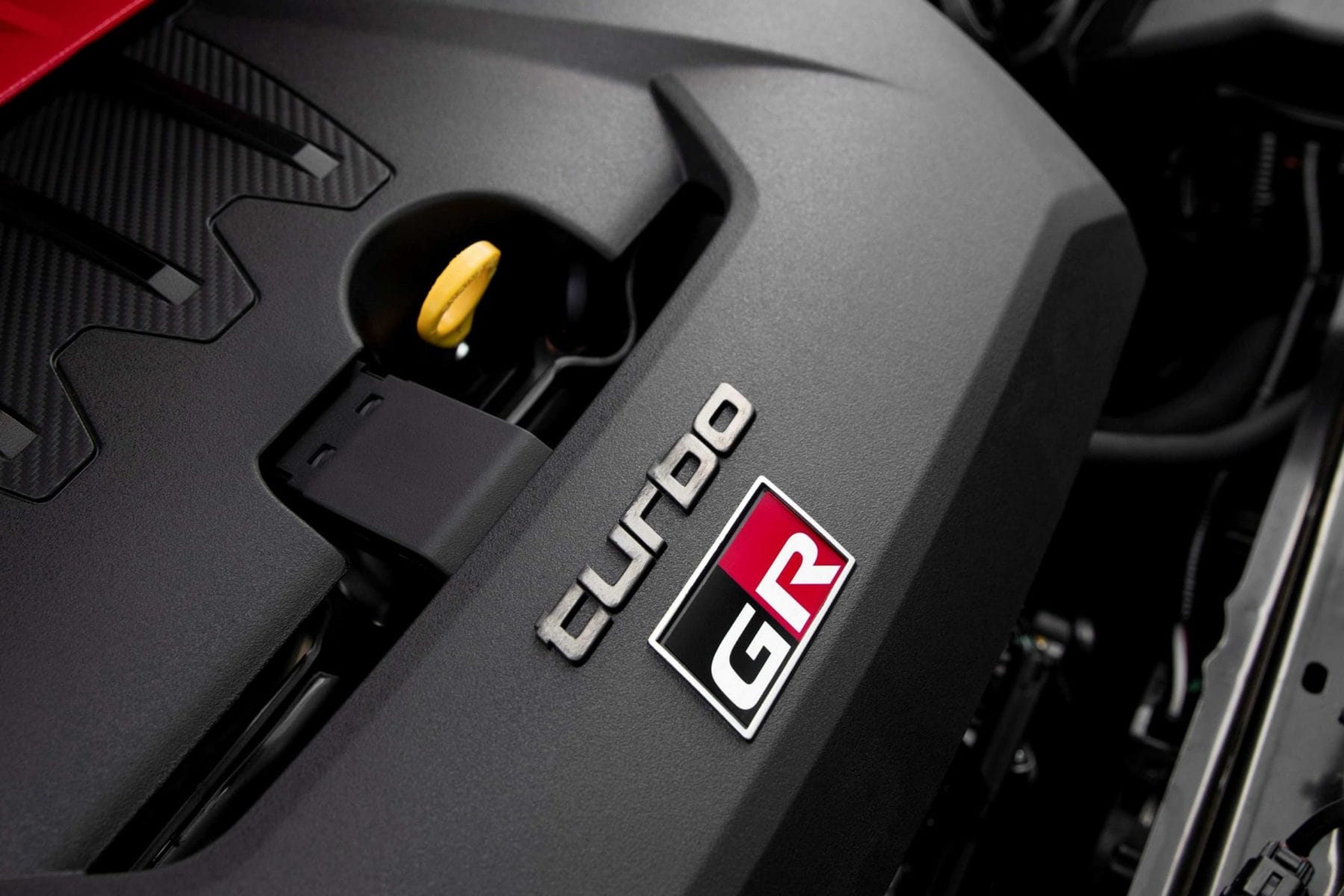 | | |
| --- | --- |
| Model | Toyota Yaris GR Rallye |
| Price | $54,500 MLP |
| Engine | 1.6-litre, three cylinder, turbo petrol |
| Drivetrain | 6 speed manual , all-wheel drive |
| Power | 200kW @ 6500rpm |
| Torque | 370Nm  @ 3000rpm |
| Safety | ANCAP 5-star |
| CO2 Emissions | 172g/km |
| Economy ADR/ Capacity | 7.6L/100km / 50 L |
| Towing/Tow ball |  N/A |
| Servicing |  6 monthly/10,000km fixed at $260 each |
| Warranty | 5yr/ unlimited Km |
*MLP Includes GST and LCT but excluding statutory charges, dealer costs and dealer delivery. See your dealer for RDAP. Does not include price of options. Some features mentioned in the article are options. RDAP means Recommended Drive Away Price (without options but including all other charges)
Overall Rating -

9/10
Summary
Toyota Yaris GR Rallye is about as much fun to drive as you could possibly want. Stack it up against all comers and the Rallye acquits itself well, seeing off most performance cars this side of $100 grand when you factor in acceleration, braking and cornering. And you can drive it around town too… in commuter mode….