Hyundai i30N Premium – The Olympic credo, "Faster, Higher, Stronger" definitely applies to Hyundai's new i30N hatch (and fastback).  Even the "higher" part because new i30N has been taken to a higher level.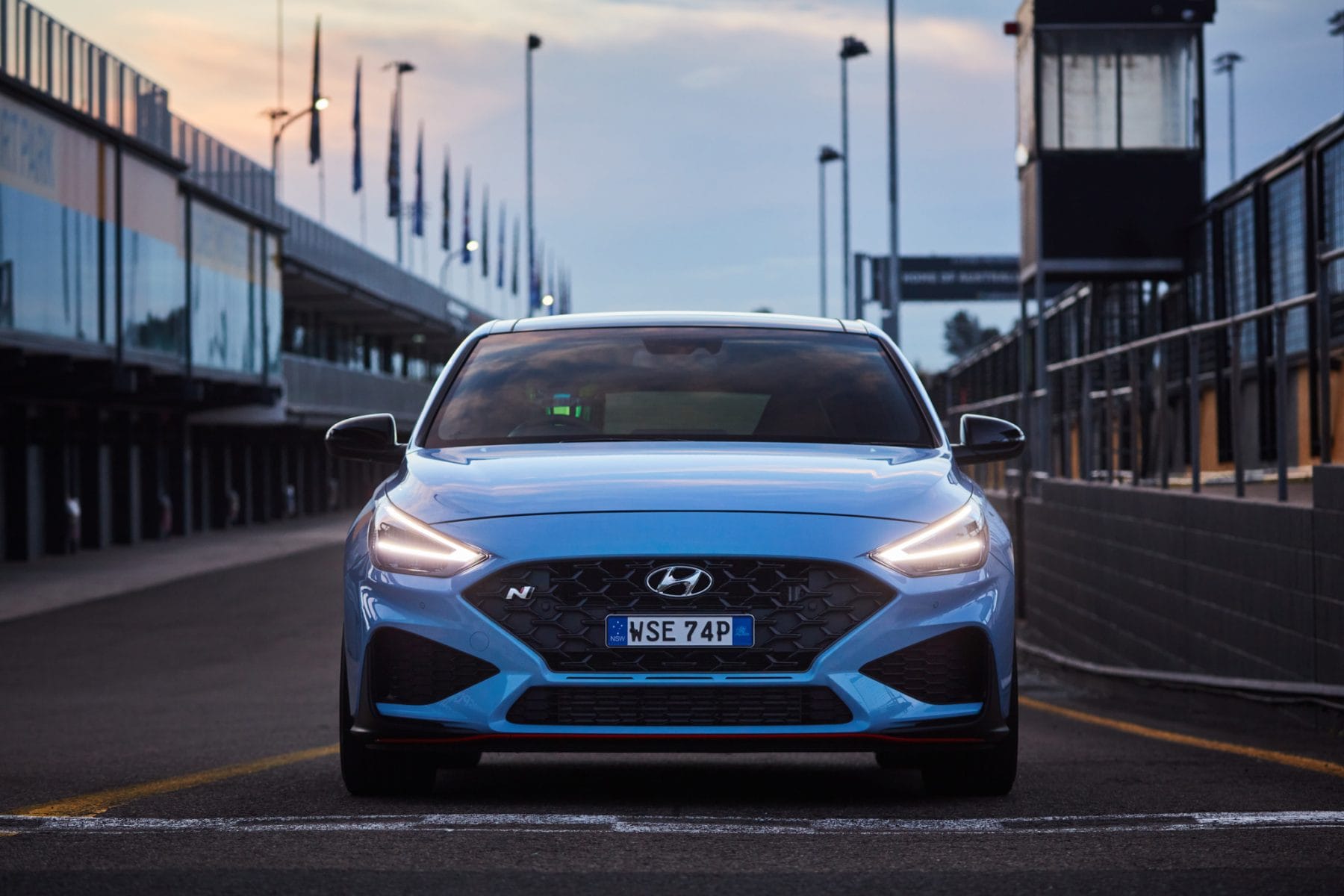 Comprehensive revision has produced a better vehicle all round compared with the original. And there's now an "automatic" option… an 8-speed, dual clutch model selling alongside a conventional 6-speed manual.
When it first arrived, the i30N hatch created a lot of interest because it was, essentially, a genuine competitor for VW's Golf GTi at a price advantage.
There was plenty of sporty kit, power and handling in a good looking, affordable package.
But the new version is a much sharper tool.
It's louder, more engaging to drive, has more "attitude" and more track focus along with generous  equipment for only a modest price increase to $44,500 for the 6-speed manual and $47,500 for the newly added DCT "auto."
The addition of an auto adds appeal to the i30N as it's a better thing in tedious city driving and as an everyday vehicle compared to the manual.
With 8 cogs to select, the i30N DCT, is actually a quicker car than the manual and uses the same amount of fuel. But plenty of purists will still opt for a manual.
Power and torque are up from the 2.0-litre turbo to a strong 206kW and 392Nm.
And they even had time to freshen i30N's styling with new front and rear bumpers, a new grille and lights along with some red highlight striping and revised spoiler at the back.
It's a good thing and with the active exhaust, just the ticket for waking up the neighbours after a late night out.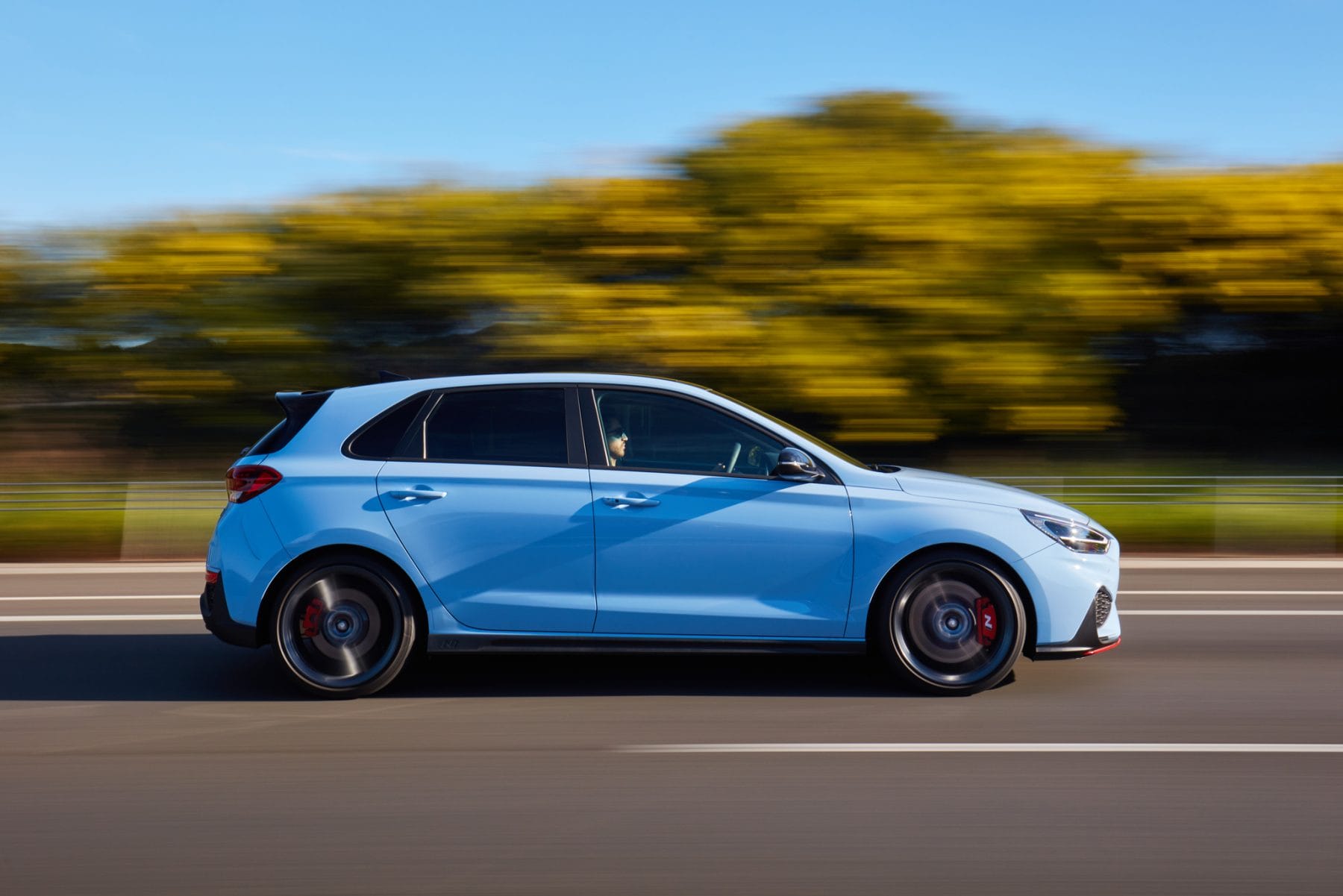 i30N Exterior
The face is different as are the lights and some new colours have been added but it's still plainly a Hyundai i30N.
The stance is aggressive with big 19- inch forged wheels fitted with soft compound rubber tucked up tight into the wheel arches.
The red highlight striping is not overdone accentuating some of the car's pleasing lines front and rear.
Mesh is extensively used at the front to create an aggressive face enhanced by various vents and even rudimentary canards at the sides of the front spoiler.
Subtle aero aids are applied to i30N's lower extremities and thankfully they're in a serviceable black plastic material.
Underneath the sporty clothes, i30N is a 5-door hatch with the practicality that brings. It's easy to get into and out of and is not so low as to be a problem with general driving.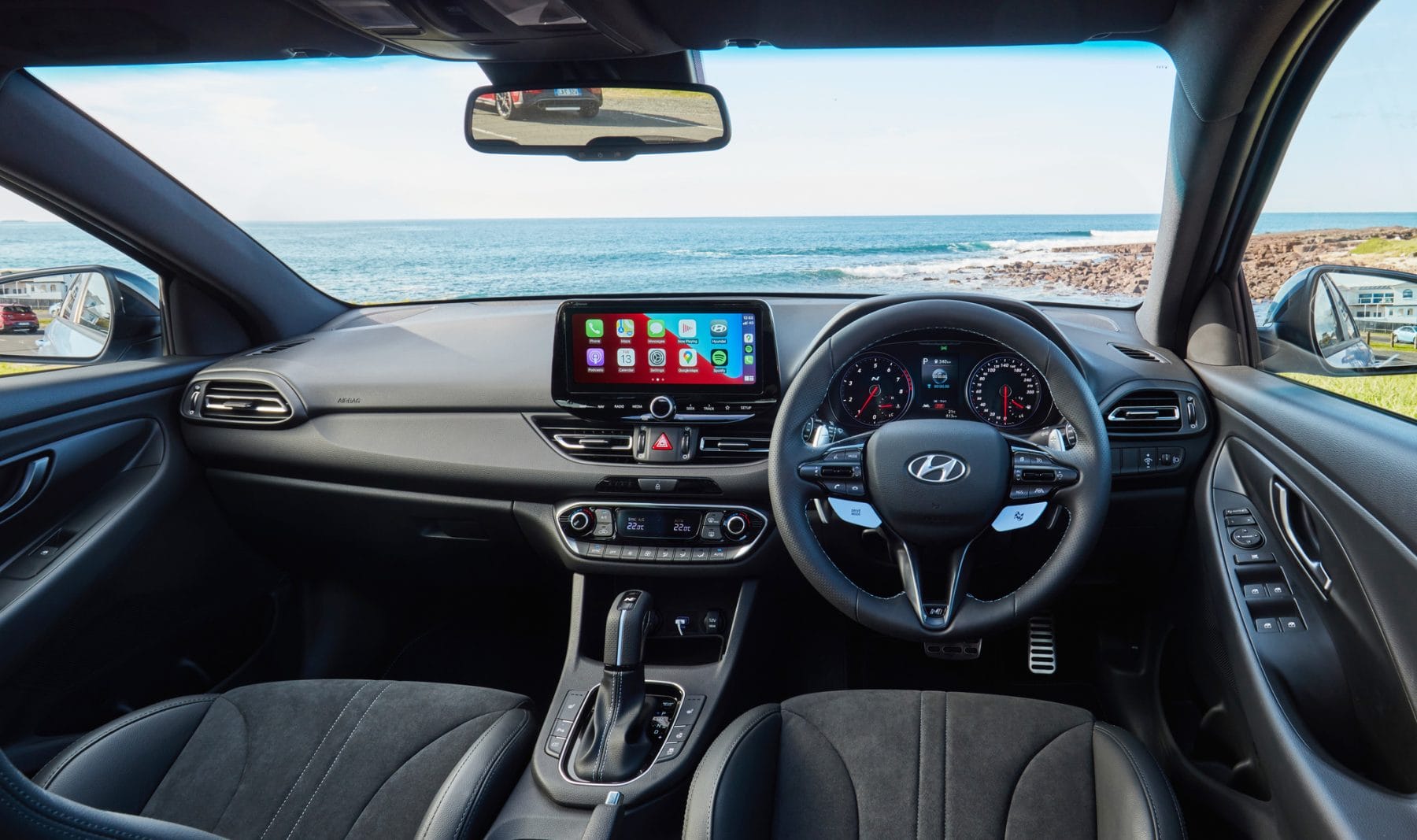 i30N Interior
Two models are available including a Premium version with leather/suede upholstery.
Both variants offer a well-designed and well-featured interior with the latest version of Hyundai's generic two level dash including a large centre touch screen and multi-function wheel.
The car has a European look and feel inside as it's somewhat understated but functional and cleverly laid out.
The tones are grey with variations so that's OK and subtle bright highlights lift the appearance.
Impressive audio too.
There's a decent amount of space for four passengers and their luggage.
The light weight seats are supportive and comfortable over a long haul while being sporty enough to hold you in place at the track. Head room is good for a low slung hot hatch.
Driving position adjustment to seat and wheel allows plenty of options for all sizes.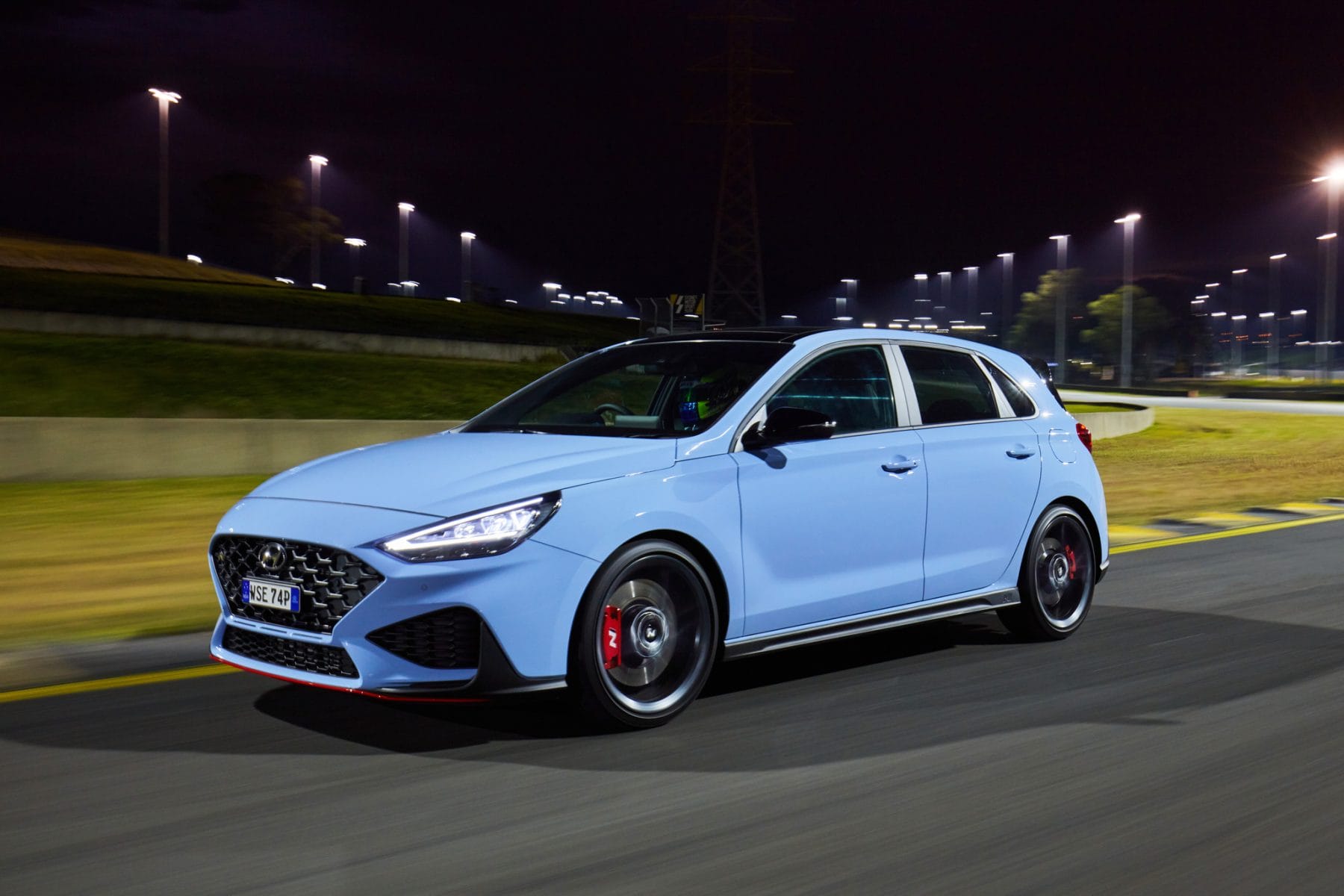 i30N Features
There is lots to get excited about in new i30N including;
Light weight forged 19-inch alloys
Dual level rear spoiler
Rev matching down shift function
Upgraded satnav and infotainment
Larger front brakes
Electronically controlled suspension
8 – speed DCT auto availability

 i30N Drive and Engine
While the first i30N was a good thing, the new one is a step up in every department.
Not only does it sound better thanks to the active exhaust but it goes better with a new turbo system and revised mapping to the tune. It gets going fast straight away and spins out to 6500 rpm willingly with a linear, rapid rate of acceleration.
The engine is never found lacking in the DCT version driven and power/torque is readily accessed with 8 ratios in the gearbox.
The 6-speed manual should be similar as it too would benefit from the additional power and torque and favourable ECU (engine computer) tuning.
The rev matching function on down shifts is handy and there's an electronic differential to aid front wheel traction when you open the i30N's taps.
Coupled with this is electronically controlled suspension that adapts to driving/road conditions and provides multiple driving modes.
In fact, the new i30N probably offers more driving mode to put a smile on your dial than pretty much any other car as it has selections for the engine including Eco through to Sport+, the suspension and three shift modes.
They didn't stop there as the chassis is significantly altered now including a wider track, more aggressive steering/suspension geometry, larger front discs and revised springs, dampers and bushes.
All up, we have an extremely entertaining and engaging drive experience from this new i30N. No criticisms at all really… you can even drive it around like a comfy, commuter-style hatch… well, almost.

 i30N Safety
Five stars with a bonus of the latest in Hyundai's SafetySense driver assist technology that, to be honest, can be a tad intrusive but you can turn some of it off, possibly off for good.
But some things like the active lane keeping is a real pain as the car decides to steer over the top of the driver if it sees fit…. ooops, didn't mean to hit that wheel busting pot hole.
On the other side of the coin, if you spend the time you can set up your i30N just the way you like that could pay safety dividends in certain circumstances.
The car is inherently safe thanks to its dynamic capabilities… large powerful brakes, athletic chassis, grippy tyres, stable suspension, rapid steering response and will get you out of trouble with sheer finesse if required.
Though by no means an "analogue" car in which the driver has total control, the i30N is a safe and competent fast car that protects driver and occupants at the highest level.
Some other i30N Articles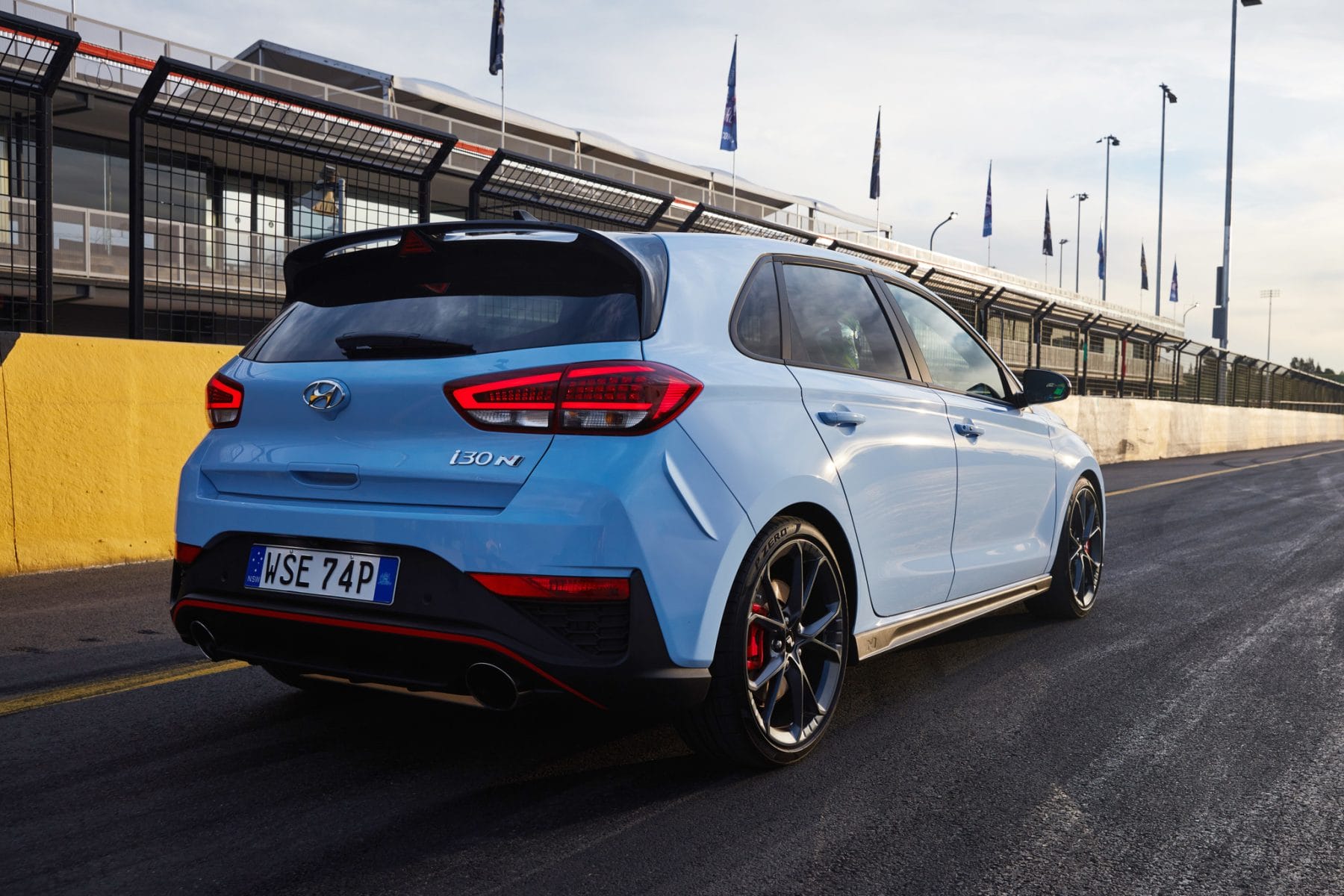 What is good?

What is not so good?

Awesome exhaust note
Prodigious performance
Generous features

Over intrusive driver assist tech
Price on the road of Premium DCT is getting up there.
I20N offers similar bang for your buck at big saving
Summary
Don't know why you'd buy a Golf GTi over the i30N unless it was perceived snob value. The Hyundai is a better car all round has a better ownership plan and cost less to run. Also looks good, sounds incredible and is fun to drive complete with "track" warranty.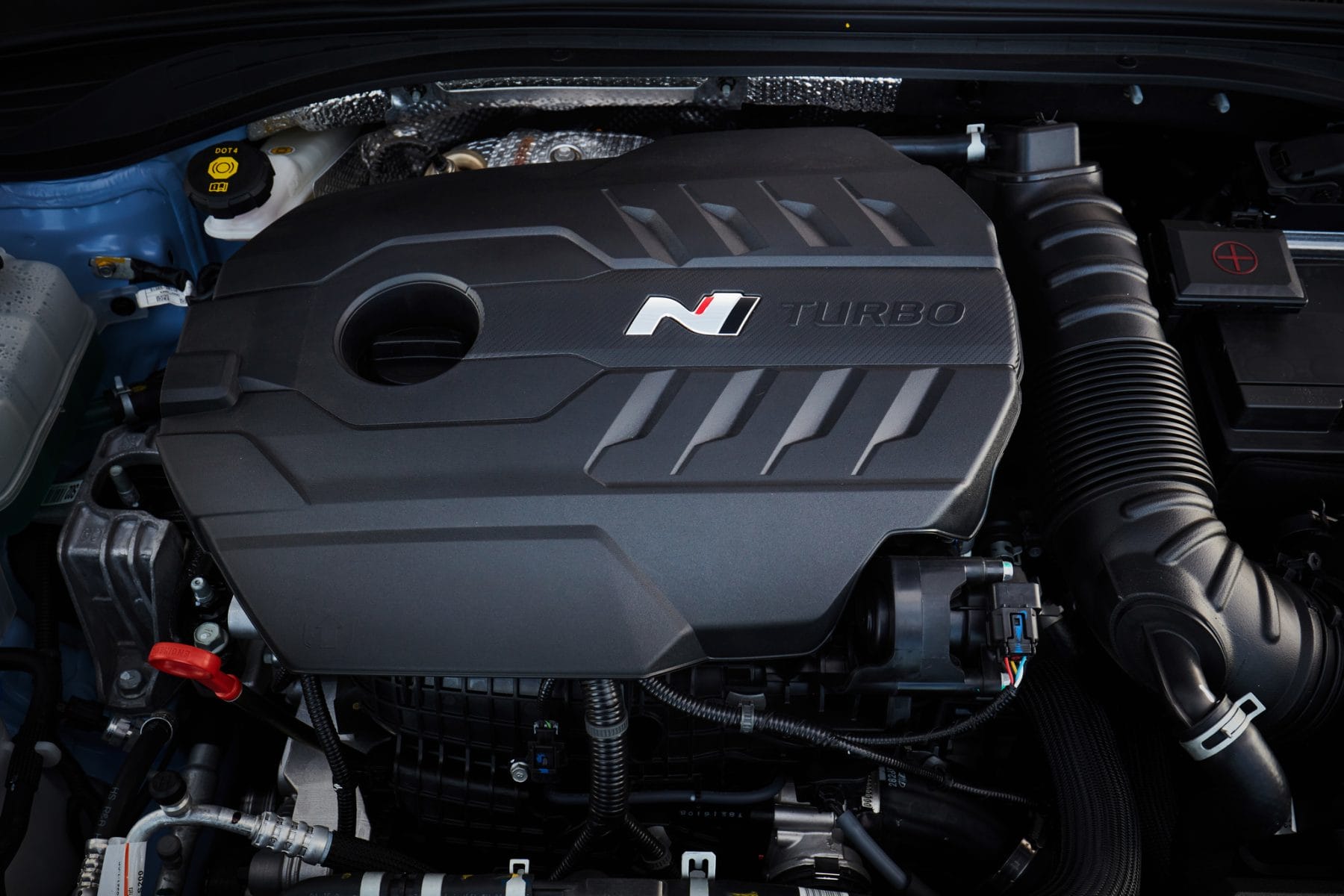 | | |
| --- | --- |
| | |
| Model | Hyundai i30N Premium DCT |
| Price | $47,500 MLP* |
| Engine | 2.0-litre, turbo petrol, 4-cylinder with direct injection, variable valve timing |
| Drivetrain | 8-speed dual clutch transmission, front wheel drive |
| Power | 206kW @ 6000rpm |
| Torque | 392Nm  @ 2500 – 4700rpm |
| Safety | ANCAP 5-star |
| CO2 Emissions | 185g/km |
| Economy ADR/ Capacity | 8.5L/100km / 50 L |
| Towing/Tow ball |  1600Kg Tow ball weight? |
| Servicing |  5years capped price |
| Warranty | 5yr/unlimited Km, 12 months free roadside assist |
*MLP Includes GST and LCT but excluding statutory charges, dealer costs and dealer delivery. See your dealer for RDAP. Does not include price of options. Some features mentioned in the article are options. RDAP means Recommended Drive Away Price (without options but including all other charges).
Overall Rating -

8/10
Summary
Hyundai I30N Premium – The Olympic credo, "Faster, Higher, Stronger" definitely applies to Hyundai's new i30N hatch (and fastback).  Even the "higher" part because new i30N has been taken to a higher level.