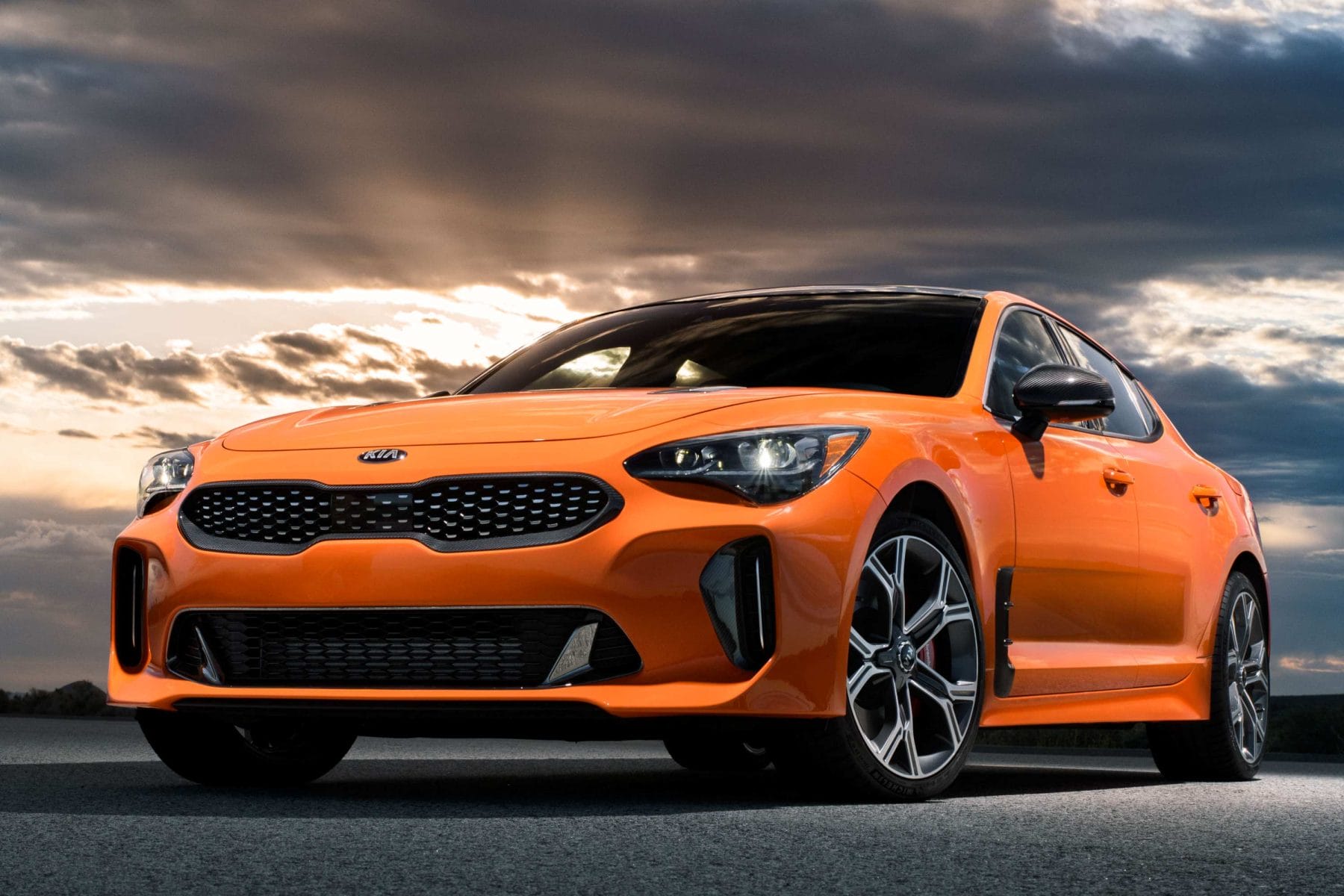 Much has been written about the Kia Stinger GT performance and the fortuitous timing to come onto the market pretty much when the Commodore and Falcon disappeared.
Yes the Stinger is pretty fast. But that actually sells the car short. The badging GT was originally for Gran Turismo. A vehicle that allowed occupants to drive long distances in comfort and style.
We are testing the limited edition Stinger GT Carbon version. Let me start out by saying that it bucketed down rain pretty much the whole week we had the Stinger, making photos nearly impossible.
Does the Stinger fit the GT bill?
How easy is the Stinger GT to live with?
These plus more questions are answered here.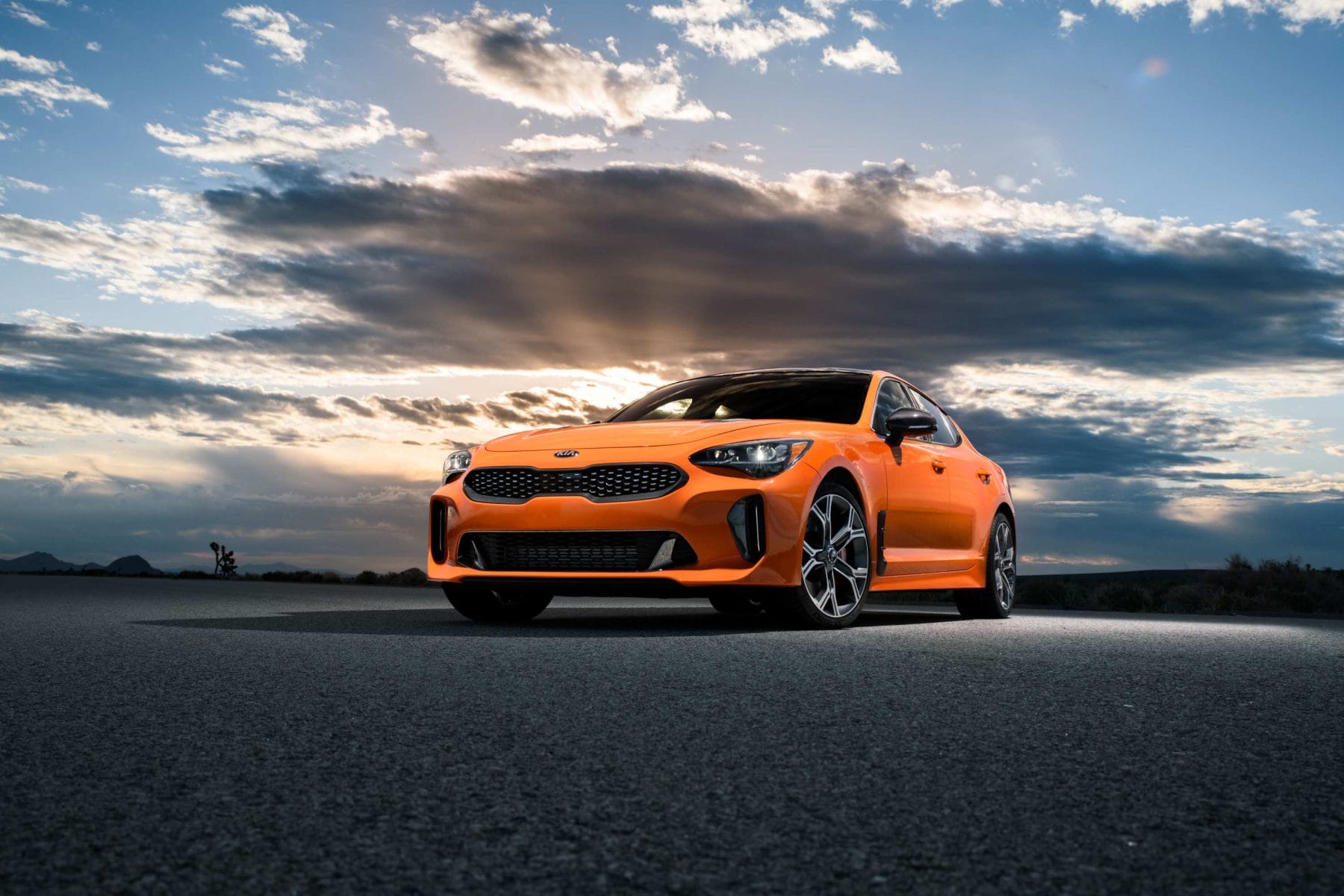 First up Stinger GT looks
I am a fan.
It looks amazingly similar to a Maserati Quattroporte. The sloping coupe style rear hatch along with purposeful side vents and the bonnet vents all add to the overall appeal. Love the standout bright red brake callipers in the 5 spoke alloys as well.
From the front the narrowly focused grill, lower air dam and side vents give a menacing purpose. The quad exhaust pipes with carbon surrounds the same from the rear.
Carbon features include carbon fibre door mirrors, grille surround, fender vents, rear skid plate and hood vent the Carbon Edition is easily identifiable as something special.
I was stopped probably about 20 times while I had the car to be asked about it, and almost everyone loved the look.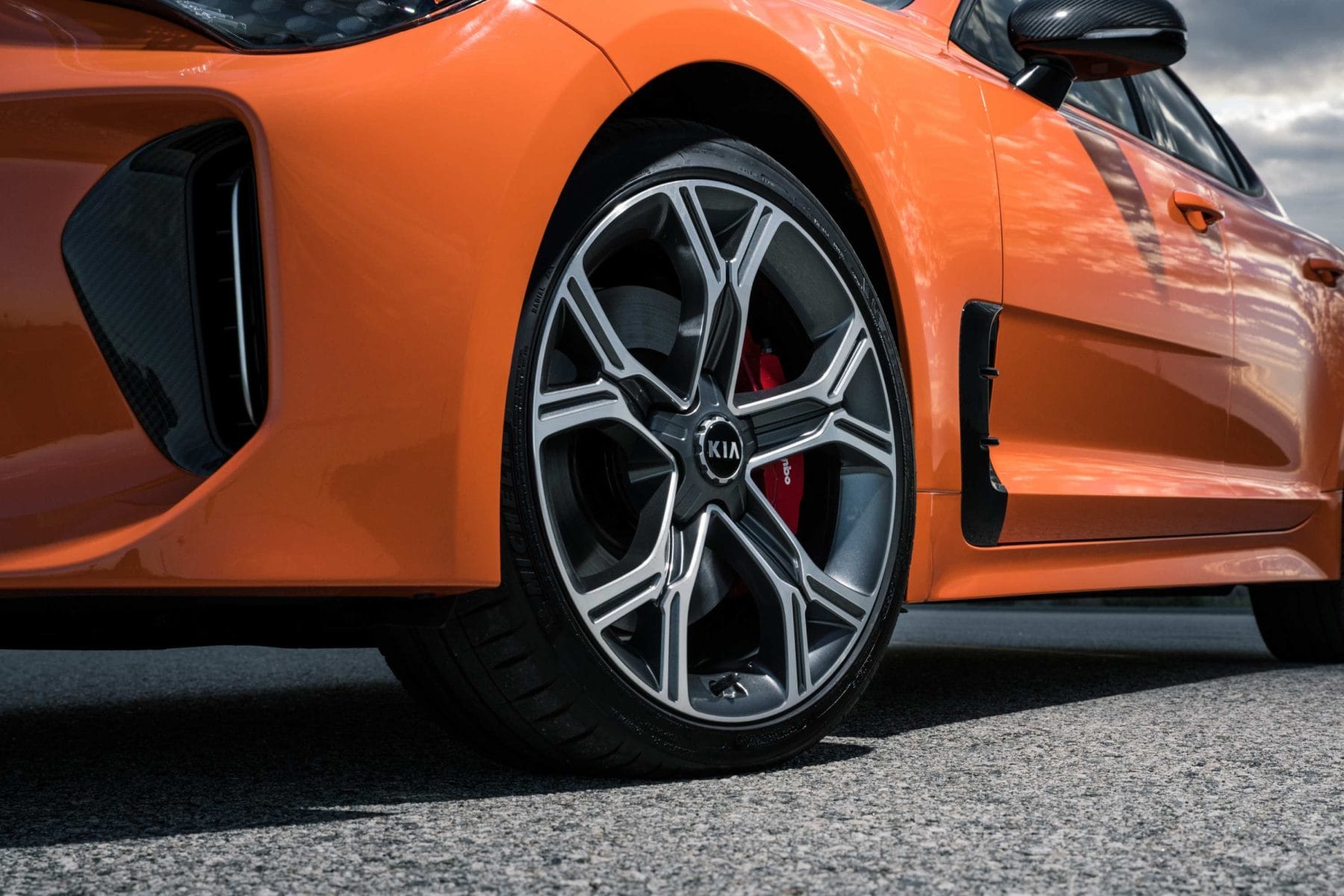 The Carbon Edition is available in the new Neon Orange, Micro Blue, Hichroma Red, Snow White Pearl and Aurora Black. I had the Micro Blue (although it rained pretty much all week so no photos) and really liked it. Something different.
GT models have 19-inch alloy rims with high-performance 225/40 R19 front and 255/35 R19 rear.
So it's a big tick for the looks.
What does the Carbon Version add inside?
Well not much really, a badge in front of the transmission lever and an Alcantara steering wheel, which after a while feels pretty nice.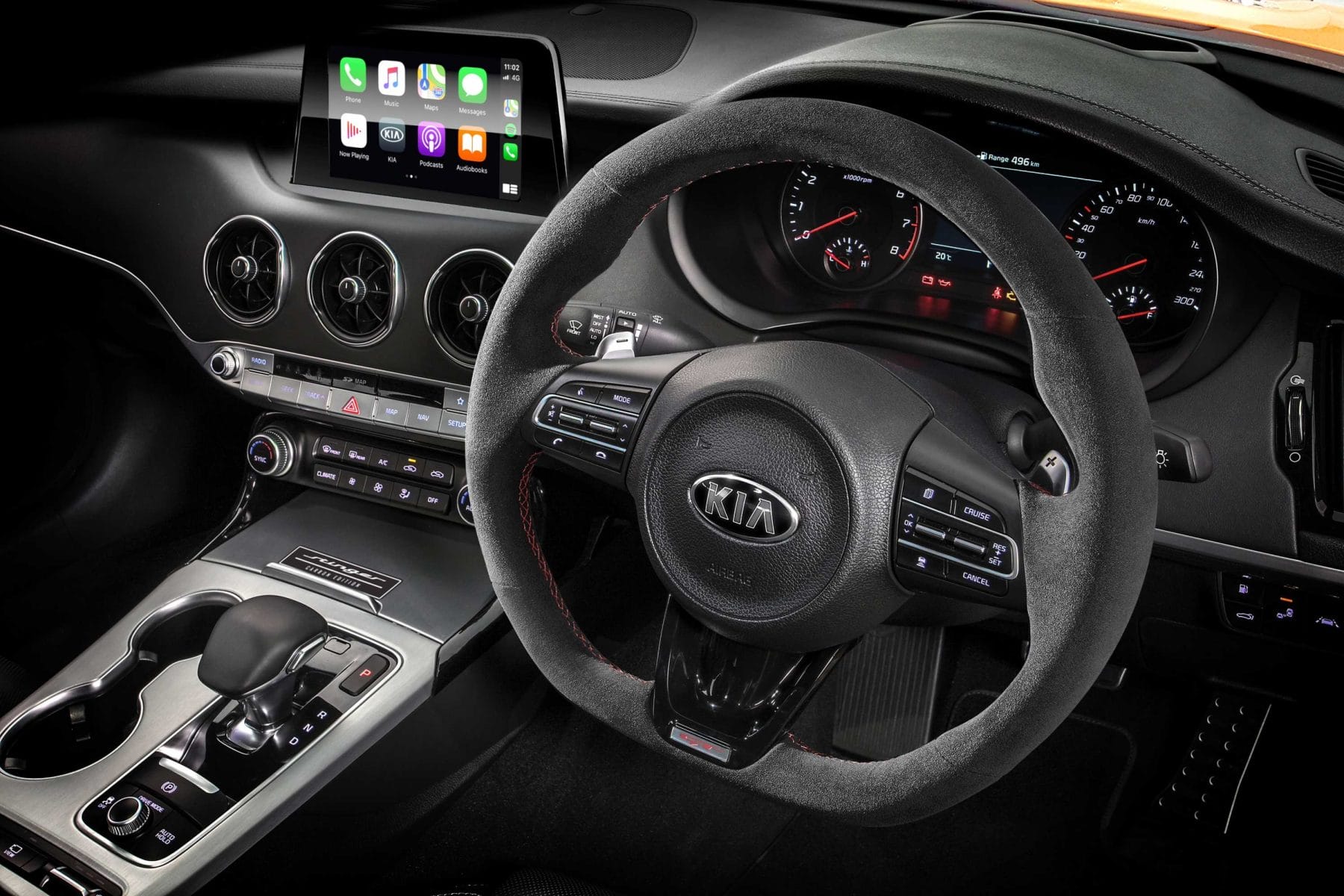 How easy is the Stinger GT to live with?
Here is the key to the appeal of the Stinger. As I said it's pretty fast, (more on that later), but it is just so easy to live with on a day to day basis.
Jump in and the seats can be electronically adjusted to your favourite driving position. Set the memory for you and another driver.
Bad lower back, no problems just set the additional electronic lumbar support. Feel like you need more lateral support, even while on comfort setting, no problem, just adjust the electronic wing supports on the seats.
It's cold outside. Switch the seat heaters on, there are three stages and they are excellent. If its summer and the leather seats might be a little hot, again no problem, simply switch the air conditioning for the front seats on, again three stage selection.
So it's been a frosty night, the external side mirrors are heated and are chromatic at night to reduce glare (as is the internal rear mirror). There is even a heated steering wheel.
Reversing into a car park and the side mirrors dip to give a great view, as does the excellent reversing camera with 360 degree vision that shows up on the centre screen. You've also got a heap of sensors that beep at you if you get too close.
If you are anything like me when I go shopping with my partner, you have handfuls of bags. No problem, simply walk up to the rear with the key in your pocket or bag and wait, it will beep a few times and flash then the rear hatch opens for you. There is no doing a swan dance with your leg kicking under the boot, it's very simple and easy.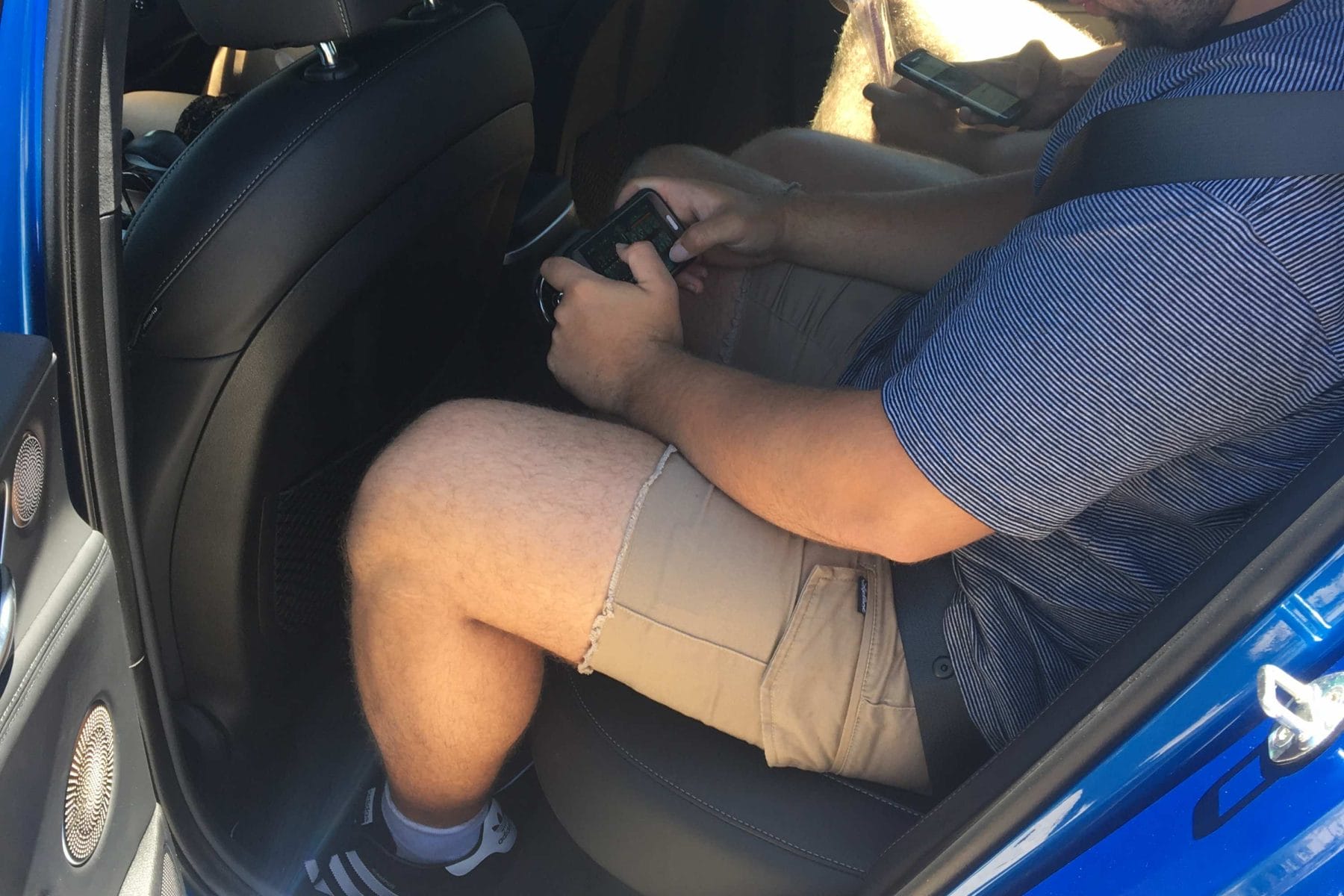 The luggage area is so much more useful as a hatch or lift back, than a boot. Rear seats fold flat for an extended load area and there are a couple of tie down points.
Rear seats are a little cramped for leg room if the front occupants are of a taller nature. However the seats themselves are comfortable and have isofix points for child restraints. There are a couple of air conditioning vents and 12V plugs. It could do with some USB ports though.
Other features that make it a comfortable Gran Turismo are auto high beam and auto headlights, auto wipers, adaptive cruise control that can be selectively switched to normal. The HUD is stunningly good and doesn't polarise out with sunnies on. It also packs a heap of information in there. For those with newer phones there is wireless charging platform. One touch safety windows and more.
It does miss out on fog lights though, but the headlights provide clear illumination through the dynamic bending lights. They see around corners as you turn. Well not really but you get the idea.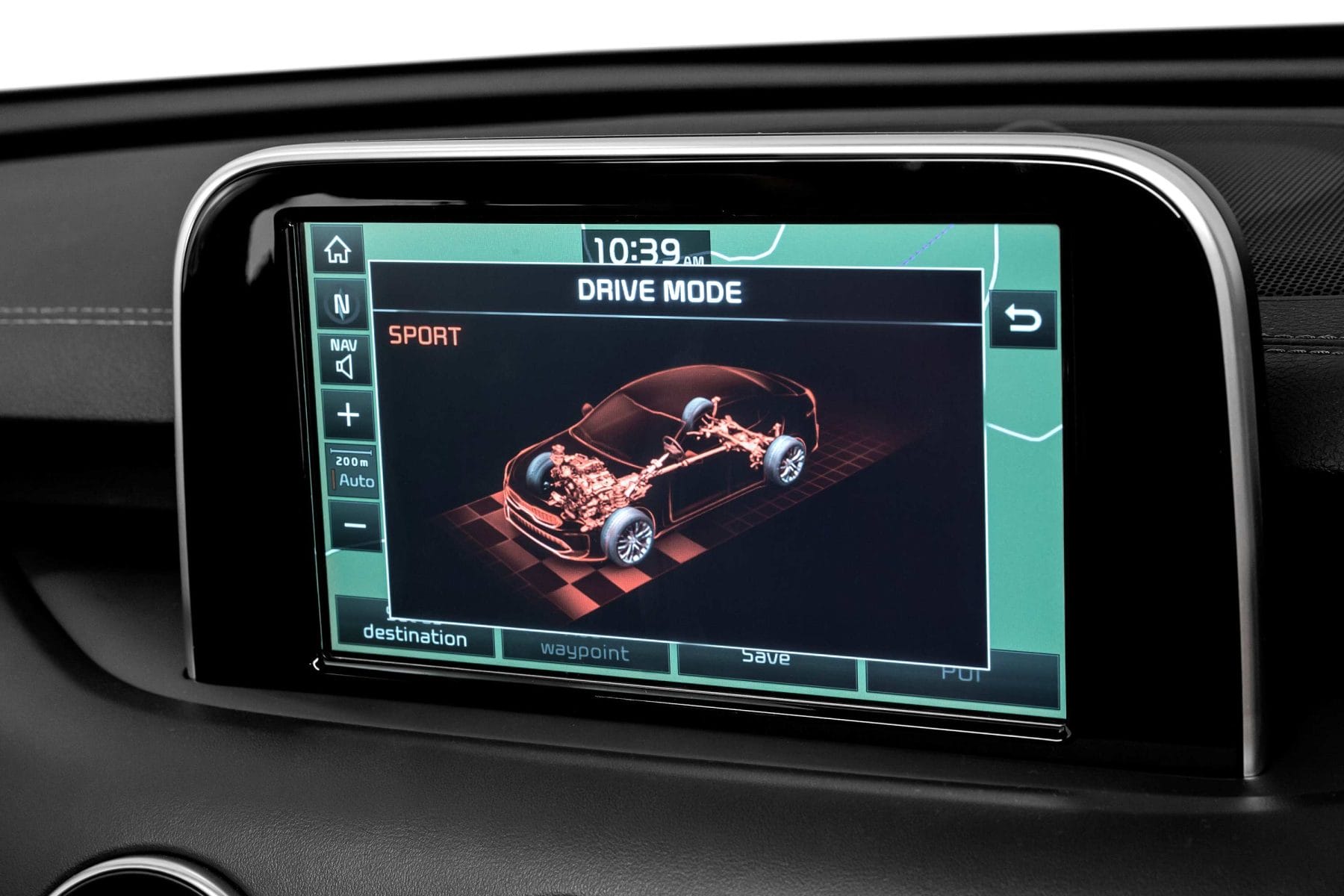 What Technology and features does it have?
As mentioned the height-adjustable Head-Up Display (HUD) enables the driver to see key driving information reflected on the glass of the windscreen, including speed, turn-by-turn navigation guidance, audio, cruise control and Blind Spot Detection information.
For the audiophiles the 8.0-inch touchscreen infotainment system, paired with a powerful 720-watt, 15-speaker Harman-Kardon® surround-sound audio system doesn't disappoint.
The Harman-Kardon® system features a pair of subwoofers mounted beneath the driver and front passenger seats, as well as Clari-Fi™ music restoration technology that rebuilds audio signals lost in the digital compression process. This technology returns a high-fidelity listening experience to any compressed digital source.
The system also comes equipped with next-generation QuantumLogic™ Surround Sound technology, which extracts signals from the original recording and redistributes them into an authentic, multi-dimensional soundstage for playback that is clear, refined and full of detail.
The central touch screen is easy to use and has great clarity. I also had a Mazda CX-8 the week I had the Stinger and the simple and intuitive dial control in the Mazda is something that other manufacturers could emulate. It adds a layer of simple and intuitive user interface to the controls.
The other useful technology is the MFD between the twin dials in the instrument binnacle. This allows selection between numerous pieces of information.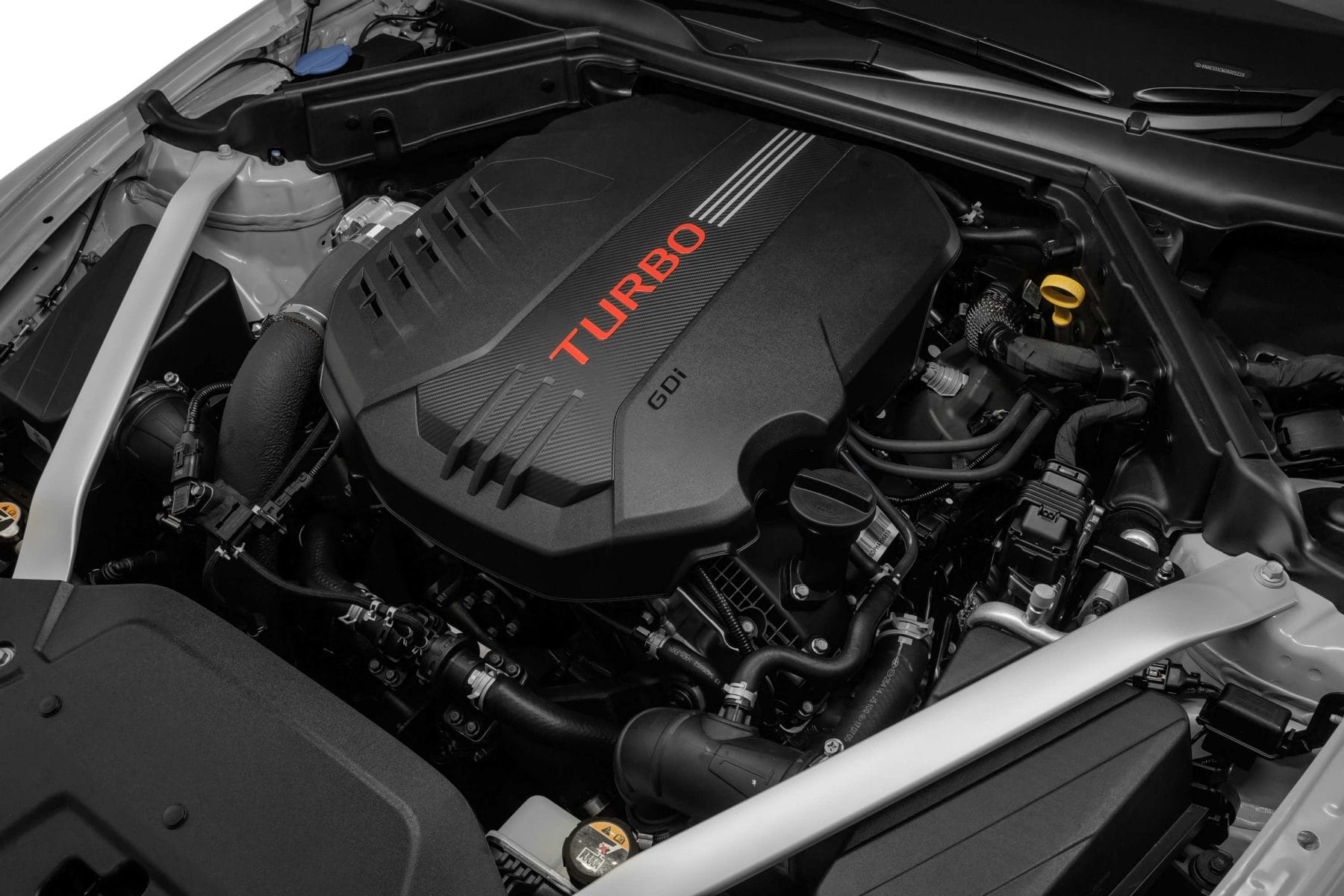 Now the Performance
Here is the bit that the technical readers salivate over.
Most readers will know that the Stinger GT is powered by a 3.3-litre twin-turbocharged V6 'Lambda II' with peak power of 272kW @ 6000 rpm, and 510Nm torque between 1300rpm to 4500rpm.
Matched to an in-house 8 speed auto transmission, the 3.3L GT will go from 0-to-100kph in just 4.9 seconds (utilising launch control) and top out at around 270kmh. Stinger has rear-wheel drive with power from the 3.3-litre distributed throughout the rear axle via a mechanical limited slip differential. Overseas there is an AWD version available.
Let's put that into perspective. We previously tested three sports cars useful in comparison. The Lexus LC500 that was 4.7 seconds 0-100km but cost in excess of $200,000. The Audi S5 Coupe that again was 4.7 seconds for the 0-100km sprint but cost in excess of $130,000 and the now dead Holden SS Ute 6.2l V8 that sprinted the 0-100km in about 5 seconds and cost around the $55,000 mark.
The transmission offers adaptive shift and throttle programmes (as well as levels of steering assistance), which drivers can select through the car's electronic Drive Mode Select. Drivers can leave the car to shift for itself, or change gears with steering wheel-mounted paddles.
The absolute feeling is that is has fuss free effortless speed under the right foot.
Around town I averaged about 13.0L/100K and about 8.5l/100k on the freeway. Excellent considering the ability. Plant the right foot too many times and as you would expect the fuel use grows exponentially.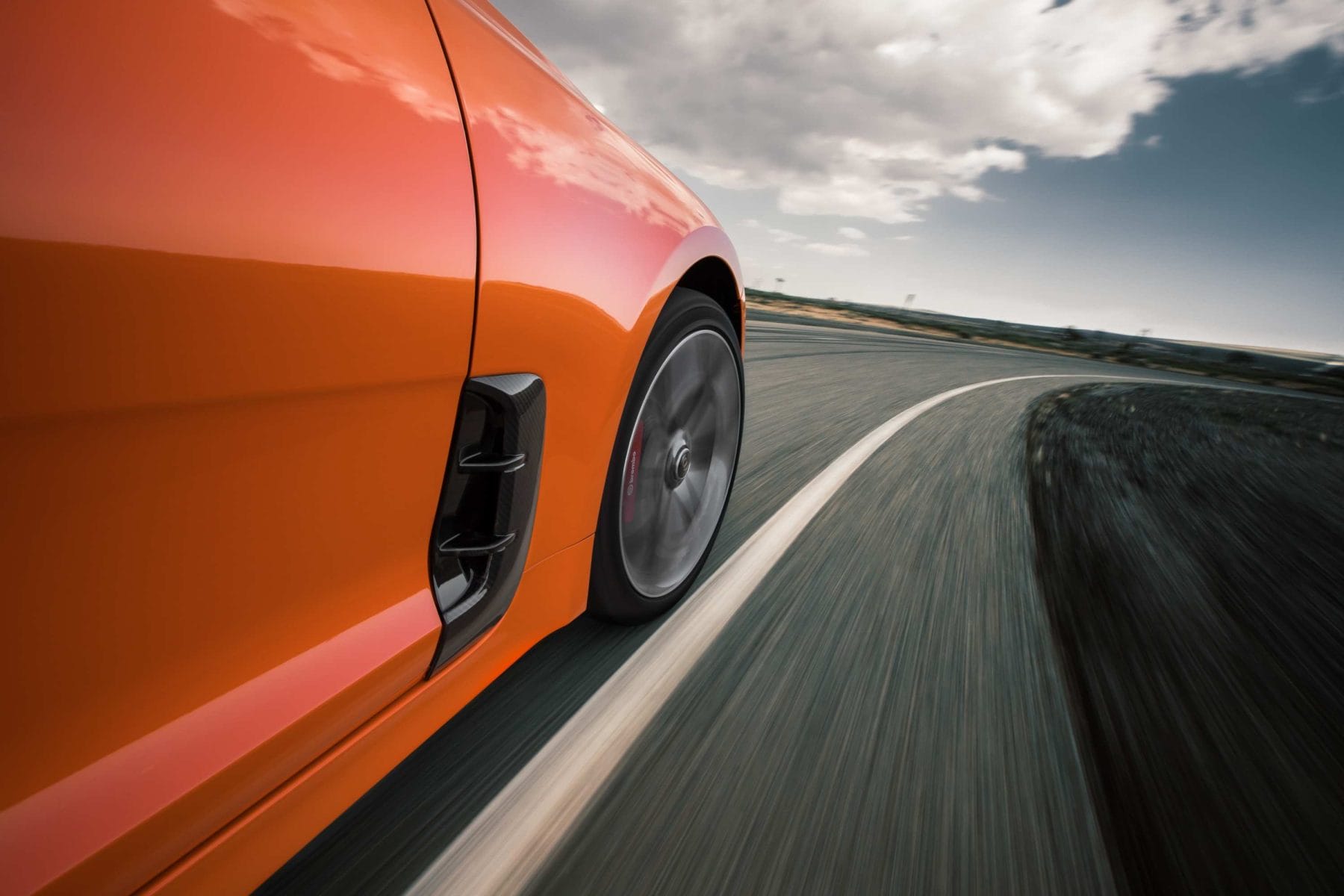 What does the Stinger GT ride and handle like?
Kia has on tap a suspension tuning genius and it shows. Apart from a few harsh potholes that seem to plague our suburban roads, the Stinger seemed to switch between gliding along and hunkering down when needed.
The feedback to the driver is as you would expect. Direct and responsive to input. It simply does what is asked of it without fuss. You forget at times how good it is until you look down and realise that most cars would be bouncing across the road and fighting you in the steering, yet the Stinger simply maintains a sense of decorum.
The suspension also does an excellent job of compensating for the low profile performance tyres that usually provide a harsher ride.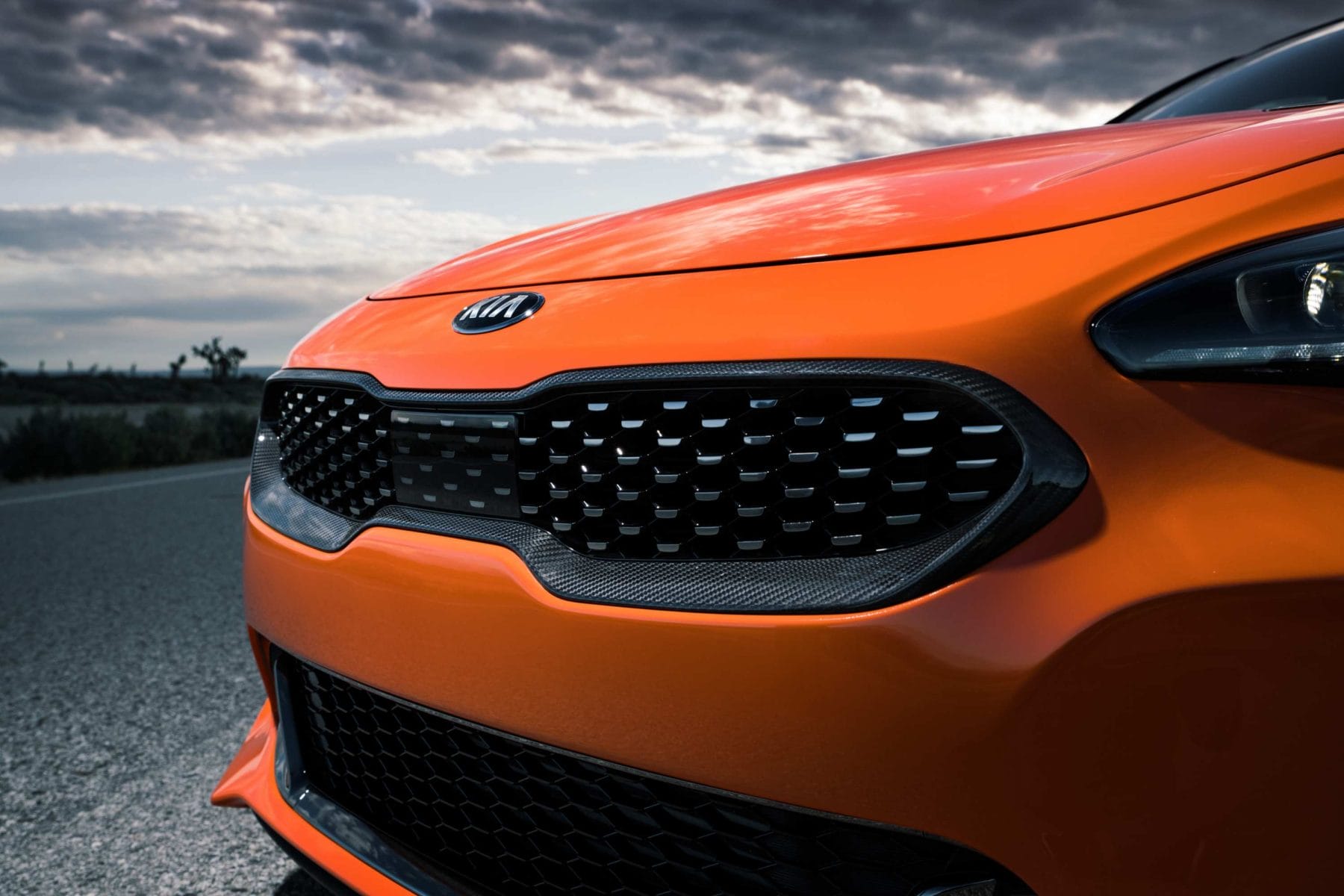 The technical bits for the enthusiasts.
The MacPherson strut front suspension system has been tuned to optimise feedback to the driver, as well as maximise steering response and stability in all conditions. At the rear, a multi-link suspension setup aids handling responses, with a reinforced anti-roll bar for high stability and minimal body vibrations.
The Stinger also features an electronically-adjustable suspension system, Dynamic Stability Damping Control (DSDC). While always reacting predictably to the driver's inputs, the system can be tuned via the Drive Mode Select depending on road conditions and driving style.
DSDC can be used to firm or soften the front and rear dampers independently, for tailored ride, response and agility. DSDC can also assist drivers in ensuring a predictable driving line through corners. The system can soften the front suspension and firm the rear suspension for greater agility, reducing understeer, as well as being able to stiffen the front and slacken the rear slightly to combat oversteer and ensure greater stability.
Drivers can choose from five drive modes: Eco, Sport, Comfort, Smart and Custom. For most conditions I simply left it in comfort. Steering assistance and weight is also adjustable via the Drive Mode Select system.
On the occasions that I gave it a burst, well because you just have to, I switched to Sport. You can instantly feel the demeanour of the car change. The seats immediately tighten around you with the side bolsters and the transmission mapping changes.  It seems to say, "I'm ready lets go" and go it does.
All 3.3-litre V6 Stinger models feature high-performance ventilated disc brakes from Brembo® as standard (350mm at the front, 340mm at the rear), with quad-piston front calipers and dual-piston rear calipers.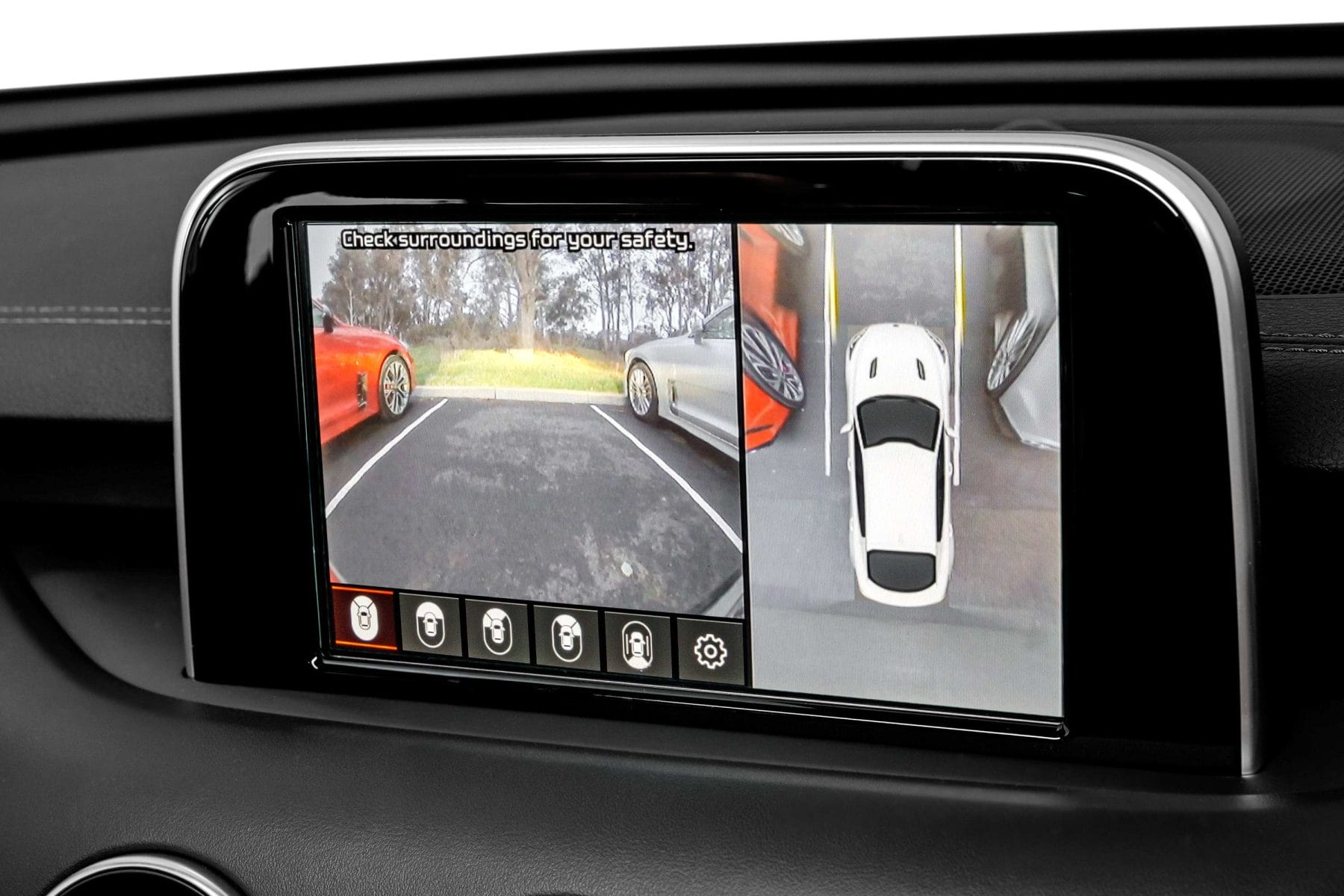 Yes but is it safe?
Well the Stinger gets a five star ANCAP safety rating and comes absolutely jam packed with safety features.
The Stinger comes with Kia's latest Advanced Driver Assistance Systems (ADAS). These active safety technologies are designed to avoid or mitigate the effects of a collision. It's also equipped as standard with Vehicle Stability Management (VSM), ensuring stability under braking and cornering by controlling the car's Electronic Stability Control (ESC) if it detects a loss of traction.
Other ADAS features include: Forward Collision Warning with Autonomous Emergency Braking and pedestrian recognition; Advanced Smart Cruise Control; Lane Keeping Assist System; Rear Cross Traffic Alert; 360 degree Camera View for low-speed manoeuvres; Blind Spot Detection; and High Beam Assist.
Driver fatigue is covered by a Driver Attention Alert (DAA) system. The system monitors several inputs from the vehicle and the driver, and will sound a warning chime and display a graphic in the instrument binnacle if it senses a lapse in concentration from the driver.
The Stinger's passive safety is underpinned by the body structure's high proportion of Advanced High Strength Steel, as well as seven standard airbags (driver and front passenger, front side, curtain and driver knee airbags).
KIA owner benefits
All models benefit from Kia's industry-leading 7-Year Warranty, 7-Year Capped Price Service and 7-Year Roadside Assist program.
Kia Stinger GT Carbon Summary
Would I buy one? Well the answer is simply YES.
Would it be the Carbon edition? It certainly has some external additions that enhance the look, but I would look closely at what I wanted and if they were worth the extra.
Having a Stinger GT in the garage is a definite though. You have to pay a whole heap more to get close to the level of performance, ride and handling as the GT and none have the benefit of the KIA owner package.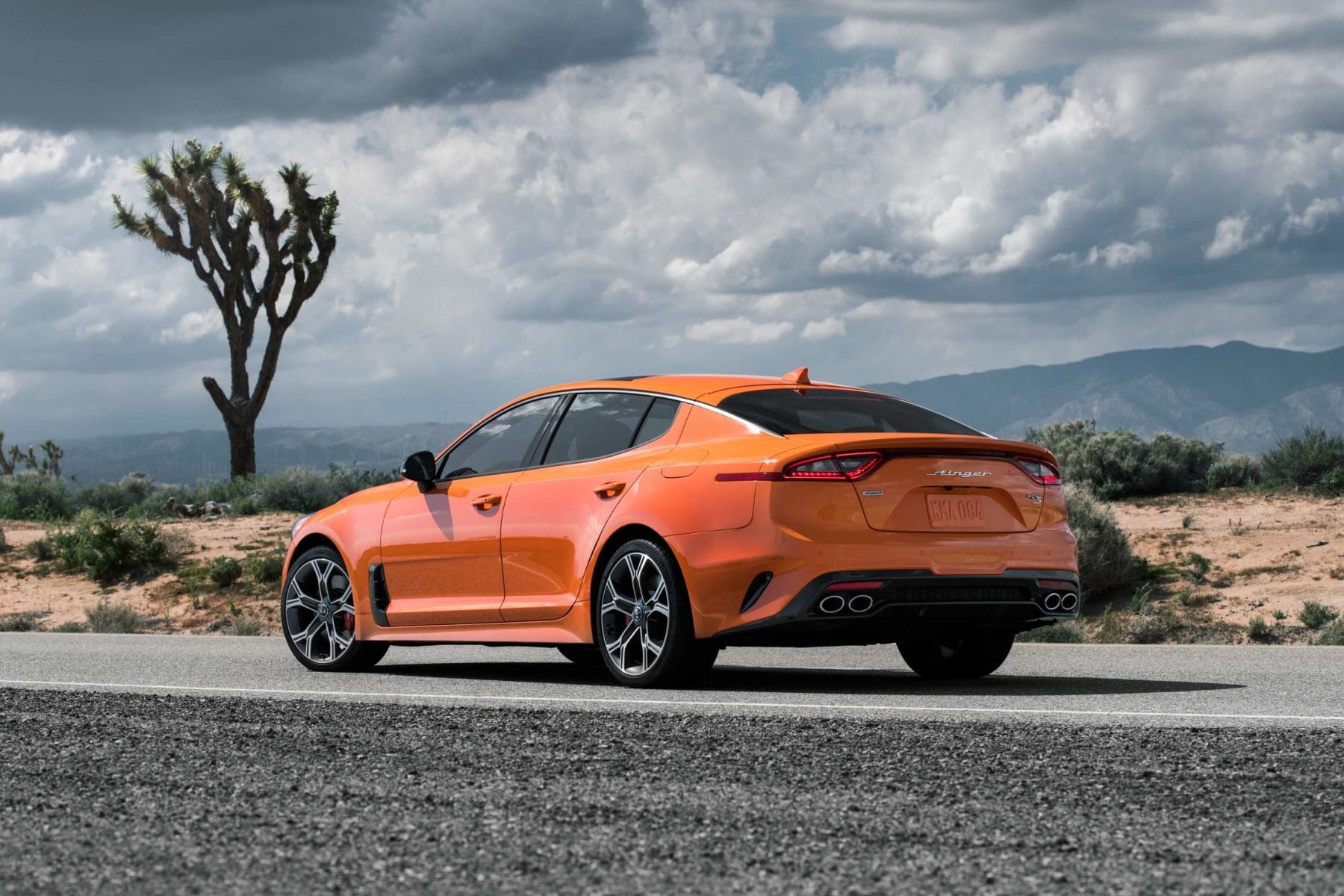 What is good?
Performance (obviously)
Comfort and easy to live with
Packed with features and awesome value
What is not so good?
No AWD version in Australia
No Bluetooth Apple Car Play and Android Auto
No massage seats (cmon it has everything else)
Also look at
 Model; Kia Stinger 3.3L GT Carbon Edition
Model Price from $64,990 MLP*
Engine 3.3L V6 Twin Turbo Petrol
Drivetrain 8 Sp automatic
Power 272kW @ 6000rpm
Torque 510Nm @ 1300-4500rpm
Safety 5 star
CO2 238g/km
Economy 10.2L/100k
Servicing 7 Year capped Price
0-100KMH 4.9 Seconds Top speed 270kmh
Warranty 7yr / Unlimited km, 7yr Roadside Assist
*MLP – Manufacturers List Price includes GST and LCT but excluding statutory charges, dealer costs and dealer delivery. See your dealer for RDAP. Does not include price of any options.
Overall Rating    91/100
Behind the Wheel 9
Comfort 9
Equipment 9
Practicality 9
Performance 9
Ride & Handling 9
Fit for Purpose 10
Street Appeal 9
Fun Factor 9
Value for Money 9