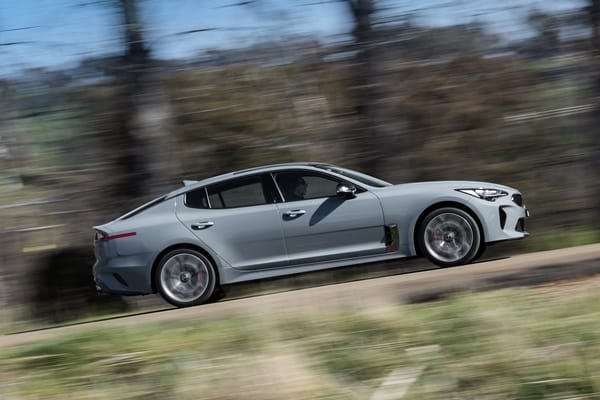 Kia hid nothing at Wakefield Park, a raceway near Goulburn. The course has challenging switchbacks and tempting straight-aways, and is far more punishing than anything regular motoring will ever be.
So how did it go?
In short: very nicely, thanks very much.
Stinger squirmed pleasingly under hard braking, but steered exactly where it was meant to go. It begged for mercy, and was shown none of it.
If traction control is left on, only the most ill-advised maneuvers looked like unseating the rear-wheel-drive flagship.
The only time dust flew, was with traction turned off. But like fight club, we don't talk about trackwork. And, no, it was not I who turned off the traction control. I'm not an idiot.
First, a few facts:
There are 4 grades, 2 engines, and 1 transmission. 2 different suspension types make for a feast of choice.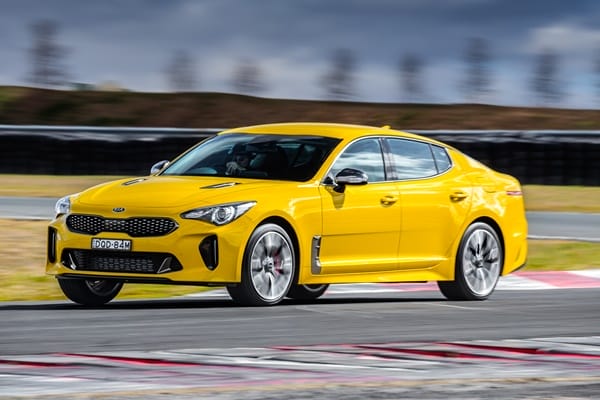 The grades are: S, Si, GT-line and GT. There is a 182kw/353Nm 2.0L 4 cylinder turbo, and range-topping 272kw/510Nm "Lambda II" 3.3L V6 twin turbo. They are both teamed to an in-house-developed 8 speed automatic transmission. An electronically variable suspension system is available on some models.
The look:
Tell me this doesn't look the business.
A canny viewer will notice the top models having a distinctive DTRL which has an Audi-esque look to it. A double angle divides a headlight array, and looks far more expensive than any previous Kia buyers would be used to.
The 4 door-plus hatch makes the Singer a grand tourer 70-s style. Do you remember the Rover 3500? An executive hatch which hasn't since been equaled, until now, the 3500 pioneered the liftback revolution.
A 406L boot isn't huge, but it is the flexibility that really matters.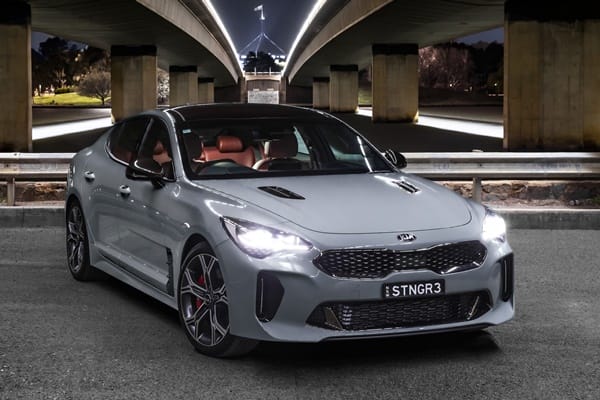 The silhouette has a GT coupe look to it, but it does mean a low rear door. This will catch out the newer players. Mind the head on the way in.
You can't help but notice a quality that seems spookily close to Audi and BMW. I'm not saying a badge-buyer is going to go for it, but a sensible person certainly might.
Distinctive rear lights look like the Eye of ISIS, with a streak along the rear side panel. A pert rump has a muscular look when seen from behind. I see Aston Martin!
I particularly like the integrated exhausts.
A choice of wheels tops off an exterior that has been blinged to within an inch of its life.
The Cabin:
What a treat.
A floating tablet with touch LCD input sits atop a central stack integrated in the style of a cockpit. 3 huge circular vents, and easy to use AC controls hover over a soft-close cubby hole. I'd like to see a slightly larger screen standard on all models, but that's just being picky (sorry Kev, SHHH don't tell SH).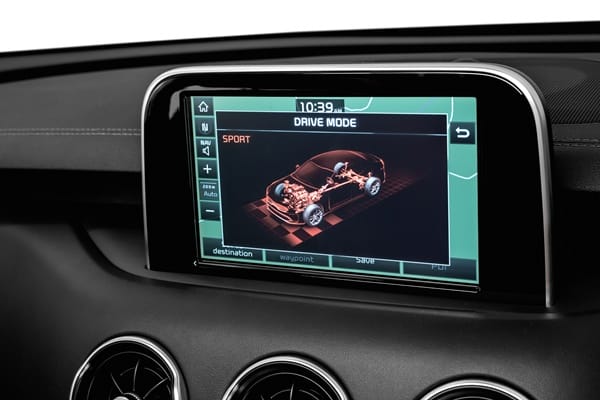 The console also houses drive-mode, gear selection, and parking brake levers. The sports-style steering wheel, and semi-LCD dash finish off a top-class driver experience.
The seating is gorgeous. There is no doubt the Nappa leather is real, but I defy you to pick the simulated leather anywhere else in the range.
Electric adjustment on the driver's seat extends to the passenger on the top model, but all grades get twin AC temperature knobs. And, yes, they can be synced.
Drilled aluminium covers on the speakers of the GT complete a look any Euro snob would be proud of.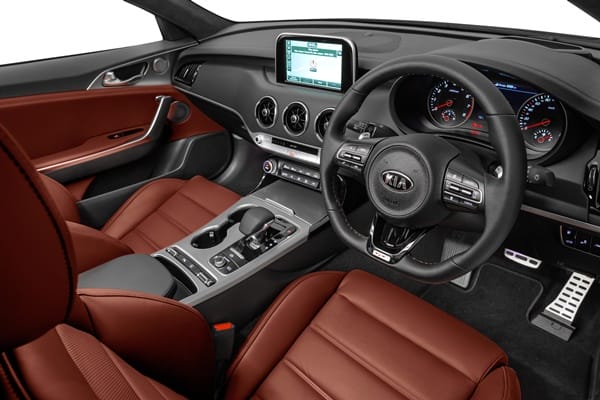 Red leather is an option box I'd tick for the GT.
The audio sound is excellent. It is deep and rich, and something any luxury buyer would instantly recognize. I have Bang and Olufsen sound at home, and I felt like I was at home. Make of that what you will.
There is a feeling of space coupled to a distinct air of high-end care and attention.
After 6 hours in the saddle, the seats remained comfy.
Kia claims the Stinger is a true GT, and I agree.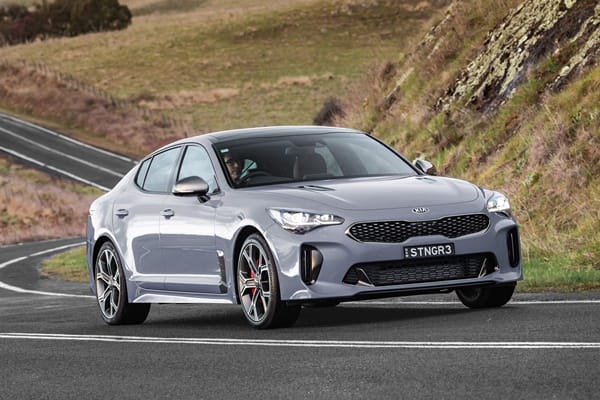 The Tech:
As always, the Korean car maker has crammed it flagship chockers full of gadgets you'd expect to pay much more for.
Carplay/Android Auto is standard on many Kia models, including Stinger, and it makes life so much easier for anyone born in the last 30 years. Anyone older than that will need to ask a millennial, because they know where it's at.
It allows fully handsfree operation when in cell range.
Touch input allows simple choices made on the fly via the tablet by either front occupant. Quick access buttons for radio stations can be programmed quickly, and of course DAB digital radio, and SatNav is standard.
Launch Control allows takeoffs to be controlled by the system. We tried it, but unless we did something wrong, found it inconsequential.
Climate control keeps the cabin just so. We have all experienced temperatures at some variance to that selected on the controls. But not here.
I cannot fault the driver layout, no matter how hard I try.
The top model also gets blind spot and lane monitoring, and active cruise control. These are things I just can't live without.
A colour HUD (heads up display) is handy, but you can't see it with polarized sunglasses. You get speed, and SatNav info projected onto the windscreen right in front of the driver.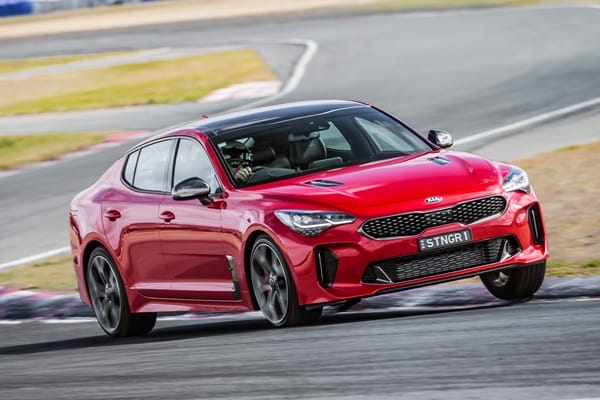 The Drive:
We did the lot.
A very (very) long track session showed the Kia to be incredibly competent in an environment it will never ever be asked to endure under normal operation.
Extreme cornering, braking, steering, and acceleration shows weaknesses in design. Stinger shrugged it all off.
Getting stuck in to the brakes made her squirm, and tugging on the steering wheel brought the nose into a corner in ways a normal driver would never do.
Stinger remained composed, unless pushed beyond what a road-going sedan would normally be asked to deal with. Even then, it did not come unglued, with the traction control left on. Turn it off at your peril. Yes, you Sam.
The exhaust has a beautiful sound even in 4-cylinder form. It roars pleasingly when called upon.
Brembo brakes pull Stinger up quick smart under normal conditions, and there is no noticeable fade with extreme use.
On the road, we liked the standard dampers most of all.
It felt supple and sophisticated, although Graham Gambold, the man who did the local tuning, said the "smart" setting was best on the adjustable system.
Road noise was most noticeable on the top model with the lowest profile tyres. Even then, it was kept to a minimum, and wind noise was undetectable most of the time.
The GT nature means a driver could easily cover a thousand kilometres and feel fairly fresh.
Kia says police forces across the country have looked at Stinger to replace the Commodores which cease production in a month.
Conclusion:
This is everything COO Damien Meredith promised it would be.  He is the man behind Kia's famous 7 year warranty, and one of the people responsible for Kia's rise to the top ten.
The abandonment of Holden, Ford, and Toyota of their local manufacturing put all retailers on equal footings. There is nothing else to touch Stinger in this segment. There will be no rear wheel drive sedans other than the Kia.
Either by accident or design, Kia has found itself in a unique position. The 4.9 second 0-100 V6 puts the GT in an arena previously occupied by V8 commodores and Falcons.
The roomy cabin and sexy metalwork make Stinger a compelling option. It drives beautifully, and sits in the road like any GT coating twice as much, and that is the point. Kia has done for $60,000 what Audi and BMW took $120,000 to achieve.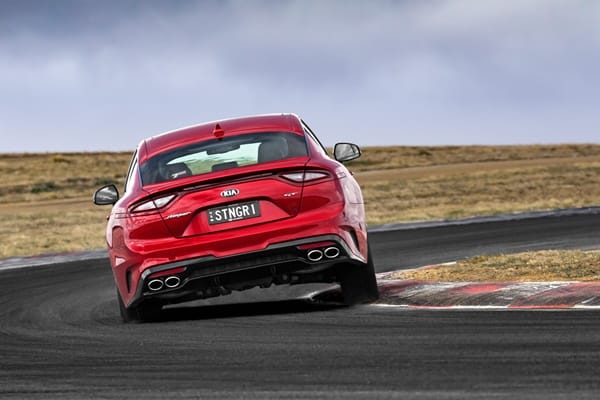 I'm not pretending that a Kia is a BMW for a minute. But, while 60 grand would by a baby Beemer, you'd be so cramped after 200 kilometres, that you'd have lost the will to live.
You certainly would not be taking any friends along for the ride.
As I said, for $60,000, what else can take 4 adults comfortably? And, could it take their gear as well? No.
For the time being, Kia has made Stinger the one and only choice for a buyer wanting a large car with 4 (or 5) seats, with plenty of pulling power.
It is stylish and classy, with even the base model being able to see off the others in a single stomp of the peddle.
I said at the top of the story, that Kia had delivered on their promise, but now I think of it, they've overdone it.
When I first reviewed Optima, I said "how have they done it for the price", so rather than repeat myself, I'll leave you with that quote.
Stinger is a benchmark by which the Japanese, Europeans (and indeed other Koreans) will struggle to reach.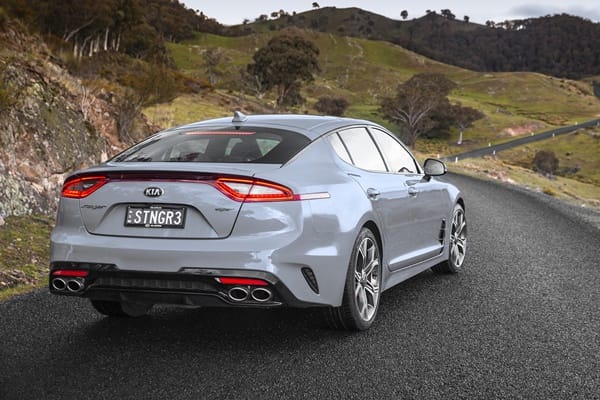 Price:    $49,990-$59,990
Engine: 2.0-litre four cylinder (182kW and 353Nm) or a twin-turbo 3.3-litre V6 (272kW and 510Nm)
Trans:   8-speed auto (manual paddles, but no manual setting)
Performance: 4.9Seconds (V6) using launch control, 6.0 (2.0L) using launch control