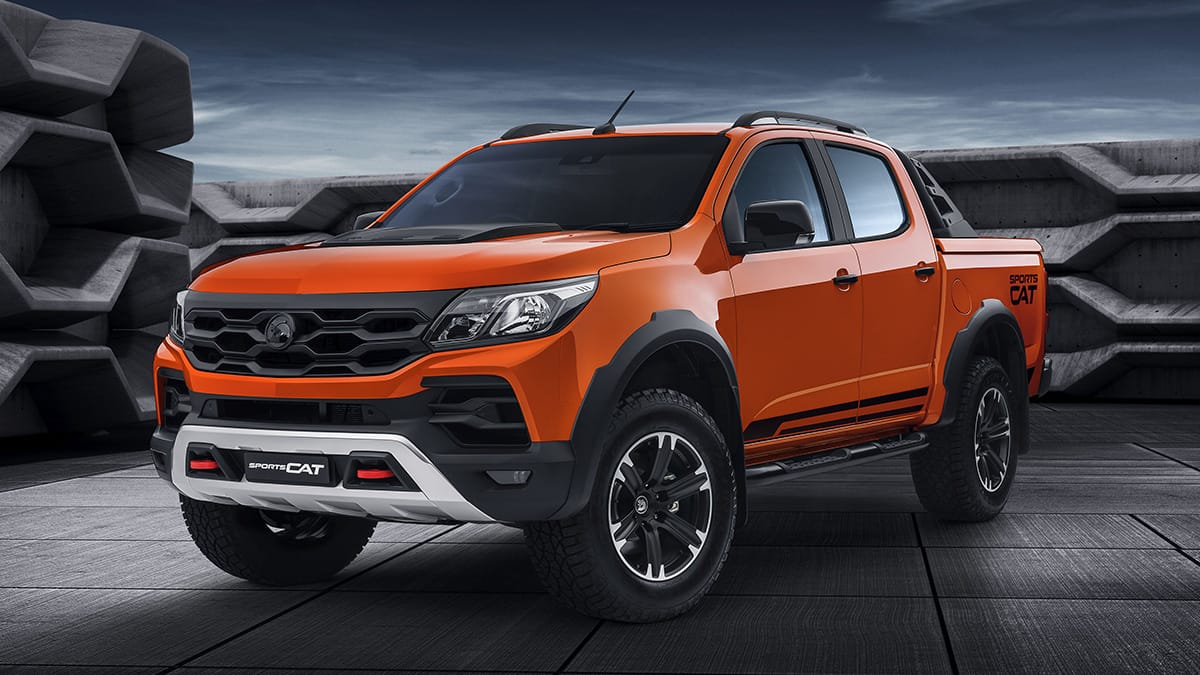 Holden Colorado gets HSV Sportscat makeover
Colorado is Holden's biggest seller, so it is perhaps no surprise the race-crazed HSV people got there mitts on the ute-come-pick-up truck.
The result is a Colorado with attitude. It looks taller, and it is. 45mm at the front with added height from tyres and beefed up suspension.
There are a host of accessories, including a sexy looking "sail plane". This goes in place of the sports bars tat the rear of the cabin on top of the tub. There is a black tub liner, and a neat storage solution to contain cargo.
Dark, moody, decals are used with gusto, and are black to match the blacked out grille. Unique black wheels and side step finish the look.
Inside, tasty Jasmine leather and Windsor suede form the backbone of upscale HSV detailing. Sports seats have electric adjustment for the driver. They look sexy with contrasting red stitching, but omits the all-important lumbar support. The passenger makes do with manual levers.
Plastics are reminiscent of the working ute from whence Sportscat come. It feels a bit low-rent in places and eschews the luxury and speed for which HSV is known.
Sound and vision use the regular Holden My-Link system and includes Apple CarPlay/Android Auto. Control uses the touch interface on screen, and buttons on the steering wheel.
The driving experience is what you'd expect from a Colorado, but less so from an HSV offering. HSV says it considered giving power a boost, but dropped the idea given the difficulties in emissions legislation compliance.
147kw/500Nm (440Nm for manual) paired to a 6 speed automatic does the job and has proven itself in the regular Holden utes.
Ride is firm but fair. Handling is much improved thanks to HSV engineering.
There is nothing subtle about Sportscat. It looks a beast of a thing, but the industrial emanations sound more bucolic than boasty.
Changes are purely cosmetic apart from the suspension, and one wonders if Ford's Ranger Wildtrack and Raptor wouldn't give the HSV Sportscat a bloody nose.