KIA Cerato GT Overview:
Kia starts the year with a release of two rather cheeky GT cars.
One won't surprise you, and one probably will.
First, KIA has waved its magic wand over Cerato, its top selling car. They sold 18,620 Ceratos last year. 1,206 were in December. While the car market was awash with red, Kia stayed in the black by increasing its sales 7.5% on 2017.
That means, the Korean car maker now holds and impressive 5.1% of the Australian market. It is number 7 in the Australian top ten ahead of Nissan, Volkswagen and Honda.
In fact, Kia is just 0.2% behind Holden which once held 38% of the Aussie sales. Make of that what you will.
After the ill-fated Pro_Ceed GT was canned, Kia lacked a pocket rocket, until now.
Cerato GT picks up where Pro_Ceed left off. It continues the success of Cerato sedan launched last year, giving both the sedan and hatch a shiny new range topper.
Then, just to thumb a further nose at industry trends, the tiny Picanto now has a GT model for a sensation under 18 thousand.

KIA Cerato GT Exterior:
GT comes in a sedan and hatch, with a drive away price of $31,990, and of course, KIA's 7 year warranty.
Changes aren't confined to a bit of lippy and a new hat, oh no.
The new car is bigger than the old car on all dimensions except the wheelbase. It is 160mm longer, 20mm wider, and 10mm lower or the GT.
GT styling changes have been kept ever so subtle. Discrete red highlights in the grille and on the body kit, ands a hefty 18" set of wheels. They look great, and make the body look lower and slightly rakish.
KIAs have a distinctly Euro look. The handsome metalwork is thanks to the group's lead designer. Peter Schreyer, of Audi fame. He was pilfered by the clever y Korean to give the brand a thorough of his magic wand. They've never looked back.
As well as the sedan, a hatch can be had for absolutely no extra shekels. Normally there is some kind of price difference between the two, but why is it so? It doesn't need to be.
LED lighting, and quality finishes, give the look an expensive look. It doesn't often happen that a car looks like its concept design drawing, but Cerato does.

KIA Cerato GT Interior:
GT trim brings the verisimilitude everyone expects from a top model.
Cabin surfacing is of a mostly soft-feel material. Areas like the tops of doors, glove box lids, and parts of the centre console are harder wearing plastic. It provides give greater resistance to keys, fingernails, and the foibles of fumbling friends. Personally, I'd like to see these surfaces softer to the touch too.
Perforated seat upholstery allows gentle wafts of cool air through the seat and back. On a hot day, you might want to allow it to get the black leather to a civilised temperature before engaging with your bottom.
To make the seats even more convivial, there is powered adjustment for front seats, and memory settings for a forgetful driver.
I particularly like the smart red contrast stitching on seats and doors. Like all GT cars, there are further touches of red to let people know you spent a lot of extra money.

Rear legroom is adequate for shorter trips. KIA insists Cerato GT is a city car that's had a warm hatch make-over. If you want rear legroom, you'd buy the sexy Stinger. Stinger is a rear-wheel-drive in right-hand drive markets, and AWD in other markets.
Controls fall easily to hand with carefully crafted ergonomics being the number one consideration.
The front passenger seat felt a bit high for my taste but that didn't spoil the roomy feel of the cabin. Nor did it effect the comfort once on the move.
There is a handy ledge with a tray to wirelessly charge a mobile too. Even in the hardest of cornering, it stays well and truly put.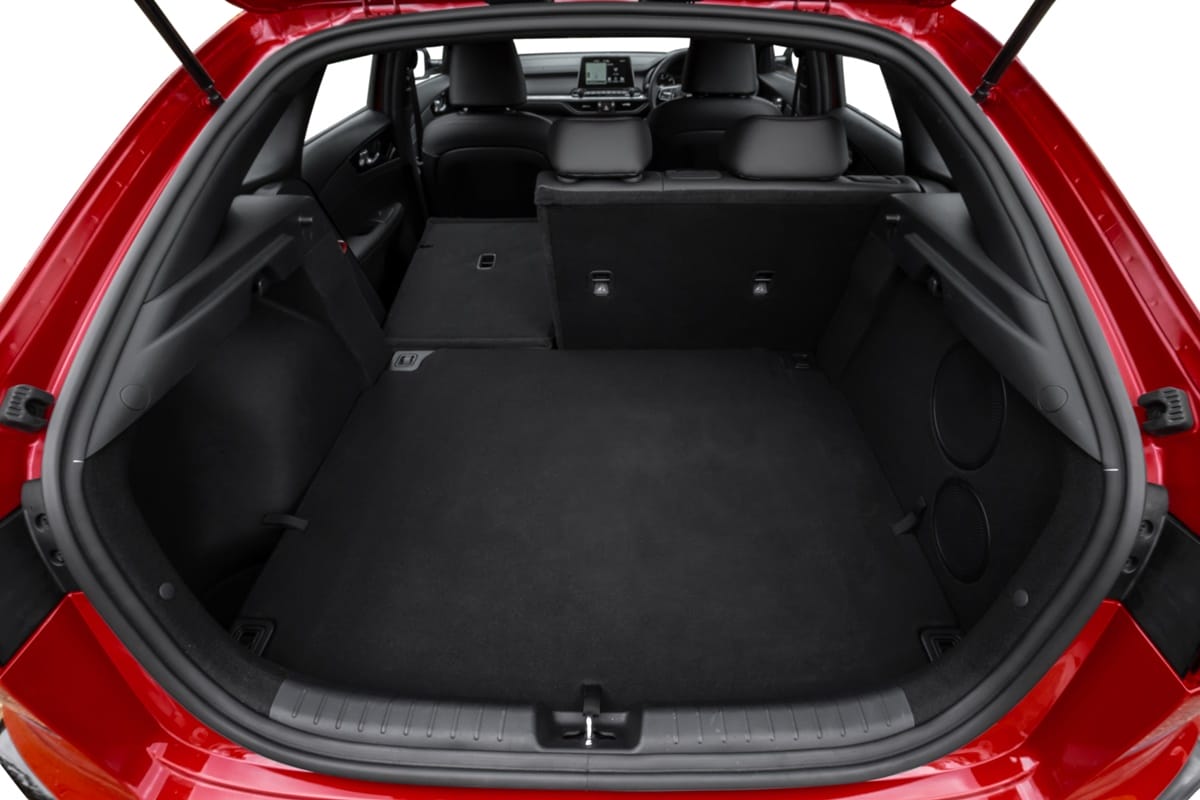 Considering the Cerato range starts under 20 grand, the look and feel leaves an impression of a car that is far more expensive than it actually is. Of course, a lot of the tasty goodies only come in the top model, but that gives you plenty of incentive to find that lost change behind the lounge chair doesn't it?
KIA Cerato GT Features:
Like all KIAs, Cerato GT is chock-full of gear.
The parts bin was taken by the scruff of the neck and given a jolly good shake, and look at fell in to Cerato GT:
8-inch touchscreen,
Apple CarPlay and Android Auto with voice recognition,
wireless phone charger,
8-speaker JBL Premium sound system
Bluetooth connectivity,
climate control air-conditioning
ventilated front sport seats
The JBL system comes from the same people who make Bang & Olufsen and Harmon-Kardon. The group is owned by fellow Korean, Samsung. Apple CarPlay/Android Auto needs to operate through a USB cable which also charges you phone.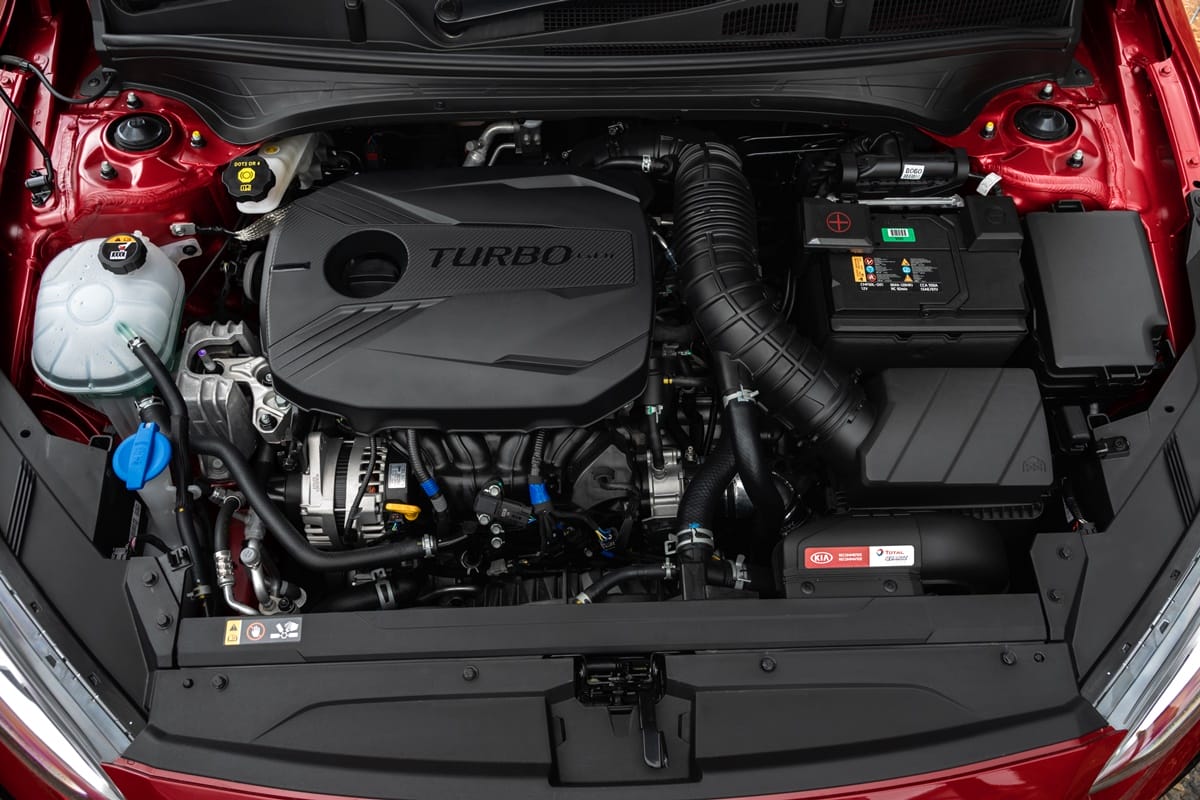 KIA Cerato GT Engine and Drivetrain:
Graeme Gambold tunes all Australian KIAs for our local conditions.
The 150kw turbo four-pot from Pro_Ceed gets a nifty 7 speed DCT (double clutch transmission) automatic. DCT automatics are loved for their swift and smooth changes, and KIA's in-house unit is a peach.
It shifts smoothly, getting the power to the front wheels with little bother. As you enter a corner, even in comfort mode, the DCT holds exactly the right gear. In sports mode, a lower gear is selected to sling-shot you out the other side.
Steering feels reasonably sharp and has had the laying-on of hands by Graeme's team. Ride is good on most surfaces and gives excellent control in cornering. MacPherson struts at the front are teamed with sophisticated multi-link rear suspension.
KIA's team set the suspension for a sportier tastes. But, that doesn't mean that unexpected changes in road surface upset Cerato. The Euro style that crept into the sexy look has permeated the handling too. Even though KIA bosses play down Cerato GT's credentials, a buyer certainly won't.
Drive Modes give the engine a bit more perk without being in any way brutal. Throttle response changes might be smidge subtler than Pro_Ceed GT, the effect is not. If there was a European badge on that grille, you'd be nodding your head in approval.
Even when pushed hard, the GT begs for more. Most buyers will want the driveability a DCT gives city driving. As a passenger, it is hard to tell which European you're being driven in if your eyes are closed. I know, I tried it.
Some said they thought low-speed ride was a trifle too firm, but I had no such experience.
Kia pegged handling against Peugeot's 308 GTI and VW's venerable Golf GTi among others. KIA says it compares well when price and equipment is considered.
Remember, KIA says Cerato GT is a warm hatch, not a hot hatch. I'm not sure why the execs kept saying that. This is one example where a car maker under-promises, and over-delivers.
KIA Cerato GT Safety:
Autonomous Emergency Braking (Pedestrian and Cyclist),
Forward Collision Warning,
Lane Keep Assist,
Rear View Camera with dynamic guidelines,
Driver Attention Alert Warning,
5 STAR ANCAP rating on most models of Cerato is thanks to the addition of AEB and Lane Keep Assist.
It would be churlish of me not to point out the misleading impression simple star ratings might give. A buyer should always visit the ANCAP website to research the test results.
For example, a 4-star model might well perform better in crash tests than a 5 star. A 5-star car must have AEB, but still it could still score lower in passenger accident protection than a 4-star car.
More importantly, a car receiving a 5-star rating four years ago, would almost certainly not score the same rating today. In other words, a car tested in 2015 might get a 5-start scorer card, but were it to be re-tested in 2019 might find itself with a few less stars.
KIA Cerato GT Summary:
Cerato is one of KIA's best sellers for good reason.
It is handsome and well equipped. GT upgrades have sharpened handling and added even more value. It has red bits!
At first sight, I wasn't enamoured with the hatch's looks, but they grew on me, especially after a drive. In time, as has happened in times past, I'll probably quite like it. After all, hatch backs are far more practical, and who doesn't like that?
If I could make one improvement, it would be the surround around the infotainment tablet. Whilst I realise all cars are made with accounts looking over a shoulder, it is the one place where I felt the plastics didn't quite come up to par. It wouldn't stop me from buying one, but it would always be something I'd want to see fixed in the mid-life update.
The QI wireless phone charger was so handy, and something I wouldn't expect for the price. All QI enabled phones can use it. Keep in mind there are two charging methods in Cerato GT: QI and USB. It's also worth noting that PMA wireless charging isn't supported.
Once upon a time you bought a KIA on price, but felt the need to apologise. Now, the dinner party conversation is very different. You might even secretly enjoy the dejected look on your interlocutor's face when he realises you got more, for less, and got a 7-year warranty thrown in for good measure.

Good Bits
High equipment level
Handsome looks
Excellent value
Not So Good Bits
Some plastics felt too hard
Low speed ride too hard
Polarising style
KIA Cerato GT
Summary
Cerato is one of KIA's best sellers for good reason.
It is handsome and well equipped. GT upgrades have sharpened handling and added even more value. It has red bits!