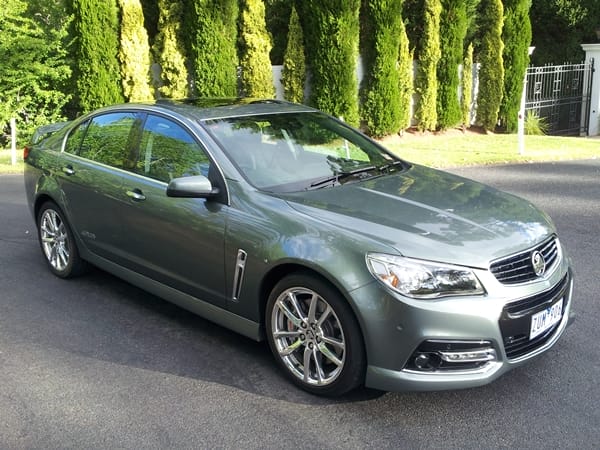 Holden has delivered a refined driving experience with the new VF SSV Redline Sedan. The Holden SSV Redline boasts advanced technology, sports tuned suspension and a thumping V8 that sounds pretty cool.
The shape of the new VF Commodore is quite frankly a beauty. It has subtle bonnet lines, sleek sideline and unusually an attractive rear end.
The VF SSV Redline Sedan takes the style further with 19 inch wheels and tyres, rear spoiler and front air dam with fog lights. It also sits low over the FE3 sports tuned suspension.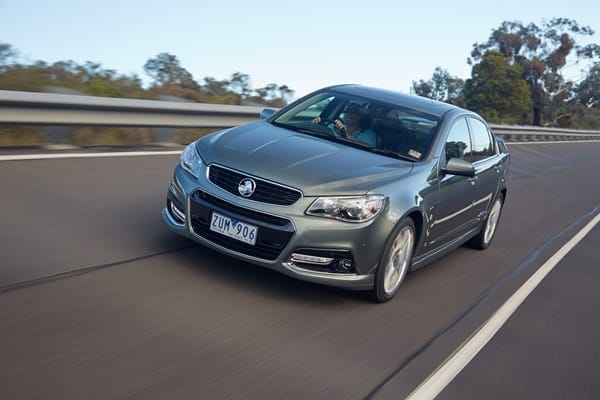 Inside apart from the leather striped seats and suede on the door trims and dash, the Redline is like all the Commodores. It has a host of extra features which we will look at later.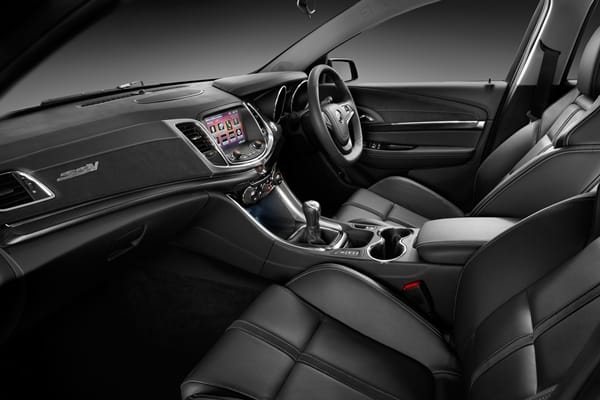 The leather heated driver's seat is electrically adjustable 8 ways and even the tallest of drivers will find it comfortable. The leather multi adjustable steering wheel sits perfectly in your hands and boasts the usual controls.
In the Redline, in front of the driver the dash features colour digital instrument display and a push button start. One interesting feature is the heads up display. Now I have to say this is one of the best I have found anywhere. It is large, clear and easy to read even with sunnies on, which can block out a number of HUD in other vehicles.
It is malleable to the drivers wishes with transparent, coloured display featuring four screens, selectable by the driver, which show such information as digital speedometer, tachometer, infotainment and turn by turn navigation.
The full range of options includes vehicle speed, Tachometer, turn signal indicators, high beam indicator, selected gear, Forward Collision Alert indicator, front park assist indicator, turn by turn navigation display, audio functions, outside air temperature, phone information vehicle messages, lateral acceleration and racing shift lights.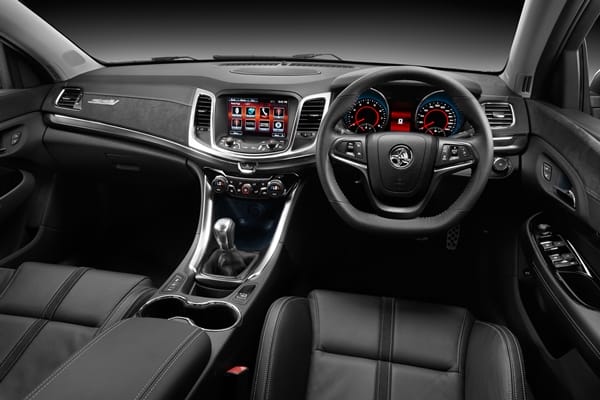 The centre console contains the 8 inch colour touch screen MyLink app-embedded technology including enhanced voice recognition and Siri Eyes Free integration, Satellite Navigation with full colour mapping with live traffic updates and a 9-speaker Bose® premium audio. Full iPod® integration including Siri Eyes Free* and touch screen access as well.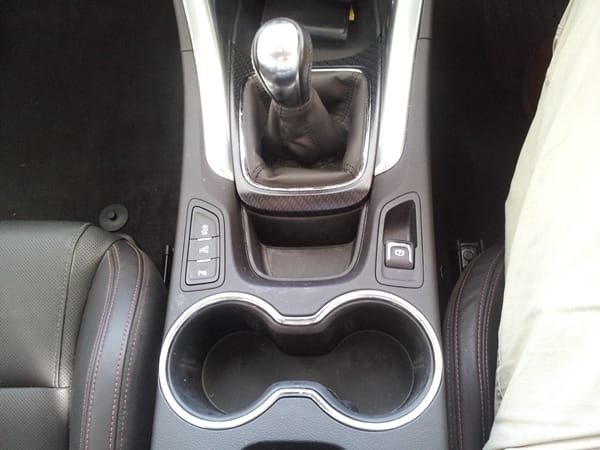 The system will accept a DVD for stationary playing as well. Below the screen are the controls for the Sat Nav, and audio system. Below that are the controls for the dual zone automatic air-conditioning,
There is plenty of storage with a decent size glove box, door bins, handy flat area in front of the transmission, cop holders, centre storage etc. There is even a sunglass holder.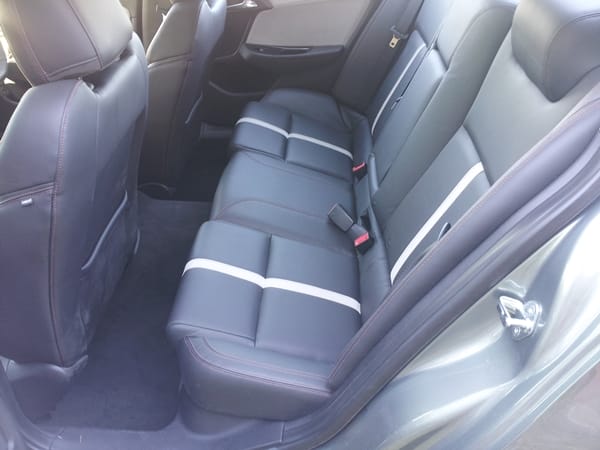 Even with the sun roof (and loose roof lining), front passengers are well catered for. As you would expect in a car this size, so are the rear passengers. Plenty of knee, head, shoulder room and the rear seats are individually sculptured more for two rather than three. The boot is huge, with a flat load area and a full size alloy spare. WooHoo!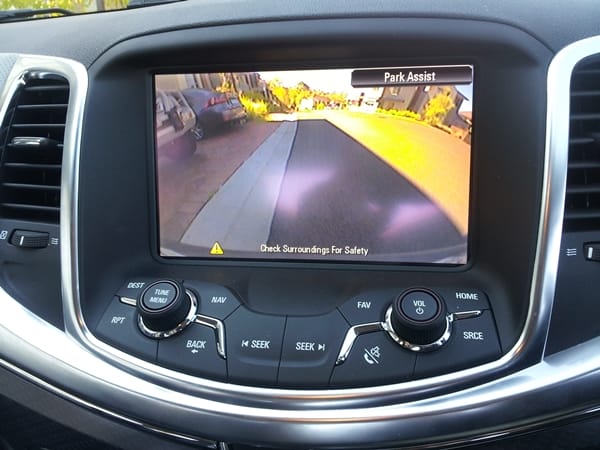 Safety is paramount with 5 star ANCAP rating. As you would expect the VF SSV Redline Sedan has the usual 6 airbags, ECS, ABS & TCS, etc. But it also features extras such as an electric park brake with automatic release, rain sensing wipers, hill hold control and hill start assist, trailer sway control, daytime running lights and remote vehicle start (automatic transmission only). On top of these Redline only features include Forward Collision Alert, Lane Departure Warning, Blind Spot Alert and Reverse Traffic Alert.
The Smart Remote Start operates via key fob activation from as far away as 100 metres. It not only starts the vehicle but also activates the heating, ventilation and air conditioning system, which will operate at the 'last known' fan and temperature setting. Remote Start will also activate the heated front seats feature, providing that inside vehicle and outside temperatures are below a certain threshold. Very Cool!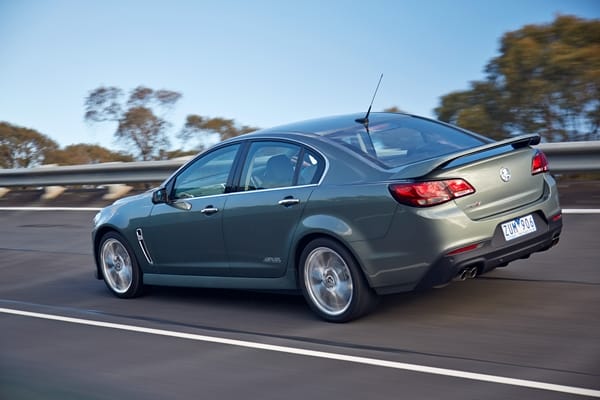 The VF SSV Redline Sedan is powered by 6.0L Gen IV V8 engine that develops 270kW @ 5600rpm of power and 530Nm @ 4400rpm of torque. This engine drives the rear wheels through a six speed manual transmission. It will race from 0-100kmh in about 5.5 seconds and has a top speed of well beyond what most drivers would sanely explore. Being a big lazy V8 it can be frugal or by burying the right foot it can chew fuel like a hungry football team.
Designed to deliver an even more sophisticated sports driving experience, Holden's VF SS V Redline introduces a host of new advanced technology features and an updated sports-tuned FE3 suspension package to enhance its performance credentials.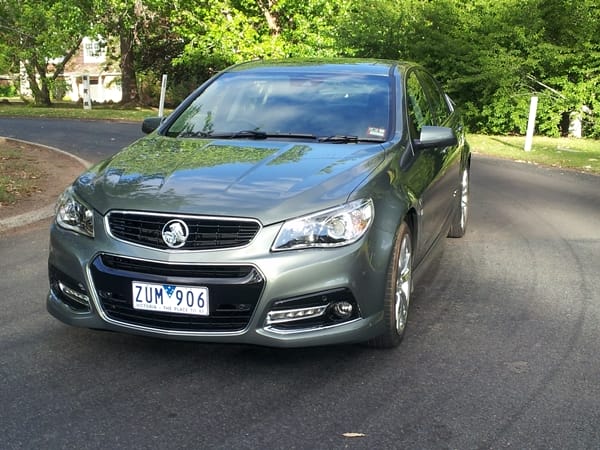 And for the first time, the new VF Redline offers advanced technology features designed to appeal to the enthusiast driver looking for luxury performance during everyday driving and track-capable characteristics for club events at the weekend.
In line with its updated sports capability, Holden's VF Redline range introduces Competitive Mode – a selectable performance setting that adjusts electric power steering and Electronic Stability Control calibration to optimise vehicle performance for the track.
In Competitive Mode, the calibration is fully biased towards ultimate sports performance handling, with a greater emphasis on steering input and feedback at higher speeds.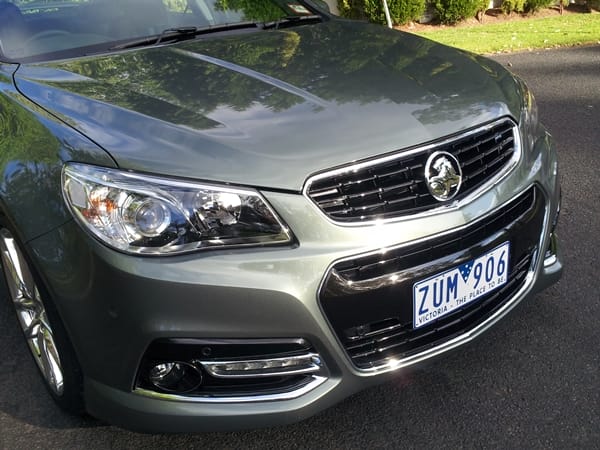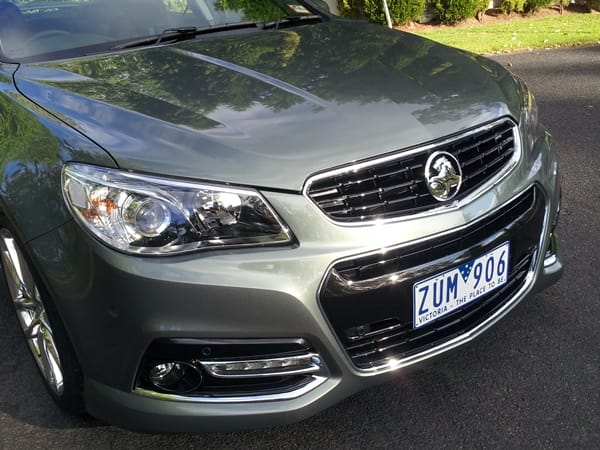 A new staggered wheel and tyre package, with Ultra High Performance 245/40 R19 front tyres and 275/35 R19 tyres at the rear – the widest wheels and tyres ever fitted to a mainstream Holden – provides additional grip and performance. All models equipped with manual transmission gain Launch Control, a feature calibrated to improve take off performance when Competitive Mode is selected.
Holden has retuned Redline's unique FE3 chassis set-up and added new lightweight aluminium components – including the biggest stabiliser bar ever fitted to a Commodore –improving Redline's lateral acceleration, grip and limit handling. Handle it does, in fact I would question the need for the HSV Clubsport when the Redline is cheaper, performs just a well and has more features. The FE3 suspension is a ripper and doesn't kill the kidneys as others do.
The VF SSV Redline Sedan performs the basic functions of stop, go and turn with ease and with a sense of sensitivity, handling dynamics and grip that hasn't been seen on a production Commodore before. The VF SSV Redline isn't a pedestrian sports car, it definitely has an edge and the feeling of launching the SSV off the start line at time trials is awesome.
The new VF SS V Redline range blends premium features and luxury design detailing with new advanced technology to take Holden's performance flagship vehicle from the road to the track. It has performance that belittles many a hot hatch at less price and blows away almost all the competition from Ford and HSV.
At around $56,279 RDAP you get an awful lot of car and performance in the SSV Redline, however it doesn't come at the expense of luxury or ease of daily driving. In fact the SSV Redline is so tractable around town you forget what stunning performance lies just beneath your right foot.
The Holden VF SSV Redline is without doubt the best luxury performance sedan that Holden has ever built. It has to be considered the performance bargain of the year. It will embarrass many an entitled European performance car not only on the road, track but in your wallet as well and will seat 5 in comfort. Order yours now before the waiting lists grow. This is a car I would buy!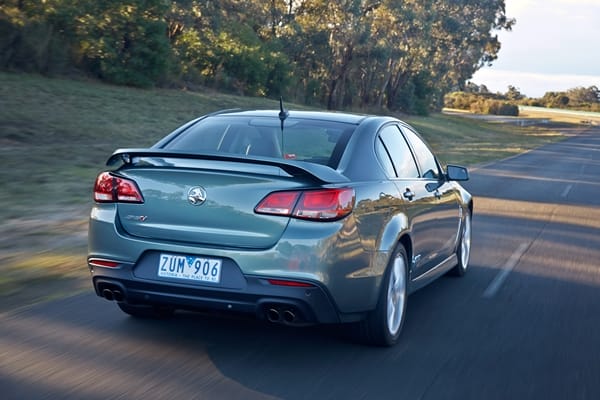 What is good:
• Value for money
• Performance and handling
• Street Cred
What is not so good:
• 'A' pillar blind spot
• Loose roof lining
• Only having it for a week
Model Holden VF SSV Redline Sedan
Model Price $56,279 RDAP
Engine 6.0L V8 Gen 1V Petrol
Drivetrain RWD 6 speed manual
Power 270kW @ 5600rpm
Torque 530Nm @ 4400rpm
Safety 5 Star ANCAP
CO2 Emissions 292 g/km
Green Vehicle Rating 3 Star
Economy (ADR comb) 12.3L/100km
Tow Capacity –1600Kg
Tow Ball Rating 160Kg
Servicing $Not Supplied
Warranty 3yr 100,000 with 1yr roadside assist
Overall AnyAuto Rating 89/100
Behind the Wheel 9
Comfort 9
Equipment 10
Performance 9
Ride & Handling 9
Practicality 9
Fit for Purpose 9
Build Quality 8
Environment 8
Value for Money 9