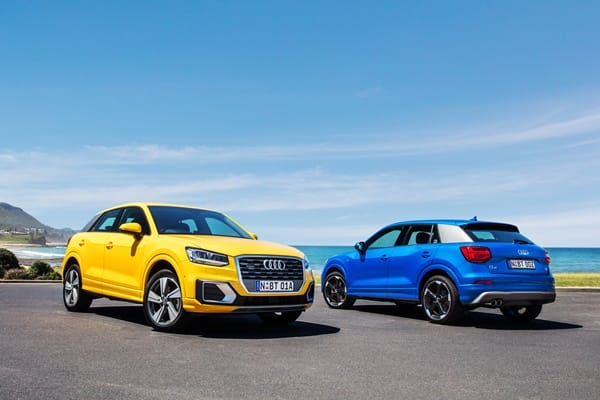 After a long lead time Audi has finally launched the Q2 into the highly competitive small compact AWD SUV premium market segment. The compact segment has seen the most growth in recent years but there isn't much in the space the Q2 now occupies and the Premium brands are keen to establish their share at the entry level.
I had the opportunity to drive both the initial variants around Melbourne this week and my immediate thoughts are that you probably should go and place your order right away as there will surely be a waiting list once word gets out how good the Q2 is. There is something quite special happening at Audi lately. Every new model they have released lately they seem to just get it right
I mentioned in my preview late last year that the Audi Q2 has something about it that differentiates it from the others. It immediately makes you feel at home with it when approaching. Style is a personal thing obviously but the Q2 really appealed to me. Audi's polygonal design style has got edgy spot on without being ugly, unlike one or two of Audi's main competitors. Externally the Q2 has that coupe style while retaining plenty of internal space. It could arguably be the most stylish offering in this segment.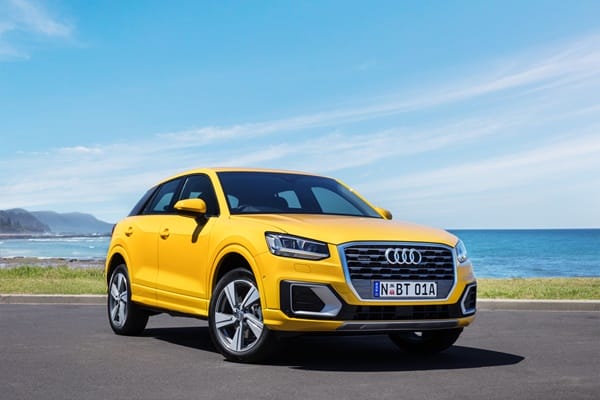 The vehicle measures 1.51 metres tall and 1.79 metres wide. The overhangs are short with a vehicle length of 4.19 metres and a wheelbase of 2.60 metres. While it is some 200mm shorter than the Q3 the wheelbases are almost identical with about 5mm difference from memory. Where the Q2 differs is that it has less front and rear overhang. These measurement go a long way to the feeling of a sporty design. This is the same platform that the brilliant A3 is built on. The Q2 is designed for the younger couple or maybe with a single child, maybe,  while the Q3 is designed more for the entry traditional SUV buyer.
The new Audi Q2 model range is offered with three engines. Initially there is the entry level 1.4 TFSI model that features fuel-saving Cylinder-on-Demand technology that shuts down two of the four cylinders under light throttle loads. It develops 110kW/250Nm and returns frugal fuel efficiency of 5.2 litres per 100km (in Europe). In addition, two models will be offered with quattro all-wheel drive, including a 2.0 TDI model with 110kW/340Nm and later on, a 2.0 TFSI model with 140kW/320Nm. All three models share the sporty seven-speed S tronic dual-clutch automatic transmission as standard.
Audi now has an almost complete AWD SUV line-up with the Q2 added to the Q3, Q5 and the Q7 models. I like the Audi system of naming their cars, it's simple and intuitive. The higher the number the bigger the car.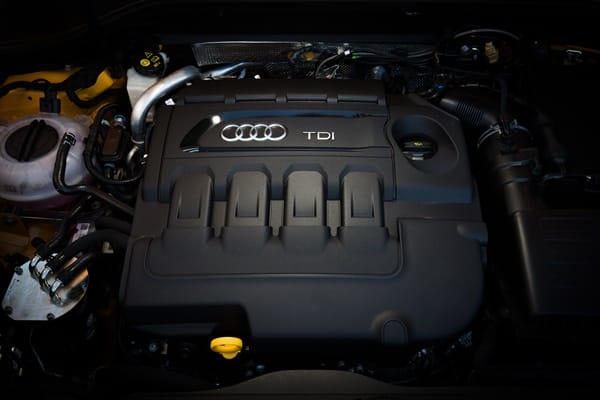 The entry level pricing for the Q2 is pretty sharp: the 1.4 TFSI design for $41,100 (MLP) and the 2.0 TDI quattro sport for $47,900 (MLP), especially when you consider the impressive level of standard inclusions. The MLP is the Manufacturer's List Price (excludes dealer delivery and government statutory charges. However, like most Audi's, there is an extensive and expensive options list with convenient packages that can add sometimes 20% or more to the price of the vehicle.
The list of standard inclusions feature – Autonomous Emergency Braking (AEB), MMI Navigation, Bluetooth and smartphone interface, voice control and parking system plus with rear view camera.  Automatic air-conditioning with dualzone climate control, leather-appointed seats, auto-dimming interior mirror, a contrasting C-pillar blade and either 17- or 18-inch alloy wheels, depending on the model, round out the key highlights. The 2.0 TDI quattro also gains an electric tailgate, sport seats and Audi side assist as standard equipment.
While the ability to customise my vehicle has little appeal to me it is obviously an important feature to those much younger. Audi caters to this with an attractive 'Design line' styling package, including contrasting high-gloss elements, c pillar colour choice and 17-inch alloy wheels. Additional high-value option packages combining styling, technology, convenience features and driver assistance systems are also offered.  Many equipment packages, exterior colours and expressive interior trim colours and elements are available, as well as LED interior lighting packages which allow plenty of creative space for personal configuration.  Audi also offers a total of 12 paint finishes for the Q2.
"The all-new Audi Q2 urban SUV will appeal to a new range of young and young-at heart buyers," said Andrew Doyle, Managing Director of Audi Australia.  Disappointingly I was told I was euphemistically firmly placed in the "young at heart" category. Apparently I am older than I feel and look much older than I am!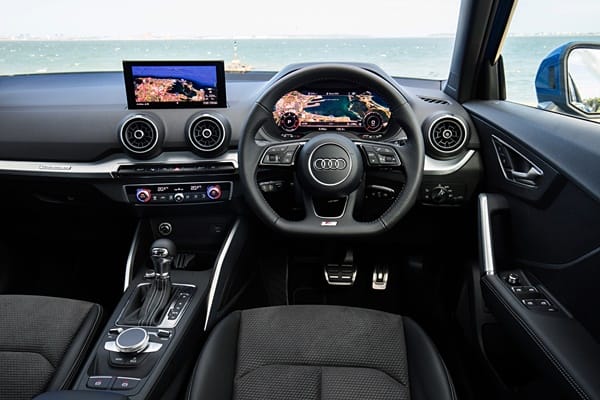 Internally the stylish design continues with the overall ambience of quality and a subtle sporty feel. Again Audi is doing things just right with their excellent interiors. It offers comfortable (read higher than a sports car) entry and good visibility, but also a sporty seating position for the driver and front passenger. Both front seats are height adjustable. A power lumber support and heated seats are available as options, with the centre armrest as standard. With the sport seats – standard with the sport line and S line sport package, the angle and length of the seat cushion can also be adjusted.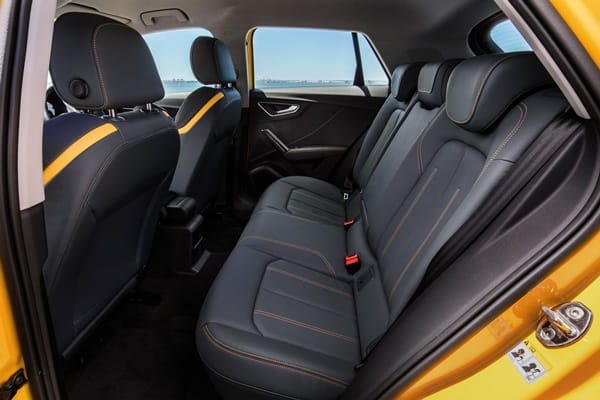 The rear seats are also comfortably upholstered. Despite the descending, coupe-like roof line, adults enjoy enough headroom but in all SUV's this size the knee and leg room is limited. There are numerous storage compartments available for all seats but the overall nick knack storage is limited.  The optional storage compartment and luggage compartment package provides additional storage space.
What is impressive is the flexibility and openness of the boot space. The side walls of the luggage compartment are vertical and plain and the loading sill low at 74 centimetres. Because the springs and dampers are installed separately, the compartment between the wheel arches measures exactly one metre. In the standard configuration, luggage capacity is 405 litres.
The rear seats will fold almost flat and are operated by using a handle on the upper edge of the backrest. This gives a capacity of 1050 litres. The standard rear bench is split 60:40, an optional 40:20:40 three-way split version is also available. When folded down, the narrow centre section serves either as an armrest with cup holder or a through-loading facility. A power tailgate is available as an option.
Going back to the drivers position again the Q2 provides a comfortable and engaging experience. The normal and sports seats are comfortable. Unfortunately lumbar support for the base seats is an option. Along with the very impressive Audi 'virtual cockpit' and convenient optional head-up display, the steering wheel perfectly frames the dash and being thick rimmed feels great in your hands. There is a very familiar and comfortable feel to the cockpit.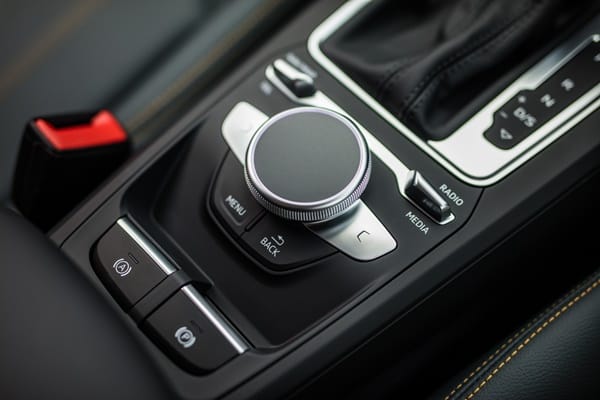 The centre console houses Audi's intelligent, intuitive Multi Media Interface (MMI), an infotainment and navigation system, which can be operated by a rotary/push-button scratch pad control and a touchpad (on MMI Navigation plus) on the central control element. In addition, the system can be conveniently controlled by voice, known as natural language operation, and the integrated MMI search. Audi Connect, Google Earth and Google Search functionality, along with a Wi-Fi hotspot, enables surfing and streaming with mobile devices.
The now prevalent scratch pad dial knob mostly works but is occasionally frustrating. I do particularly like the transmission lever in preference to the squarer style in some of Audi's larger vehicles.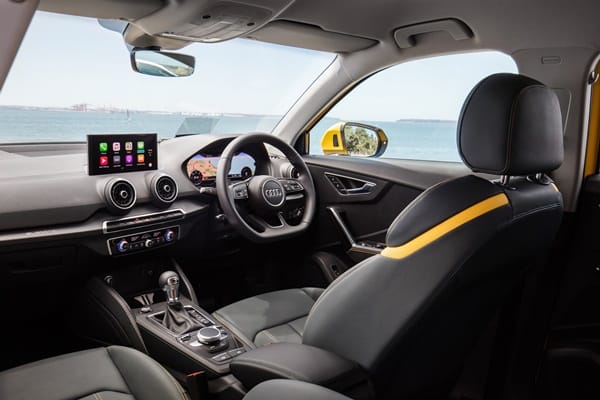 All round visibility is also good for this type of vehicle. To complement that there are the driver assistance systems for the Audi Q2 that come directly from the upper luxury classes. The Audi pre sense plus (AEB) system recognises critical situations with other vehicles, as well as pedestrians crossing in front of the vehicle, while driving at speeds of up to 85 km/h. If necessary, Audi pre sense plus can initiate hard braking – to a standstill – at low speeds. Other systems in the line-up include adaptive cruise control with Stop & Go function, the lane-departure warning system Audi side assist, the lane-keeping assistant Audi active lane assist, and cross-traffic assist rear which supports the driver while reversing out of tight situations.  The all-new Q2 has been awarded a five-star Euro NCAP rating, with an ANCAP rating pending.
Driving the Q2 in either engine format provides an integrated experience. The 2.0L TDi brings its 340 Nm of torque in at a relatively low 1750 rpm which promotes a relaxed almost lazy driving style that allows plenty of response when needed and excellent fuel economy of an ADR 5.0 l/100km. That is stunning and normal driving should see you get close to that. The 1.4 l TFSI also brings its maximum torque in at a very low 1500rpm but has a more spritely power curve. This promotes a more spirited driving style but still manages a very reasonable economy rate of ADR 5.3L/100Km which is outstanding. It also has the benefit of shutting off two cylinders when not needed to assist with economy. I can't wait for the 2.0L TFSI engine when it comes.
The quattro system on the 2.0 TDi has been explained many times before. It is simply brilliant and installs exemplary road manners and safety. The front wheel drive system on the 1.4l TFSI has a torsion beam rear end, whereas the quattro diesel gets a multi-link setup, but either handles most of what is thrown at them with ease. There is minimal torque steer or understeer from the FWD version.
The initial drive covered a multitude of driving experiences, from heavy city traffic, expressway driving, some dirt road and lots of hilly windy back roads that were a delight to drive the Q2 on. Throughout all the days driving, and we covered near on 500km, the thought running through my mind was that in the small compact segment there is nothing that rides and handles anywhere near as good as the Q2.
The electromechanical steering provides more than enough feedback and becomes more sensitive to input towards the limits of turning. The sport nature of the Q2 manifests itself in a firm but compliant rode.
The 17 inch alloy wheels and tyre combination provides the softer ride while the 19 inch wheel tyre combinations obviously enables more road feel through to the cabin. There is a little road noise on the larger rims as well but noticeably little wind noise at all.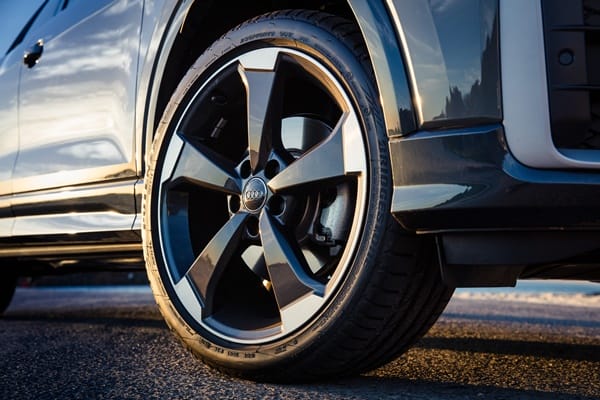 The Q2 is absolutely designed as an urban warrior. While it has a 147mm ground clearance, it is more suited to the trips to the ski fields (in quattro format) than any sort of adventurous dirt road driving and definitely NO off road driving. It will tow 1600Kg with a tow ball weight of 160kg, which is ideal for the Jet Ski etc. I would opt for the 2.0 L TDi quattro if I was anticipation towing anything at all.
The Q2 is not a sports SUV, nor is it an SUV for off road use. It is as mentioned an urban warrior that is aimed right at the younger, technologically advanced, upwardly mobile buyers that want more than a sedan or coupe. They want that quality and sporty nature but also the versatility and practicality of the SUV body shape. Personally I believe Audi has nailed the brief and I reckon they will sell like hotdogs at a baseball game.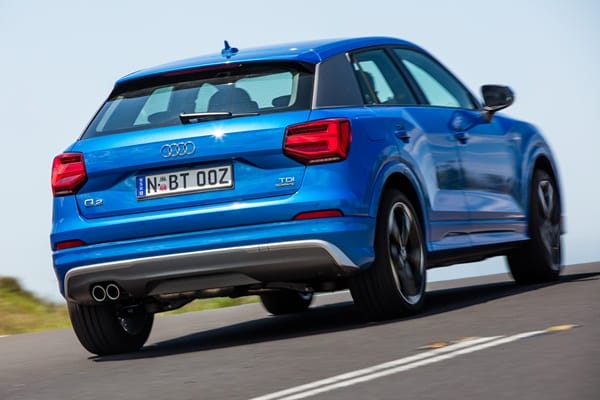 Audi Q2 quattro 20TDi
What's Good:
Style, design, quality
Power & economy
Ride & Handling
What's Not So Good:
Long and expensive options list
High waist line internally
Limited storage
Model   Audi Q2 2.0 l TDI quattro
Model Price $53,589 RDAP
Engine 2.0L TDI 4 Cyl
Drivetrain 7 Sp. S tronic quattro
Power   110 kW @ 3500 rpm
Torque 340 Nm @ 1750 – 3000 rpm
Safety TBA
CO2 131 g/km
Economy actual       5.5 L/100 km
Servicing TBA
Tow Rating 1600 kg
Tow Ball Rating 160 kg
Warranty 3 Yrs / Unlimited km 3 Yrs Roadside Assist
Overall AnyAuto Rating:   83/100
Behind the Wheel 9
Comfort 9
Equipment 9
Performance 9
Ride & Handling 9
Practicality 9
Fit for Purpose 9
Towing Ability 6
Off Road Ability 5
Value for Money 9