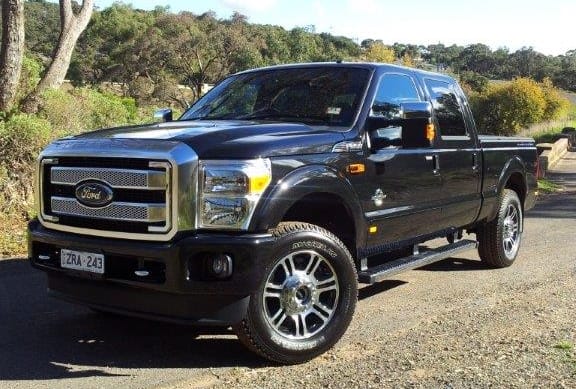 Every so often in this job you get a real sense of anticipation about an upcoming review. The Ford F250 4X4 Platinum 6.7L V8 Diesel SuperDuty Crew Cab Ute had just that. Over 12 months in organising we finally picked up the test ute on a Friday afternoon and by Saturday afternoon we were working out just how we could afford one. The test vehicle was supplied by Stewart Angove of Harrison F Trucks in Melton Victoria.
When we went to pick up the ute the first impression was that it dwarfed the 4WD that was sitting next to it in the lot. It wasn't until we got close that I realised the 4WD next to it was a 200 Series Landcruiser that when level at the back came up to just behind the front wheel on the F250. Wow this thing is big.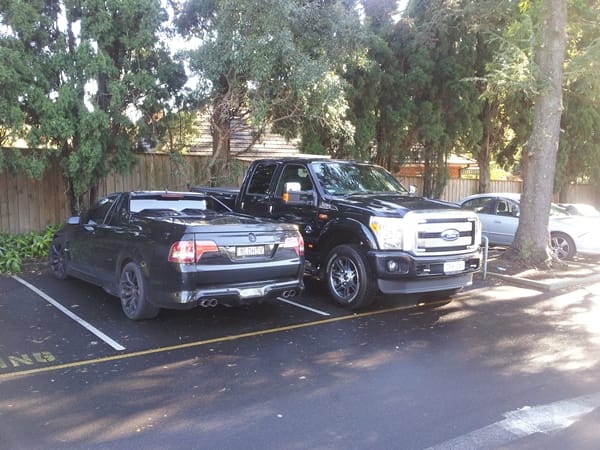 I have to say I became a little nervous about driving it home in peak hour Friday afternoon traffic in Sydney. Usually a time when sane people stay off the roads, not go driving half way across Sydney in a behemoth ute.
Out of the lot I went and straight into an exceptionally tight roundabout where I quickly discovered that I had to do a three point turn to get around, that was fun. Undaunted but chastised I drove on through the nightmare traffic. The first realisation I had was that visibility through the traffic ahead was awesome, sitting up high I could see everything.
The second realisation I had was that when a greenie in a smart car pulled up next to me he gave me a filthy look, I was tempted to drive over him but resisted. People noticed the F250 mostly in a positive way though.
The third realisation I had came after about 20 minutes of negotiating the mayhem. This was a giant ute that was very easy to drive. I stopped checking my side mirrors to see if I was staying in my lane. Then the enjoyment started and continued strongly until three weeks later when I had to return the F250 very reluctantly.
The full title of theF250 on test is a MY13 F-250 SuperDuty 'Platinum' 4×4 Crew Short Wheel Base 6.75' Pickup Box SRW. I'm not really sure what the SRW stands for but the rest is self explanatory. The title is as long as the ute.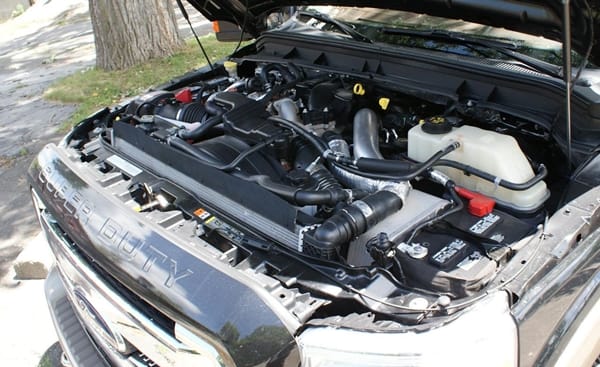 The F250 is powered by a 6.7L Ford Power Stroke Turbo Diesel V8 that delivers its power through a 6 Speed auto with progressive range select, integrated exhaust break & tow haul mode. The 6.7L produces 302kw of power @ 2800rpm and a massive 1085nm of torque @ 1600rpm. Yes you read that right, over 1,000nm of torque at 1600rpm.
That's a huge tick for power. Nothing in Australia matches it for power or torque. No wonder the horse brigade love these vehicles for towing their floats.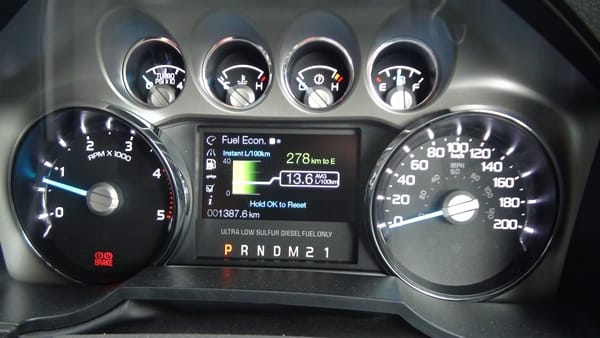 Now you might be excused for thinking that all this power comes at the expense of poor fuel economy. Well be prepared to be pleasantly surprised. While around town it was a bit thirsty, on the trip to the farm, fully loaded it averaged just around 13L/100K which was awesome for this vehicle and given its power more than acceptable.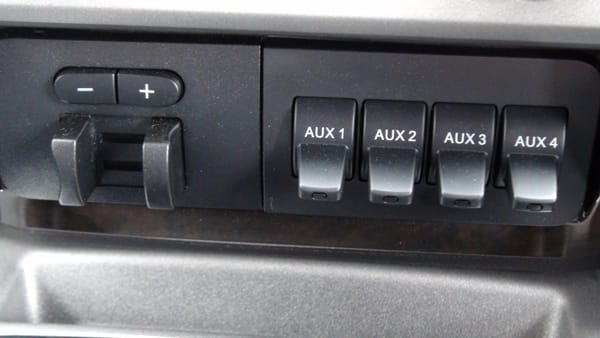 Speaking of towing, the F250 will comfortably tow 3500kg, which is where all the other 4WD's stop. It will go further and tow up to 6350Kg when properly fitted out and will accommodate a 7121kg 5th wheeler. In addition to these impressive figures the F250 has a payload of just over a tonne. The F250 also has inbuilt electric brakes, power scope external mirrors, tow sway control and reversing camera for safety and to assist in hitching up a trailer.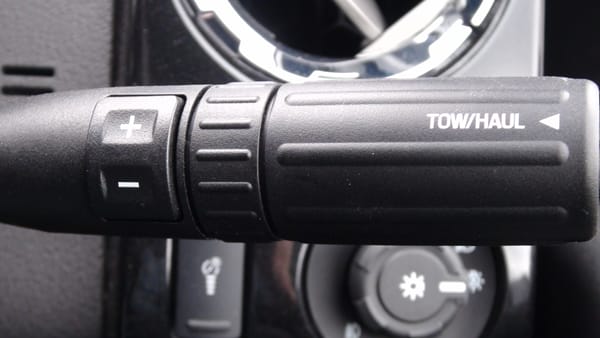 Although we didn't test the towing capacity with anything other than a couple of camper trailers we did test the tow haul system with exhaust brakes and can vouch for their effectiveness. So that's a big tick for towing.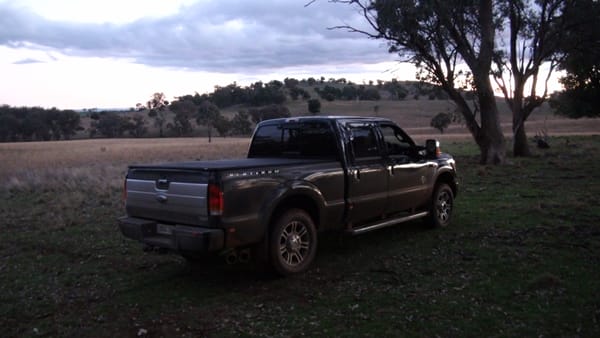 As you might have guessed by now the F250 is big. It's overall length is about 6.27m with a wheelbase of just over 4.0m. It stands a touch over 2.0m tall and a touch over 2.0m wide (excl mirrors). My daughter who is about 1.67m tall is just taller than the bonnet. The grill is massive and you have to literally step up into the cabin. Suburban shopping centre car parks are not the happy hunting ground for the F250. Let's be honest it just doesn't fit.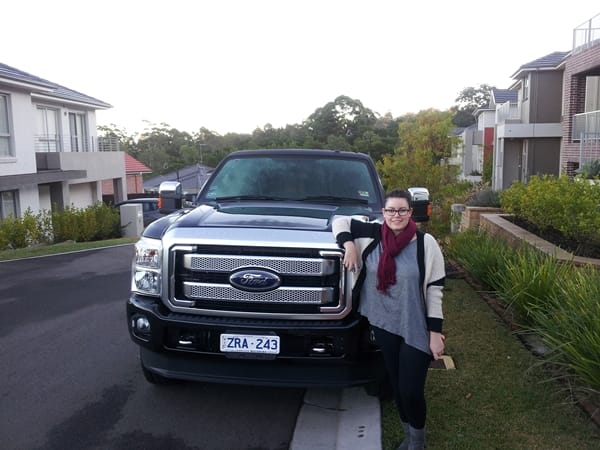 Once when I was giving my daughter a lift somewhere I commented on how tall the cabin was, she informed me that she was able to step up without the use of the side steps and that I was getting old. So without question I proceeded to jump out and try to step into the cabin without the side steps. After succeeding just and managing to strain all sorts of inner thigh muscles she grinned and politely informed me that she was using the gutter on her side. Smart Ass!
The external look is enhanced by the Platinum features including body-colour front & rear bumpers, bright chrome door & tailgate handles, 6″ angular chrome step bars, unique satin chrome grille, chrome exhaust tip, transfer case & fuel tank skid plates and 20″ Platinum Cast Aluminium wheels with LT275/65Rx20E OWL A/T tyres.
The side steps are necessary to assist in getting inside the cabin. Once inside the first impression is space. The size outside translates to heaps of useable space inside. The electrically adjustable leather driver's seat was really comfortable. With the height and reach adjustable leather steering wheel I could get the perfect driving position. There was enough seat slide adjustment for the tallest of drivers.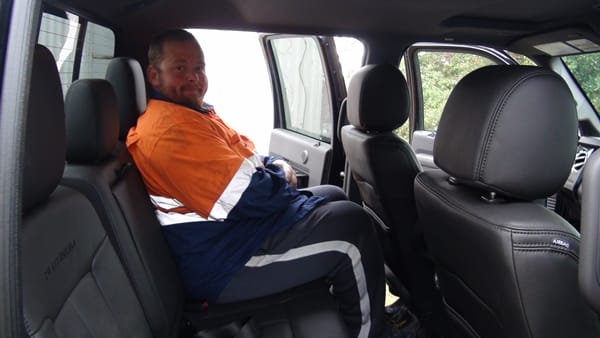 The three of us that went away to the farm were 6'1″, 6'3″ and 6'5″ tall and we all had enough room. In fact on the way back I sat in the back seat for over 4 hours and never felt cramped. I even decided to have a snooze and slid my legs up on the back seat and stretched them out fully. I have never been able to do that in any other car, 4WD or ute before that I have tested.
Back to the front seats. They are 10 way electrically adjustable, with 4 way adjustable head rests. They are both heated and cooled and are some of the most comfortable seats I have sat in for quite a while. There is more than enough shoulder, butt and head room, even with the Akubra on.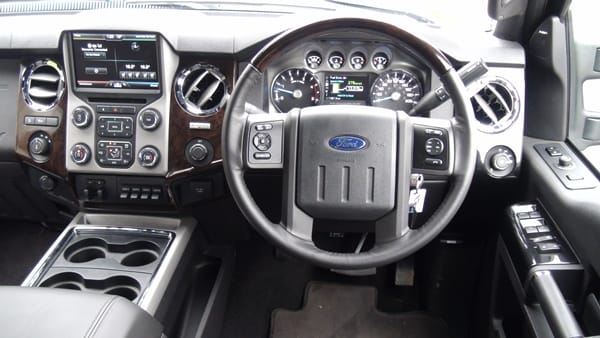 The thick rimmed steering wheel is also heated with a combination of leather and wood and feels just right in your hands. There are the usual controls on the cross members and while the centre pad is quite large by our standards it isn't obtrusive. What does take some getting used to is the column mounted transmission. I constantly found myself reaching for the transmission lever on the centre console only to grab thin air. However like most things with the F250 once you get used to it it feels right.
The only slightly uncomfortable things about the driving position is the lack of a drivers left foot rest or even any room for it. The conversion from LHD to RHD means that the tunnel intrudes on your left foot area. Not overtly so but noticeable enough to warrant a mention. The other thing worth mentioning is the handbrake release. Once you are settled in its a reach down under the dash to the lever and a bit awkward.
The pedals are electrically adjustable for individual drivers though which while a bit gimmicky is nevertheless handy for long haul drives. That's a big tick for driver comfort.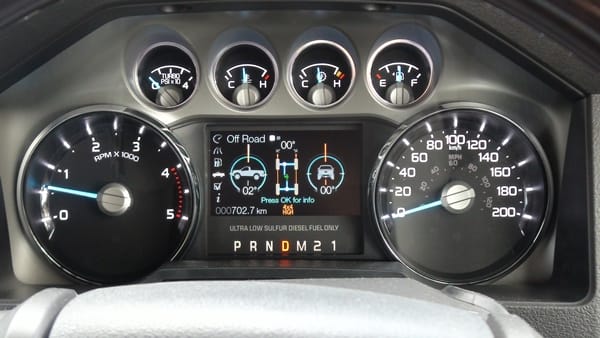 In front of the driver is a comprehensive dash display that is dominated by two large dials, a centre multi function display and four smaller ancillary dials on top. The interesting part of the dash is the MFD. It provides the driver a wealth of options for information and from our point of view was particularly good for the four wheel drive aspect.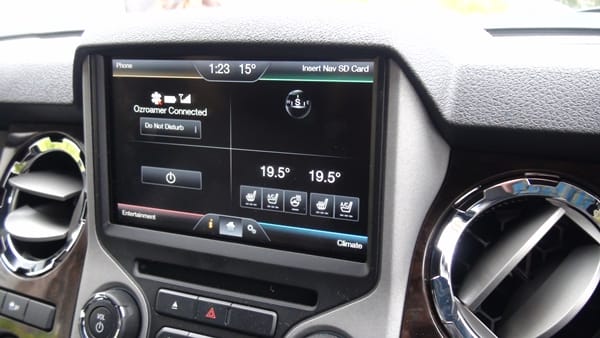 The centre stack houses the premium Sony audio system ( 8 speakers and subwoofer) and satellite navigation. Unfortunately the vehicle we tested was so new the Australian maps hadn't been configured yet. The TFT screen is large and easy to read though.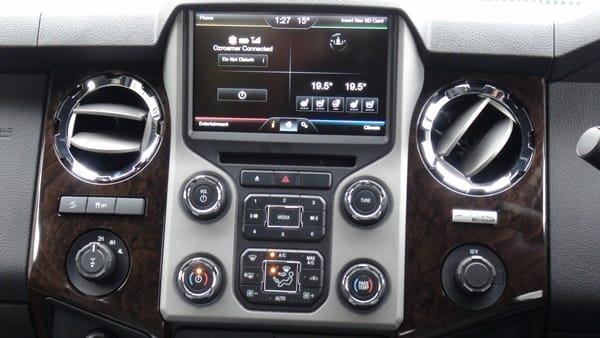 Below the screen are the usual controls for air conditioner, stereo etc. Above the centre console are 4 pre wired auxiliary switches which is a clever feature. There is also an inbuilt 110 v inverter which is good but not useful in Australia.
Another clever idea is the inbuilt garage door openers that can be programmed to your individual needs, located on the passenger sun visor.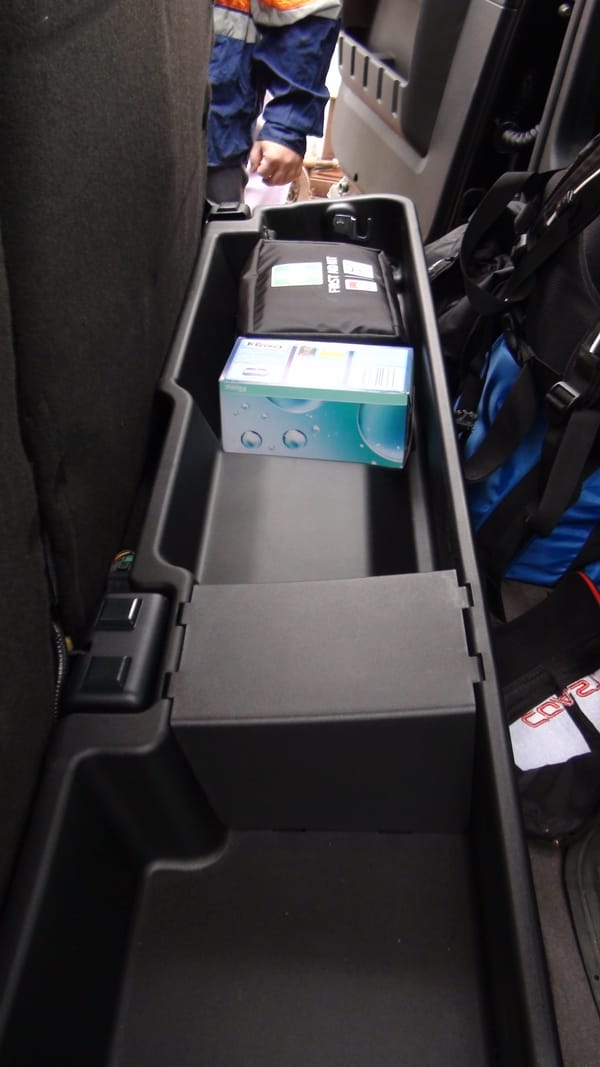 The centre console houses 4 large cup holders, front and side bins for storage and the largest centre bin I have seen. Its enormous and useful. Offsetting this is the smallest and crappiest glove box that you can imagine. Other storage includes dual layer large door bins, rear cup holders etc. One extremely clever idea is the lockable under seat storage under the rear seats.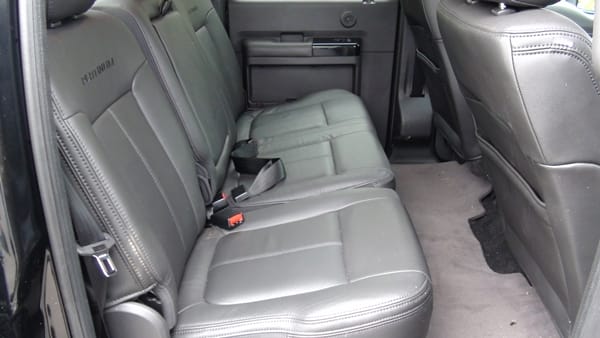 There is room for three passengers comfortably in the rear with plenty of knee, head, butt and shoulder room and a flat floor for leg room. The rear seats are also heated, with a fold down centre console, drinks holders and rear air conditioning vents.
One really cool feature and immensely practical is the ability to start the vehicle from outside. Once started the vehicle determines the internal temperature and will either trigger the heating or air conditioning to bring the internal temperature to the desired level. It will also activate the heating on the steering wheel and seats if necessary. The F250 will run for 10 minutes like this. Fun and practical.
Other features include power slide moonroof, automatic dual zone front air conditioning, under seat and console ducts – AM/FM/HD/Satellite, clock – Navigation system with voice activation – Cruise control with steering wheel controls – Power door locks with 2 stage unlock, key fob (all doors) keyless entry, manual tailgate/rear door lock – 5 12V DC power outlets, retained accessory power, wireless phone connectivity, internet access, 1 AC power outlet – Power front and rear windows with deep tint, driver and passenger 1-touch-down – Variable intermittent front windshield wipers, power rear window, rear window defroster – Dual illuminated vanity mirrors – Auto-dimming day-night rearview mirror – Interior lights include dome light with fade, front and rear reading lights, illuminated entry.
Safety features include 4-wheel anti-lock braking system – Centre high mounted stop light – Dual airbags, seat mounted driver and passenger side-impact airbags, curtain 1st and 2nd row overhead airbags – Front height adjustable seatbelts – Immobilizer, panic alarm and security system.
The F250 has been optioned with a heavy duty suspension that assists with towing and handling. It does make the handling a little stiff on road but comes into its own off road. Steering is hydraulic power-assist re-circulating ball steering with 4-wheel disc brakes with front and rear vented discs. The firm ride suspension consists of non-independent front suspension – front anti-roll bar – HD front coil springs – front shocks – Rigid rear axle – HD Rear leaf suspension.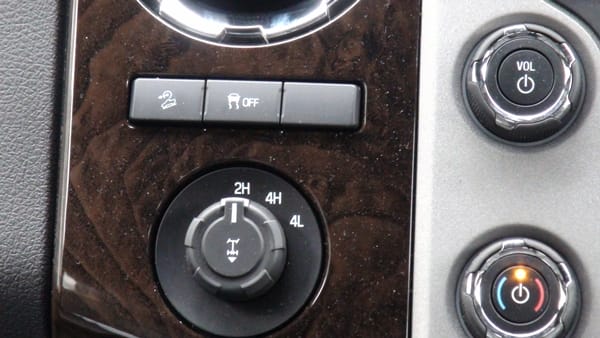 Off road the F250 shines. Not in the rock hopping or tight twisty trail way but in the long haul outback tourer way. The prodigious power combined with shift on the fly part-time four-wheel drive with electronic transfer case with auto locking hubs works a treat. In the time we had the F250 we never had to engage the lockable rear diff. Approach, departure and ramp over angles are not conducive to off road work but there is handy ground clearance. The length also hinders off road. This same length creates amazing cargo capacity though with over 2.0m in load length.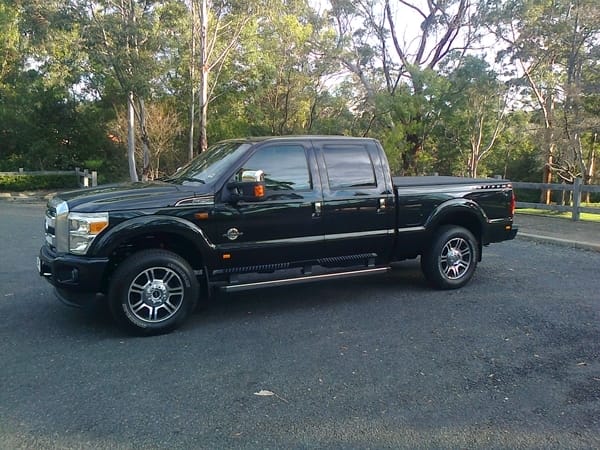 On road the Ford F250 drives smoothly, handles surprisingly well, cruises without effort with the high torque figures and as mentioned is reasonably economical. It actually was a heap of fun.
So let's sum up my thoughts about the Ford F250 6.7L V8 Platinum Super Duty. It will seat five adults in comfort, is chock full of luxury features, will tow more than anything else on the market in this segment, has awesome power and torque, more than capable off the main roads, has huge cargo capacity and is super cool. I'd say it is without doubt the best dual cab ute in Australia and goes close to being the best outback tourer in the country.
That's a big wrap given the capabilities of vehicles like the Toyota LandCruiser, Range Rover and the like. However there is nothing else that has the same combination of features. Given what else you could buy for the approximately $150,000 that this vehicle costs I am struggling to think of another vehicle I would buy as an outback tourer in its place.
We test somewhere between 180 to 250 vehicles a year and it is hard to become excited about a vehicle often. My excitement with the Ford F250 remains.