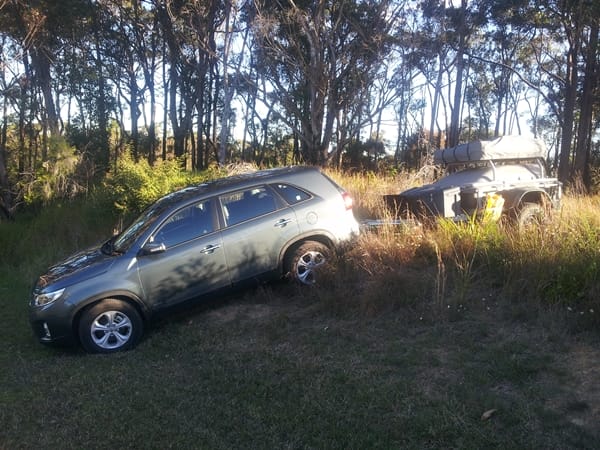 The Kia Sorento has long been a favourite tow vehicle here at OzRoamer, but it did have its limitations. We are testing the Sorento SI Manual with the heavy tow package. The Sorento can tow up to 2000Kg for the Automatic models and 2500kg for the manual models. Where the upgrade comes in is in the all important tow ball rating. This has increased from 120kg to a handy 150kg.
The heavy duty tow package includes tow ball, trailer wiring harness, labels and upgraded rear suspension springs. When deciding on a tow vehicle there are any number of factors that come into the decision. Petrol or diesel, manual or auto, on road or off road, AWD or 2WD or 4WD, what are you towing and where etc.
Often people buy a heavy duty 4WD for towing in the mistaken belief that it is necessary, when a capable AWD SUV might be the answer. There are many advantages for the AWD SUV over the heavy duty 4WD. Usually all revolving around reduced purchase and running costs.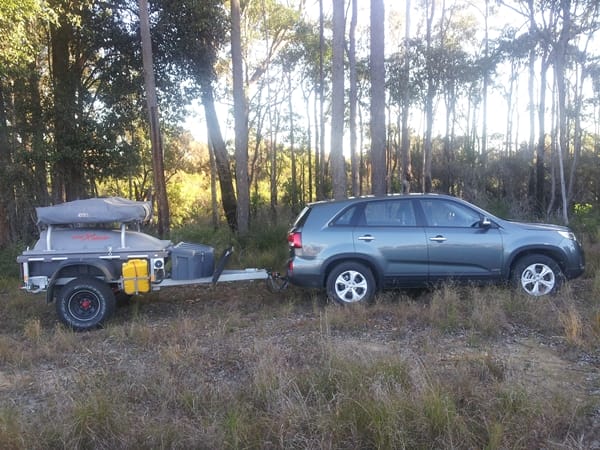 Before we talk about the heavy duty tow package and if it is any good or not, lets recap about the Kia Sorento.
The 6 speed manual Sorento SI is a midsized AWD SUV that will seat seven in relative comfort. It has a 2.2L CRDi diesel engine that produces 145kw of power at 3,800rpm and a very healthy 436Nm of torque between 1800 and 2400rpm which is ideal for towing. Combine this with frugal fuel consumption of between 5.5 and 8.7L/100Km and you have a very strong candidate for a family adventure wagon.
The six speed is smooth with clean gear changes and mates extremely well to the diesel motor. My personal preference for towing is always an automatic transmission, however the manual works a treat. Note that the auto version has slightly less torque at 421Nm and 2000kg towing limit.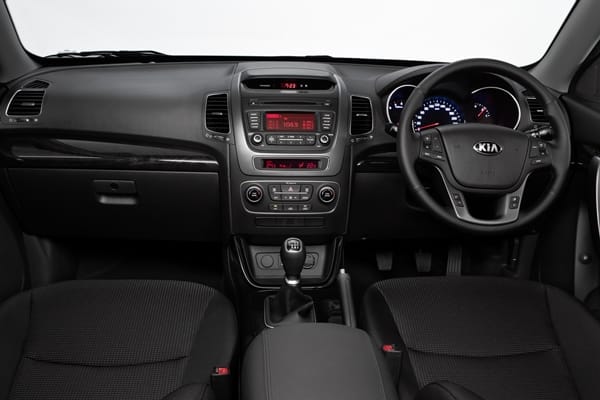 The SI version is the entry level model and while well equipped there are a couple of items that it misses that would be helpful if you are using it for towing often. The most important of these is the reversing camera. Not only is it a key safety feature it is also extremely helpful when hooking up a trailer, allowing visibility of where the tow hitch is. The other is the dash display for reversing parking sensors.
The upgraded rear suspension while imperative for heavier towing provides a slightly harsher ride when unladen. It is still compliant however it is noticeable compared to the normal suspension. It does what it is intended to do though and that is provide better towing characteristics with a heavier tow ball.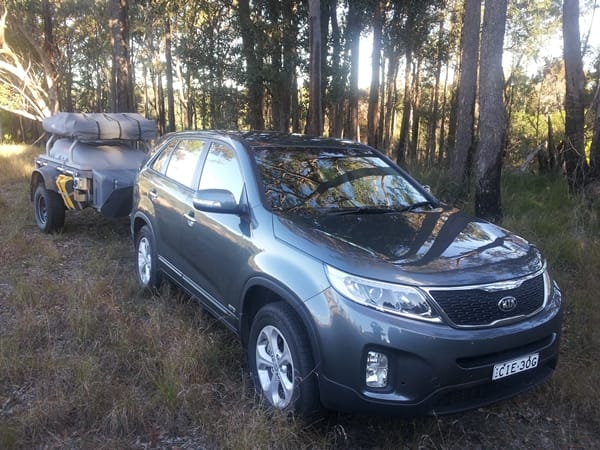 While we are on the subject of tow ball weight, don't be tempted to tow 2500kg with a tow ball weight of 150kg. The accepted rule of thumb for safe towing is 10% of the trailer weight on the tow ball. This does have some variations depending on what and where you are towing. However have too little weight on the tow ball compared to the trailer and it may not end well if you get into trouble.
The Kia Sorento's AWD capabilities are surprising to many. We have driven the Sorento quite comfortably on sand, dirt roads, fire trails and even further off road than you may imagine. The limiting feature is obviously ground clearance, but if you are looking to take that all road camper trailer into your favourite National Park, or a tinny or jet skis to the beach, or even your dirt bikes to forest trails, then the Sorento's capabilities combined with the upgraded towing package and you have an ideal family adventure SUV.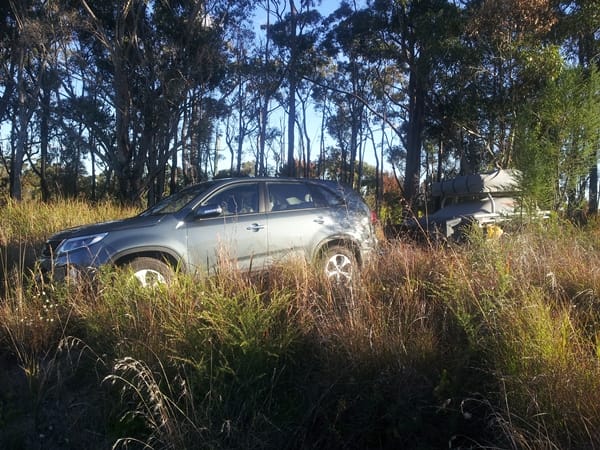 In our time with the Kia Sorento SI we towed a couple of different camper trailers, a dirt bike trailer and jet ski trailer. We have previously towed a car trailer as well. Throughout it performed with ease. The powerful diesel motor along with high torque low in the rev band makes for easy towing. The upgraded rear springs are noticeablely better for towing and definitely worth the extra if you are considering any form of towing.
The Kia Sorento with the upgraded towing package makes a viable alternative (within its limitations) to a heavier and more expensive 4WD. If you don't need heavy duty off road capability or heavy tow ball capacity then I would put the Sorento in the top few choices. I would however choose the auto version though.