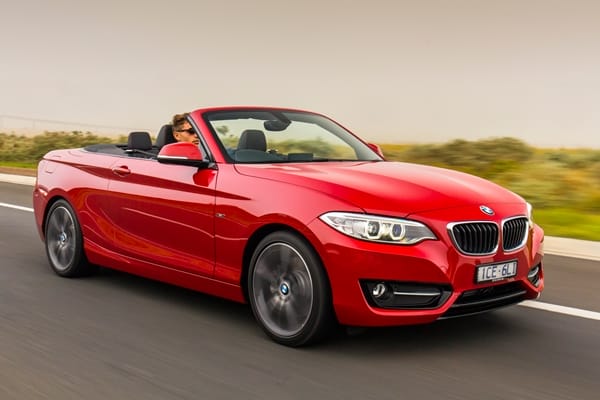 The new BMW 2 Series Convertible marks the return of a classic ideal, a soft-top concept for which BMW has long been renowned.
With angular shoulders, a low, sweeping profile, and, leading driving dynamics in its class, the new BMW 2 Series Convertible takes drivers back to the future.
Though immediately familiar, bearing the influence of its ancestors proudly, the new BMW 2 Series Convertible charts its own course, harnessing advancements in engineering and design to deliver a sporty open-roofed driving experience.
Featuring the first ever drop-top member of the M Performance vehicles line-up, the new BMW 2 Series Convertible is available in three petrol variants, neatly mirroring the Coupe range, with the entry-level 220i Convertible priced from $54,900.
The 180 kW, two-litre, 228i Convertible is available from $68,900, while the flagship M235i Convertible, boasting a three litre, straight-six power plant, is on-sale from $85,800.
Spurred by the most powerful petrol engine available for a BMW M Performance automobile, the BMW M235i Convertible has a mandate to elevate open-top driving to new heights, accelerating from 0-100 km/h in just 5.0 seconds in conjunction with the eight-speed Steptronic sport transmission.
Aerodynamically optimised body features and custom chassis components are matched with typical M precision to the engine performance characteristics, ensuring a perfect blend of outstanding agility and precisely controllable handling at all times in the BMW M235i Convertible.
BMW Group Australia Chief Executive Officer Marc Werner hailed the new BMW 2 Series Convertible's arrival, lauding its design, performance and superior road presence.
"The new BMW 2 Series Convertible builds on an enduring concept, and takes it into the modern day. It is an incredibly exciting addition to our vehicle line-up, and showcases advancements in technology, engineering, performance and styling," Werner said.
"The model offers outstanding driving dynamics for its segment, while its unique design, increased dimensions, superior value and presence clearly set it apart from its predecessor.
"It is a new classic, and with its versatility, undoubtedly represents a compelling lifestyle proposition."
Distinguished by elegant lines, enhanced performance, sharper handling and boosted efficiency, the new BMW 2 Series Convertible represents a manifest leap forward over its eminently successful predecessor, which moved more than 130,000 units worldwide.
Establishing itself as the undisputed leader in its segment, the BMW 1 Series Convertible was particular popular in Australia, which accounted for nearly four per cent of global sales, sitting as its fourth largest market behind the United States of America, Germany, and, United Kingdom.
The 2 Series designation has long heralded the presence of a vehicle with precise sporting ambitions, symbolising the promise of a driving experience defined by sharp handling, responsive acceleration, and an intuitive transmission.
And it is this heritage which the new BMW 2 Series Convertible, much like its hard-top alternative, seeks to honour, generating performance characteristic of vehicles bearing the iconic blue and white roundel.
Powered by state-of-the-art engines featuring BMW TwinPower Turbo technology, producing output increases of up to 20 kW across the range, the new BMW 2 Series Convertible also reaches a new plane in efficiency, with a host of BMW EfficientDynamics innovations incorporated as standard.
Drive is channelled through a standard-fitted eight-speed Steptronic transmission, introducing motorists to an accessible, yet broad peak torque band at 1250 rpm in the 220i Convertible and 228i Convertible, and 1300 rpm for the M235i Convertible.
Sharing design language with its lauded hard-top alternative, the new BMW 2 Series Convertible benefits from development conducted independent of its Coupe sibling, with enhanced structural rigidity contributing to precise, incisive handling.
The 20 per cent increase in torsional rigidity, and 10 per cent boost in bending strength, conspires with 50:50 axle-load distribution and increased dimensions to improve balance, while a lower centre of gravity leads to further advances in agility and stability.
Among the leading structural advances in the new BMW 2 Series Convertible can be found in its electronically operated roof, its five layers reducing cabin noise by up to 50 per cent compared to its forerunner.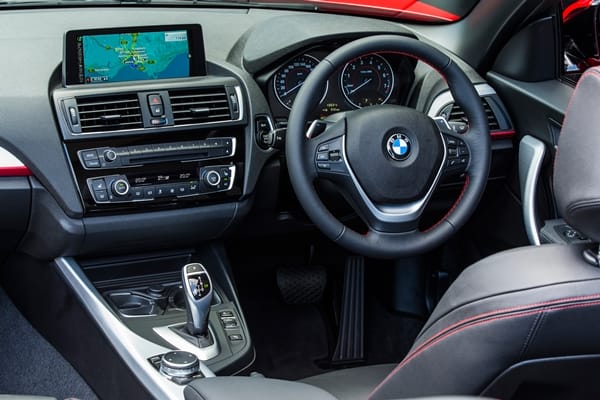 The latest edition to BMW's compact range further individuates itself as an everyday driving proposition in its ability to open or close its roof in 20 seconds and at speeds up to 50 km/h, improvements of two seconds, and 10 km/h respectively over the BMW 1 Series equivalent.
Its functionality is further emphasised by the increased capacity of its luggage compartment, featuring 335 litres of storage, nearly 12 per cent greater than the 1 Series, when the roof is closed, and 280 litres when open, a seven per cent boost.
The superior value of the new BMW 2 Series Convertible is highlighted by its substantial standard specification, which includes Dynamic Stability Control, Driving Experience Control, Auto Start/Stop function and ECO Pro mode, alloy wheels, Rear View Camera and Park Distance Control, Cruise Control with braking function and ConnectedDrive with TeleServices for each model.
The 228i Convertible and M235i Convertible each further benefit from Bi-Xenon headlights, Variable Sport Steering, leather upholstery, BMW Individual Shadow Line (both models) or Chrome Line Exterior (228i only) and heated seats.
All maintenance requirements for the new BMW 2 Series Convertible will be controlled by BMW's Condition Based Service (CBS) program, which identifies the condition of a vehicle based on actual use, ensuring each BMW is always in first rate running order, and at the same time, minimising costs.
Under the CBS system, sensors and advanced algorithms monitor and calculate the conditions in which the vehicle is used including mileage, time elapsed since the last service, fuel consumption and how the vehicle is driven. The information captured is used to determine the vehicle's maintenance requirements, identifying that either an annual vehicle inspection or an oil service is due.
In addition, BMW service and selected maintenance costs can now be covered by a single, one-off advance payment with BMW Service Inclusive (BSI). BSI offers two packages: BMW Service Inclusive Basic provides scheduled servicing cover, while BMW Service Inclusive Plus combines scheduled servicing and selected maintenance items.
Based on individual lifestyle needs, a year range and kilometre option is selected, starting from three years/60,000kms. The BSI plan provides a long-term solution enabling cover to be extended and transferred to future vehicle owners before expiry.