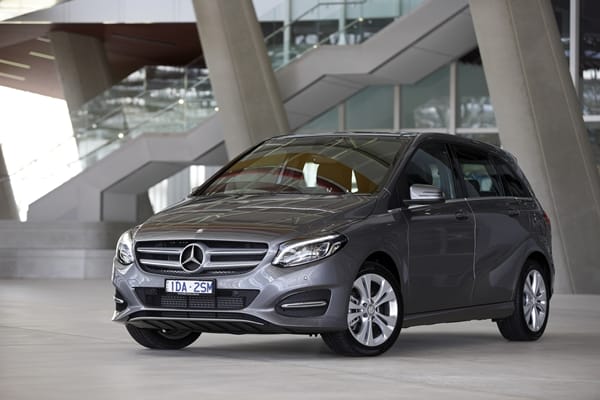 Mercedes-Benz Australia has announced pricing for the 2015 B-Class. In terms of both design and technology, the second generation of the B-Class has heralded a new compact class era at Mercedes-Benz, fusing an attractive sense of sportiness with a high quality, comfortable interior and superior levels of safety. The new generation models now feature enhancements to the interior and exterior, as well as appealing, redefined design and equipment lines.
The next generation B-Class can easily be identified from its refreshed styling: a new bumper, wide radiator trim with two louvres and now integrated daytime running lamps in the headlamps give the vehicle a more organic and dynamic appearance. The rear bumper has also been modified and now features a contoured covering and chrome trim highlights. LED High Performance headlamps create a striking look, both day and night (Standard on B 200 and B 200 CDI). LED headlamps increase safety at night due to their wide beam pattern, and offer a light colour similar to daylight.
A high-grade, functional interior underscores the B-Class's premium quality claim. The new generation gives the vehicle a more exclusive, modern feel and boosts the scope for individualisation. Mercedes-Benz has enhanced a number of high-quality details in the B-Class such as the large, free-standing head unit display, which is now larger, with a diagonal of up to 20.3 cm (8 inches), and the stylish dial layout for the instrument cluster.
"As the first member of a completely new generation of compact class, for us the B-Class paved the way for great success in this vehicle segment. The pioneer is now in better shape than ever," says Ola Källenius, Member of the Divisional Board Mercedes-Benz Cars responsible for Marketing & Sales. "The B-Class is the perfect (family) car for anyone who attaches importance to practicality, comfort and safety, but at the same time doesn't want to miss out on sportiness or driving dynamics."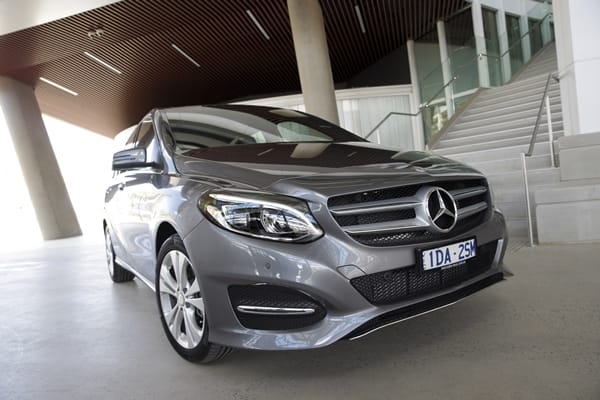 The model range: new product logic with three lines
Mercedes-Benz has aligned the B-Class model breakdown with other compact models. There are three new design and equipment lines: Style, Urban and AMG Line, each featuring distinctive exterior and interior details. The Night, Exclusive and AMG Exclusive packages build on these and provide additional options for individualisation. KEYLESS-GO is new as an optional extra and standard on the B 250 4MATIC. This access and drive authorisation system with KEYLESS-GO starting function allows the vehicle to be opened, started and locked simply by carrying the electronic key.
The 1.6L 4-cylinder engine of the B 180 and B 200 delivers outstanding fuel consumption of just 5.5L/100km (combined), while producing 90kW and 200 Nm, and 115 kW and 250 Nm in each model respectively. Not to be outdone, the B 200 CDI produces 100 kW and 300 Nm from its 2.2L turbocharged diesel engine, while consuming just 4.2L/100km (combined).
The B 250 4MATIC is the first B-Class to arrive in New Zealand with the new generation 4MATIC all-wheel drive system and utilises a 2.0L 4-cylinder direct injection turbocharged engine to produce 155kW and 350Nm of torque. Fusing outstanding performance with exceptional economy, the B 250 4MATIC accelerates from 0 – 100km/h in just 6.7 seconds.
The all-new Mercedes-Benz B-Class features a host of exceptional features as standard including 17" Wheels, Garmin® MAP PILOT Navigation, KEYLESS Start, Active Parking Assist, a Reversing Camera, 9 Airbags, PRE-SAFE® and COLLISION PREVENTION ASSIST PLUS with semi-autonomous braking. In addition, the B 200 and B 200 CDI incorporate LED High Performance Headlamps, Urban Line Styling Package, Blind Spot Assist, Electrically Folding Mirrors and ARTICO upholstery.
The range topping B 250 4MATIC represents outstanding value within the segment and includes: 4MATIC all-wheel drive, 18" Wheels, Lowered comfort suspension, AMG Line styling, KEYLESS-GO, Dark-tinted privacy glass, Ambient LED Lighting in 12 interior colours and an Anti-Theft alarm system.
The new Mercedes-Benz B-Class is now on sale in Australia. Sale prices are as follows:
B 180: $41,400 (MRLP)
B 200: $47,400 (MRLP)
B 200 CDI: $47,900 (MRLP)
B 250 4MATIC: $54,200 (MRLP)
Important note to editors – The price detailed in this document is the current Manufacturer's Recommended List Price (MRLP) for the Mercedes-Benz B-Class range.
As you may be aware, the MRLP includes GST and any LCT applicable to the base / standard specification model but EXCLUDES DEALER DELIVERY AND ALL ON ROAD COSTS such as, for example, registration fees, stamp duty, CTP and the like.