Driving in the snow isn't a common occurrence in Australia. Apart from a few months of the year and in limited locations, there isn't much opportunity to develop these skills and as such know what to do or even how to prepare your vehicle.
Even driving to the ski fields, you won't often experience snow on the roads. However it's best to be prepared than sitting by the side of the road scratching your head, wondering what went wrong.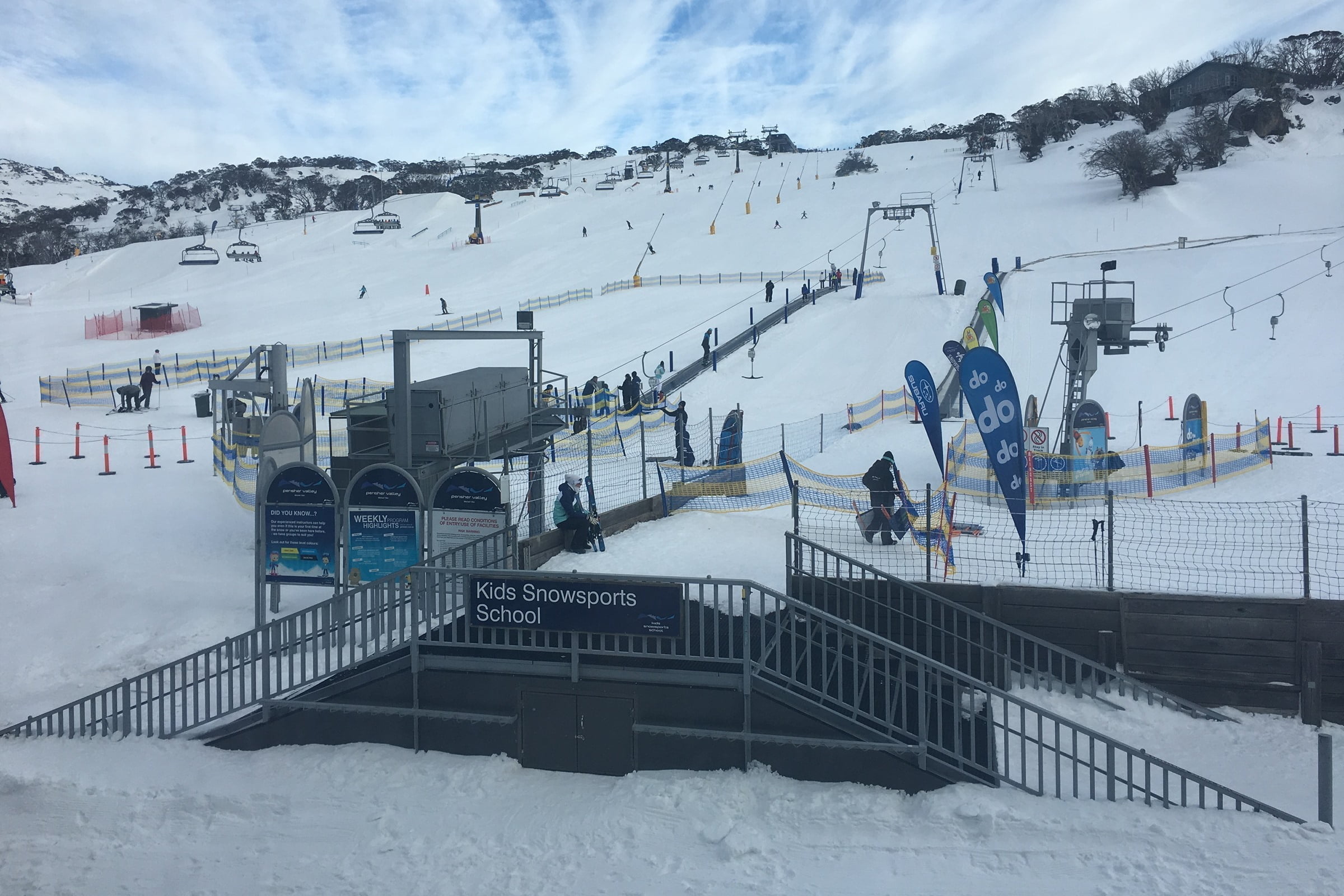 There are three main areas that you need to focus on
Vehicle preparation
Driving in the snow and
Parking in the snow
Vehicle Preparation
All too often drivers are guilty of just hopping in the car and heading off for a holiday. That's ok for most parts of Australia, (but I always advise a check over the car before any major trip).
However more than most anywhere else, a vehicle in top condition above the snow line is critical. So the best things you can do are:
Have the car serviced before you head off to make sure everything is as good as it can be. You don't want anything breaking down when the temperatures are below zero.
Before you head off ensure you have anti freeze in your radiator. Often a good quality coolant will already contain this.

The core ingredient can also be lethal to animals and children so please exercise extreme caution when using.
Never dump antifreeze or coolant down the drain or on the ground. Recycle it properly

You can also get some antifreeze for the windscreen wash
Make sure your tyres have good tread depth. There is nothing worse than a car sliding down the road with balding tyres and watching the driver's face when they realise there is nothing they can do. This can also happen with new tyres, but less likely.
Check the tyre pressure and put them a little higher than normal. If you're spending a lot of time in the snow, consider fitting special snow tyres.

Make sure you fill up your fuel tank before you start to get to the snow line, the reason is that if anything goes wrong you will want to run the engine for heating while you are waiting for assistance.
If you are driving a diesel powered car, make sure you fill with Alpine diesel.

If you can manage it try to fill the majority of your tank with the Alpine diesel, rather than just topping up as diesel fuels have a different clouding point and Alpine diesel has a lower clouding point.
Diesel is known to be vulnerable to gelling during the colder winter months. This occurs due to the paraffin wax found in diesel thickening as the temperatures begin to drop. As a result, the fuel becomes clouded and gel-like, causing the diesel to not become combustible while also plugging filters. If the temperatures drop cold enough, the fuel can freeze all together and no longer flow, becoming unusable until the fuel re-liquifies.

Dual fuel vehicles (LPG/petrol) should switch to petrol before entering alpine areas.
Vehicle Preparation is the key area to focus on, before you get anywhere near the snow.
Driving in the Snow
Snow and Ice are the natural enemy of traction.
So even in areas like the Blue Mountains and other areas that get snow or ice during winter these tips will help.
There are two areas to focus on.
Driving to the snow
Driving after you have been parked in the snow

Driving to the snow
So assuming you have followed the vehicle preparation tips the first thing you need to know is if you need snow chains or not.
As a definitive answer, if you have any sort of 2WD vehicle, be it rear wheel drive or front wheel drive you need snow chains.
No ifs no buts!
Get the best chains you can, preferably a diamond pattern rather than the ladder type favoured by the hire places.
Make sure they are the right fit for your cars tyres and practice fitting them before you leave. Only fit them to the driving wheels and keep speeds low when driving with chains on.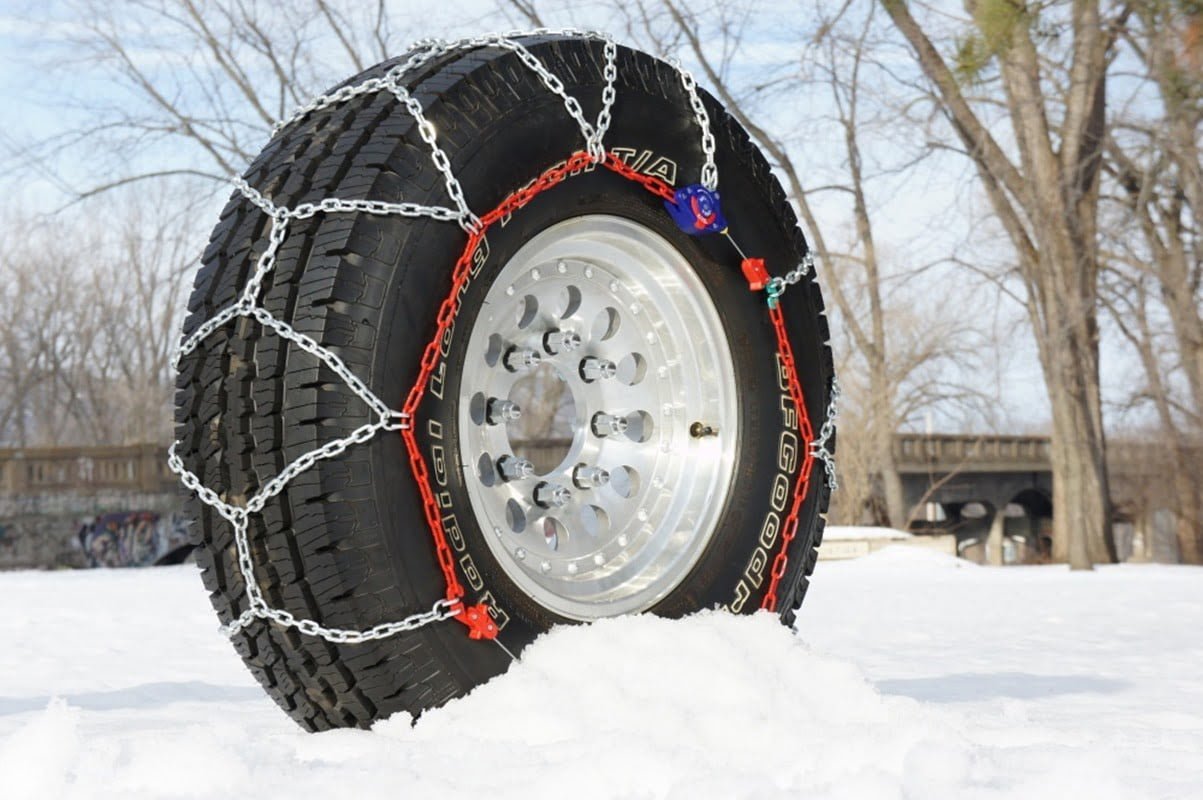 Let me say that again, practice fitting them before you go. On the side of the road in a chain fitting bay, in freezing temperatures and possibly snowing, isn't the time to learn. That's a sure way to ruin the holiday.
Some high performance vehicles, even AWD SUV's with low profile tyres may not be suitable for snow driving.
The exception is if you have a form of AWD or 4WD vehicle. These vehicles have different types of systems, but the key is that they drive both front and back, wheels and offer better traction and safety.
Some states require these vehicles to carry chains and fit them if directed by law. Whilst this is not the case in NSW, be sure to check with your local state requirements.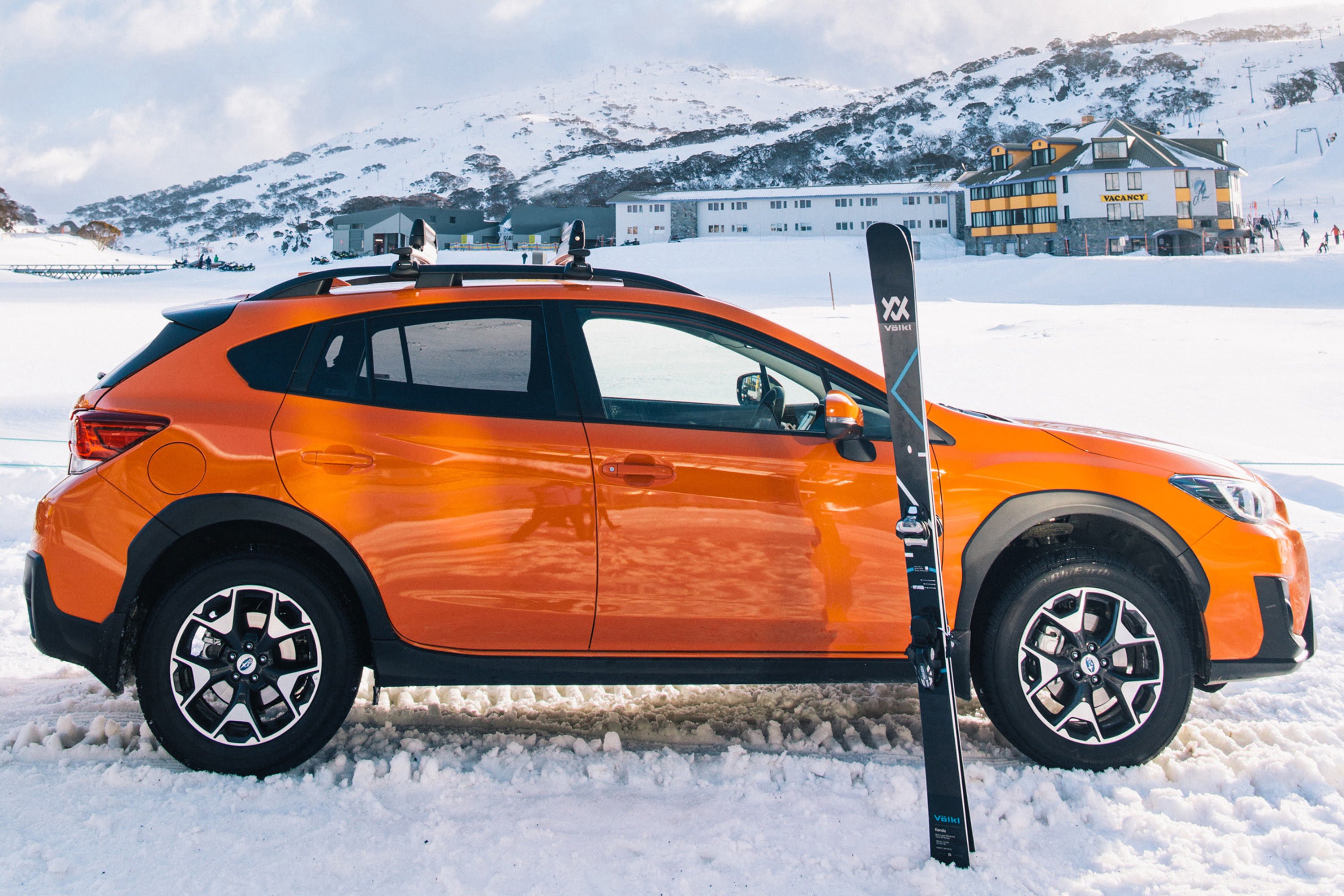 Different AWD Systems
There are many different types of AWD systems, some of the best suited to snow driving are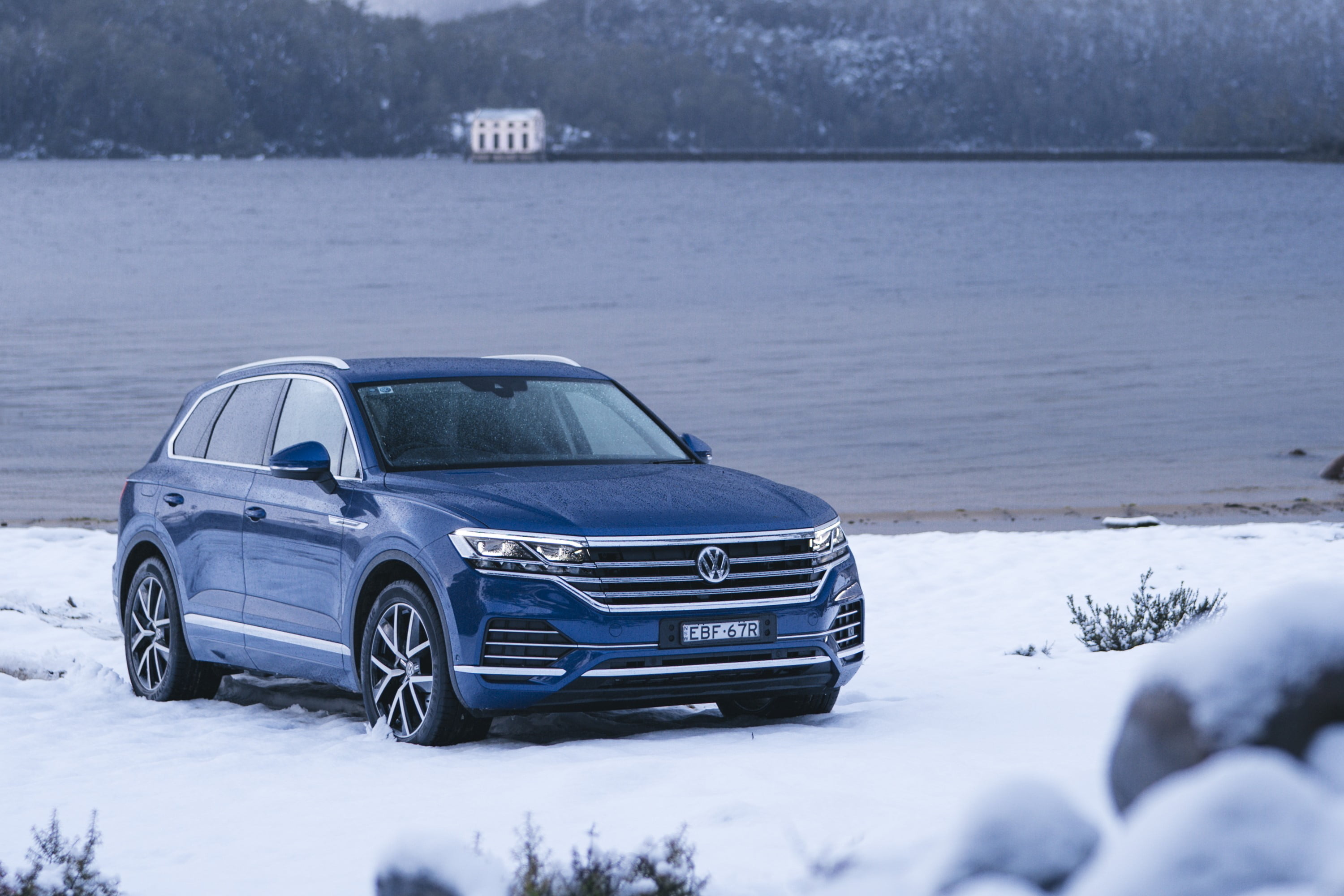 VW Touareg 4MOTION all-wheel drive. A permanent all-wheel drive system that provides the best possible traction at all road speeds, in all weather and road conditions.
Then you have part time AWD systems like the
Toyota Kluger Dynamic Torque Control AWD which drives the front wheels and switches to AWD when necessary.
Toyota HiLux/Fortuner Shift on the Fly 4WD system, where they drive in 2WD unless 4WD is selected.

They also have the advantage of low range if you find yourself in really tricky situations and a rear diff lock for even more traction. This is suited to more cross country driving, rather than snow or ice covered sealed roads.
Don't be overconfident even if you have AWD on your vehicle because if there is no grip then even an AWD will slip and slide.
Subaru and Perisher Ski Resort also have some good tips and video with Molly Taylor on safe snow driving.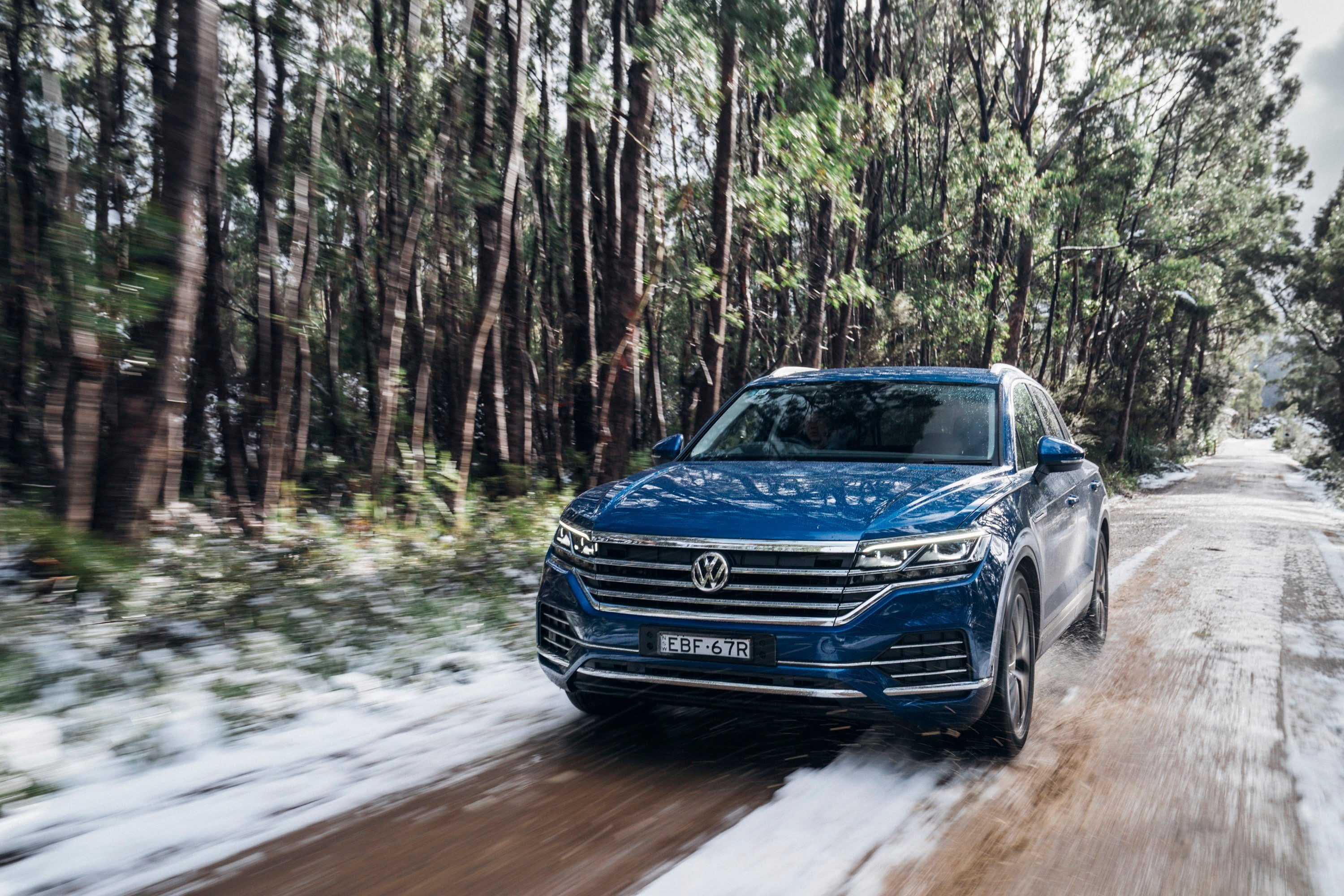 Snow Driving
If you have a snow mode driving selection on your vehicle, choose it before you need it. This starts off in a higher gear, and minimises torque slip along with gentler acceleration.
Don't use cruise control at all.
Drive with your headlights on
Try to maintain a constant speed, rushed jerky acceleration or braking is fraught with danger
Leave more room between cars. The coefficient of friction on ice can be 5-10 times less than dry tarmac. You should at least be leaving 4 seconds behind the car in front, and preferably 6 seconds or more.
Leave more time for slowing down, especially on downhill stretches, and use the gears, even in an automatic, shift to manual and change gears manually. Try to avoid steep hills if possible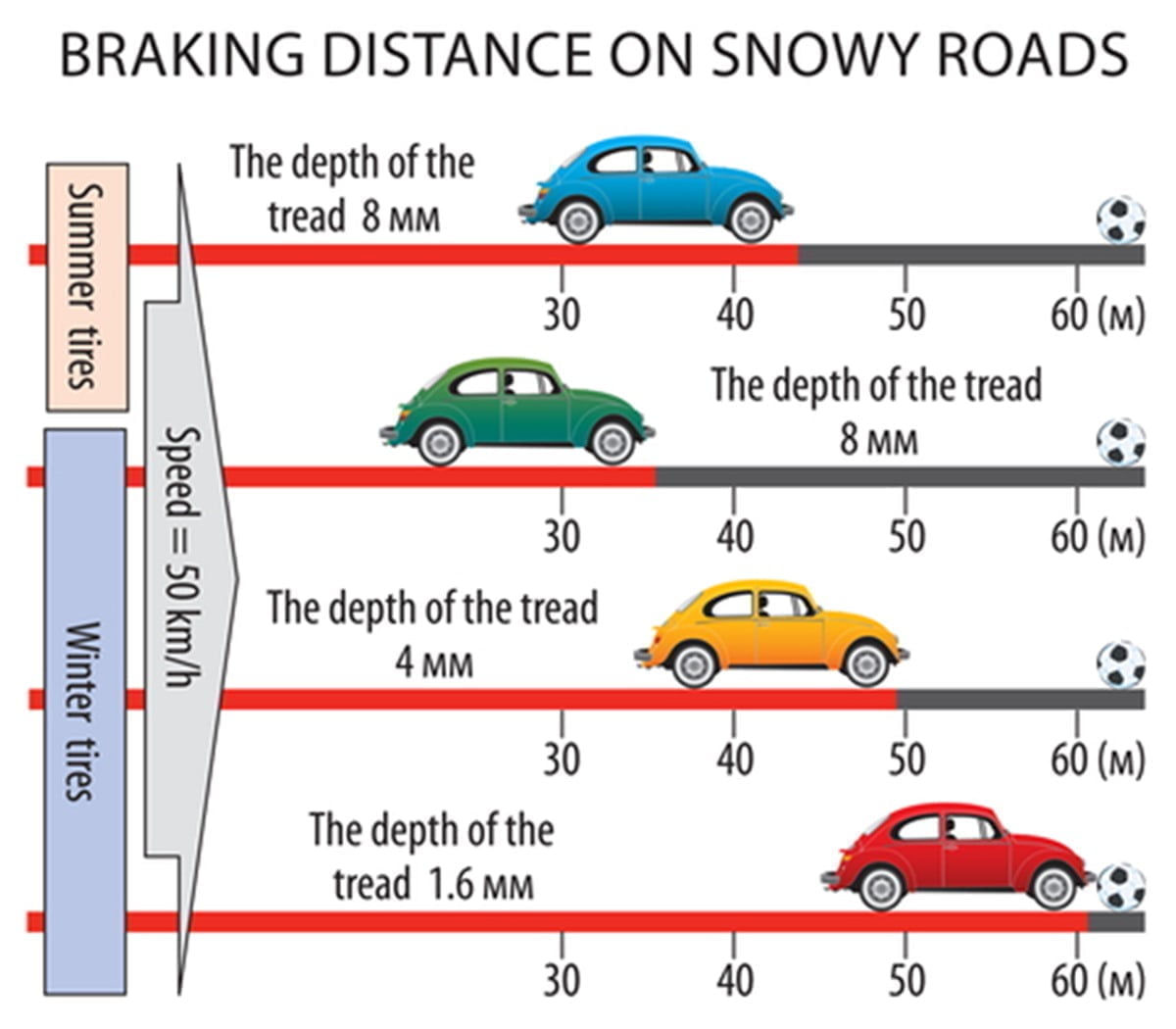 Brake well before you take a corner so that you can have maximum grip in the corners. Take a wifer slow arc through corners, cutting them will cause you to lose traction.
Watch for areas where puddles may have formed into ice (black ice), or areas which are shaded from the sun and therefore might still have ice even though the rest of the road is fundamentally clear. This can occur late into the day or early evening
If you find you are slipping, don't accelerate or brake suddenly, this will only cause further slipping. Back off the accelerator and try as best to steer into the skid direction, good luck with that and wait patiently, hoping you stop before the tree on the side of the road.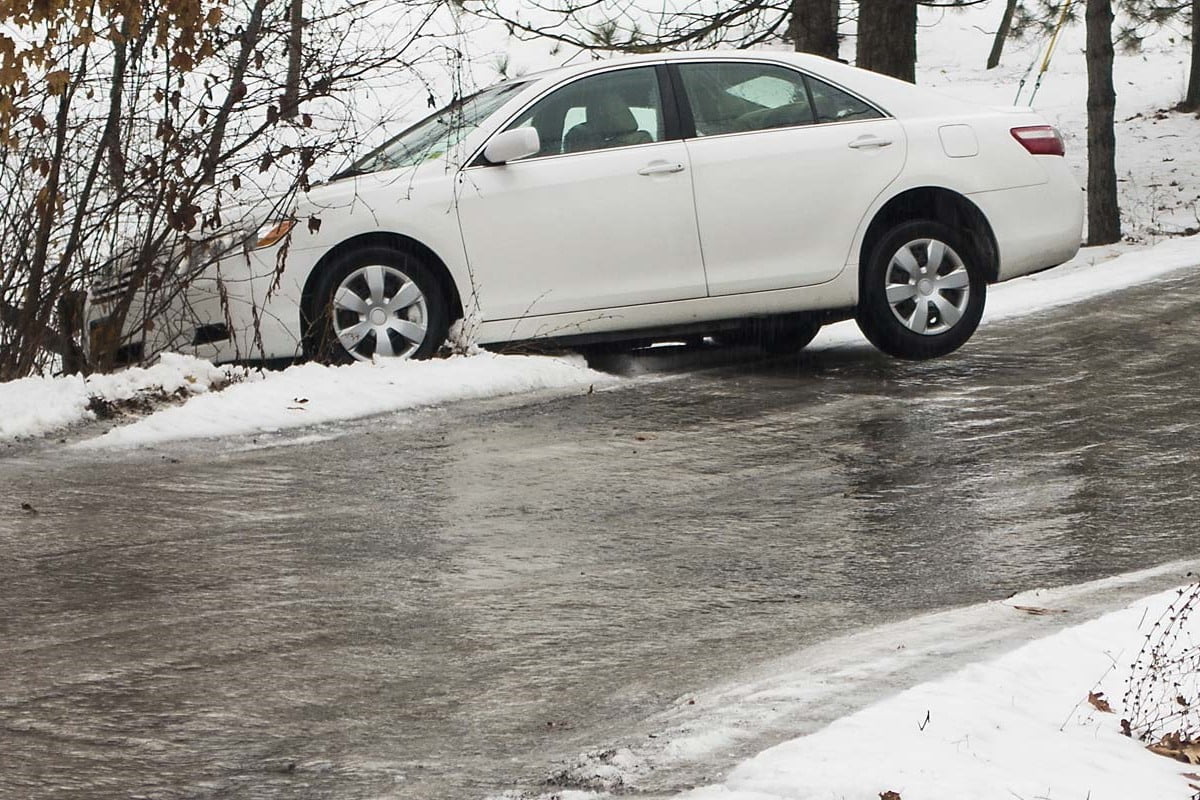 Once you feel the skid stopping gently apply the brakes. Remember hitting the bank or a snow drift is better that going over an edge of into a bunch of trees.
Stick to the main roads and if in doubt or you don't have to go on a heavily snowed in road, don't.
Like sand, ruts that develop in snow can make it very difficult to steer, especially if you need to get out of the rut. You may need to dig a track through.
If you unfortunately have an accident or slip off the road, keep a track of where you are, so when you call emergency services, they can locate you much quicker.
While it isn't usually an issue in Australia, if you have to leave your vehicle to go and get help stand away from where you stopped or crashed as the next vehicle along the road could have the same problem you had.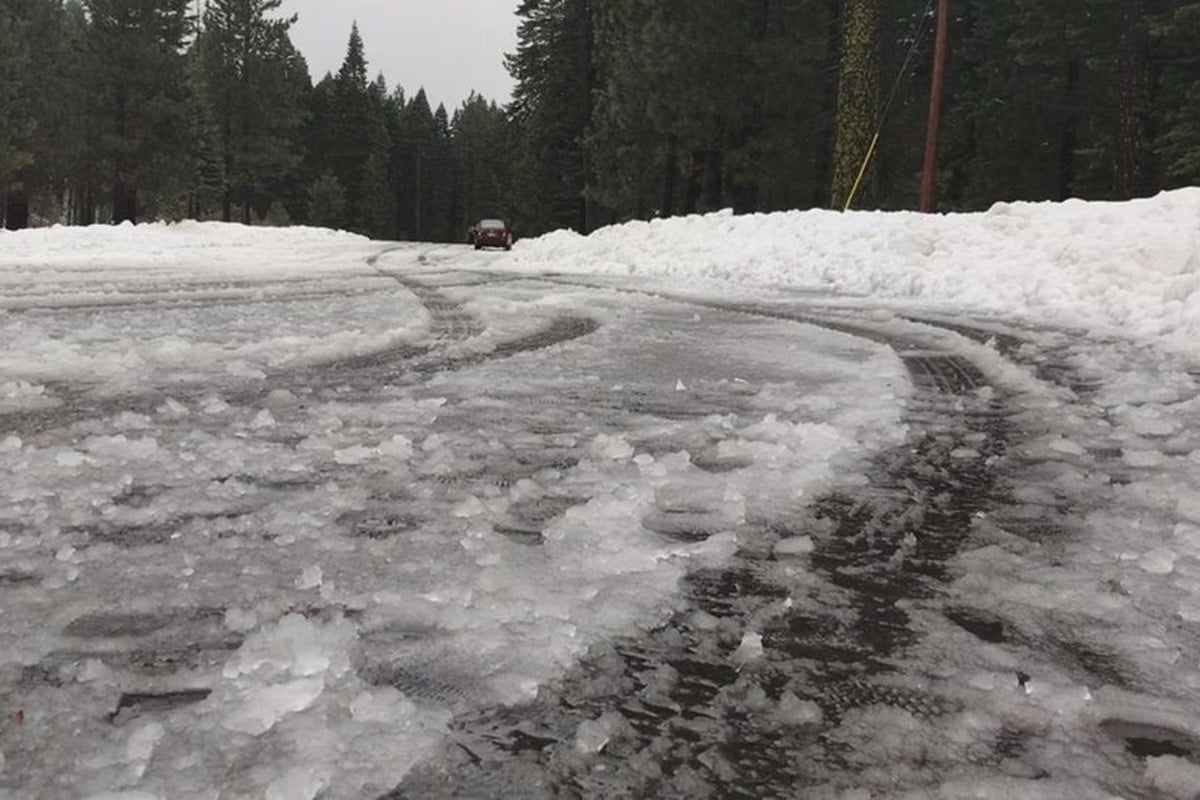 It's not advisable to leave your vehicle if the weather is really bad unless you can actually see help, for example a house with lights on, or an emergency vehicle.
If you are travelling further afield that the main roads, always let someone know where you are going and what time you are expected to arrive. It's advisable to carry a kit with a blanket, shovel, torch, booster cables, traction mats, fuel line de-icer, a warning triangle or other bright object to warn others, maps in case your smartphone maps won't work and a bag of sand to help with traction or defrosting ice. Take water and food with you for a longer journey.
If you have stopped because the road is impassable, try returning the way you came. If you are snowed in and with a passenger, take it in turns sleeping or you might miss rescuers. If you are on your own, tie something visible to your aerial in case the snow drifts.
If there is a white out or reduced visibility and you can't see the snow poles, usually orange in colour, find a safe place to stop, leave the engine running and switch on your hazard lights.
Where possible, plan to travel in daylight hours as the risk of black ice is dramatically reduced and the snow causes problems with judging distances at night.
In poor visibility conditions, drive with your headlights on low beam. Use front and rear demisters, with air-conditioning on, to ensure windscreens are clear at all times.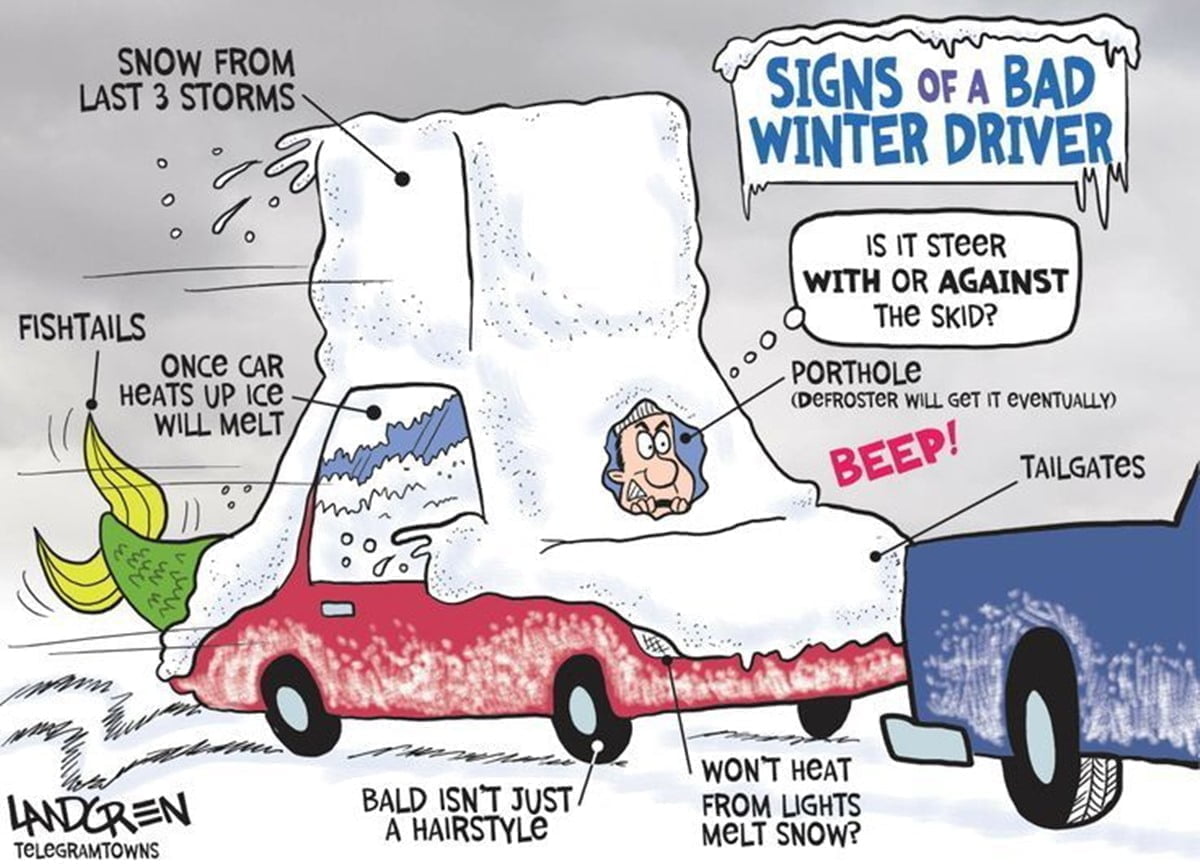 Parking in the snow and driving after
Park facing downhill if you can. Turn the wheels away from the slope. Starting off driving uphill only increases your changes of slipping, even with snow chains or AWD.
Where possible, leave the car in gear and leave the handbrake off as the cables and brake linings can freeze.
Make sure you know where you have parked as heavy snow falls can cover a car easily
Be careful of where you park as snow will reduce visibility. You may be parking somewhere completely legal, but your vehicle might actually pose a risk to other drivers.
Park only in designated areas as the snow plows can do a lot of damage to an illegally parked car if they don't know your there.
When parking make sure you leave the wipers up as they may freeze to the windshields otherwise. Some people put cardboard covering the windscreen or rear window and hold it in place with the wipers. If you need a key to unlock your door, cover the handles to prevent the lock freezing.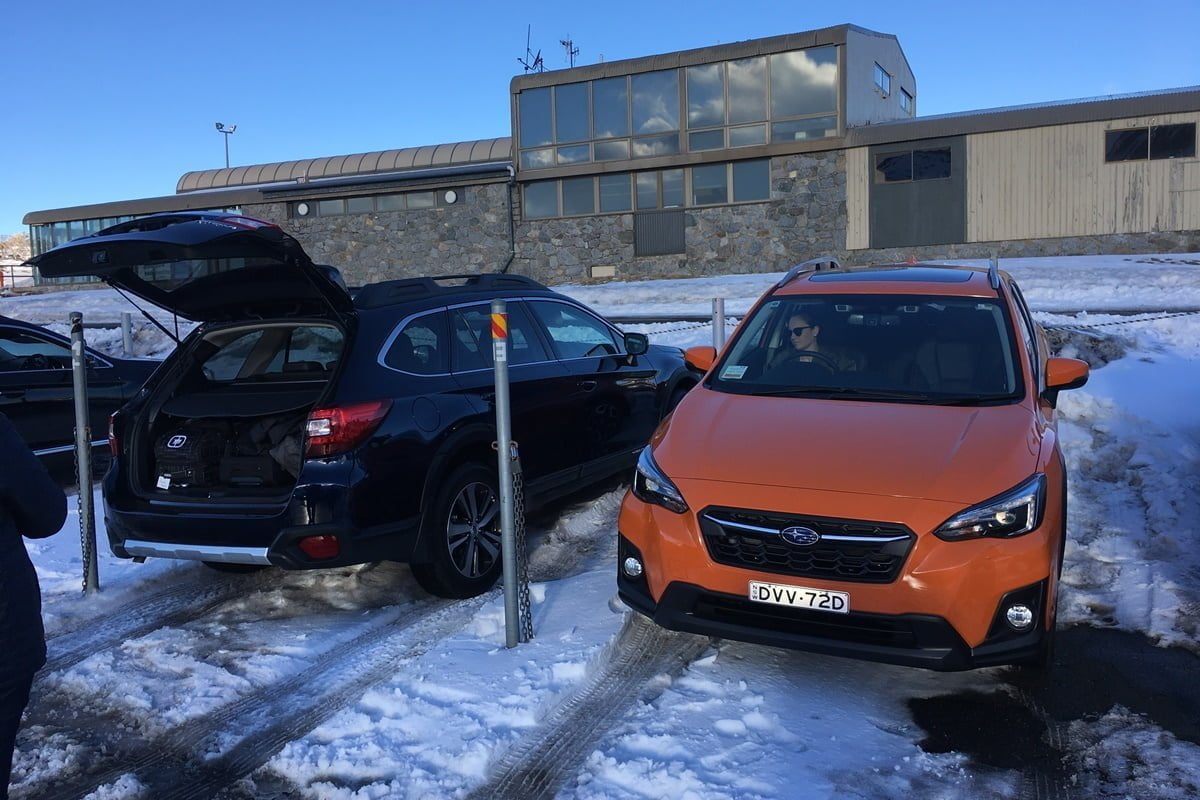 When you are about to drive off, taking some time can prevent a lot of issues.
Make sure the exhaust pipe is clear and if you can check there is no snow around the radiator as this will block air flow. Many people cover the bonnet to prevent the radiator freezing.
Start the engine and let it idle for a while, a long while. This time can also be used to let the demisters and air blow on the windows to help demist them along with the rear demister.
If your windscreen is totally iced over, use a scraper to remove it or pour cold water over it.
NEVER, repeat NEVER use hot water to clear ice from your windows as this may crack them.
Wait until all your windows and external rear mirrors are clear from ice and fog.
The time idling will also heat up the bonnet and help slide off any snow, to prevent any blowing back on the windscreen. Clear any snow off the roof and boot.
Drive off slowly, check your brakes a few times and follow the snow driving tips above.

Last thoughts
I read this article again and it seems like a lot. But driving in snowy and icy conditions are possibly the worst a driver will encounter. Precaution is necessary. Often even experienced drivers can be caught out.
While driving in the snow is limited in Australia there are suburban areas that are affected each winter and although there are main roads to all the major ski fields, accidents sometimes happen. The most usual is slipping off the road when you encounter black ice and don't realise it until you are sliding towards the tree line.
Like most driving, take your time, drive sensibly and be prepared and you should arrive safely. My final tip is, where possible, follow someone, that way they will encounter any problems before you do.