The updated version of ŠKODA's award winning Kodiaq SUV including the brand's halo model – the Kodiaq RS – is now available in showrooms.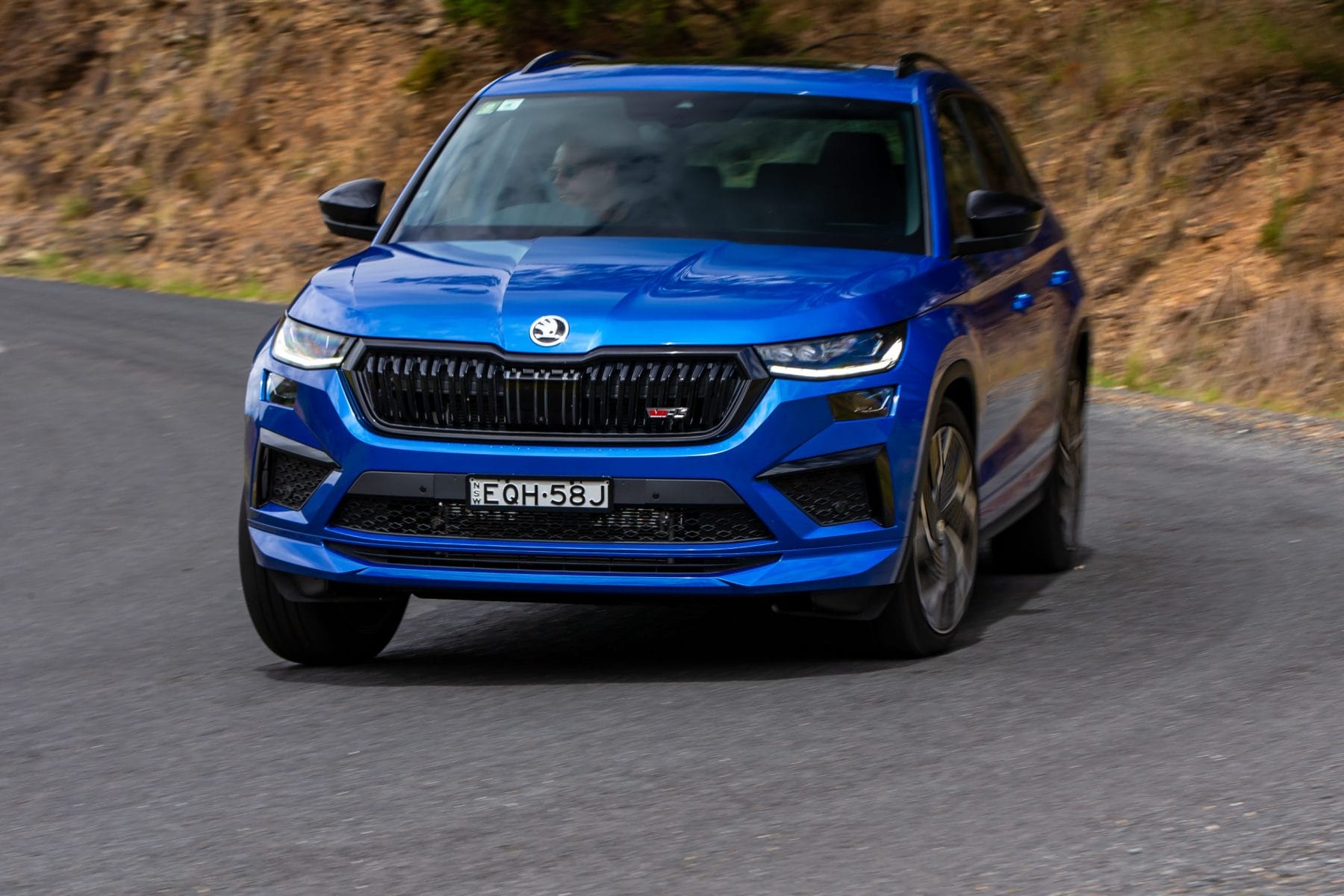 Kodiaq's in 2017 arrival heralded ŠKODA's evolution as a mainstream auto brand in Australia. It immediately won praise, a number of awards and has been the brand's best-selling model.
The Kodiaq comes in three grades, all with four wheel drive and highly responsive turbo petrol engines and generous standard specification: Kodiaq Style, Kodiaq Sportline and, of course, Kodiaq RS. Style and Sportline feature a familiar 132kW/320Nm unit. The most marked change in this respect is the RS.
The previous Kodiaq RS ran a 2.0 litre bi-turbo diesel. The renewed version runs a 180kW/370Nm 2.0 litre turbo petrol driven through a 7-speed DSG transmission and all four wheels, as per ŠKODA's Octavia RS liftback and wagon.
In winning a significant legion of seven-seat large SUV fans, the 2022 Kodiaq again raises the game for style, technology and dynamics. Here are the five 'secret sauce' ingredients that will even further the class leadership of the updated Kodiaq:
Agile, city-friendly exterior hides a much more sizeable interior
ŠKODA understands that its customers want the intelligent space solutions for which the brand has long been renowned. Rather than merely 'supersizing' exterior dimensions, the Kodiaq packages its spacious seven-seat cabin within dimensions similar to an Octavia.
The ŠKODA Kodiaq is 4,697mm long – 88mm shorter than a Hyundai Santa Fe, 113mm less than a Kia Sorento, 203mm under a Mazda CX-8 and 378mm under a CX-9. Yet the Kodiaq bests them all for front and middle-rear seat legroom and headroom, with a 765 litre five-seat boot volume 23L and 149L larger than CX-8 and Sorento respectively.
For sixth and seventh passengers, Kodiaq extends curtain airbag coverage all the way back as part of its significant 9 airbag coverage.
2022 Kodiaq employs newly designed LED headlights with scrolling rear indicators, plus the availability of Matrix adaptive high-beam.
The front grille, bar, wheels and tail-lights are redesigned.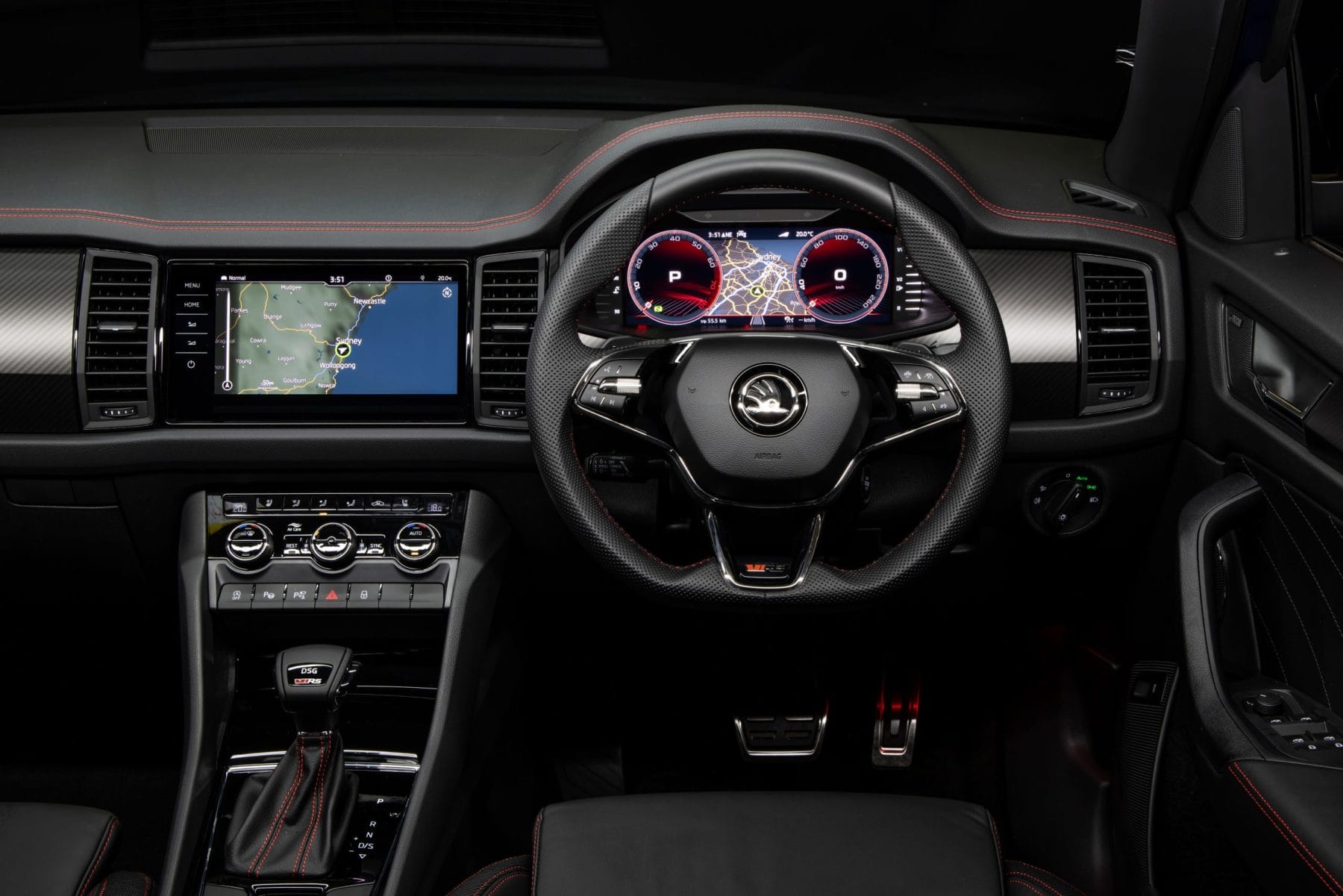 Technology that leads the segment
From the new welcome lights – with the ŠKODA logo – to the new scrolling rear indicators, 2022 Kodiaq proves that family motoring can be stylish and rewarding even before you've stepped inside.
A 9.2-inch touch-screen boasts native satellite navigation that can be replicated on the Virtual Cockpit ahead of the driver – and that's standard on all models. It's a 'wire free' cabin inside the Kodiaq, too, with wireless Apple CarPlay and Android Auto plus wireless charging. Again – standard.
Keyless entry and start, adaptive cruise control and a power tailgate are also standard, with further highly attainable package options.
A Kodiaq 132TSI Style 4×4 with Tech and Luxury packages is $62,490 drive-away – the only model of the Santa Fe Highlander, Sorento GT-Line and CX-8 GT that delivers a drive-away price under $65,000.
Yet ŠKODA bests each of them with adaptive chassis control, Matrix LED headlights, passenger protection (active seatbelts), heated steering wheel, massage front seats, tablet holder and sleep package – with three- zone climate control and wireless Apple CarPlay/Android Auto further over the Hyundai and Kia; and Virtual Cockpit and front ventilated seats beyond the Mazda.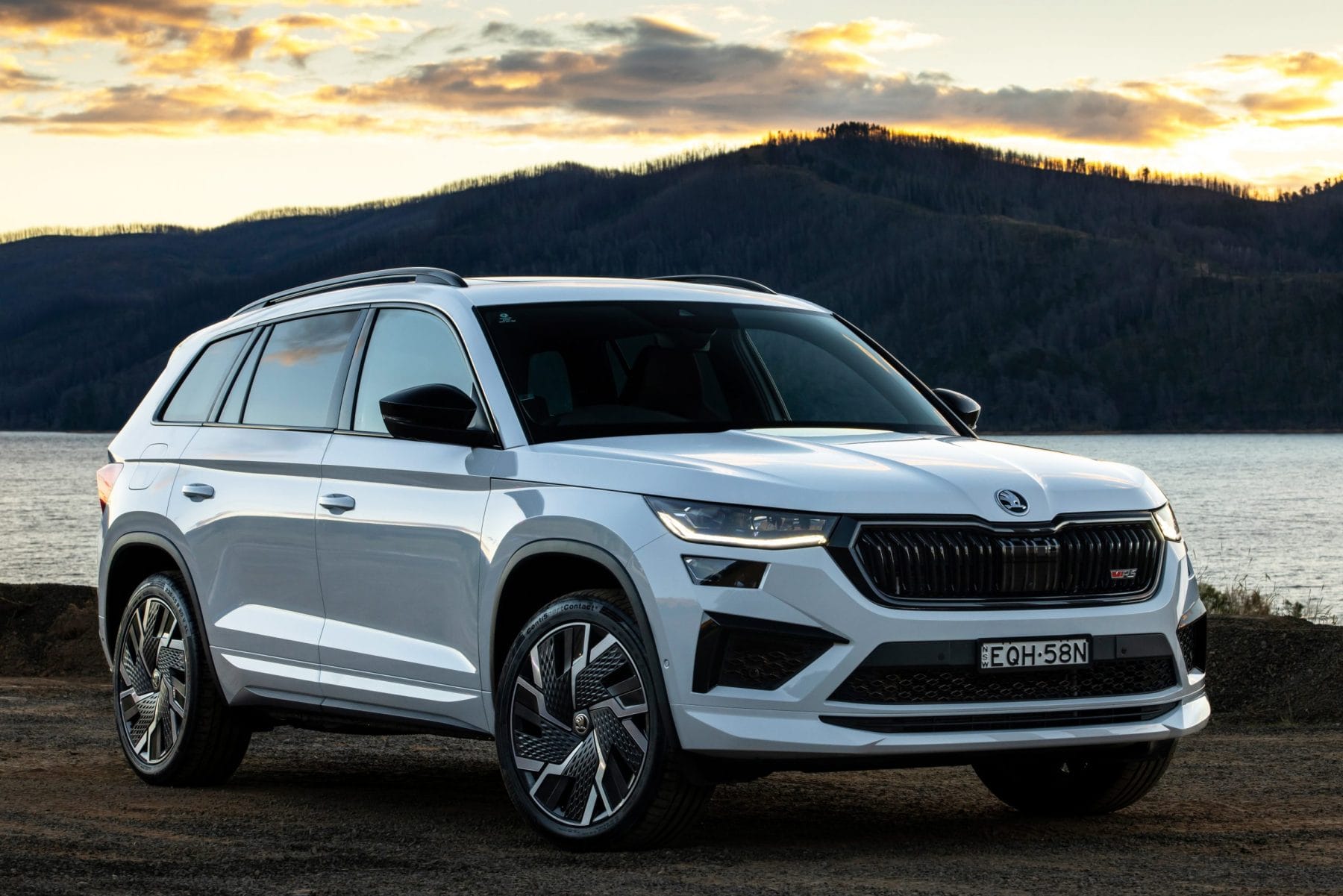 Simply Clever – A ŠKODA trademark and Kodiaq hallmark
Simply Clever is more than just packaging prowess. It's the thoughtful innovations that make life more comfortable, applied intelligently.
In the Kodiaq it starts with door edge protection, a concealed protective strip that emerges from inside each door to eliminate carpark dings. And within each rear window there is a mechanical sun blind to keep glare from a middle seat passenger's eyes.
There's a liquid reservoir with its own integrated funnel, so you'll never spill a drop of window washing fluid. A dual glovebox, with the lower part air-conditioned. A tablet holder (132TSI Style 4×4 only) for second-row passengers, and a waste bin and ticket holder up front.
And a Sleep Package standard on Sportline 4×4 and RS 4×4 (optional on Style 4×4) with adjustable rear side headrests. Because isn't that clever…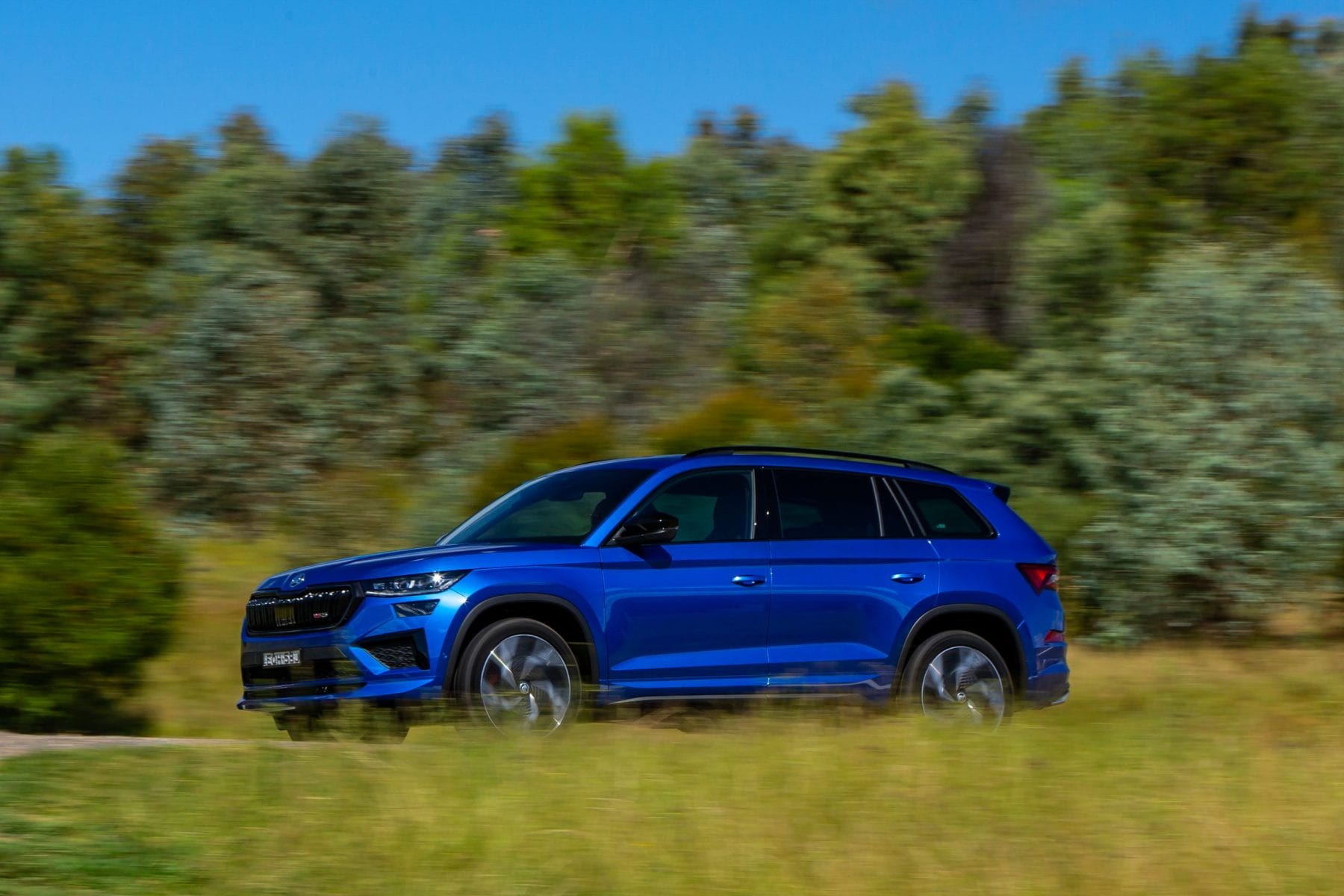 Performance or efficiency? Both, please…
The Kodiaq's advanced 132kW/320Nm 2.0-litre turbocharged four- cylinder petrol engine delivers an 8.4sec 0-100km/h and 8.2 l/100km. That's more efficient than a Santa Fe V6 and Sorento V6, with the bonus of all-wheel drive as standard. And, it's quicker than a CX-8 petrol.
For the 2022 Kodiaq, this best-of-both-worlds approach has been raised even further with a high-performance 2.0L turbo application for the RS.
With 180kW and 370Nm, a 6.6sec 0-100km/h joins 7.5 l/100km efficiency. In fact, the new Kodiaq RS is quicker than a Mercedes GLB 250 or Jaguar F-Pace P250 R-Dynamic SE.
The new Kodiaq RS replaces the previous diesel model and removes 58kg of kerb weight in the process – with the new RS weighing just 40kg more than the 132TSI, at 1790kg.
All Kodiaqs utilise a seven-speed direct shift transmission (DSG) and all- wheel drive traction for maximum performance in a range of conditions.
Feels like an SUV, drives like a car
While the Kodiaq maintains the high driving position, ground clearance and traction inherent to an SUV, its driving pleasure is closely derived from its acclaimed Octavia RS liftback and wagon stablemates.
This is true especially of the RS, which features 20-inch alloy wheels, Adaptive Chassis Control with Drive Mode Selection, performance monitor and progressive steering.
While these features work in perfect harmony with the high-output powertrain to create a perfect blend of luxury and sports performance, they are also standard or available on the 132TSI Sportline 4×4.
ŠKODA knows its owners demand a seven-seat SUV that feels agile and nimble in the city, with refinement and comfort for the open road. The Kodiaq utilises a sophisticated platform and suspension componentry, and deft tuning to deliver steering, ride and handling that will feel right at home for Octavia RS liftback and wagon owners.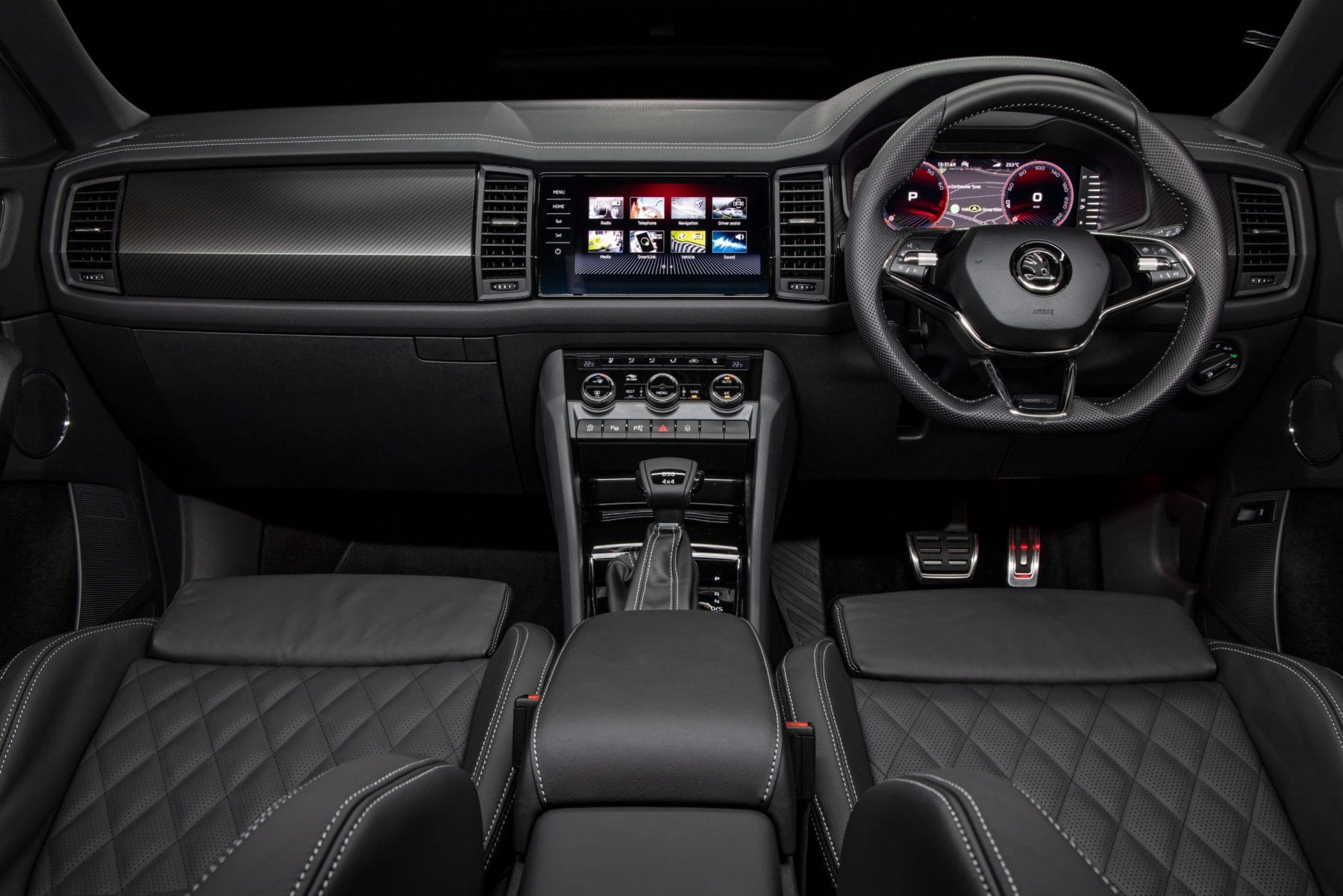 That leading large SUV feeling continues
There has to be a 'plus' point with the ŠKODA Kodiaq. That's because when owners drive it home, this European SUV delivers multiple neatly packaged servicing options to choose from – including 'prepaid' service packs OR 'pay as you go' service subscription plans.
For a 132TSI 4×4, the popular and fully transferable 7 year service package costs $2,700 – and that price includes the first three services free, plus roadside assistance for the entire 7 year duration.
For maximum flexibility, existing customers can purchase a 'used car' package, or 'top up' an existing 3 or 5 year service plan to the full 7 years.
And, for even greater flexibility, Kodiaq customers can alternatively select their annual mileage in concert with a level of servicing coverage to be provided with a service and maintenance monthly subscription plan best suited to their needs. This includes 'Value', 'Essential' and 'Complete' plans – with roadside assistance and a service loan car included in each. An owner travelling 15,000km per year will pay from $59 per month.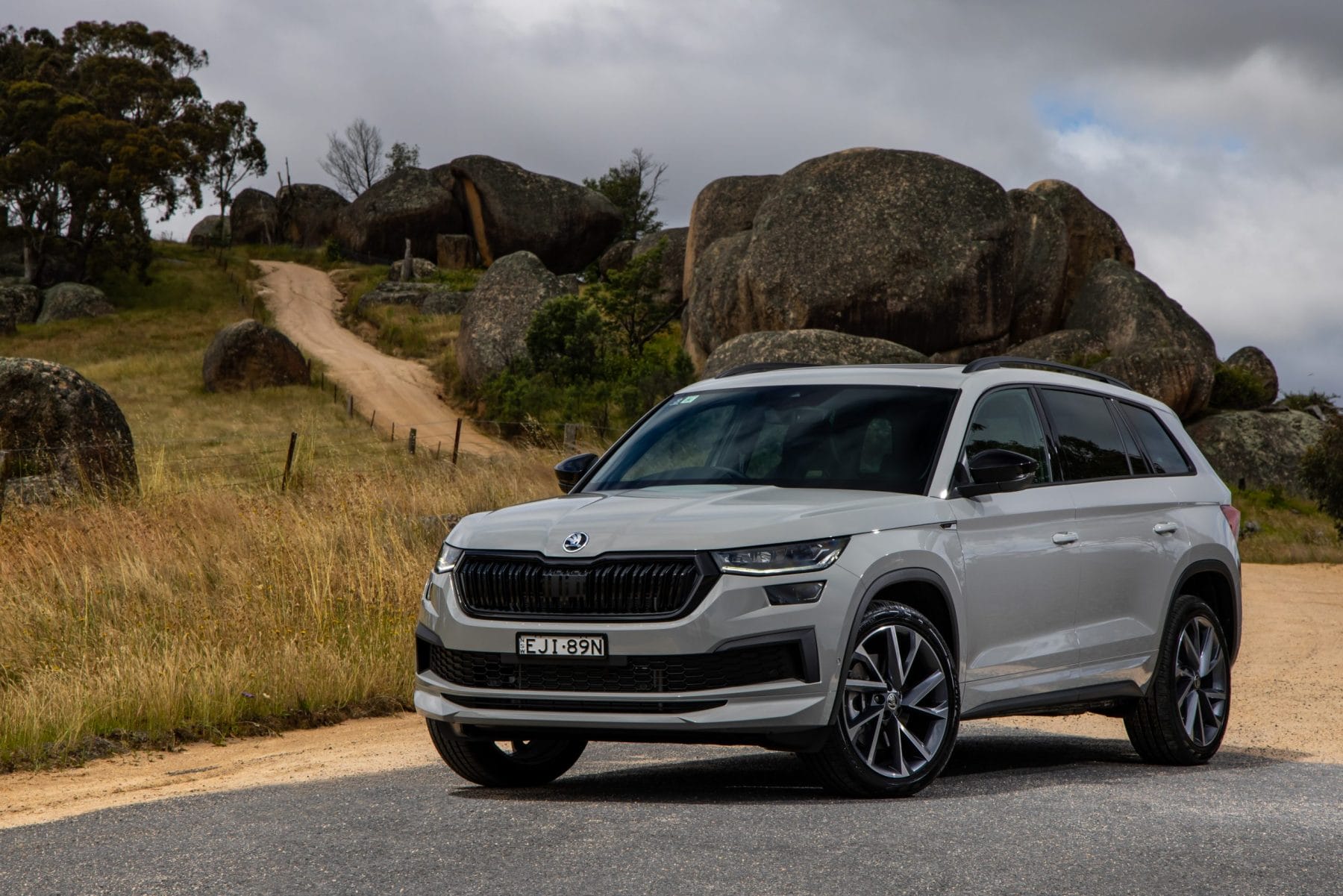 ŠKODA Kodiaq Pricing and update details
For a full list of specification, options, pricing and servicing, please see the related documents.
In terms of changes to standard specification over the pre-existing range:
| | |
| --- | --- |
| KODIAQ Style 4×4  | $52,990 driveaway |
New exterior design
Animated indicators in rear
Luggage Nets
Welcome lights – ŠKODA logo
New dashboard décor
Scout elements in lower part of front & rear bumper
Front grille in chrome look
| | |
| --- | --- |
| KODIAQ SportLine 4×4   | $57,990 driveaway |
Full Matrix LED headlights with AFS
Animated indicators in rear
Luggage Nets
Welcome lights – ŠKODA logo
| | |
| --- | --- |
| KODIAQ RS 4×4  |    $74,990 driveaway |
New petrol engine: 2.0TSI 180kW
Full Matrix LED headlights with AFS
New 20″ SAGITTARIUS alloy wheels
Leather seats with ventilation in front
Space saving spare wheel
Animated indicators in rear
Luggage Nets
Welcome lights – ŠKODA logo
All new ŠKODAs come with a five year/unlimited kilometre warranty and choice of three- or five-year service packs.