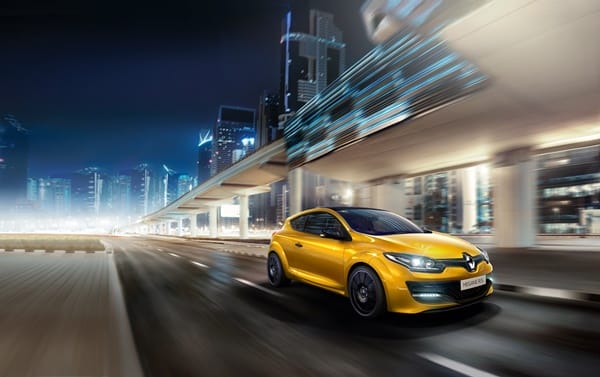 Renault announces the arrival of the 2015 Mégane R.S. 275 Cup Premium in Australia. This coincides with a freshening of the high-successful, highly potent, iconic road warrior line-up. The Mégane R.S. range will now comprise the Mégane R.S. 265 Cup, priced from $43,990 (Manufacturer's List Price), and the Mégane R.S. 275 Cup Premium, priced from $52,990 (MLP).
The 2014 Mégane R.S. 265 Cup Premium has been replaced by the 275 hp variant.
The 2015 Mégane R.S. 275 Cup Premium specification exceeds that of the out-going Mégane R.S. 265 Cup Premium, by adding further equipment sure to set the hearts of driving enthusiasts beating a little faster.
This includes a 10 hp increase in output to 201kW (275hp), a raspy, lightweight Akrapovic exhaust system, stylish, comfortable and above all, grippy Alcantara and leather RECARO front bucket seats, Alcantara wrapped steering wheel, gear stick and handbrake grip, a Zamac alloy gear knob, a platinum grey F1-inspired front blade and a set of 19-inch Black Speedline Turini alloy wheels.
This additional equipment joins red Brembo front wheel callipers, mechanical limited slip differential, LED daytime running lamps, a reversing camera, R.S. Monitor, R-Link enhanced sat nav with 7-inch touchscreen, and dual zone climate control, already featured on the vehicle it succeeds.
The Mégane R.S. 275 Cup Premium will now be available in 5 colours: Glacier White, Diamond Black, Titanium Grey, Pearl White and Liquid Yellow. Stock of these vehicles is already being rolled out to the 50-strong Renault dealer network.
As with all Renault passenger cars, the Mégane R.S. range is covered by a 5-year/Unlimited km factory warranty, 5-years of Roadside Assistance, and Capped Price Servicing for the first 3 scheduled dealer visits.
And from 1st September  to 30th September 2015, all Renault Sport models sold in Australia will be available with 0% comparison rate◊ finance through Renault Financial Services, making the new Mégane R.S. 275 even more appealing.
"The Mégane R.S. 265 and 275 models are already automotive icons of the Australian street, having won over more buyers here than in almost every other country in the Renault world," says Justin Hocevar, Managing Director of Renault Australia.
"Australia has been comfortably inside the top 3 destinations for the Mégane R.S. since its arrival here.
"From a personal perspective, there has been a Mégane R.S. in my driveway ever since I joined the company, such is the magnetic appeal of this car to driving enthusiasts.
"With the arrival of the even higher specification Mégane R.S. 275 Cup Premium, driving enthusiasts can now access an example of this powerful and luxurious iconic machine.
"Renault Sport in Australia will continue to deliver the most exciting driving experiences to the most demanding drivers who don't need to pay stratospheric prices for their driving thrills," Mr Hocevar said.
"And with 0% comparison rate◊ finance on all Renault Sport models, there's never been a better time to take a Mégane R.S. for a test drive."