Ok you are the one of the world's largest auto makers producing cars, vans, buses, tractors, and trucks, and, in the past even dabbled in rail. So you decide to jump into the crowded SUV market, but have never produced one, what do you do? Well I guess building your first SUV is not easy, especially when you've never built a vehicle that was designed to be four-wheel drive at the outset. So basing it on an established model is a good idea; particularly when your sister company makes the Nissan X-Trail.
So designed by Renault, developed by Nissan and manufactured in Renault Samsung Motors' Busan plant in Korea, Renault Koleos is the result of extremely close collaboration between teams from each of these Renault-Nissan Alliance brands. Renault says the Koleos is good to drive on road, as well as having genuine ability off it; which is a good thing, as compact SUVs sell around 500,000 a year across Europe. Renault hopes to take a slice of that sales pie.
We spent a week with one to find out if it's as good as the very best.
Behind the wheel:
Most controls fall easily to hand and the flowing dash design is finished in soft touch materials. The centre console looks cluttered, and Renault's trend of putting the sat-nav and telephone controls between the front seats makes them difficult for the driver to use on the move.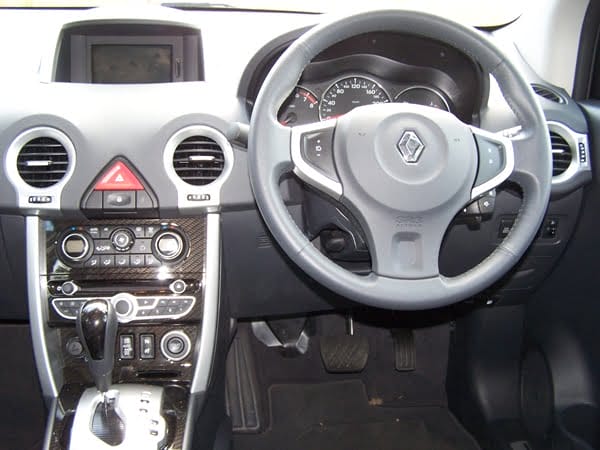 While a leather-wrapped steering wheel (height- and reach-adjustable) and gear shift is standard on all models and feels just right in your hands. Renault has brightened the interior with the use of its brushed alloy trim inserts on the doors, centre console edging and around the air vents; although it can be a distraction on the windscreen with a fair amount of glare reflecting from the dashboard's centre binnacle. The sat-nav screen sits on top of the dash, and is clear and easy to see, although is prone to reflection in bright sunlight.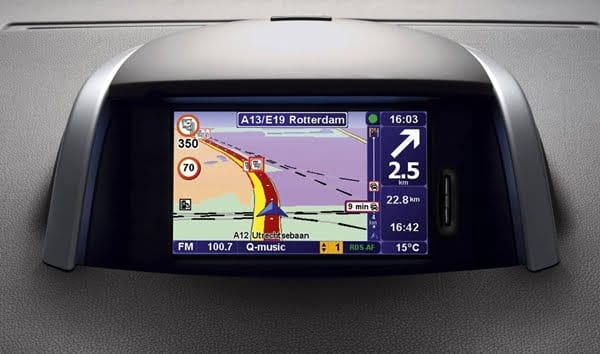 There are plenty of boxes ticked in the Koleos with a raft of equipment aimed at taking the stress out of motoring including the Renault keyless card and start button function, automatic handbrake, headlamps and wiper activation, dual-zone climate control, satellite audio controls, cruise control (with speed limiter), power windows, roof-mounted child-minder mirror, electronic child locks and adjustment of the exterior mirrors. Overall a nice place to be.
Performance
Hugely versatile, the Koleos is equally at home on tar and dirt. It provides smooth and secure on-road driving, yet isn't afraid to roll up its sleeves and tackle the rough stuff. Comfort and safety are matched by genuine off-road ability as good as anything in its class bar the Land Rover Freelander and Subaru Forester, whilst 8l/100km average consumption on the open road and strong throttle response provide a rewarding combination of driveability and economy. . The full-time all-wheel drive and front-wheel drive variants, the Koleos provides first-class motoring for driver and passengers alike. Spacious seating, pliant suspension, intuitive ergonomics and intelligent practicality make for a benchmark motoring experience.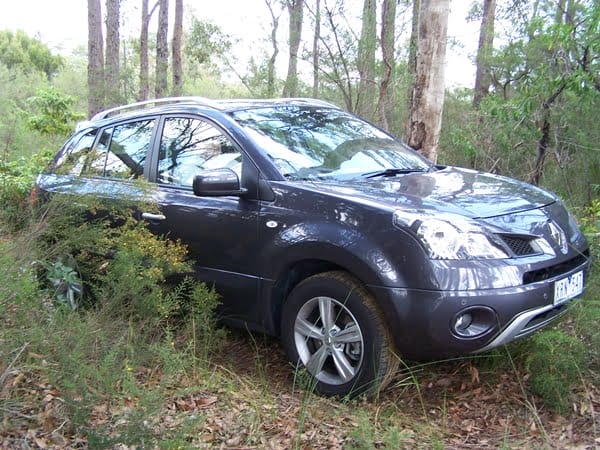 The Koleos 2.5 4×4 accelerates from 0-100 km/h in 9.3 sec and has a top speed of 194 km/h. The fuel consumption figure comes to 9.9 litres/100 km in the combined cycle and 8.0 litres/100 km on the open road. The CO2 emissions rating is 237 g/km. Refinement is hugely impressive, especially with the petrol motor spinning freely,
Renault offers a choice of two engines, 2.5 litre petrol and a 2.0 litre diesel engine, while our tester was the 2.5-litre Euro 4-compliant petrol engine which delivered peak power of 126kW at 6,000rpm and maximum torque of 226Nm at 4,400rpm. The 4×4 Privilege comes standard with CVT.
Handling
On-road, where most soft roaders will spend the majority of their time, the Koleos is very comfortable, thanks mostly to a relatively soft suspension set-up. Some body roll occurs through higher-speed corners, but this is not enough to be disconcerting. Renault is assuming that most models sold will log much of their mileage cruising the boulevards. However off as well as on road the Koleos handling is very impressive.
Comfort
Full leather upholstery is standard on this Renault Koleos Privilege model, and this gives an up-market feel to the cabin. All-electric adjustment on the driver's seat, together with manual rake and height adjustment on the steering column mean that most people will find a comfortable driving position quickly. The default lowest height position on the driver's seat is relatively high, though, which suited some short arse testers, the taller ones found it a little too elevated.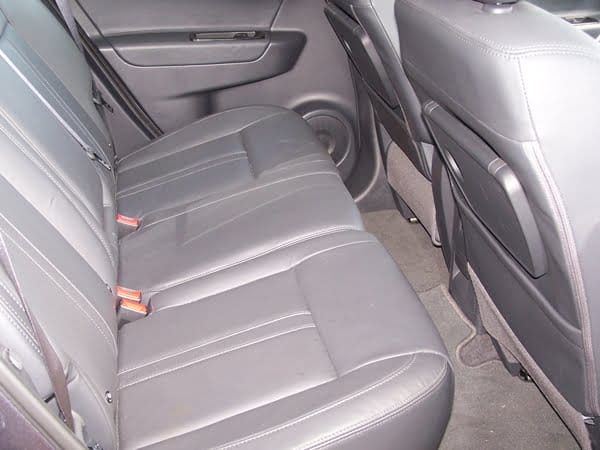 The comfort of rear seat passenger is enhanced by two, b-pillar mounted, air vents with fan speed controls located on the back of the centre console. Folding tables are also integrated in the back of the front seats, while offering impressive leg and head room headroom. The Privilege is trimmed in leather and fitted with heated front seats with electric controls for the driver. Perimeter entry is also standard. The 'Modularity Pack" (Standard on Privilege, optional on Dynamique) includes an 'easy estate' system which enables the 60/40-split rear bench seat to be folded away at the flick of two levers placed near the back of the load bay.
When pulled, the corresponding backrest tumbles forward without any further touch. A horizontally split tailgate allows for easy loading of various parcels, although the reach over the lowered bottom section into the deepest area of the luggage compartment may prove to be a bit of an obstacle for shorter owners. The pack also includes a forward folding front seat back which allows items up to 2.6m long to be transported, adjustable incline on rear seat backs, a removable centre console insert, rear armrest storage and a 12-volt outlet in the cargo area. In typical Renault fashion there are plenty of cubbies all around the cabin.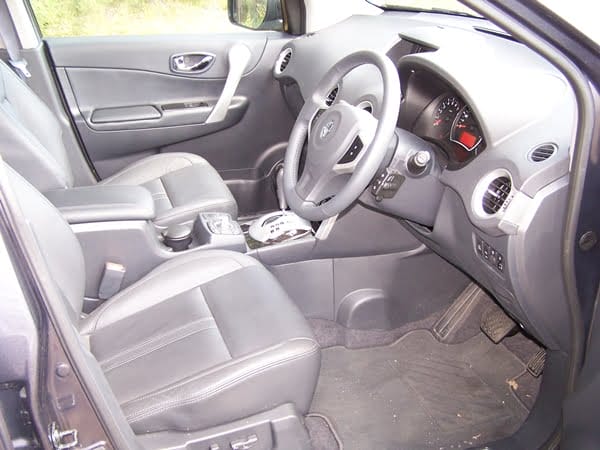 The dashboard includes an air- chilled, 15-litre glove box, while the storage space in the centre console is extremely large. Extra space is provided in a drawer located beneath the front passenger seat, door bins will take a 500ml bottle and the lidded stowage space incorporated in the armrest is ideal for CDs.The Privilege is fitted Bose® developed audio system which comprises a digital amplifier, seven loudspeakers and a sub-woofer with an auxiliary audio input for MP3/iPod connections.
Practicality
Due to Renault's partnership with Nissan, the Koleos can thank its X-Trail sibling for most of its off-road prowess. Indeed, this latecomer to the SUV scene brings with it some impressive off-road credentials that defy its relatively soft looks. On test, we were able to comfortably traverse obstacles that would trouble some other soft roaders. Most impressive was the wheel articulation on offer while negotiating deep axle twists.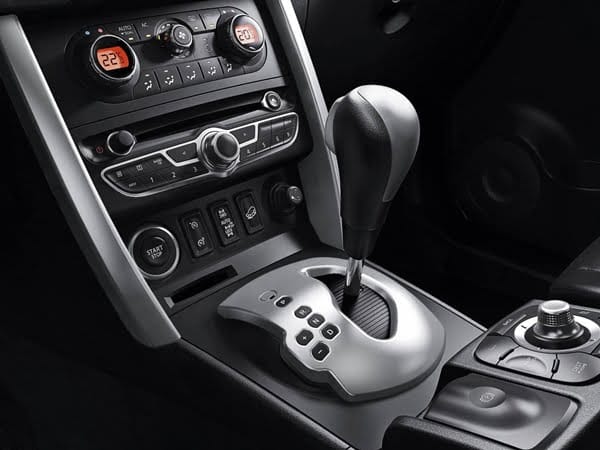 The Koleos features pushbutton torque transfer, via a multi-plate clutch, between its default two-wheel and full 4×4 drives, with torque apportioned between the four wheels should slippage be detected. There's also a two-wheel drive lock, available on the fly, and an all-wheel drive lock. A hill descent function that will hold the vehicle at a maximum speed of 7 km/h can also be dialled-in via a facia-mounted switch.
Equipment
Koleos is one of the 12 Renault models worldwide to be awarded a 5 star Euro NCap safety rating. It is fitted with front, lateral and side curtain airbags, and naturally it comes with a full range of accident avoidance equipment including Electronic Stability Program, Antilock Braking, Emergency Brake Assist and Traction Control, to name just a few. Both models of Koleos, Dynamique and Privilege already featured standard equipment such as dual zone climate control, MP3 compatible CD/stereo radio, electrically heated door mirrors, rear sun blinds, child minder mirror, roof rails and automatic lights and wipers, with the Privilege also including the Renault hands free card, folding door mirrors, front and rear parking sensors and the state of the art Bose 8 speaker sound system.
Features in the 4×4 versions also already include Hill Descent Control and Hill Start Assist, integrated satellite navigation, integrated Bluetooth, a multimedia input with both RCA and USB type connection options a new roof spoiler and new alloy wheels for the Privilege model.
The Privilege is now offered with sunroof standard and new charcoal finish leather upholstery. Beige leather remains optional at no extra cost.
Summary
Renault's first venture into the off-road segment may have arrived fashionably late, but with the Koleos it looks as if the French manufacturer is intent on staying at the party until morning. Build quality feels good, and this model certainly impressed with its refinement and urge. With the Koleos' soft suspension set-up, Renault is assuming that most models sold will log much of their mileage on tar but, thanks to a little off-road help from Nissan, the Koleos will be cruising the fire trails of Australia with surprising ease.
Overall, a very impressive new entrant.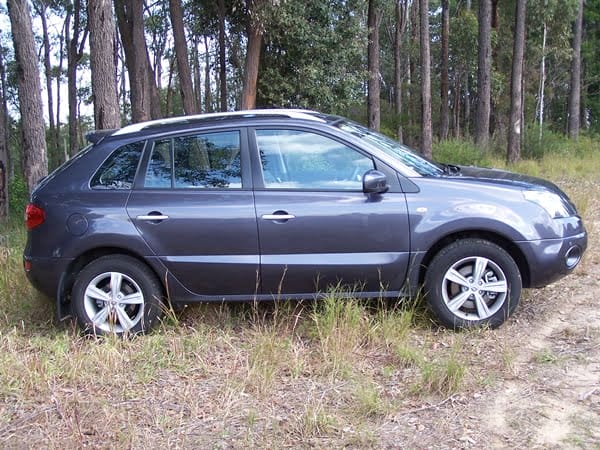 Priced from: $36,519 to $48,384 (as tested)
NB: NSW D/Away Price Incl D/Delivery & Stat Charges. Excl Metallic Paint. Rego for Private Buyers Only.
What is good and not so good?
What is good?
Genuine good-value,
Chassis and suspension sets the standard for soft roaders
Interior styling, practical storage; comfortable seating
What's not so good?
Dashboard glare,
Split tailgate limits cargo area reach
Turning circle;