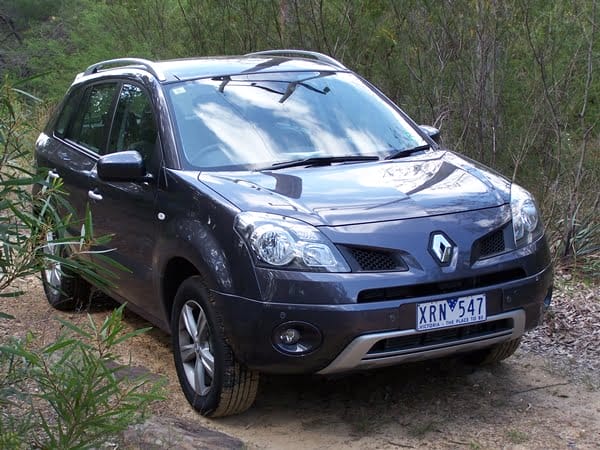 Renault Australia is offering new customers of the affordable and attractive Koleos Compact SUV free scheduled servicing for 3 years.
The versatile and safe Koleos Compact SUV is not only comfortable and packed with family-friendly features, but it has also earned 5 Stars in Euro NCAP safety testing. The Renault Koleos is one of the more fuel efficient Compact SUVs on the market, consuming just 8.3 litres per 100km in 2.0-litre turbo-diesel guise.
Commenting on the move to offer free scheduled servicing for 3 years, Renault Australia Managing Director, Justin Hocevar said: "The Renault Koleos has a lot to offer families shopping for the best SUV to meet their needs in this highly-contested marketplace.
"We are confident that taking the costs associated with scheduled servicing out of the family budget for three years will have a strong appeal in the market.
"The Compact SUV market is very busy and there are so many offers and specifications from which to choose, but we believe that by removing scheduled servicing costs for 3 years will strike a chord with many buyers.
"The benefits are not only budgetary, because by having the vehicle serviced by an Authorised Renault dealer will ensure that only genuine and approved Renault parts will be fitted, ensuring the on-going reliability and durability of the vehicle.
"That's good for peace-of-mind as well as enhancing the resale value of the vehicle at the end of its time with the first owner, providing additional confidence to the second buyer, that only the experts have laid a spanner on the vehicle," Justin said.
"In addition to the security of knowing scheduled servicing costs are covered for the first 3 years, like all Renaults offered in Australia, the Koleos comes with a comprehensive 3 year factory warranty and 3 years Roadside Assistance."
The Renault Koleos range is already excellent value for money with its drive away price of just $29,990 for the manual transmission 4×2 Expression model that comes extensively equipped with safety and convenience features.
These include ABS with Emergency Brake Assist as well as Electronic Stability Programme, 6 airbags, cruise control with speed limiter (essential for use in city traffic where many 40 km/h speed limits are now in place), as well as a Bluetooth hands free system for seamless mobile phone connectivity. Further standard features include 17-inch alloy wheels, a full size alloy spare wheel, fog lights and a chilled glove box.
The Renault Koleos range comprises 4×2 and 4×4 models, powered by a gutsy 126 kW 2.5-litre four-cylinder petrol engine or a 320 Nm high-torque, low consumption 2.0-litre four-cylinder turbo-diesel engine.
The chic and elegant Renault Koleos is offered in Expression, Dynamique and Privilege trim levels, the latter featuring leather upholstery, an electric panoramic glass sunroof and other luxury features such as Tom Tom satellite navigation, keyless entry and engine starting, front and rear parking sensors, electrically adjustable driver's seat, and a Bose® Sound System (complete with digital amplifier, 7 speakers including a woofer) with CD/MP3 player and fingertip remote control.
"Undoubtedly the Renault Koleos offers Australian buyers of Compact SUVs a high level of luxury at a very affordable entry price, now made even more attractive with the free 3 years of scheduled servicing," Justin said. "Customers can cross-over to Renault SUV with complete confidence."
Note to editors:
The free 3 year scheduled service offer applies to all Koleos vehicles delivered by participating Renault dealers between 01 January and 31 March 2011. It provides 4 services with 10,000 km service intervals for petrol models, to a maximum of 40,000 km or 3 years whichever comes first.
For diesel models, there are 3 services with 15,000 km service intervals, with a maximum 45,000 km or 3 years, whichever comes first.