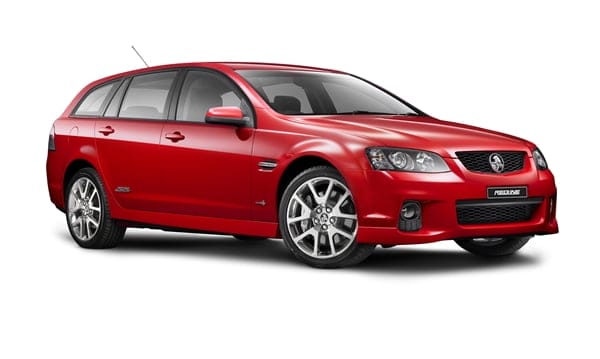 "A wagon with style", impossible you say, "A wagon that go hard and handles" I know you are going to call me mad! But let's take a look at Holden's recently updated Commodore SSV8 it really does do all of that and more.
Let's check it out:
Behind the wheel
The first thing you notice is the inclusion of Holden's new IQ vehicle entertainment system. This media unit makes use of a 6.5-inch color touch screen and can connect to an iPod, USB stick or by Bluetooth to a mobile phone. The screen is mounted high in a new central control stack with all switchgear below, logically laid out. The dashboard is a mix of charcoal plastics with silver trim and some gloss black inserts. It's an easy to use and well-placed dashboard and although some of the plastics don't feel of high quality and a bit dated and old style, however everything appears to be solid and well put together. The seats are well-shaped and prove supportive even on very long trips. The visibility out the front however is quite frankly bordering on dangerous due to the large A-Pillars, so coming into roundabout and intersections you need your wits about.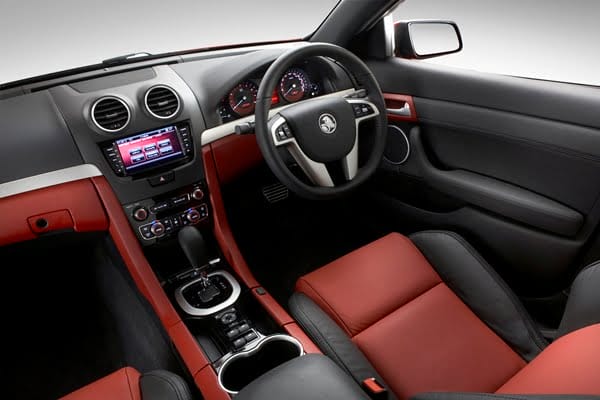 Performance
If you don't get excited by the sound of a hard working V8 then go and shoot yourself because you are already dead. The SS V 8 model we're looking at today sits on 19-inch alloy wheels and when surrounded by the vehicle's sporty body work and flared wheel arches it comes across as a real looker. Hop in, start the engine and you can feel the colossal V8 pulsing away through quad exhausts which gives it an appealing local flavor .With 270kW of Gen IV V8 in the nose, it goes like a rocket with the big V8 propelling the vehicle's mass with ease because of the 530Nm straining at the leash, lining up one apex and spearing to the next, it all makes sense. The weight at the wheel feels right, the six-speed box perfectly hooked-up; this unit inspires confidence and feels surprisingly nimble.
Handling
Like the Commodore sedan, the wagon is easy to drive and unlike a lot of European cars it drives smoothly and is not without sophistication, and there's a feeling of refinement about it that belies its origins. The SS V model, which comes standard with sports suspension, rides and handles with a good level of refinement which keeps everyone in the vehicle relatively happy and comfortable.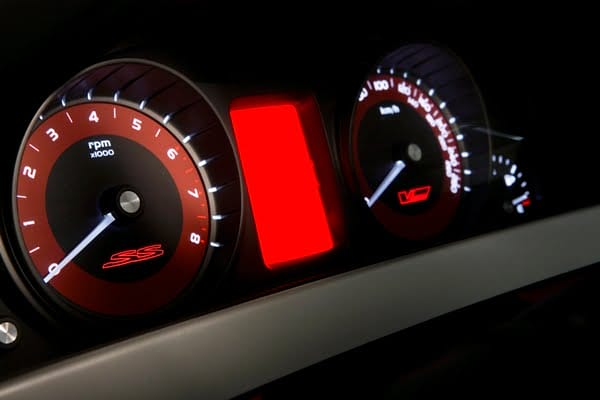 Comfort
The front seats are supportive without being restrictive and even a big bloke like me had no trouble getting in and out. The steering wheel is big and meaty and, in SS guise, leather-wrapped as well. The centre console is logically laid out with Holden's multifunction touch screen iQ system at the top and the climate controls at the bottom. The SS comes with dual-zone climate control and everything about the system is intuitive and easy to use. The interior is made of high quality materials and is very well put together and there's the usual package of trip computer, cruise control and steering wheel controls – all pretty standard in this day and age. You also get Bluetooth and iPod integration, which is nice. I don't have too much to say about the iQ system except it requires you to punch the onscreen prompts rather than tap them, which can be frustrating at times. It can also be somewhat distracting on the move, though you can configure it to lock out certain functions. Overall, I was impressed at how simple and intuitive it can be. For the rear passengers there is ample legroom for a relaxing and comfortable ride for three across.
Practicality
While the Sportwagon does not have the biggest luggage space of the station wagons in its class it does have a very credible 2000 litres of space once the rear seats are folded down completely, with the seats in place there's 895 litres. Ample for most applications, although the sleeker roofline does mean there's a significant loss in cargo space over the VZ wagon. The rear door's pivot point is inboard from the very rear of the roofline; this enables a much wider aperture area for ease of loading and also means the hatch requires less than a foot of space behind it to open. A simple solution that really enhances practicality. The backend also boasts concealed carry hooks, luggage net tie downs and a nifty cargo cover that can slide up or down the D pillar. Remote opening for the rear door wouldn't have gone astray but otherwise it's a convenient layout.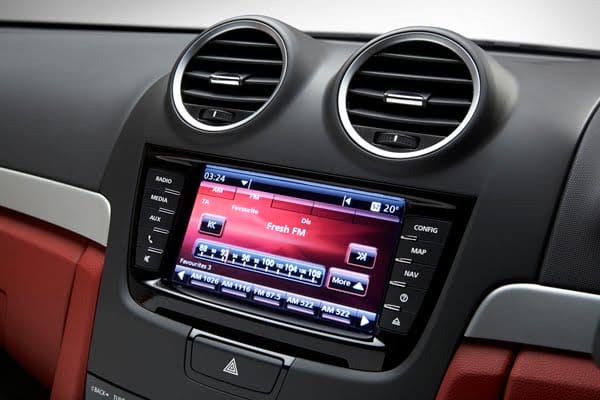 Equipment
The alloy-faced pedals and orange SS instrumentation provide extra sporty touches. SS models also gain an extra display in the centre of the dashboard with oil pressure and oil temperature gauges. Dials are the conventional twin arrangement with trip computer information displayed on a rectangular screen mounted between the speedometer and rev counter. The SSV Sportwagon comes equipped with dual-zone air conditioning as standard and the air conditioner can certainly handle the hot and humid conditions that can envelope you in this part of Australia. There's a very good six-disc CD audio system with MP3 compatibility and auxiliary input jack with the audio controls are mounted on the steering wheel. There's Bluetooth compatibility for mobile phones and there's also Rear Park Assist but a rear view camera is only an option. While you may not need the camera it's certainly worth the extra cost if you have small children around.
Safety
GM Holden's Sportwagon has become the first locally manufactured wagon to receive a maximum five star safety rating from the Australasian New Car Assessment Program (ANCAP).The Sportwagon comes with six airbags as standard equipment and that means that both front and rear-seat passengers are covered. There's also Electronic Stability Control, Anti-locking Brake System, Electronic Brake force Distribution, Electronic Brake Assist and Traction Control and while those things are not what you're likely to think about while you're driving it is reassuring to know that you're a lot safer in today's Holden Commodore than in years gone by.
Summary
The SSV8 Sportwagon offers a similar blend of practicality, styling, affordability and comfort that one would typically associate with a good-sized SUV; it stands as a good alternative for families without a genuine need for four-wheel drive or high ground clearance. It is fun to drive and roomy enough to sleep in and still a practical choice for man who needs room. It's not cheap, but this is a world class, value-for-money high performance V8 wagon. Don't take my word for it. If you have the opportunity, take one for a drive.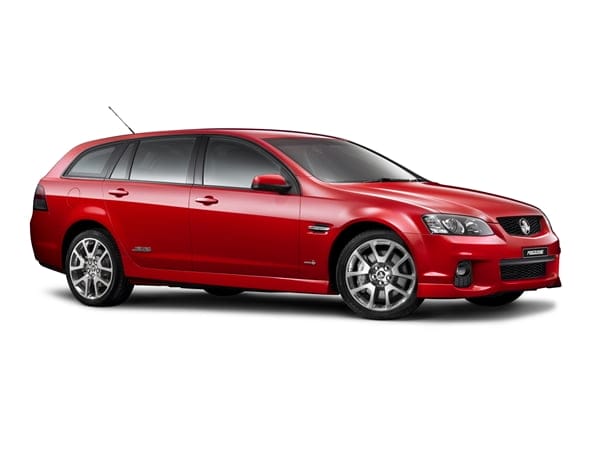 What is good and not so good?
What is good?
That V8
One of the best looking wagons around.
Represents value against $100,000-plus Europeans
Comfortable seats and compliant ride
The relatively good fuel consumption for a V8
Who needs an SUV?
What's not so good?
Filling the tank
Doesn't handle as well as the sedan
Resale values likely to be weak
No back seat head restraints and a space saver spare