Nissan Patrol – While Toyota's Landcruiser 200 Series in runout mode completely dominated the upper large SUV segment, Nissan's smooth operator, the equally large Patrol (modestly upgraded last year) has been clicking over steady numbers to a select clientele prepared to roll with a petrol V8 instead of turbo diesel.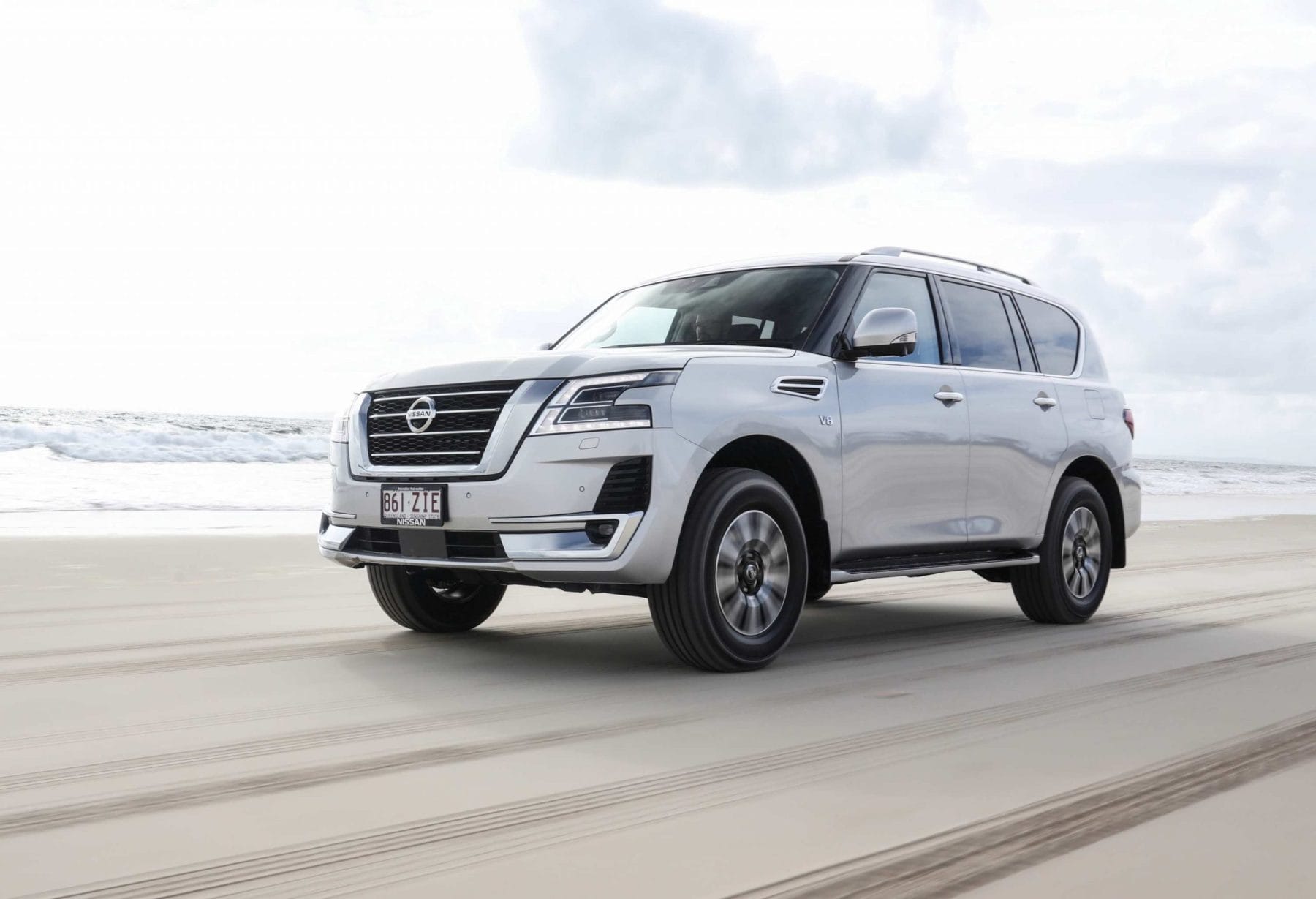 The 5.6-litre Patrol V8 engine a relatively modern design  can achieve a claimed 14.4 litres/100km on premium unleaded which is of no import if you aren't paying for fuel (company car) or if you amortise the cost of a petrol against the price of an equivalent Landcruiser 200. The difference is about $30-40,000 which buys quite a lot of petrol.
Of course, the Landcruiser will be worth more at resale but when your purchase price is so much lower, it's not really that much of an issue.
Apart from being a big smoothie on sealed roads, the big Nissan can really hack it off road being a ridgy-didge "fourbie" with high and low range 4WD along with a locking rear differential. Like the Toyota, it's capable of going pretty much anywhere in this big country… and getting back.
Nissan copped plenty of flack for bringing in a petrol V8 Patrol after years of providing diesel and petrol alternatives.
But they build this one predominantly for the Arab states where it's considered unpatriotic not to consume vast amounts of petrol.
Bit different here… to say the least
Patrol was designed more than a decade ago and it shows a tad inside. Nissan has been able to graft in advanced driver assist stuff but thankfully not as much useless stuff as something from one of the European fourbie manufacturers who have perhaps gone a touch too far.
Patrol is a big, chunky vehicle with real presence on the road …from all angles. The seven seat Ti-L driven goes for $94,115 and scores additional kit over the lower spec, significantly cheaper Ti variant.
Additional kit in Ti-L includes Bose audio, memory front seats, electric steering wheel adjust, a cool box, power tailgate, large sunroof, roof rails, heated and ventilated seats and other stuff.
Truth be known, do you really need the Ti-L because the generously equipped Ti  goes for $81,160, $13 grand less than the Ti-L.
Some more Patrol Articles
We have reviewed the Patrol on a number of occasions

Nissan Patrol Exterior
It's a big boxy thing that commands respect by sheer size while showing distinctive Nissan styling traits particularly to the front and less so the rear.
The front is dominated by large LED lights and a chrome grille with other chrome garnishes to match.
Minimal highlight lines are pressed into body panels creating a smooth, slab sided appearance but the rear styling, from straight on, displays some rounded shoulders and a tapered roofline that appears to sit on top of the shoulders. There's a European flavour to Patrol's rear look especially the tail lights and under those, the almost obligatory wide bumper with brushed metal applique surrounding the tail pipes beneath.
Rolling on 18-inch wheels the Ti-L could benefit in appearance from going up a size in diameter and width. There's no spare attached to the tailgate as it's under the load space floor and full size too.
Neat vents towards the back of the front guards lend a sporty appearance to Patrol as do the roof rails (on Ti-L) and other chrome/metal look styling features.
Overall, Patrol looks distinctive, strong and practical…. perfectly reflecting its intended purpose.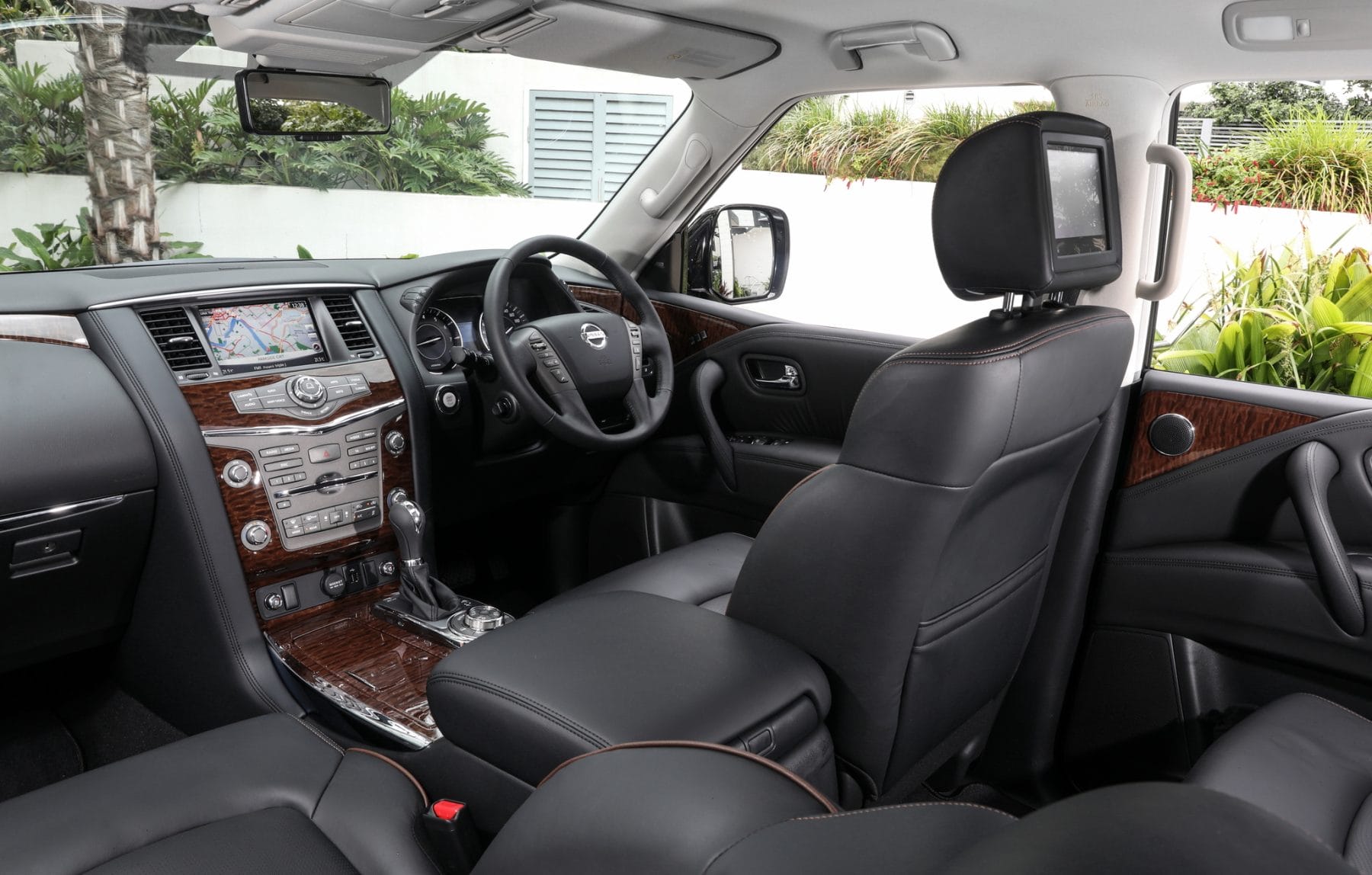 Nissan Patrol Interior
Inside is a mix of old and new school with splashes of faux woodgrain fascia on the dash and other panels together with metal look panels and metres of leather.
The dash is a pleasing low level design with a moderately sized centre screen neatly integrated. Under that is a wide centre stack with numerous controls that are easy to find and to use.
Designers integrated the sides of the dash with the front of the door panels for an attractive homogenous appearance to the dash.
A multi-function wheel is provided together with a well formed driver's pod that, like the centre stack is easy to use with easy to find controls spilling down onto the driver's door arm rest.
The seats, all 7 of them, are generous in size and covered in a soft upholstery. The Ti-L scores a large sunroof which pinches a fair bit of headroom, noticeable in a vehicle this size.
It's a roomy interior apart from the above headroom issue with a sunroof. There's even space down the back for luggage with the third row in place.
It's luxury car level inside the Patrol Ti-l with an early 2000s flavour to the design and feel. That's no criticism as many buyers prefer the look over high tech overkill you find in plenty of vehicles these day. Dunno about the headrest mounted DVD screens for the middle row….somewhat redundant these days.
Nissan Patrol Features
As the Ti-L is top of the range it misses out on precious little in feature terms scoring goodies like;
Drive/terrain select
Memory front seats
Electric steering wheel adjust
Bose audio
Cool box
Heated and ventilated front seats
Power tailgate
Roof rails
Sunroof
Traffic monitor
Satnav with 3D mapping
Full size spare
LED headlights and tail lights
Side steps
Rear diff' lock

Nissan Patrol Drive and Engine
Plenty of power is delivered by Patrol's 5.6-litre petrol V8 engine that's good for 298kW and 560Nm while sipping premium unleaded at 14.4-litres/100km. It drives all four wheels through a slick 7-speed auto transmission offering paddle shift and multiple modes.
The engine would have seen duty on Nissan's premium Infiniti brand and is super quiet and smooth in operation.
Ride is soft as befits a big off roader and as a result, it rolls around on its all coil spring suspension when cornering fast.
On the other side of the coin, you don't feel bumps unless they are really big.
And sound insulation inside the cabin is at luxury car level.
The big Patrol gets off the mark quickly and spins out strongly until around 6500rpm when it fires in the next gear. Downshifts are imperceptible.
But the steering is too light for my liking and could do with a lower ratio for quicker responses.
Travelling in Patrol is a lot like the Toyota Landcruiser 200 Series… like being in an ocean liner wafting along in a near silent cocoon on pretty much any sort of road.
That said, Patrol's size can be a limiting factor when you get onto tight off road tracks.
But you can be confident in the knowledge that it will have the finesse to get out of any sticky situation.
On test we saw 12.5-litres/100km… not bad for a 2861kg heavy duty off roader.
Tows up to 3500kg.
Safety
Patrol is not rated with ANCAP but features plenty of advanced driver assist technology in the latest variant including moving object detection, autonomous emergency braking, front and rear parking sensors, 360 degree camera, forward collision braking, radar cruise control, lane departure warning, lane keeping intervention, blind spot warning and blind spot intervention…. to name some of the safety kit.  It also gets LED head and tail lights, and tyre pressure monitor.
Good Bits
Silky smooth engine with plenty of power and torque
7-speed auto with all-mode 4WD including high and low range
Keen price against the competition
Not So Good Bits
Likes a drink
Light steering
Soft suspension with body roll on the road
Summary
You know what. I wouldn't mind having a Patrol in the garage. If you could wangle one as a company car to offload fuel costs then it's a bargain that tows big loads easily, sails over rough roads softly and has plenty of performance. It'll go almost anywhere.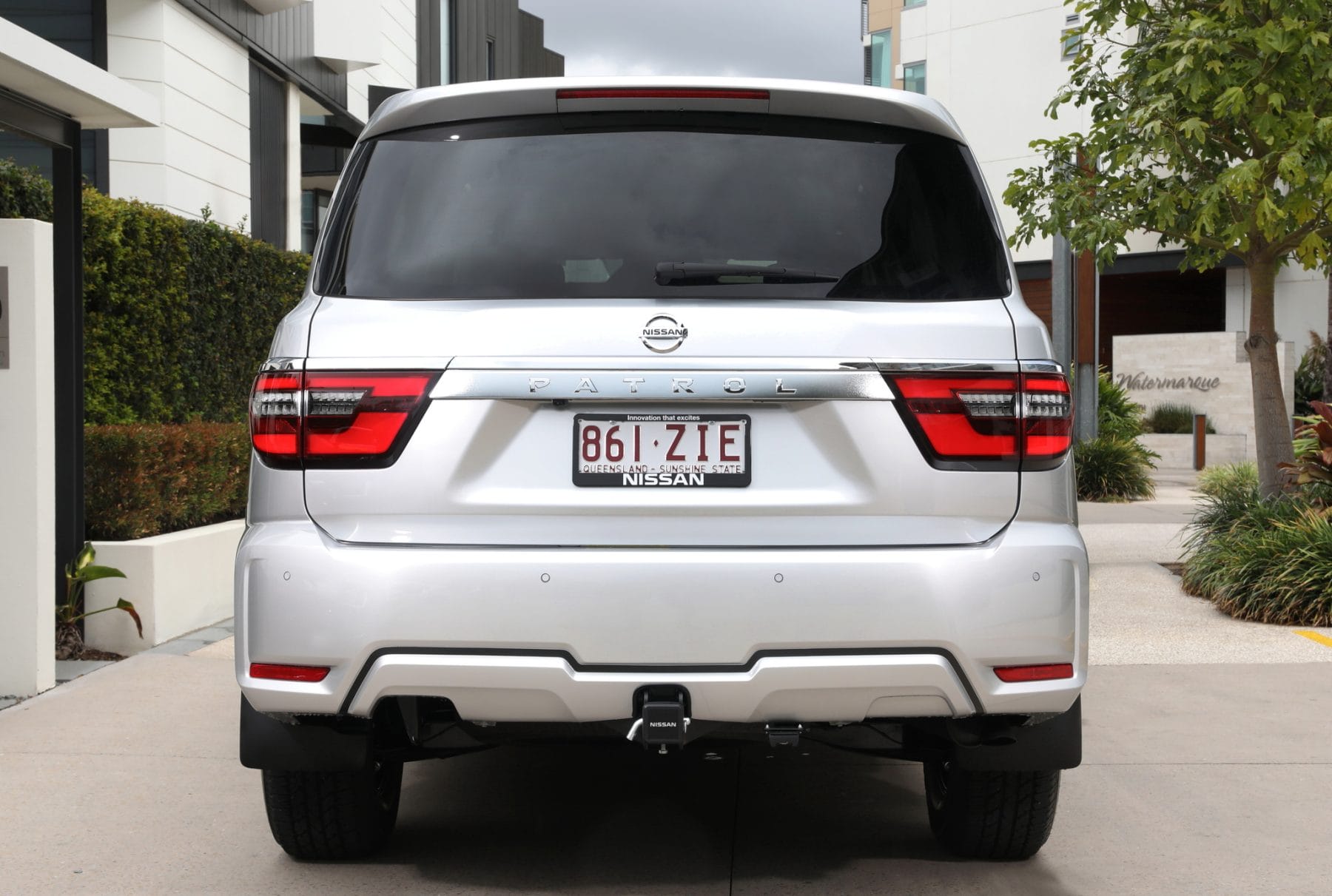 | | |
| --- | --- |
| Model | Nissan Patrol Ti-L |
| Price | $ 94,115 MLP |
| Engine | 5.6-litre, direct injection, petrol V8 |
| Drivetrain | All mode full time 4WD with high and low range, 7-speed auto |
| Power | 298kW @ 5800rpm |
| Torque | 560Nm  @ 4000rpm |
| Safety | ANCAP Not rated |
| CO2 Emissions | 343g/km |
| Economy ADR/ Capacity | 14.4L/100km /  140L |
| Towing/Tow ball |  3500Kg / 350Kg |
| Servicing |  6 months /10,000km capped price |
| Warranty | 5yr/ Unlimited km, 5 Year roadside assist |
*MLP – Manufacturers List Price includes GST and LCT but excluding statutory charges, dealer costs and dealer delivery. See your dealer for RDAP. Does not include price of any options.
Summary
You know what. I wouldn't mind having a Patrol in the garage. If you could wangle one as a company car to offload fuel costs then it's a bargain that tows big loads easily, sails over rough roads softly and has plenty of performance. It'll go almost anywhere.