New car orders continue to be healthy despite many supply issues for many manufacturers. Sales reflect supply issues in many cases. Some manufacturers are having difficulties getting cars into Australia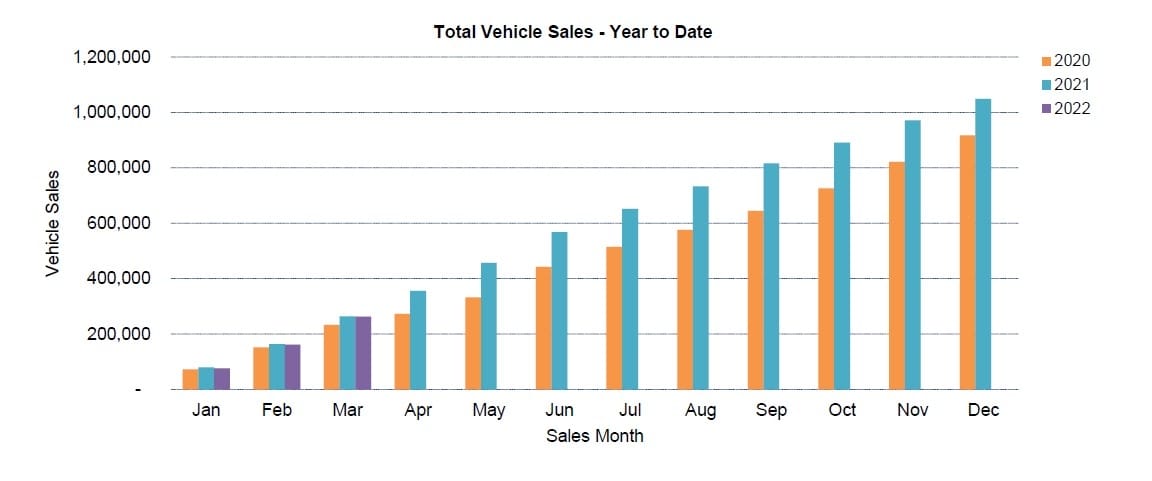 Some takeaway thoughts from the March sales results.
Tesla and Polestar have joined the party this month, with YTD figures bundled into March. That skews some figures.
In some segments there are absolute dominant cars, such as the Toyota Camry, Kia Carnival, Kia Picanto and MG MG3
MG continues its meteoric rise
Ford has 85% of sales from Ranger and Everest.
Toyota continues to sell almost twice as many cars as number two Mazda
Utes continue their popularity with 4 out of the top 10 vehicles sold being a Ute.
SUVs account for about 50% of sales YTD

A total of 101,233 vehicles were sold in March bringing the year-to-date total to 262,436. This year‑to-date result represents a slight decrease of 0.5 per cent on the comparative 2021 period to March 2021.
FCAI Chief Executive Tony Weber said the relatively stable result reflected the challenges facing the global automotive industry.
"This is historically a unique time in which supply rather than demand is determining the size of the market. This is due to manufacturers recovering from the pandemic-related shutdowns and the ongoing global shortage of micro processing units.
"Consumer inquiries and demand for new cars remains strong. Manufacturers are working hard to match this demand with supply," Mr Weber added.
Australians are purchasing zero and low local emission vehicles in greater numbers, with the FCAI pleased to report on two members' sales for the first time, Tesla and Polestar.
"The addition of Polestar and Tesla further cements VFacts as the premier source of new motor vehicle sales data in Australia. Mr Weber also noted that in interpreting the data for March 2022, care should be taken as the Tesla data represents the company sales for the first three months of 2022.
Tasmanian sales increased by 8.2 per cent with 1,768 vehicles sold. Victorian sales increased by 5.3 per cent with 27,155 vehicles sold. Sales in Western Australia were up 5.3 per cent with 10,016 vehicles sold. Sales in the Australian Capital Territory were down 6.2 per cent compared with the same month in 2021, with 1,560 vehicles sold. New South Wales sales was down 0.8 per cent with 32,224 sold. Northern Territory sales decreased by 0.2 per cent with 916 vehicles sold. Queensland sales were down 1.7 per cent with 21,214 vehicles sold and South Australian sales decreased by 0.1 per cent with 6,380 vehicles sold.

Toyota was the market leader in March 2022 with 21,828 vehicles sold. Toyota was followed by Mazda with 11,248, Mitsubishi with 9,007, Hyundai with 6,516 and Kia came in fifth place with 6,051.
Toyota's Hilux was the highest selling model with 6,324 sold. The Toyota RAV4 came in second place with 4,610 sold. The Mitsubishi Triton took out third place with 3,808 vehicles sold. Mazda's CX-5 was fourth with sales of 3,772 and Tesla Model 3 was fifth with sales of 3,097 (March only – this number excludes earlier Tesla sales from January and February 2022 that have not been previously reported in VFacts).