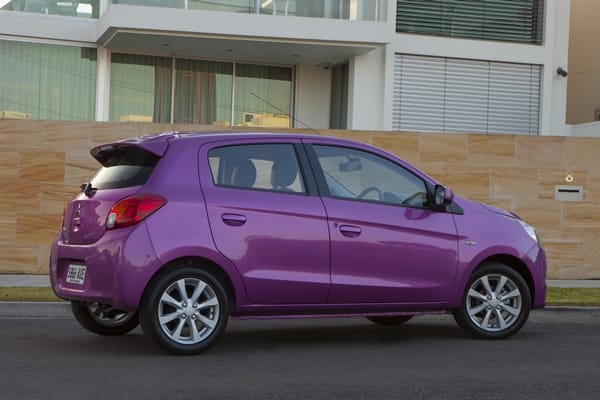 There are certain cars that I get very excited to see in the driveway. Of course expensive sports cars fit that category, but so does the brand new Mitsubishi Mirage. Launched earlier this year, I have been a lover of the revitalised Mirage since I first drove it on the Australian launch.
Completely capturing the needs and wants of today's younger drivers and 'downsizers', Mitsubishi has reinvented a much loved classic and firmly cemented their place in the light car segment.
Available in both automatic and manual transmission across three model variants, I recently tested the top of the range LS automatic Mirage. Powered by a 1.2L, 3 cylinder petrol engine, the maximum power stands at 57kW @ 6000rpm and the torque peaks at 100Nm @ 4000rpm. While it's no race car, it's all about fit for purpose and Mitsubishi has achieved that! Fuel consumption lies around that 5.2L/100km range, making it fairly easy on the wallet.
The Mirage LS comes in the very exciting Mulberry along with options of white, silver, red, blue & black. Sporting 15inch alloy wheels, rear spoiler, fog lamps and keyless entry, the LS is an attractive and feature packed car right from the get-go. Mitsubishi has re-designed the traditional Mirage shape to make it a taller, more curvaceous design that is refreshingly clean and contemporary.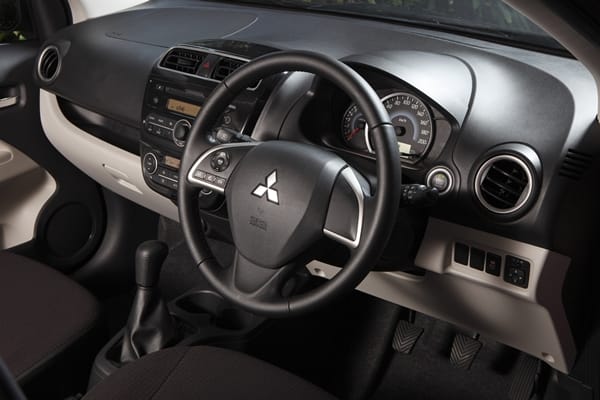 Don't be fooled by its low price, once inside, there is no evidence of a 'cheap car'. The LS is fitted with a leather wrapped steering wheel and gear knob, chrome interior handles, climate control air-conditioning, tilt adjustable steering column and bucket seats that are height, slide and recline adjustable! . What you wouldn't expect, and is a welcome discovery is a foot rest for your left foot and a heel rest under the accelerator, providing a very comfortable driving position.
Missing however is a centre console and its absence is noticed, especially with my abundance of keys, phones, spare change, lip gloss and other knick-knacks. The shelf above the glove box is a welcomed addition however. While it is a small car, the two tone beige and black interior is refreshing and helps add to the feeling of spaciousness. In the boot, there is a relative amount of storage with a capacity of 235L, certainly larger than the Suzuki Swift's non –existent boot.
The audio system houses AM/FM radio, CD, MP3 player, 4 speakers, AUX input, USB input, steering wheel audio controls and Bluetooth connectivity and audio streaming with voice control as standard! The Mirage LS also has push button start and automatic headlights and windscreen wipers, talk about bang for your buck!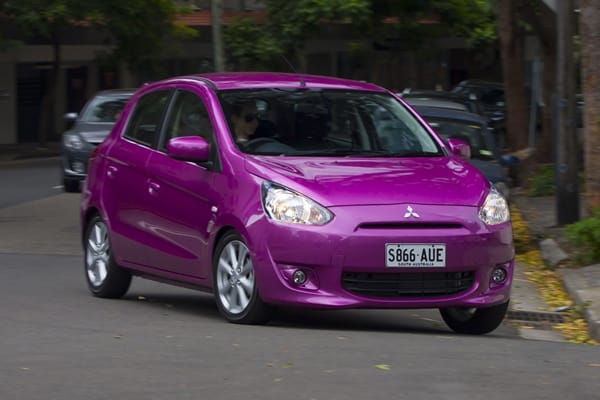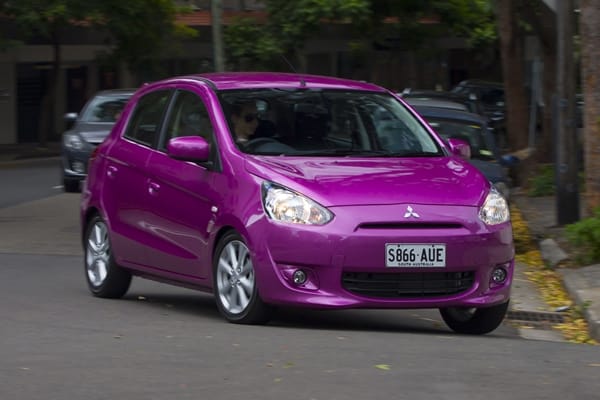 When I went on the launch in late January, the Mitsubishi Mirage was in for its ANCAP testing and I can announce that the whole range has received a 5 star rating. Featuring 6 airbags, EBD, ABS, HSC, ASC, Reinforced Impact Safety Evolution (RISE) body and plenty more.
When you're driving the Mirage, there is no lack of acceleration response, the steering is responsive and smooth, and it's bright range of colours, 'bubble' like shape and loads of awesome standard features make it a truly pleasurable experience.
Mitsubishi revealed that with the new Mirage they aimed to create a car that has sex appeal, safety, style, gets you from A to B, has excellent fuel efficiency, a trustworthy track record and won't send you broke – both in the original purchase price and ongoing costs such as fuel and servicing. Speaking of servicing, the Mirage is covered under Mitsubishi's fixed price servicing, coming in at $250 per service for four services (recommended at 15,000 intervals). It is also covered by the 5 year warranty for peace of mind.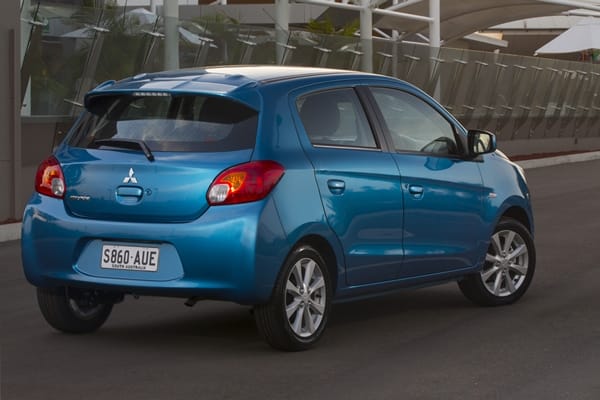 Mitsubishi has managed to create a car that ticks all the boxes – function, form, style and most importantly price. A harmonious car that is perfect for first time buyers or downsizers. With the slogan of fun, affordable and imaginative in mind, I believe that Mitsubishi have created a superb car to catapult them into the light car segment and with these prices (manual: $15,490; automatic: $17,740) the Mirage is an attractive contender for most young drivers and 'downsizers' in today's market.