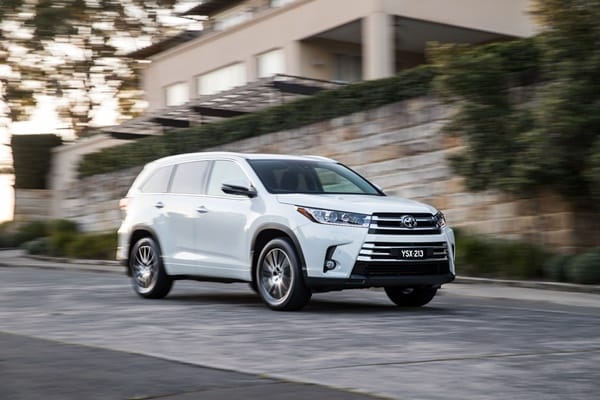 Often in life you can relate everyday events to movies. The Toyota Kluger reminds me of the movie with Mel Gibson "What Women Want' Now before the feminists get all uppity, it is meant to be a compliment. Every time I drive the Toyota Kluger I can't help but think that somehow they got inside a women's mind and worked out what they want in a family SUV.
Toyota Kluger was first released to Australia in 2003 and the latest version of the Kluger was first introduced in 2014 with a significant upgrade in early 2017. We had on test the Grande model which is the range topping version.
We have previously reviewed the Kluger a number of times so let's just go with a quick overview to start. It is a 7 seat 2WD and AWD SUV featuring a 3.5L V6 engine (upgraded 2017) with practical versatility and amazing internal space.
The Kluger looks good for a family wagon, drives with almost car like handling and ride, has an abundance of standard comfort and safety features and sells in droves for Toyota.
The 2017 updates for the Kluger included
Revised engine with direct injection technology, now producing 218kW of power and 350Nm of torque
A new 8 speed automatic transmission
A claimed 10 % improvement in fuel economy meaning up to 85 more kilometres from a tank of fuel
Refreshed styling especially the front and rear lights
Improved safety features across the range.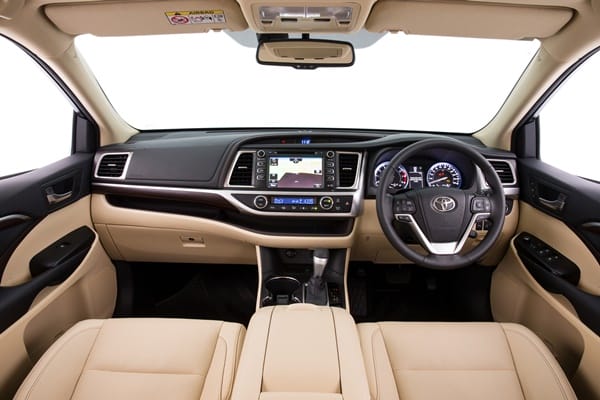 Jumping inside the Kluger Grande is like siting in your lounge room. It is comfortable, roomy and familiar. The driver's seat is really comfortable, with plenty of adjustments and with the height and reach adjustable steering wheel every driver should be able to find their perfect driving position.
The dash is easy to read and simple to navigate. The centre stack houses the infotainment system that again is easy to read and use. Unlike a lot of the Toyota systems this looks integrated in to the dash. It also does look a little plastic though. Bluetooth connection is a breeze.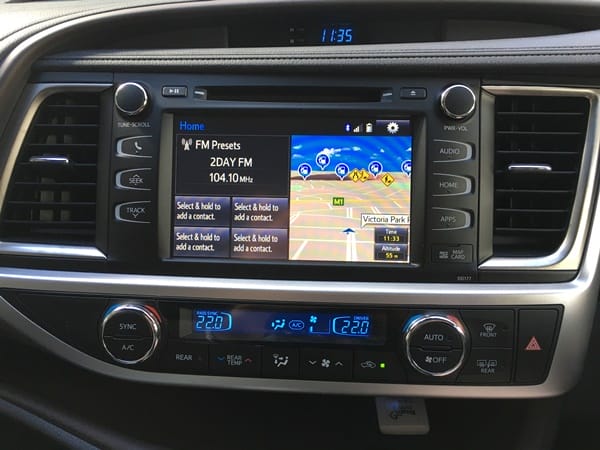 For a fairly large SUV there is good visibility for the driver. More so now with the new panoramic view monitor for Grande. This system uses four cameras (front, rear and in the side mirrors) to display a 360-degree bird's-eye view of the vehicle surroundings when driving at low speeds – especially useful for negotiating tight parking spots.
Even for taller drivers such as myself there is ample head and shoulder room.  Front seats are now air conditioned. The second row of seats are again comfortable, even for three. Again ample head shoulder room. With the flat floor there is room for the middle passenger feet as well. With the driver's seat fully back there is enough room for me to sit behind myself in comfort.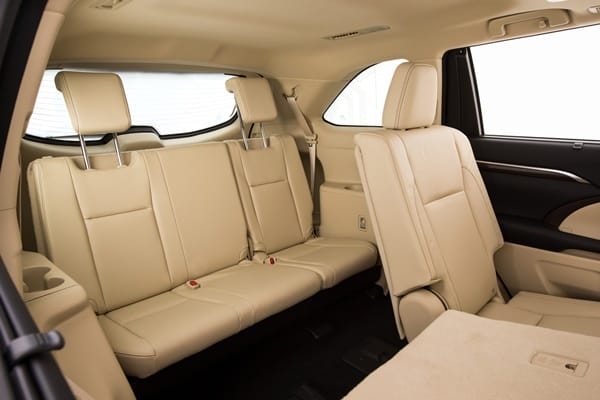 The third row of seats is amongst the best in class and both rear rows now benefit from a DVD player to keep the troops entertained. In line with the perfect SUV theory there are cup holders and storage bins everywhere. The centre console is probably the biggest and best designed in any vehicle. It serves as a great arm rest and is cavernous as well as practical.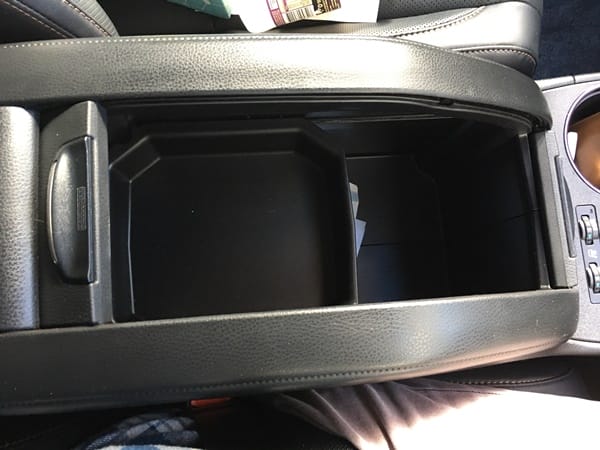 The list of standard features on the Grande is impressive and includes electric power steering, six-speaker display audio with Toyota Link5 connected mobility, front foglamps, privacy glass and power-adjustable exterior mirrors, three-zone climate-control air-conditioning, keyless entry and ignition, roof rails, premium steering wheel and shift knob, and leather-accented seats with a 12-way power-adjustable driver's seat.
Exclusive Grande features include active cruise control, blind spot monitor, auto high beam, tilt-and-slide moon roof, A/C front seats with two-position memory for the driver's seat, nine-inch rear-seat entertainment system with Blu-ray player, heated exterior mirrors with memory function and puddle lamps, electro-chromatic interior mirror, second-row retractable sunshades and a backing-guide monitor for the reversing camera.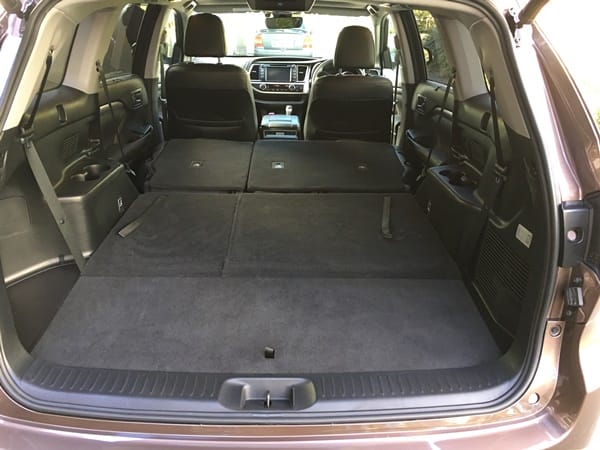 In what is becoming a new sales trend the Kluger is becoming more popular as a 2WD as well as its traditional AWD roots. Buyers are looking for the benefits of the SUV body style but don't necessarily want or need the benefits of AWD.
Kluger is one of Australia's most popular SUVs with more than 140,000 sales since the first-generation model arrived in 2003. Since 2008, it has topped 10,000 sales a year, achieving annual average sales of almost 12,700 vehicles.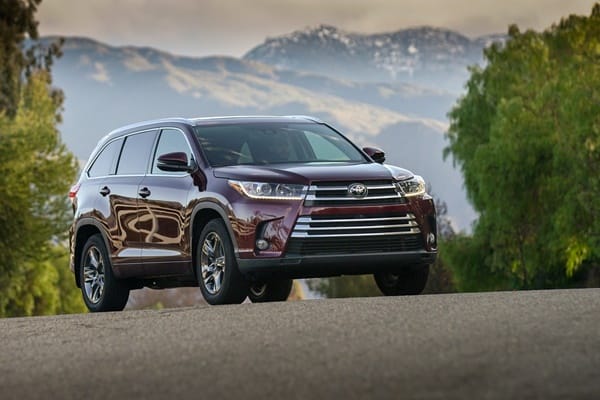 The recent upgrade has seen the safety of the Grande improved. Standard features include seven airbags, reversing camera, reverse-parking sensors, anti-skid brakes with brake assist and electronic brake-force distribution, stability and traction control, and hill-start assist control and a pre-collision safety system with autonomous emergency braking. Grande's lane departure alert is now supplemented with steering control and sway warning.
The Kluger Grande now has rear cross-traffic alert, a system to aid reversing out of a parking space. Given the proximity of where most of the Kluger's are to be used this is a major addition. School car parks, shopping centres, local playgrounds. Places where there is a lot of kids running around and cars constantly moving around. This is a huge bonus.
Toyota has persisted with the V6 petrol engine. It obviously is what the market will accept but with so many efficient powerful diesel engines on the market today in competitors SUV's I would have thought that they would have at least offered it as an option.
The 3.5L V6 petrol engine produces 218 kW @ 6,600 rpm of power and 350 Nm @ 4,700 rpm of torque. The Kluger, in an effort to improve driveability and economy, now has an 8 speed Automatic transmission.  It isn't a powerhouse or exciting but neither does it lag the traffic or feel sluggish. It is adequate for the job. As mentioned the Kluger now is available in both 2WD and AWD versions.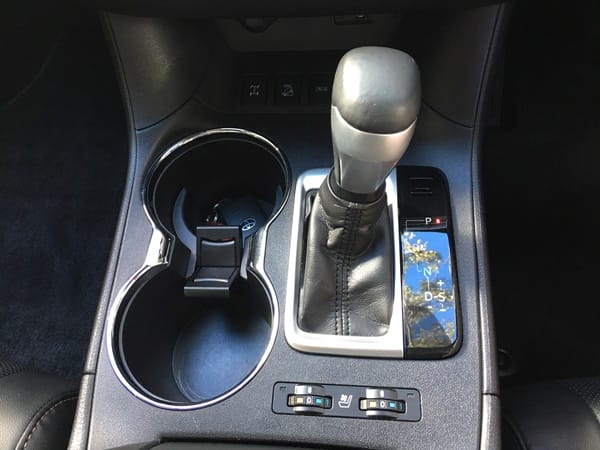 Even though the Kluger 2WD sales are increasing it at heart is an AWD SUV and that is its roots I guess you could say. It has a ground clearance of 200 mm but doesn't have good approach, ramp over or departure angles. I is really an AWD SUV for forest trails, down to the snow for a weekend, some sand driving and towing the Jet Ski. The AWD system in the Kluger is the Dynamic Torque Control AWD. It really is a safety feature as much as anything.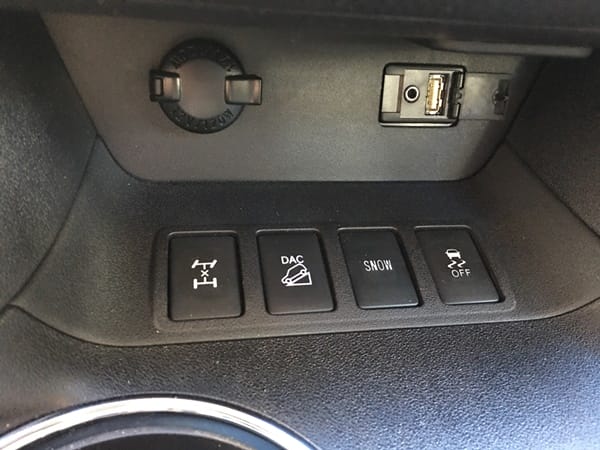 The AWD system helps maximise traction, cornering stability and driver control while also saving fuel. The compact, lightweight system uses information on vehicle speed, yaw rate and steering and throttle angles to control torque distribution automatically between the front and rear axles. It saves fuel by driving only the front wheels when the vehicle is cruising, switching to AWD when needed ensuring an ideal torque split – up to a maximum of 50 per cent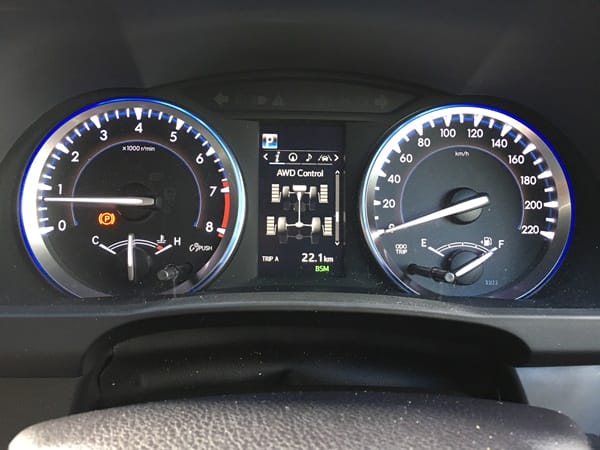 So to sum up the Toyota Kluger Grande. It could be described as the perfect family wagon. It does everything with a minimum of fuss, isn't fazed by anything in its daily life and transports the family in comfort and safety. It is loaded with features for the family and isn't too expensive. It is however a little boring and still is a bit heavier on fuel than alternative diesel engine SUV's.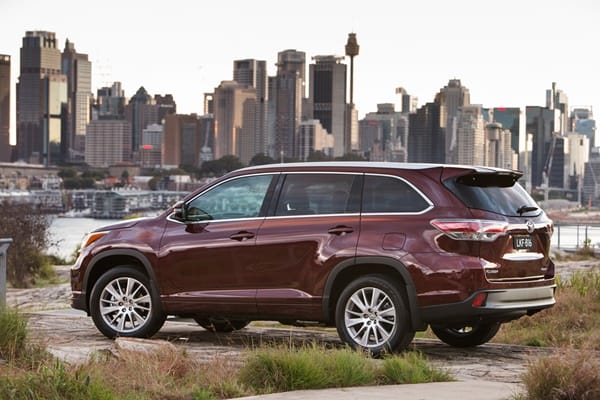 What's Good:
Practicality
Internal space
Fit for purpose
What's Not So Good:
Needs diesel engine
Lack of character
Manual steering wheel adjustment
Model: Toyota Kluger Grande
Model Price:      $74,621 RDAP
Engine:               3.5L V6
Drivetrain: 2WD & AWD 8 Sp AT
Power:  218 kW @ 6,600 rpm
Torque: 350 Nm @ 4,700 rpm
Safety:  5 Star ANCAP
CO2 Emissions: 221 g/km
Economy: 9.5 L/100km (ADR comb)
Tow Capacity: Max 2000 kg
Tow Ball Rating: 200 kg
Servicing: Capped Price $180/service
Warranty: 3yr/ 100,000 km with full roadside assist
Overall AnyAuto Rating     87/100
Behind the Wheel 9
Comfort 9
Equipment 9
Performance 8
Ride & Handling 8
Practicality 10
Fit for Purpose 10
Towing Ability   8
Off Road Ability 7
Value for Money 9