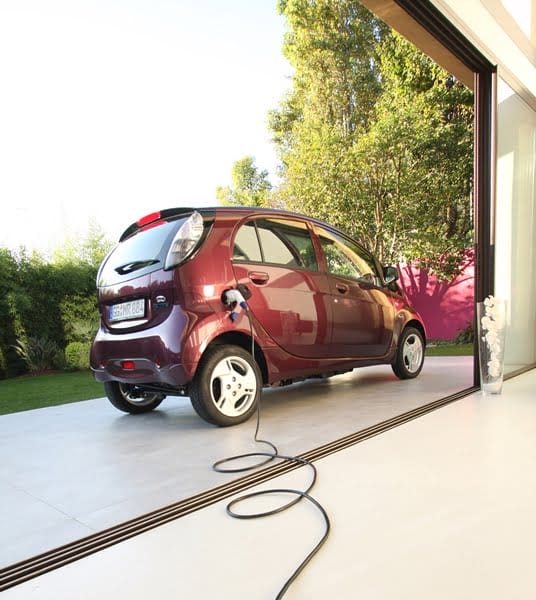 The i-MiEV is Mitsubishi's first attempt at building an electric car, and initially things look promising. Both Peugeot and Citroen have rebadged it as the iOn and the C-Zero. So the question is whether such a car can really work with limited infrastructure and such strong competition from other manufacturers especially the small diesel brigade. How do you get ahead of the pack, especially with a price tag of $48,800?
Let's find out
Behind the wheel
The i-MiEV feels quiet a modern car, its dash doesn't look that different to your everyday 'normal' car's set-up, although the fuel gauge shows available electricity reserves rather than physical fuel and the 'rev counter' is replaced with a dial showing how you're using the energy, be it efficiently or not.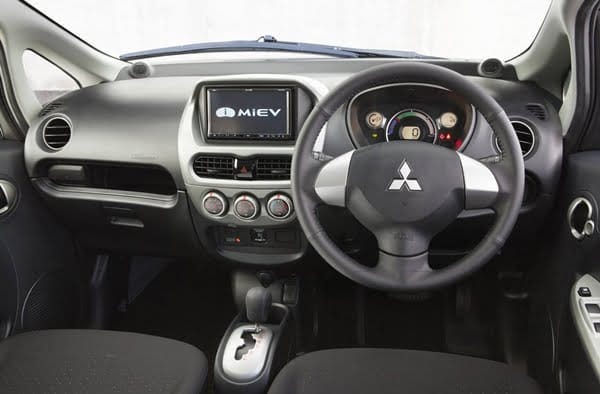 Performance
The first thing you notice about driving the i-MiEV is the instant pulling power, with all of the torque available from the moment you push the accelerator – 180Nm available from 0-2,000rpm to be precise. Don't expect record-breaking velocity though; the motor boasts 49kW and 0-100 kph sprint is covered in 13 seconds but performance tails off significantly once you've crossed that threshold, while top speed is 130 kph – if you can find a road long enough. Although it can't hold its own against conventional cars in performance terms you have to remember this car isn't about high speeds.
As well as reverse there are three forward modes for the one-speed CVT gearbox; D is normal driving, C reduces regenerative braking for cruising and B increases regenerative braking during downhill driving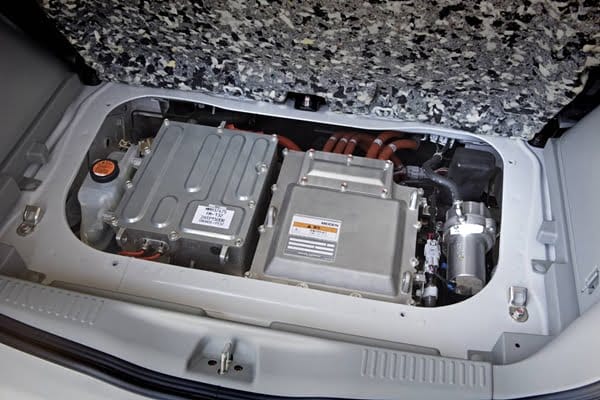 Handling
There's a lot of body roll when cornering, which is a shame as a large part of the car's bulk is low down in the chassis, meaning the potential for a 'fun' set-up is there. Because of its wallowy nature you would expect it to be very forgiving in absorbing bumps and holes in the road, it isn't and negotiating speed humps is a drama and finds the suspension at its limit. The steering is light, making tight manoeuvres easy.
Comfort
With the absence of an internal combustion engine, the cabin of the iMiEV is an extremely quiet place to be. When moving at speed you get a tiny amount of wind noise around the A-pillar and a miniscule din from the tyres, but next to no noise from the drivetrain. There's a slightly spaceship whining on deceleration as the regenerative braking system does its thing, but it's barely noticeable. The front seats are nice and comfortable, with plenty of lateral support and enough padding to keep you happy on long journeys. Visibility in the front is very good thanks to the large windscreen, although the A-pillars do obstruct the drivers view a little when coming out of junctions. The short bonnet and instant rear drop-off also means that parking and negotiating any tight spots can be done with ease.
Practicality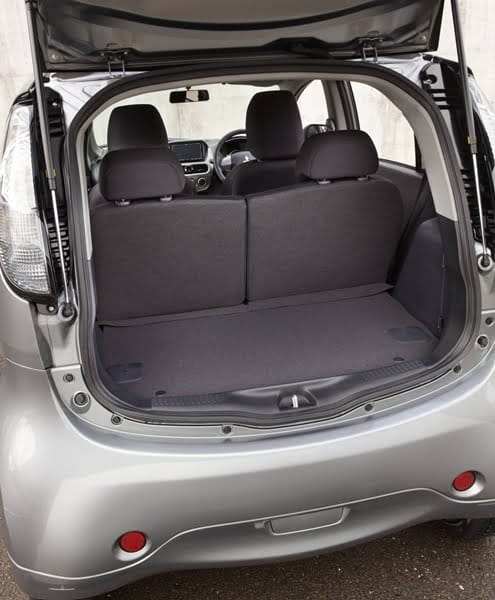 Four adults will fit in the car with a squeeze, largely thanks to its high ceiling and low seats in the back. Charging the car takes seven hours using a standard 15A 240v power supply and the cable supplied with the car. However, you can also use fast-charging points (if you can find one) which are capable of charging the batteries to 80% in 30 minutes. These fast-charge units will eventually be located at places such as shopping centres, supermarkets and public car parks, service stations etc. Officially the range of the i-MiEV is 130 kilometres, although don't be surprised if that drops dramatically when you start using air conditioning or putting your foot down a little. The boot is also small, which rules out anything bulky, although folding seats help the equation. It's also worth noting here that this car isn't suitable for those living in high-rise apartment blocks or houses with no power close to the parking area unless you're guaranteed access to a charging point at work. If you can't plug it in, you won't be able to use it.
Equipment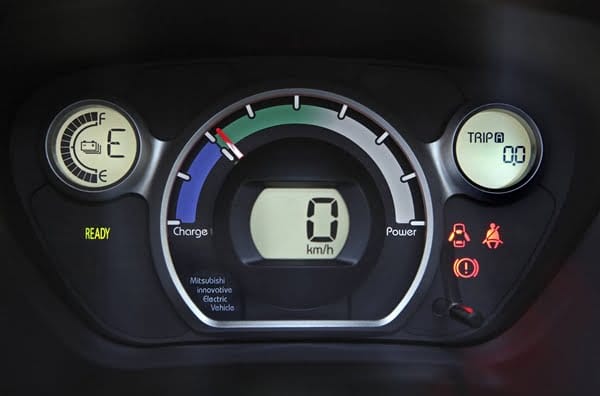 Equipment levels are high – partly to help attempt to justify the stratospheric list price, with all-round electric windows, central door locking with keyless entry, driver's and front passenger's SRS front airbags, side and curtain air bags and air conditioning, sat nav, blue tooth and alloy wheels but no cruise control.
Safety
The i-MiEV has an official four-star A NCAP safety rating. Safety equipment includes active stability control, ABS, up to six airbags, and ISOFIX seat anchorage. A special steel frame is employed to direct forces away from occupants in the event of a crash, while the car's extremities are designed to crumple inwards at designated points to reduce the energy transferred to passengers if the worst should happen.
Summary
The Mitsubishi i-MiEV is an innovative, fun and well equipped small electric city car. But there's one thing stopping you going out to buy one today and that's the price. Its $48,800 plus on roads making it ridiculously unaffordable to all but the large corporates trying to show their green credentials. The figures just don't stack up. Compare it to a mid-spec small petrol or diesel car and you're looking at 35 to 40 years, three battery changes and the best part of 400,000 kilometres before it recoups the initial outlay.
And it's a shame that the cost casts such a long shadow over the car as it's actually very good. If it wasn't so expensive, we'd probably rate it as a four-star car. Start-up is silent and peak torque is available almost instantly, which makes it quick off the mark and fast to 50kph, which is ideal for town driving. Power delivery is smooth, too, and it's jerk-free on the move. Although the range is limited to 130kilometres, those who use it in towns and cities (where it was designed for) shouldn't have much of a problem. It's 'off' when stationary in traffic, so it doesn't unnecessarily use power, and as long as it's not being driven too hard, gets close to the estimated range. A full charge takes around 7.5 hours (so can be done overnight or when you're at work) from a 15 amp household socket, but takes just 25 minutes from a fast charging point, if you can find one.
What is good and not so good?
What is good?
Cheap to run
Good headroom
Reasonably quick
What's not so good?
Expensive
Low-grip tyres particularly in the wet
Hates speed humps
Small boot
Seats only four
Vehicle: Mitsubishi i-MiEV $48,800
Drive train: Electric motor, 330V/16kWh lithium-ion battery
Power and Torque: 49kW and 180Nm (available from standstill)
Safety: 4 Stars
CO2 Emissions g/km: nil
Green Vehicle Guide rating: 5 star
Fuel Economy L/100km (ADR comb): 0.0 L/100km
Tow Capacity: NA
Tow Ball Rating: NA
Warranty: 5 year car and battery pack / 10 years engine
Alternative: Nil at this time
AnyAuto Ratings 66/100
Behind the Wheel 6
Practicality 6
Comfort 6
Fit for Purpose 9
Equipment 6
Value for Money 3
Performance 7
Build Quality 7
Ride & Handling 6
Environment 10