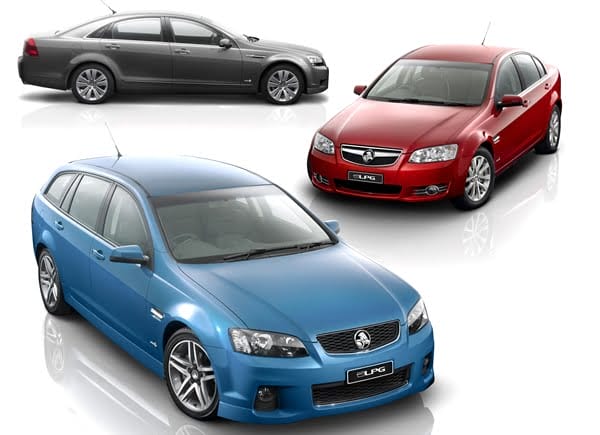 Offering large car convenience with small car running costs, Holden's all-new dedicated LPG Commodore combines sophisticated technology, five-star safety, outstanding driveability and incredibly low fuel running costs with the space, comfort and practicality of Australia's iconic Commodore range.
An intensive engineering project, the dedicated LPG Commodore program has clocked up more than 1.3 million development kilometres to deliver a vehicle perfectly suited to Australian conditions and driving tastes.
The program goals for the LPG Commodore were simple:
Achieve class-leading CO2 emissions
Achieve fuel running costs comparable to, or better than, many small petrol cars
Achieve a seamless drive experience in-line with petrol Commodore models.
LPG Commodore has met – or exceeded – each of these goals. The thorough and extensive engineering program has resulted in numerous local engineering solutions and several patents being awarded, ensuring the LPG Commodore is tailor-made for Australia.
The heart of the dedicated LPG Commodore is its 3.6-litre, double overhead cam V6 engine with four valves per cylinder. This advanced engine has been specifically developed to run on LPG, therefore allowing extensive design optimisation in several key areas.
LPG Commodore Omega sedan emits just 189g/CO2 per kilometre – the lowest figure of any locally-built six-cylinder sedan and cements the LPG Commodore's position as a fantastic option for private customers and fleets alike.
The sophisticated dedicated LPG system ensures the entire LPG Commodore range is awarded an outstanding 4.5 out 5 score in the Green Vehicle Guide.
LPG Commodore's environmental credentials are further bolstered by exceeding stringent Beyond Euro 6 exhaust emissions standards across the range.
Yet the low fuel running costs and reduced environmental impact of the LPG Commodore doesn't come at the cost of practicality. Omega LPG sedan's impressive range of more than 700km ensures that 'range anxiety' is not an issue and is another example of the LPG Commodore giving customers the freedom to live large on a small car budget.
Holden is expanding the appeal of the LPG stable by offering the full range of bodystyles for the first time: sedan, Sportwagon, ute and long wheelbase variants are available. This move ensures there is an LPG Commodore to suit every customer.
With customers needs at the heart of the LPG Commodore program, Holden engineers moved the LPG fuel tank from the boot and relocated it rearward of the rear axle – giving customers maximised boot space and addressing a traditional shortcoming of most LPG vehicles.
The LPG Commodore range mirrors the recently upgraded MY12 petrol Commodore family for features and specifications, offering the same compelling value story which has kept VE Commodore a favourite with customers since launch.
In another first, Holden will launch an LPG Commodore Equipe sedan and Sportwagon. Offering outstanding value, the Equipe adds a number of desirable features on top of the Omega specification, including:
18-inch alloy wheels
Rear view camera
Rear park assist
Leather appointed seat trim
Leather wrap steering wheel
Front fog lamps with chrome accents
Holden Chairman and Managing Director, Mike Devereux, said: "The dedicated LPG Commodore range is yet another example of Holden's continued focus on making cars that suit modern Australia and is the next step in the evolution of the VE Commodore. We are offering sophisticated motoring solutions to our customers.
"The LPG Commodore range is a no-compromise prospect. With outstanding fuel consumption and CO2 emissions, cheaper fuel running costs than many small petrol cars and excellent driving characteristics, our customers will be able to enjoy the practicality and comfort of a large car without the large car fuel bills.
"We are committed to taking a leadership position with alternative fuels to make sure Commodore remains the smart vehicle choice for Australian motorists," said Mr Devereux.
LPG and infrastructure
LPG, or Liquefied Petroleum Gas, has been a part of the Holden portfolio since the first Holden-approved LPG system was introduced on VP Commodore nearly 20 years ago. Technology has moved forward in leaps and bounds since then, culminating in the advanced dedicated LPG system now offered in VE Commodore.
LPG is a fantastic low-cost alternative fuel – typically at least 30 percent cheaper than petrol* – and is sourced and refined locally, meaning its use pays back into the Australian industry and economy.
LPG powered vehicles emit significantly fewer greenhouse gases and pollutants compared to petrol-powered equivalents. LPG produces 10 to 15 percent less CO2 and substantially fewer hydrocarbon emissions than petrol.
The LPG option price is $2500, including GST, but private buyers of new factory-fitted LPG vehicles can apply for a $2000 Federal Government rebate. Factoring in the low fuel running costs of the LPG system and any additional cost will be quickly recouped.
And with more than 3300 metropolitan and rural LPG outlets Australia-wide, the LPG infrastructure is extensive and well established.