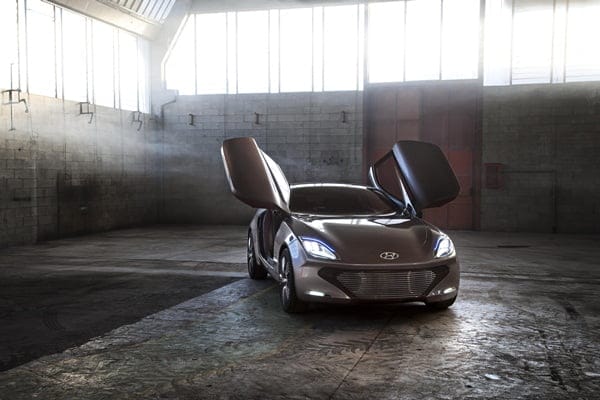 Hyundai Motor Company has revealed an exciting new chapter in its future thinking with the unveiling of the electric sports hatchback i-oniq at the 2012 Salon International de L'Automobile in Geneva. Showcasing new technology and design, the i-oniq evolves the company's fluidic sculpture form language, and represents bold 'New Possibilities' with its futuristic powertrain.
Represented in dynamic proportions, the 4.4 metre long i-oniq's functional body shape combines muscular treatments with gentle flowing lines. The interior space is driver-oriented delivering high-tech interface controls and future premium electronic technology such as movement control mounted on the steering wheel, floating instrument cluster with multi-layered projection and a large background display for navigation, entertainment and other information. Passenger comfort is optimised with a premium lounge-style design in the rear cabin, in contrast with the distinctly sharp, sporty front of cabin. Use of luxurious interior materials, further develops the evolution of fluidic sculpture within the car.
The i-oniq concept has an innovative powertrain demonstrating Hyundai's commitment to clean technology by combining an electric motor with a range-extending petrol engine. The 1.0-litre, 3-cylinder petrol engine is mated, via a generator, to a lithium-ion electric motor which produces 80 kW. In electric-only mode, i-oniq has a range of 120 km, while assisted with the petrol engine it can travel up to 700 km, producing just 45 g/km of CO2 in the process. The concept car can reach a top speed of 145 kmh.
Alongside the i-oniq, Hyundai has revealed an updated i20 hatchback. The i20 progresses the development of Hyundai's passenger vehicle range, which continues to benefit from recent advances in powertrain development to deliver European class-leading fuel efficiency and emissions, with no compromise on power or drivability.
In Europe the updated i20 will be available with four powertrain options including the new 1.1-litre, 3-cylinder 'U-II' diesel engine that generates 55 kW and amongst the lowest CO2 emissions of any conventional powertrain car on sale today. When mated to Hyundai's Blue Drive technologies, this derivative emits just 84 g/km of CO2.
The engine was developed at Hyundai's Diesel Centre of Excellence – part of the European R&D set-up in Rüsselsheim, Germany – and showcases Hyundai's development and expertise in clean diesel technology.
This ground-breaking new engine will be offered alongside another sub-100 g/km diesel. When combined with Blue Drive technologies, the upgraded 1.4-litre 'U-II' 66kW engine emits 96 g/km.
Petrol engines available in Europe are the 1.2-litre 'Kappa' and 1.4-litre 'Gamma' variants. Transmissions will include five- or six-speed manual, and the option of a four-speed automatic in the 1.4L automatic model.
Designed to be among the safest cars in its class, updated i20 offers exceptionally high levels of active and passive safety equipment and achieves a 5-star Euro NCAP safety rating. Safety is further enhanced with the use of high-tensile steel in the robust body shell structure, while front, side and curtain airbags optimise occupant protection.
The re-designed exterior of i20 sees a front-end upgrade with the introduction of the signature Hyundai hexagonal-shaped grille. New headlights are complimented by a new bonnet, side-arches and front bumper with incorporated fog-light design. The rear will see revised bumper design and re-designed rear lamps to complete the harmonious i-series look.
The i20's interior provides passengers with an enhanced level of interior comfort and quality. The centre-facia has been redesigned to include more sophisticated switchgear, while soft touch finishes and black high-gloss inserts add a new level of style to the cabin. Roominess has been improved with outstanding levels of front and rear passenger space and offers a cargo capacity of 295 litres (rear seats upright).
Both vehicles were designed at Hyundai's European headquarters in Germany.