Mazda's CX-30 is currently third in the small SUV category but sales have increased significantly this year. The Mazda 3 is fourth in its small passenger segment behind the Corolla, Hyundai i30 and Kia Cerato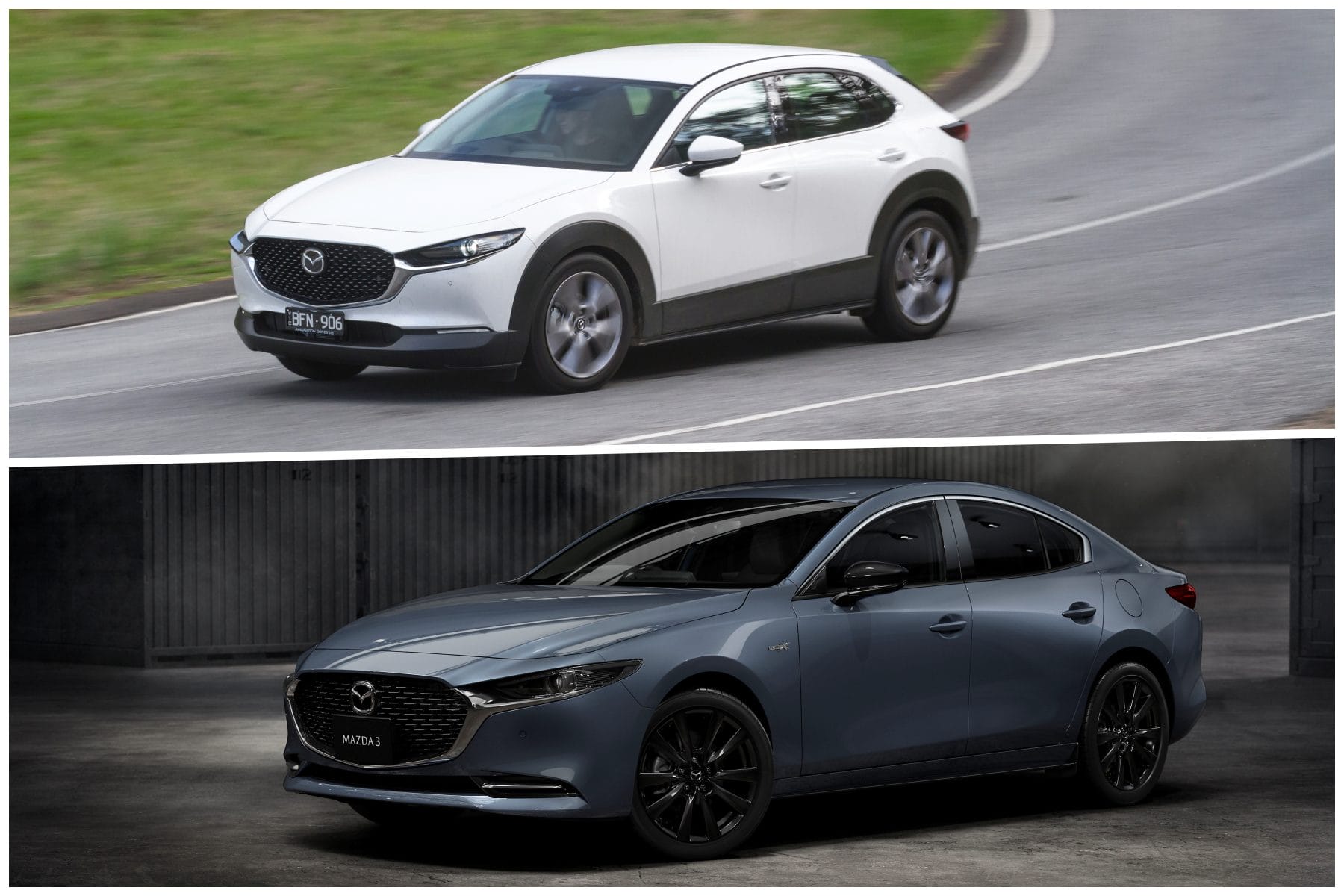 Both models are getting updated power train options, first used in Mazda's Quirky MX-30
The system combines their Skyactiv G engine technology with the M Hybrid system which is only mild hybrid but nonetheless they say it improves fuel efficiency, provides a smoother transition from idling stops and a more refined driving feel.
TO LISTEN TO THE RADIO REVIEW CLICK BELOW
The number of improvements depends very much on the model.
The base G20 Pure's only improvements are a leather steering wheel and gear shifter
The next model up does see more additional features such as hybrid power and electric seats.
We only wish that Mazda would name their vehicle variants and their technology in simpler terms preferably with words from a dictionary.
Product updates by grade 
G20 Pure:
Leather steering wheel and gear knob
G20e Evolve M Hybrid:
G20e Evolve M Hybrid powertrain – as offered on Mazda MX-30
Standard Vision Technology
Advanced keyless entry
Exterior mirror with auto-dimming function (driver side)
Exterior mirrors with reverse tilt-down function
Exterior mirrors with position memory
10-way power-adjustable driver's seat
2-position driver's seat memory
G25 Evolve SP
G25 Evolve SP replaces G25 Evolve
Black 18-in alloys
Black exterior mirrors
Black grille
Black cloth seats with red accents
X20 Astina:
e-Skyactiv X badge on the rear and a Sky-X badge on each front fender
Engine sound and ride comfort improvement
Manual transmission option no longer available
Colour and trim availability:
Platinum Quartz Metallic is now available
Polymetal Grey is now also available on sedan
Titanium Flash has been discontinued
Pure White Leather is no longer available on X20 Astina sedan
There are now no exterior colour restrictions for Burgundy or Pure White leather options on Astina models
Other changes:
Vision Technology models will no longer be available with manual transmission
Motoring Minutes are heard around Australia every day on over 50 radio channels through the Torque Radio network. Motoring Minute has an average daily audience of over 150,000 listeners. That's over 750,000 listeners a week.
Motoring Minute is also broadcast as part of Overdrive Radio Program, which is broadcast through the Community Radio Network across Australia and has a weekly audience of over 450,000.