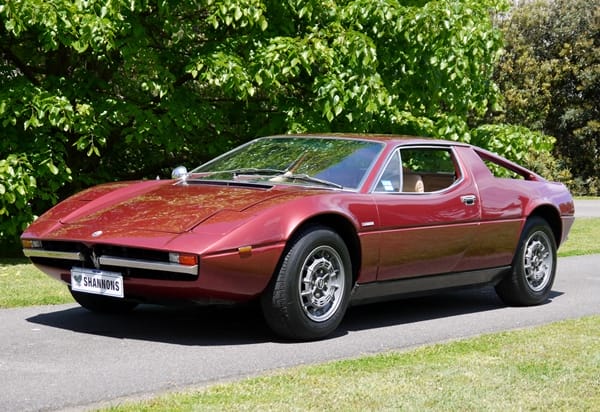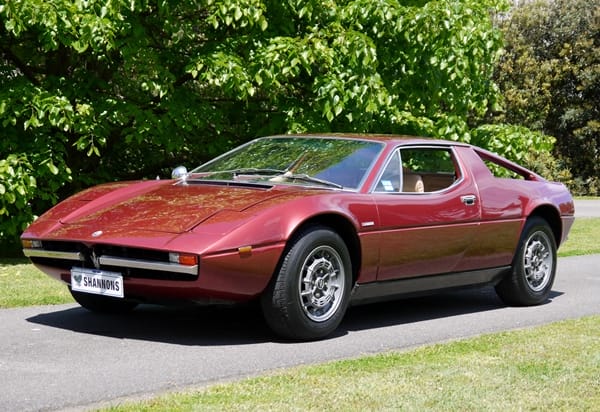 A beautiful metallic burgundy 1975 model Maserati Merak Coupe that featured in the video clip for the song 'Silk Suit' by Aria award-winning Australian alternative rock band Spiderbait, is going under the hammer at Shannons Melbourne Summer Auction on Monday, December 2.
While the original owner of the Australian-delivered 3.0-litre mid-engined Merak is believed to have been the Italian Consul in Adelaide, it re-acquired celebrity status recently when it was purchased in Melbourne by Spiderbait's singer-drummer Mark Maher, better known to the trio's fans as 'Kram'.
Flush with funds from a recent hit, he went on to use the Maserati in Spiderbait's video clip for the song 'Silk Suits' and in a photo shoot for Rolling Stone magazine.
Now the stylish and exotic Italian, with its contrasting cream leather upholstery and correct Campagnolo alloy wheels, is looking for a new custodian as Spiderbait reforms for another tour.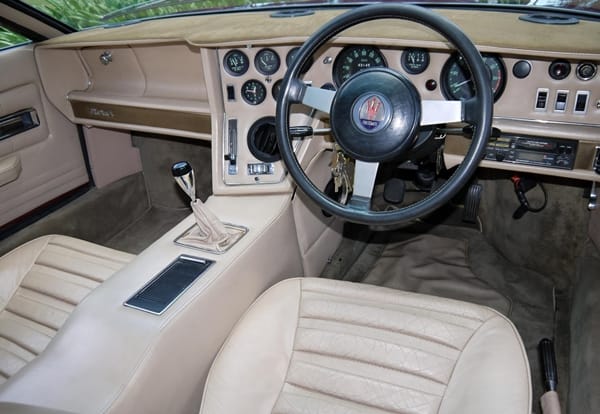 The Merak with its svelte Giorgetto Giugiaro's Ital Design styling on the Bora platform, remains one of the most beautiful modern-day Maseratis, but unlike its Lamborghini Urraco and Dino 308 Italian rivals of the early 1970s era, it employed six-cylinder instead of V8 power.
As Citroen then owned Maserati, the Merak's Giulio Alfieri-designed 2965cc quad cam V6 came from the Citroen SM coupe and aided by triple Weber 42 DCNF carburettors produced 141kW, driving the rear wheels through a ZF five-speed transaxle to give the Maserati a top speed of 240km/h.
Just 1,309 Meraks of the original model series were produced before the introduction of the SS in 1975 and only a handful of these early Meraks reached Australia.
Because of the model's increasing rarity and the excellent condition of the 'Spiderbait' example, Shannons expect it to sell in the $45,000-$55,000 range.
The Merak is one of 39 classic vehicles and 30 items of automotive memorabilia – including 10 Victorian black and white three, four and five-digit number plates – in the auction.