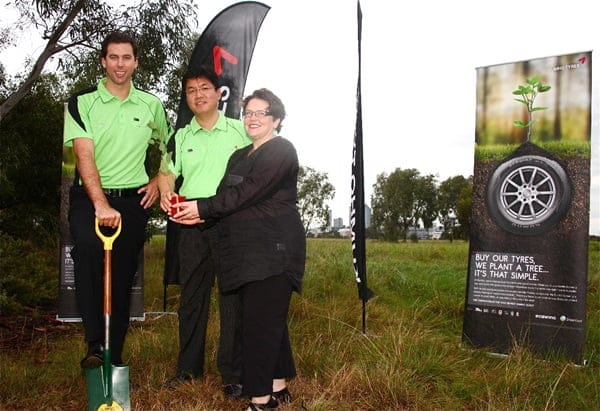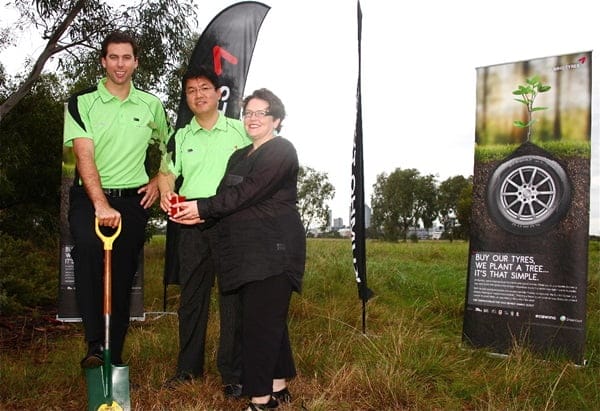 Leading tyre manufacturer Kumho has re-affirmed its commitment to the environment with a new promotion with eco-motoring organisation Greenfleet which will see a native tree planted for every Ecowing tyre sold in Australia on behalf of Kumho in an effort to reduce carbon emissions.
Kumho and Greenfleet launched the promotion with a tree planting in Melbourne by Kumho ambassador Grant Hackett and Greenfleet CEO Sara Gipton.
The Ecowing range has proven to be environmentally friendly due to its fuel saving properties, low rolling resistance and use of an environmentally friendly compound rather than a petroleum based one.
According to Ki Young Kim, managing director of Kumho Tyre Australia, the relationship between Kumho and Greenfleet is yet another demonstration of Kumho's ongoing commitment to the environment.
"Kumho aims to be socially responsible and as part of that we aim to limit the impact we have on the environment. By teaming up with Greenfleet, Kumho is giving something back to the environment and offsetting the impact tyres have on it," said Ki Young Kim.
"We are very excited to form this affiliation with Greenfleet because it gives consumers the power to help the environment at the point of sale simply by choosing Kumho. It's as simple as that – buy Ecowing tyres and Kumho and Greenfleet will take care of the rest."
Greenfleet has planted more than 7.5 million native trees around Australia since 1997 in their aim to avoid, reduce and offset carbon emissions.
According to Greenfleet CEO Sara Gipton, Kumho's involvement with the organisation will benefit the work of Greenfleet in both awareness and offsetting emissions.
"Greenfleet's aim is to create a low carbon future for Australia. We hope this promotion will increase consumer awareness of climate change and show that easy choices made by people collectively make a difference. It's not just about offsetting, it's also about what you buy and how you use it every day," Sara Gipton said.
"Kumho's promotion will also introduce many Australians to Greenfleet's work which aims to help people reduce their environmental footprint, highlight the benefits of planting native forests and encourage people to donate Greenfleet to make an even bigger difference."
Greenfleet will plant at least 5,000 native trees thanks to Kumho – assisting in: tackling climate change by recapturing carbon pollution from the atmosphere, providing habitat for wildlife, improving soil and water quality and increasing our unique landscape's resilience to the effects of a changing climate.
"This promotion reinforces the old adage that every little bit counts and buying low resistance tyres does reduce average fuel consumption. We applaud Kumho for taking the initiative to raise awareness that everyday choices can make a difference and that people don't have to compromise on quality. Of course we also welcome that it is helping revegetate Australia's precious native forests with Greenfleet," Ms Gipton affirmed.
Since its inception in 1960, Kumho Tyres has been a model of steady growth amid dramatic changes of business landscape. Driven by innovation in management and technical development Kumho has become one of the top ten tyre companies in the world.
Over the past half-century Kumho Tyres has built the foundation for a sustainable company, which has thrived through a full range of business environments.
Kumho has succeeded in the development of superior tyres for all vehicles including high performance, passenger, sports utility and recreational vehicles, as well as light trucks, heavy truck and buses, industrial, agricultural, mining and construction vehicles as well as aircraft.
Kumho produces more than 68 million tyres annually with a massive research and development program which comprises more than 600 research personnel and 300 testing machines at proving grounds in South Korea, China, Europe and North America. Kumho leads the world with the latest in tyre technology, safety and performance.
In Australia Kumho markets an extensive range of tyres for cars, 4WDs, light commercials, trucks and buses with a network centred around five state locations with the ability to distribute tyres to retailers across all areas of Australia.