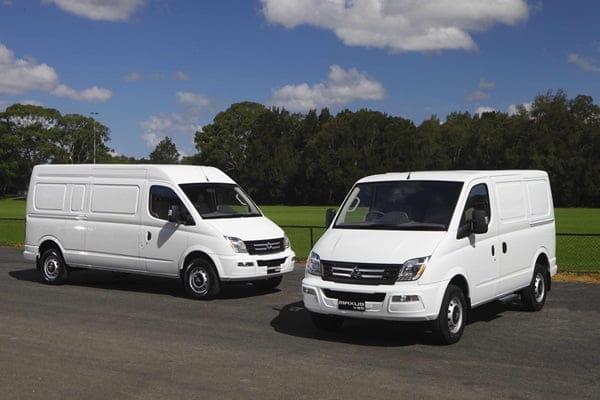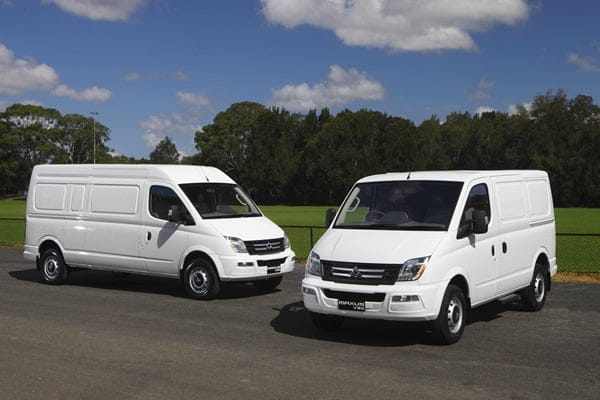 China's largest automotive player, SAIC, will make its entry to the Australian market later this year with the launch of a new range of Maxus passenger and cargo vans which are set to take the fight up to not just the established Japanese and Korean players, but also the Europeans.
Shanghai Automotive Industry Company (SAIC) made the announcement at the Melbourne Truck Trailer and Equipment Show that it will be partnering with Australian vehicle importer WMC to release its range of European designed, Chinese built Maxus vans and people movers.
At this stage the agreement with SAIC is only for the Maxus van range with no agreement in place for passenger cars.
SAIC also owns the famous MG brand along with the rights to Rover passenger car designs, which it has re branded as Roewe, marketing them in China and some European markets. SAIC also has joint ventures with both GM and VW in China.
Key executives of the Chinese auto giant flew into Melbourne especially for the Truck Show to make the announcement alongside WMC management, unveiling the new Maxus range, which is expected to go on sale before the end of 2012.
The new generation of Maxus V80 vans are based on a front-drive platform developed in Britain by the former Leyland as the LDV, using the latest generation common rail turbo diesel power plants by Italian maker VM Motori.
SAIC purchased the British commercial vehicle operation and intellectual rights to the van from the company in 2009 and have invested in further R&D and engineering to ensure it meets the latest European standards.
WMC is planning to launch a seven model range of Maxus V80 vans from the fourth quarter of 2012 with three cargo versions and four passenger models.
The line up will include a short wheelbase and long wheel base cargo van both with standard roof height as well as a high roof version of the long wheelbase model. The range will feature load capacity of between nine and 14 cubic metres and a payload of up to 1.8 tonnes.
The four passenger van variants will include the 11-passenger short wheelbase with standard roof as well as a 15-passenger long wheel base variant in either standard roof or high roof configuration and an 11-passenger long wheel base luxury model.
WMC managing director, Jason Pecotic, says the Maxus range has all the credibility and potential to be successful in Australia.
"The Maxus range will go head to head with some established brands, but will offer more creature comforts as standard and a strong European feel," said Jason Pecotic.
"Maxus will offer us enormous opportunities in Australia, broadening the appeal of our range particularly in speaking to fleets, whether on the cargo and work van side or as a passenger carrying mini bus," he said.
"They also represent a real challenger in the upper end of the people mover MPV market where they represent real value and serious alternative to Japanese and European models," he added.
"It is a very exciting time for WMC and for the entire commercial vehicle market and the new Maxus range is going to really excite the market.
"The Maxus vehicles will also come with a high level of standard features which are not available or are options on other brands, which supports the high level of build quality, design and positioning of the MAXUS product," Jason Pecotic concluded.
These standard features include rear barn doors, tyre pressure monitoring, 16″ alloy wheels, dual sliding doors and door integrated electric entry steps.
Maxus vans meet European crash and safety standards and the VM Motori diesel will attain the latest emission standards. The Maxus van suspension and handling has also been tuned by MIRA, one of the leading automotive design and engineering consultants in Europe.
The 2.5 litre VM diesel in the Maxus range boasts 100kW of power and 330Nm of torque.
Further details of the Maxus range and specification will be revealed close to the launch date but will include:
•Diesel engines from VM Motori
•4 wheel disc brakes with ABS, EBD and BAS
•Integrated intelligent anti theft system
•Alloy wheels
•Reverse parking sensors
•Reversing camera (on some models)
•Tyre pressure monitoring (on some models)
•Dual front airbags
•Dual sliding doors and rear barn doors on cargo models
•Electric door activated entry step on passenger van models
•Luxury seating options
•LED driving lights
•Dual zone air conditioning
Technical Specifications
Engine VM Motori 2.5 litre common rail turbo diesel
Power 100kW
Torque 330Nm
Transmission five speed manual(optional Allison auto)
Dimensions L/ W/ H
SWB 4950mm/ 1998mm 2132(std)/ 2345mm(high)
LWB 5700mm/ 1998mm/ 2345(std)/ 2552mm(high)
Brakes four-wheel disc brakes with ABS and EBD
Suspension Front McPerson Struts with coil springs/
Rear solid beam axle with leaf springs.
Tyre size 215/75R16
Fuel tank capacity 80litres
Fuel consumption 7.7ltr/100km (Chinese figures)