Kia Connect – Kia has just released the second generation of their Niro small SUV. This is the second small SUV they have, the other is the Seltos. But the Niro is their push to electrification with two variants a hybrid (HEV) and full electric vehicle (EV).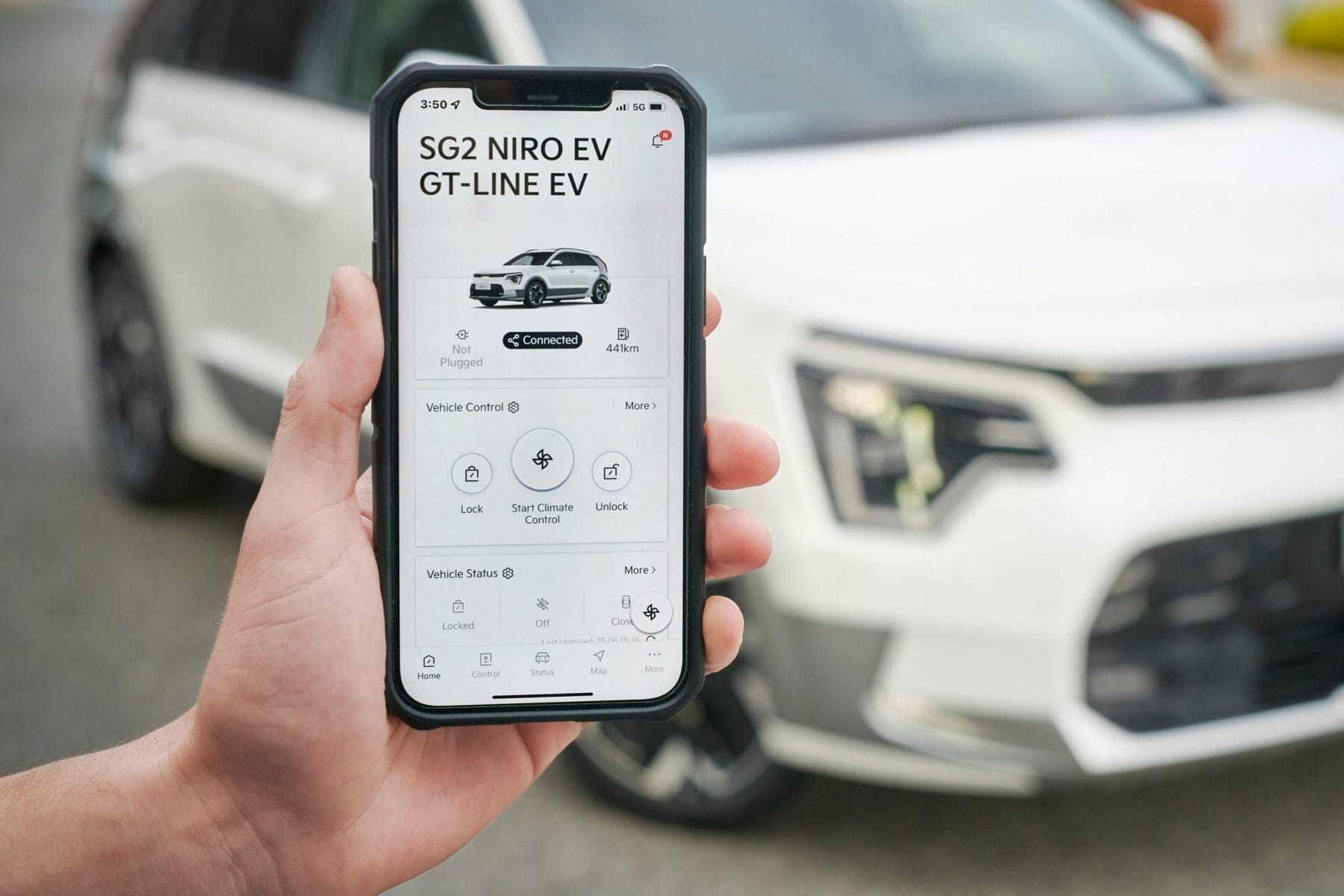 Unlike the first generation Niro they have, at this stage, decided not to import a plug-in hybrid variant because the market has not responded to any great degree in buying them.  A plug-in hybrid in many ways is the better arrangement. For those who wish to use there vehicle mainly in the city on electric power. Owners still wish to have a petrol system capable of doing a long trip and able to quickly fill up the gasoline fuel tank.
The Niro is the first Kia model in Australia to get Kia Connect: a smartphone app that allows users to connect with their vehicle remotely.
TO LISTEN TO THE KIA NIRO RADIO REVIEW CLICK BELOW
Kia Connect is available as standard on both the HEV and EV top spec GT-Line. From now on all new Kia models, even those with only a simple make over will have the system.
They envisage expanding the system in the foreseeable future with features such as wireless updates.
Also Kia Connect is available as standard on both the HEV and EV GT-Line trims and offers features such as:
Safety and Security
Remote Vehicle Controls
Live Services (Weather, Traffic)
AI Voice Control
Vehicle Status
Monthly Driving Info
Map and Location Features
Send Destination to Car
Scheduled Charging/Climate Control (EV)
Niro APP
The ability to access information such as driving statistics and to set charging times helps review the vehicle operation in the comfort of your home or convenience of the office. To be able to plan ahead by remotely warming the vehicle and demisting the windscreens as well as entering a destination before you get into the car, removes common frustrations when you jump in a car and want to start driving immediately.
The system also has geo and time fencing that will send alerts if a vehicle goes beyond its nominated area or its nominated times of operation..
Kia also says they have given great attention to the voice actuation system but we will have to see how good that is at a later date.
This is a Motoring Minute
Im David Brown
Motoring Minutes are heard around Australia every day on over 50 radio channels through the Torque Radio network. 
Our Motoring Minute has an average daily audience of over 550,000 listeners and they are also syndicated through various news sites around Australia.
Additionally Motoring Minute is also broadcast as part of Overdrive Radio Program, which is broadcast through the Community Radio Network across Australia.