Kia has taken another step in the electrification of its fleet with the launch of the new Sorento Plug-In hybrid model. This fourth generation of the Sorento large SUV has been designed from the outset to accommodate electrified powertrains.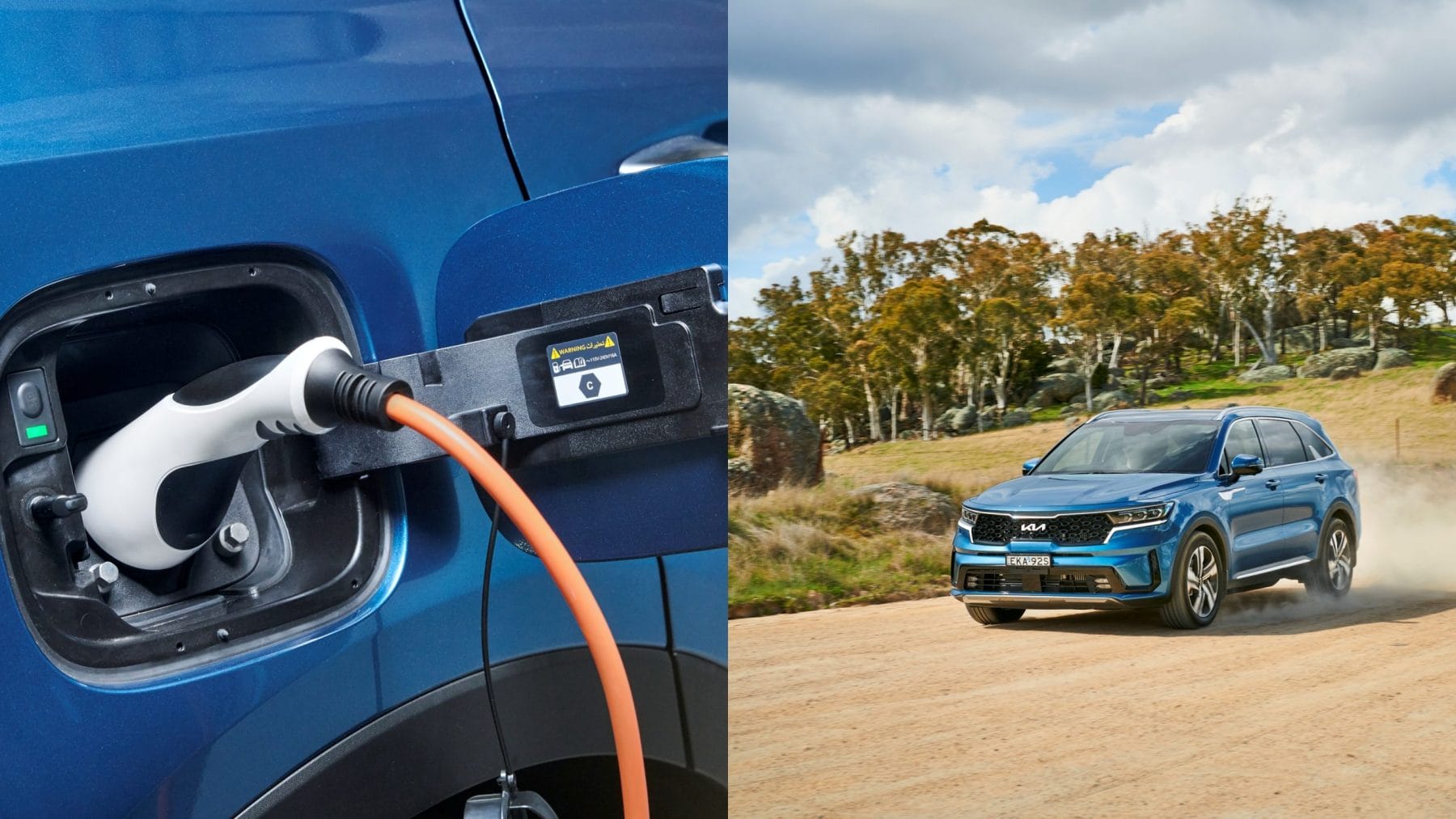 Sorento PHEV has a relatively modest 1.6-litre turbocharged engine added to which is a transmission mounted electric motor with a total of power of 195kW and 350Nm of torque.
The efficiency of this PHEV vehicle is that it can, with a full charge, travel 68 kilometres on battery power alone which suits many urban based vehicles. On long trips you can rely on the petrol engine alone.
The PHEV is offered only in the GT-Line Spec at $79,330 plus on roads which is over $18,000 more than the petrol V6 and $15,000 more than the diesel version.
TO LISTEN TO THE RADIO REVIEW CLICK BELOW
The Sorento PHEV GT-Line is the first electrified model in the Sorento line-up with its powertrain combining a turbocharged engine with a high-capacity battery pack and high output electric motor.
The platform and large body ensure it retains the generous cabin and luggage space and five-and-seven-seat layouts that define other models in the line-up.
With the integrated Type 2 charging socket, you can use the standard 3-pin cable supplied with the PHEV – Type 2 to Type 2 cable or the charging point's own cable. An LED light located near the charging point will present the charging status and battery level making it ideal for knowing the status of the battery immediately. A bespoke charging cable for charging at home from a normal household socket will be provided as well as an in-cable control box to help moderate the amperage to ensure complete safety.
New for the fourth generation, and standard on the PHEV GT-Line variant, the latest Sorento models offer enhanced all-terrain capability thanks to a new Terrain Mode. Controlled using the Mode Select dial on the centre console, drivers can choose from 'Mud', 'Snow' and 'Sand' modes. The systems automatically optimises the drivetrain to best suit each scenario, adjusting engine torque output and distribution as well as stability control characteristics. Terrain Mode also adjusts shift timings for the six-speed automatic to suit different surfaces.
Motoring Minutes are heard around Australia every day on over 50 radio channels through the Torque Radio network. Motoring Minute has an average daily audience of over 150,000 listeners. That's over 750,000 listeners a week
Motoring Minute is also broadcast as part of Overdrive Radio Program, which is broadcast through the Community Radio Network across Australia and has a weekly audience of over 430,000.