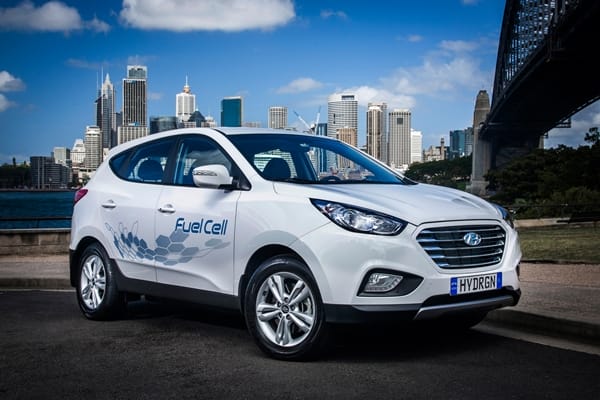 The Federal Industry and Science Minister, The Hon. Ian Macfarlane MP, today unveiled Australia's first hydrogen powered car, the Hyundai ix35 Fuel Cell.
The Minister also officially opened Australia's only hydrogen vehicle refueling station and welcomed the commitment Hyundai Motor Company Australia is making to bring such leading edge green technology to Australian motorists.
The Hyundai ix35 Fuel Cell, hydrogen-powered, zero-emissions Fuel Cell Electric Vehicle (FCEV), built in Ulsan, South Korea, arrived in Australia in June 2014. It is the first hydrogen-powered car to be permanently based in Australia and it has been undergoing operational trials in the lead up to today's announcement.
The arrival of the first test vehicle and the commissioning of Australia's only hydrogen refueling station are pioneering steps toward the commercial availability of emissions-free hydrogen powered vehicles in Australia.
"We are taking a bold step into the future and we hope other Australians become as inspired and excited by this technology as we are," said Hyundai Motor Company Australia CEO, Mr Charlie Kim.
"In February 2013, Hyundai Motor Company became the first automobile manufacturer in the world to begin mass-production of a hydrogen-powered vehicle – the ix35 Fuel Cell. The fact that we have brought one to Australia is testament to how important the Australian market is to Hyundai, and how seriously we take our environmental responsibility.
"Because of the way we build our ix35 Fuel Cells, Hyundai Australia has the ability to order these incredible cars in the same way as we order any new Hyundai cars. We hope to work with governments on all levels to make the technology more widespread," Mr Kim added.
Hyundai has installed Australia's only fuel cell vehicle Hydrogen Refueling Station (HRS) at its headquarters in Macquarie Park, Sydney, currently using hydrogen provided by gas partner Coregas Australia, but soon to be creating its own hydrogen onsite through the use of an electrolyser and harnessing solar power. The HRS, supplied by American company Air Products, is now fully operational. But while investment overseas will see hundreds of HRS's built throughout Europe and North America in the next five years, there are currently no plans for a similar infrastructure in Australia
"We see no reason why Australians should not enjoy the same environmental solutions as consumers in other markets," continued Mr Kim.
"Hyundai strongly supports the idea of a 'Hydrogen Highway' infrastructure roll out in Australia, like those already in operation overseas. We look forward to engaging in industry and partner discussions about ways to further motivate the adoption of hydrogen motoring in Australia and to offering some viable options to our Federal, State and local policy makers."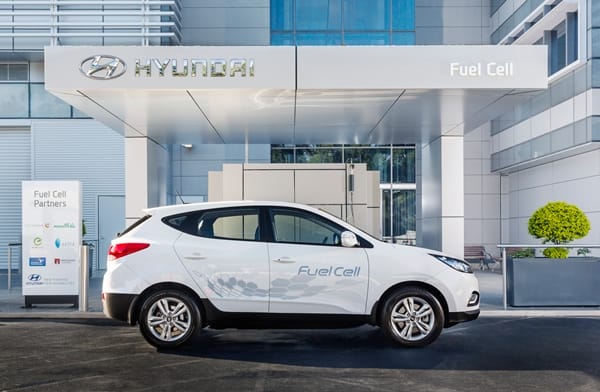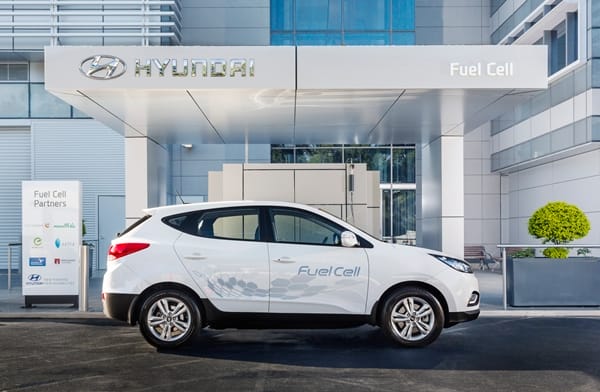 Hyundai ix35 Fuel Cell
The Road to an Australian Hydrogen Highway
In Europe and the United States, 'Hydrogen Highways' have been built by government and private partnerships for use by FCEV's like the ix35 Fuel Cell, along with other hydrogen-powered vehicles such as buses.
A number of the refueling stations generate their own hydrogen by using solar energy and electrolysers – this creates a 'green' transport solution, with neither the fuel generation process nor the hydrogen vehicles themselves emitting any harmful by-products or burning fossil fuels.
HMCA will soon install an electrolyser at its headquarters in Macquarie Park, along with a solar array to power both it and the refueller – this will make its HRS fully self-sustainable, with hydrogen made on-site.
Even small refuellers of this kind are relatively expensive and overseas experience shows that a larger network may require government support and incentives in the initial phase to make it economically viable. The challenge of creating and distributing hydrogen for mass vehicle is a significant one.
"We are not a political entity, nor are we aligned with any political party. However, we have seen in other countries that Governments play a crucial role in developing hydrogen refueling infrastructure," said Mr Charlie Kim, Chief Executive Officer, Hyundai Motor Company Australia (HMCA).
"Our initial discussions with Federal Ministers about our hydrogen car have been met with a very positive reaction. The presence of the Federal Minister for Industry and Science at our official launch today is also a great indication of the desire to have a meaningful conversation about the technology and its potential. An industry working party will play an important part in helping to frame that conversation and suggest options for supporting policies.
"One of our ideas is the 'Hume by Hydrogen', which could link Australia's two largest cities via the nation's capital. It would require refueling stations in Melbourne, Sydney, Canberra, Goulburn  and Albury and could see hydrogen vehicles, including buses, running on a busy highway emitting nothing but water vapour.
"A project like the 'Hume by Hydrogen' would demonstrate the benefits of hydrogen transport very effectively – we would like our ix35 Fuel Cell to start a meaningful conversation about this technology for the benefit of future generations," said Mr Kim.
The ix35 Fuel Cell
The ix35 Fuel Cell is one of the most advanced cars in the world, running on hydrogen and emitting nothing but water vapour from its exhaust pipe.
Hydrogen from the vehicle's fuel tank is mixed with air and converted to electricity by a fuel cell stack – the electricity then powers the ix35 Fuel Cell's electric motor.
The vehicle is near-silent, efficient and emissions-free. It is also very safe, having passed the stringent American NHTSA crash test. It is as practical and useful as a standard petrol or diesel-powered ix35, with near-identical interior space and comparable range and performance.
The ix35 Fuel Cell develops 100kW of power and 300Nm of torque and has an official maximum range of 594km (see attached Q&A). A Hyundai ix35 Fuel Cell set a record in early July 2014 for the longest journey completed by a vehicle on a single tank of hydrogen, driving 700km through Norway, Sweden and Denmark.
Private customers are leasing ix35 Fuel Cell Vehicles in Los Angeles as part of an advanced hydrogen scheme, and many more ix35 Fuel Cells are operational throughout Europe. The delivery of Australia's first FCEV marks a significant first step in the longer-term growth of a hydrogen fuel infrastructure in this country.