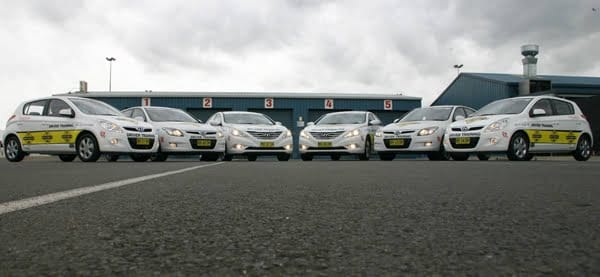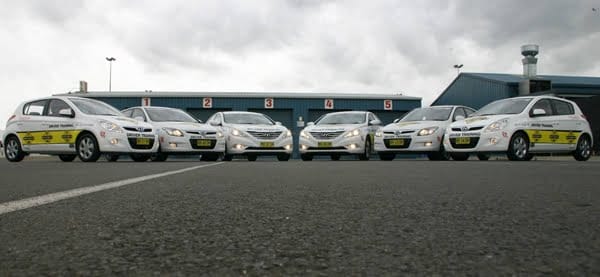 Hyundai Motor Company Australia has joined forces with 'Drive to Survive'® in an innovative approach to driver education and road safety.
It's no accident Hyundai Motor Company Australia supports the 'Drive to Survive'® Driver Training Program. Hyundai has a strong commitment to increasing the awareness of safer driving skills and on-road behaviours in all drivers.
Hyundai is widely acknowledged as a global leader in design, safety and quality. The brand prides itself on building cars from the ground up with safety in mind, and delivering affordable technology to all Australians. Hyundai's vehicles employ state-of-the-art active and passive safety features to assist drivers avoid accidents and to protect occupants in the event of an incident.
'Drive to Survive'® uses a fleet of six Hyundai vehicles including the new i45 mid-sized sedan and new i20 compact hatch.
The program is designed to improve driver behaviour as well as develop existing skills, driver knowledge and on-road awareness techniques. Based on successful post-licence driver training strategies, 'Drive to Survive'® offers structured courses to suit any driver irrespective of experience. Programmes can also offer Occupational Health and Safety (OH&S) support for corporate fleet and Government departments.
Motoring expert Ian Luff and his team manage and facilitate the program here in Australia and overseas. "I am delighted to have Hyundai on board as our official vehicle supplier," said Mr. Luff. "When it comes to driver safety, their expertise is unquestionable. Without doubt the Hyundai range offers industry leading standard safety features and our drivers and patrons could not be in safer vehicles."
The Hyundai dealer network will be actively involved in the program, hosting in-dealership driver education events and community engagement programs.
"This is an outstanding opportunity for Hyundai to offer additional ownership benefits to our customers, and to engage the expertise of our dealer network," said Phil Dingle, Hyundai Motor Company Australia's General Manager – Eastern Region. "The totally integrated learning experience allows us to demonstrate hands-on our industry leadership in safety. It's a great partnership."