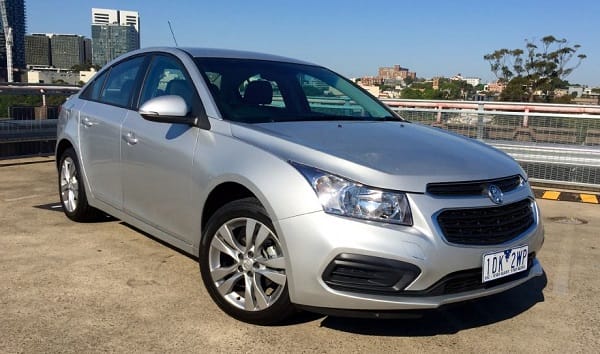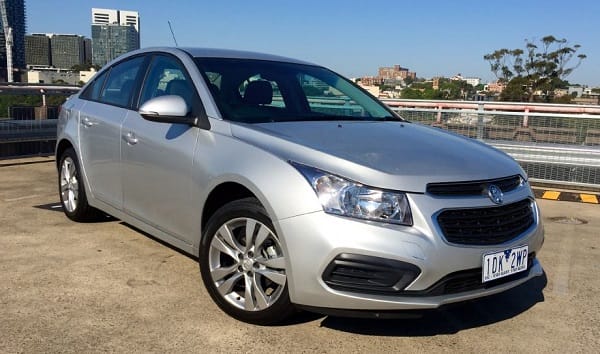 The Holden name holds weight here in Australia – it's quintessentially Australian, it's a name that evokes a sense of reliability, solid build and value for money. The Cruze is no exception and in true Holden style – even the base model Equipe has surprising features and is a real contender in the small car category.
What do you mean you don't drink coffee?
While a strong cup of coffee may be what keeps most of us powering through the day, the Holden Cruze Equipe is powered by a 1.8L ECOTECH petrol engine producing 104kW of power @ 6,300rpm and 175Nm of torque @ 3,800rpm. Unfortunately, the Cruze is a little on the heavy side compared to other vehicles in the segment and couple this with the slight outdated technology of the engine; you're left with a bit of sluggish start to your drive. The saving grace is the 6 speed automatic transmission with Active Select which is immediately responsive and allows for quickly darting in and out of traffic and smooth overtaking. While Holden claims the Cruze's thirst is limited to around 7.4L/100km on a combined cycle, we found it snuck a few extra 'cups of coffee' like we all do.
Is hoity-toity European design really better than Aussie styling?
The Holden Cruze Equipe is wrapped in a rather standard yet effective design that is both visually appealing yet not taking any risks and is combined with a few bold accents. This translates into a car that will blend into the crowd, yet when viewed on its own – has some distinctive features. With 17" alloy wheels, halogen headlights and three-tiered grille, the Cruze Equipe isn't going to be winning any 'New Design' awards – but realistically – what more does one want? Holden is known for its practical, everyday vehicles that put functionality over cutting-edge design and let's be honest – there really is no need for extraordinary design accents on a vehicle such as the Cruze.  Could it feature bolder design choices? Yes. Does it really need them? No – it looks good enough as it is!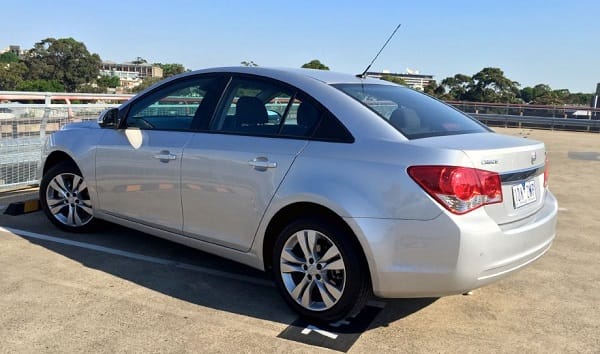 It's what's on the inside that counts.
Moving inside the Cruze Equipe – the functional design Holden is renowned for becomes evident. You're greeted with a practical, user-friendly centre dash and drivers display. The multifunction driver display features average/instantaneous fuel consumption, distance to empty and average speed while all the controls, including audio controls, are clearly laid out on the steering wheel. Speaking of audio, the 6 speaker entertainment system is displayed on a 7" colour touchscreen and features smartphone app integration, Bluetooth connectivity, USB and AUX input and the latest technology with Siri Eyes Free Mode and text message function. What the Equipe does miss out on is a reverse camera and satellite navigation – something we have come to expect in our vehicles, even at the lower price point and is a point of difference with some of the Cruze Equipe's competitors boasting this technology. It does however feature rear parking sensors and keyless entry.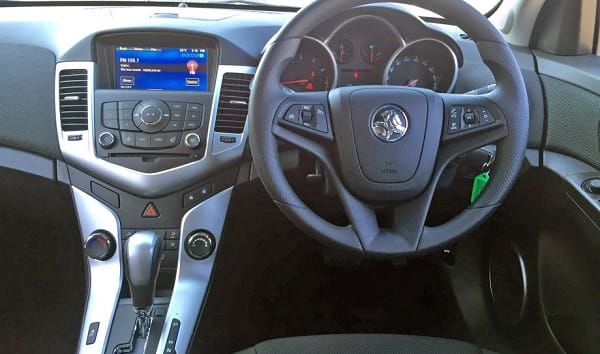 Both the driver and passenger seats are six-way adjustable to ensure optimal comfort can be achieved and this is further enhanced with plenty of storage, rear arm rest, power windows and air-conditioning. The boot space in the Holden Cruze Equipe is impressive with a 445L capacity that is one of the best in its class. Another point of difference the Cruze has is its roominess – there is plenty of leg, shoulder and head room – ensuring you avoid the 'crammed' feeling of many small cars.
Click, clack front & back – Safety First!
ANCAP has done all the hard work to put your mind at ease and awarded the whole Holden Cruze range a 5 star rating. Occupants are protected by 6 airbags including front, side and curtain, ABS, EBD, TCS and the usual list of safety warriors. An unexpected feature in this price range is the Follow Me Home Headlights that ensure you get from the car to your destination safely and more importantly without stubbing your toe.
Coming in at $19,990*, the Holden Cruze is an affordable choice for just about everyone and represents a solid option for first time buyers or downsizers looking for a reliable vehicle with some of the technology and entertainment perks that are at times not in budget!
*prices are driveway for postcode 2000 and are subject to change