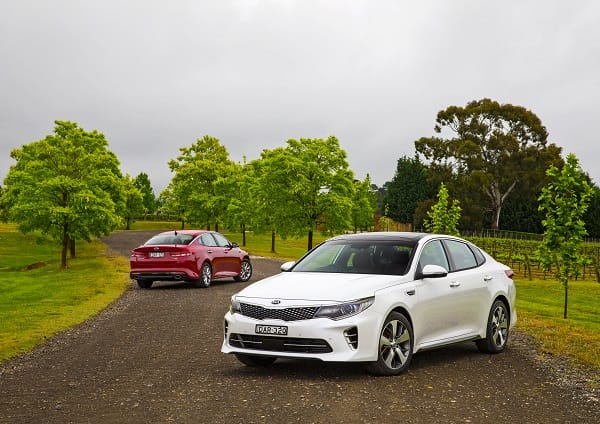 The wonderful thing about being in this industry is being able to go along to launches of new vehicles and comprehensively test them out for you – our readers. We all know that a 20 minute test drive isn't enough and it can be so overwhelming, you sometimes forget what you're looking for. Never mind, that's why we are here and this week, it's my pleasure to tell you about the all-new Kia Optima. Since its original launch in 2011, it has enjoyed a stable level of success, but without a doubt this new model will improve sales of the Optima for Kia. Why? This new Optima builds on the highly praised styling and design of its predecessor and adds improved driving capabilities and dynamics. Simply put, it is a bloody good vehicle and one which will prove nearly impossible to ignore.
Over Monday and Tuesday this week we embarked on a drive program from Sydney, through the windy roads of the Royal National Park, along the coastline to Nowra and then back up to Bowral through Kangaroo Valley before returning to Sydney via the freeway. This extensive drive program allowed us to put the Optima through its paces on a variety of roads, in varying conditions. The result, a bunch of very, very impressed motoring journalists.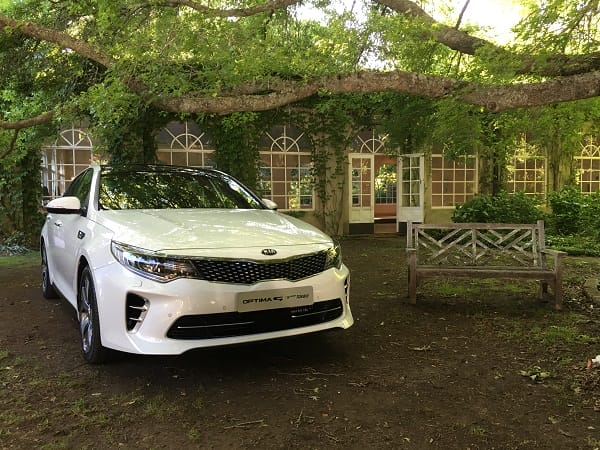 Let's start with the basics. Simplifying the model range from three variants to just two – the entry level Si and the flagship GT – the Optima range aims to focus on providing the highest spec vehicles in their price range, representing true value for money. The all new line-up is bigger too – with the Optima gaining 10mm in length, 25mm in width, 10mm in height and an extra 5L of boot space. It is here I also want to note that the new Si and GT really need to be evaluated as two separate options because there is a big spec difference and price difference between the two variants. Potential buyers will likely not be deciding between the Si or the GT, more likely their search will lead them to one or the other.
So that's how this we will tackle this! Let's start with the base model Si, powered by a 2.4L GDI petrol engine paired with a 6 speed automatic transmission producing 138kW of power @ 6,000rpm and 241Nm of torque @ 4,000rpm. This translates into a vehicle that is solid on the road and delivers consistent and responsive power. I drove the Si on the freeway from Bowral back to Sydney and noticed a few things. There is a little bit of road noise, but certainly nothing heinous. The adaptive cruise control on the new Optima is excellent, it doesn't run away from you and the distance setting is extremely helpful. Worthy of special mention was the fuel consumption which was a measly 5.8L/100km, even in stop/start traffic once we hit Sydney, well below Kia's published 8.3L/100km combined cycle and even the 6.2L/100km extra-urban cycle.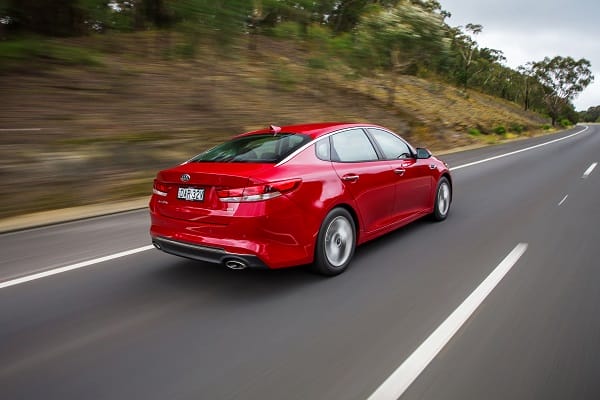 The Si is jam-packed with features you simply don't expect in a base model including one-touch indicators, 2 way electric lumbar support and dual-zone air-conditioning with rear vents. Curiously though, besides the lumbar support, the seat adjustments are manual. There is an abundance of storage with a total of 8 bottle/cup holders and ample centre console. Continuing on with Kia's ever-practical design, the centre dash is divided into two with the display zone at the top and the control zone with all the buttons on the bottom. In the display zone is the 7" colour LCD screen which houses satellite navigation and an audio system with MP3 compatibility, Bluetooth connectivity AM/FM radio with 6 speakers. The steering wheel also features Kia's signature layout which is by far the most user-friendly, practical layout on the market.
The executive level GT builds on this excellent foundation and brings a whole lot more – including a 2.0L turbo GDI engine producing 180kW of power @ 6,000rpm and 350Nm of torque over a wide rpm band, kicking in lower than the previous model. This efficient and powerful engine is paired with a 6 speed automatic. The GT also features rack-mounted steering which is a noticeable difference over the Si making it more direct, providing more feedback to the driver and enhancing the already competent and confident drive of the Optima. The NVH has been considerably reduced, providing an impressively quiet driving experience.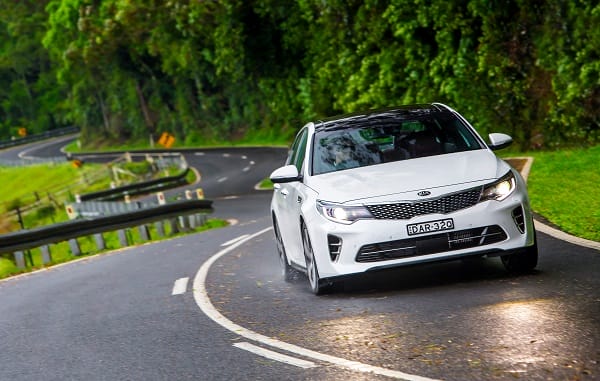 I drove the GT through the windy roads of the Royal National Park and was impressed with how it handled, with very little body roll and it stayed planted firmly even around hairpin corners. The local tuning of the suspension is noticeable and well worth it creating very refined driving experience – thank you Kia! The GT also gets push button start, leather seats in a choice of black or red with contrasting stitching and 8 way power-adjustable front seats with the driver benefiting from 4-way lumbar support and the passenger seat with 2-way lumbar. As the stylish sports sedan, the GT also gets alloy sports pedals and an exterior sports body package.
There are a few other spec upgrades including the audio system which features a 10-speaker Harman/Kardon system, a 8" colour LCD screen, colour instrument cluster for the driver and the new Qi Wireless Charging Technology for compatible phones. The extra-large sunroof is also a very nice feature which I enjoyed driving through the tree canopies.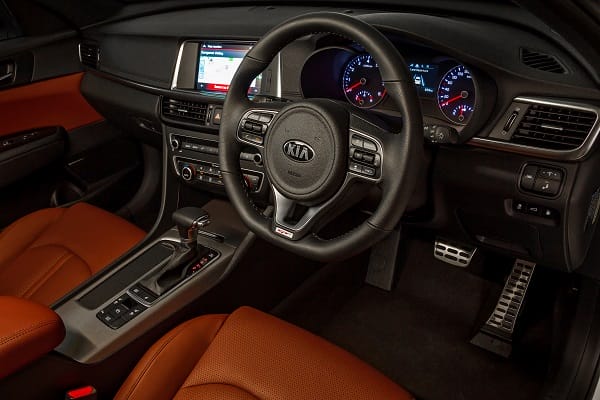 Safety features also are impressive across the range with both variants featuring ABS, ESC, VSM, HAC, ESS, front and rear parking sensors, rear-view camera, auto dimming rear-view mirror, Lane Departure Warning, Autonomous Emergency Braking, automatic headlights and 6 airbags. The executive GT also features Blind Spot Monitoring and Rear Cross Traffic Alert.
Overall, the Optima continues the aerodynamic, svelte styling of its predecessor while improving the driving performance and technical specifications. Competitively priced at $34,490 for the Si and $43,990 for the GT. Kia expects to sell 3,000 units in 2016, with 50% being to fleet buyers as an executive sedan and 50% privately, and I see no issues with them achieving this. It is hard to explain just how impressive this vehicle is, especially with Kia's 7 year unlimited kilometre warranty. I predict the Optima will surprise those who take the time to go and test-drive this vehicle.