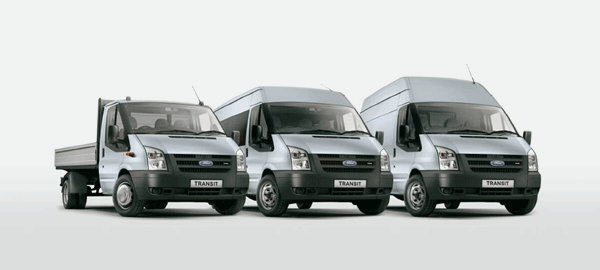 From 2012 the Ford Transit 280S will offer customers excellent fuel economy due to a new 2.2 four-cylinder TDCi
engine to be introduced across the model range. The new 2.2-litre TDCi engine delivers more power and torque, lower fuel consumption and CO2 output for all Transit model variants with no manufacturer's list price increase
This new engine will give customers not only significantly improved fuel consumption rates and lower CO2 emissions but also increases in maximum power and torque.
This new 2.2 TDCi turbo-diesel engine will be fitted to the 2012 Transit range in two states of tune: 92kW / 330Nm (front-wheel drive) and 114kW / 385Nm (rear-wheel drive, where it will replace the current 2.4-litre power unit). These engine performance gains are summarised in the table below:
NEW 2.2 TDCi Engine
FWD
RWD
Maximum Power
92kW (+7kW)
114kW (+11kW)
Maximum Torque
330Nm (+50Nm)
385Nm (+10Nm)
Customers will benefit greatly from these improvements to both fuel economy and CO2 tailpipe emissions. In the case of the Transit 280S, combined-cycle fuel consumption improves by 11 percent to 7.2L/100km with CO2 a class-leading 189g/km.*
The Transit 280S will also match the fuel economy and emissions of the MY2011 Transit 280S ECOnetic, which as a result will no longer be offered.
These performance and efficiency gains will be provided with no increase to the manufacturer's list price.
"I'm certain our Transit customers will welcome the arrival of this new 2.2 TDCi engine and its many benefits," said Bob Graziano, President and CEO of Ford Australia.
"The additional power and torque will make driving more enjoyable and the increased efficiency is sure to make a difference at the bowser."
* Tested to ADR 81/02; combined cycle