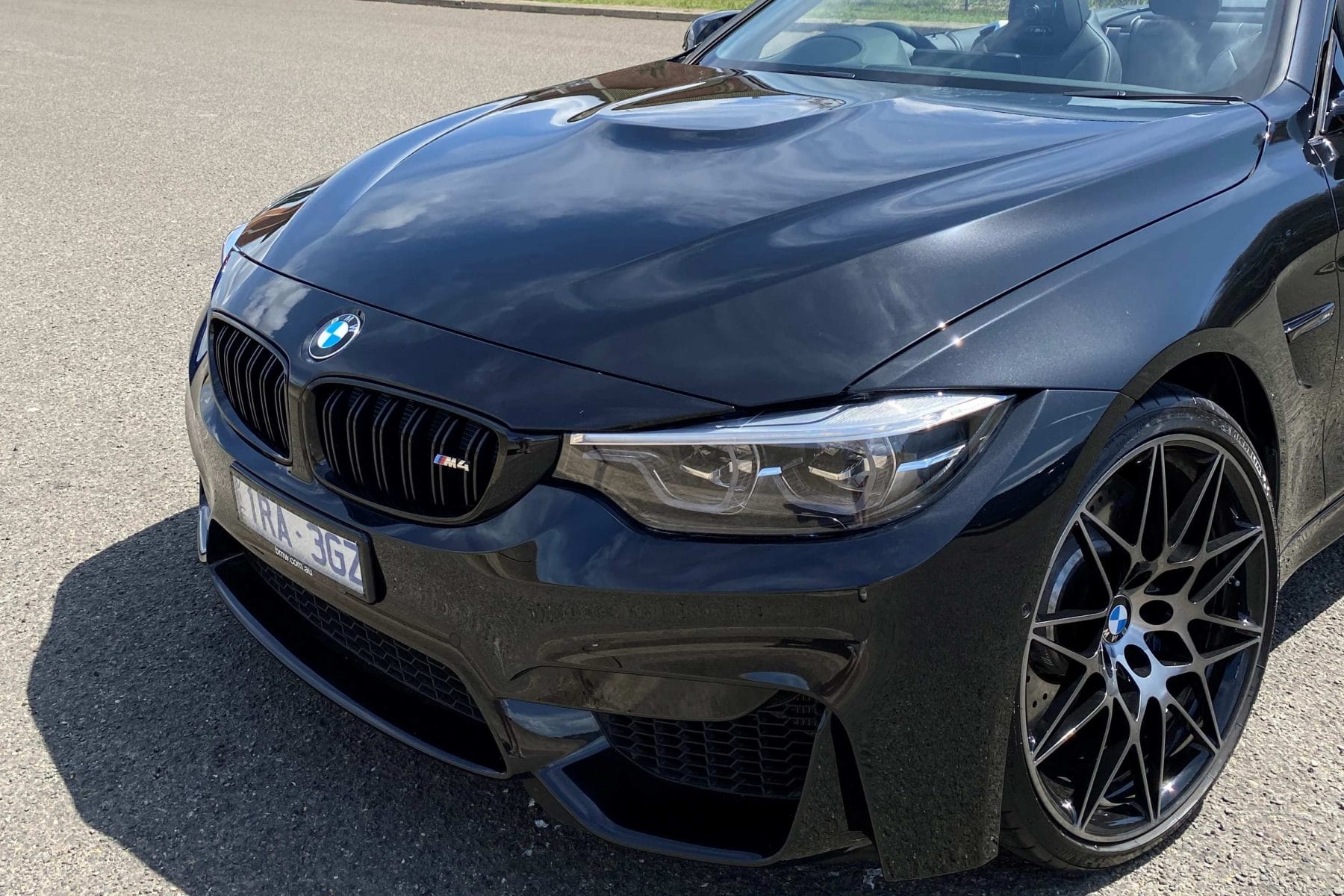 BMW 4 Series convertibles are the hardtop variety. I used to like them very much indeed, but, check out the video. It completely negates the bootspace but you make your own judgements.
Sydney Lord Mayor, Clover Moore, and Sydney State MP, Alex Greenwich took our M4 for Mardi Gras last weekend. Riding on the rear roof cover, Alex and Clover looked like the duck's nuts.
M4 Convertible Outside –
M4 convertible looks similar to the roofed sibling until the party trick button is pressed.
18" wheels are upsized to 20" on Competition models, and all lighting is LED. Some say BMW design is a trifle bland, while other think it is beautiful. I am somewhere in-between.
The front end is dominated by a signature kidney grille, BMW roundel, and headlights that look like crystals in a jewel box.
M4 Convertible Complex Roof –
Is a folding metal affair. When you press the button, the roof stacks one section on top of another, the rear window gracefully slides up in-between them. Meanwhile, the boot has arched backwards. Tthen the roof glides down, landing with a heavy clunk. The boot slams down again, but as this process is happening, you become very aware of the weight.
The boot space is almost entirely taken up with roof. While it makes your ride nice and secure when deployed, weekends away can be a problem. If you want to put anything larger than a 6-pack in the back, you have to press a button on the bootlid. The roof lifts itself out of the way for a moment.
The gubbins of the mechanism are partially visible, and I see lots of bits that are very likely to break. I makes me very nervous indeed.
M4 Convertible Interior –
There are M4 badges everywhere.
Front seats have badges lit from inside with little LEDs. The seats are heated, and have powered adjustment which includes side bolsters.
The centre console houses controls for media and vehicle function. You can change throttle, steering, suspension, and gear changes, as well as inputs for the infotainment. There is voice control, and wireless Apple CarPlay/Android Auto.
Seats are firm but comfortable, and the trim is neat, clean, and precise.
M4 Convertible Driver –
Gets a Heads Up Display, but misses out on such things as active lane control, and active cruise control.
Of course, AEB is present, but I expected more. I expected M4 to fairly bristle with every gadget available to a modern man.
That doesn't seem to matter once you light a fire under the cackling, spitting chunk of metal under the bonnet. The starter button is red, signalling a warning the inexperienced would do well to heed.
M4 Convertible Our Drive
Took us through achingly beautiful countryside.
We climbed down the side of a mountain toward Berowra Waters, and the iconic ferry below. After crossing the inlet, there were more sandstone canyons, delicious switchbacks, and graceful sweeping bends. The view switched between the velvet green and sandstone beige, to wide open blue with a wide ribbon of inky black. Despite the near 40c day, the roof stayed firmly down throughout.
Despite the crumbling road surface, M4 was magnificent. The engine cackled and spat, and the 7-Speed DCT changed well in automatic mode. I chose to use the paddles only when I had to. A
After crossing a narrow wooden bridge, and negotiating more swtichbacks, we were back on the highway. We raised the roof for a little quiet, high-speed, contemplation.
M4 clings to the road, and the ride goes from quite firm, to extremely hard. Gear changes in full sport mode are savage. Once let loose, M4 is a brute, perhaps too brutal.
Left in comfort mode, you can easily do you daily chores, but the apocalyptic acceleration is never far from your right foot.
You don't get as many looks as you might expect, but that's a good thing if you suffer from shyness.
M4 Convertible is Practical,
If you have short friends with no baggage.
180 grand puts a very expensive smile on your dial. It is a nicer drive than her Münchnerin mates, but it isn't perhaps as refined or as elegant as the offerings from Ingolstadt.
A couple could go away on a weekend trip, but their gear would need to be in the back seat if they wanted the roof down.
As in all things,
It is horses for courses. Some prefer a blue and white roundel, but for others, only a 3-pointed star will suffice. Some like 4 rings, and there are those who think something British is the cat's whiskers.
Whatever fetish you want to feed, M4 makes people notice. If you're shy and retiring, move along, there is nothing for you to see here.
Do I like it? Hell yeah.
M4 Convertible Summary:
Price: $181,000 (approx – on road in NSW)
Engine: Twin turbo in-line 6, 331kw/550Nm, 98ron, EURO 6
Suspension: 10mm lower, active, adjustable
Active M Differential
Other convertibles: