This time last year, due to Covid, Audi had no performance cars coming in, let alone a new R8. Since then, R8 joined RS models and the other sport-coded siblings, and make up 20% of Audi sales.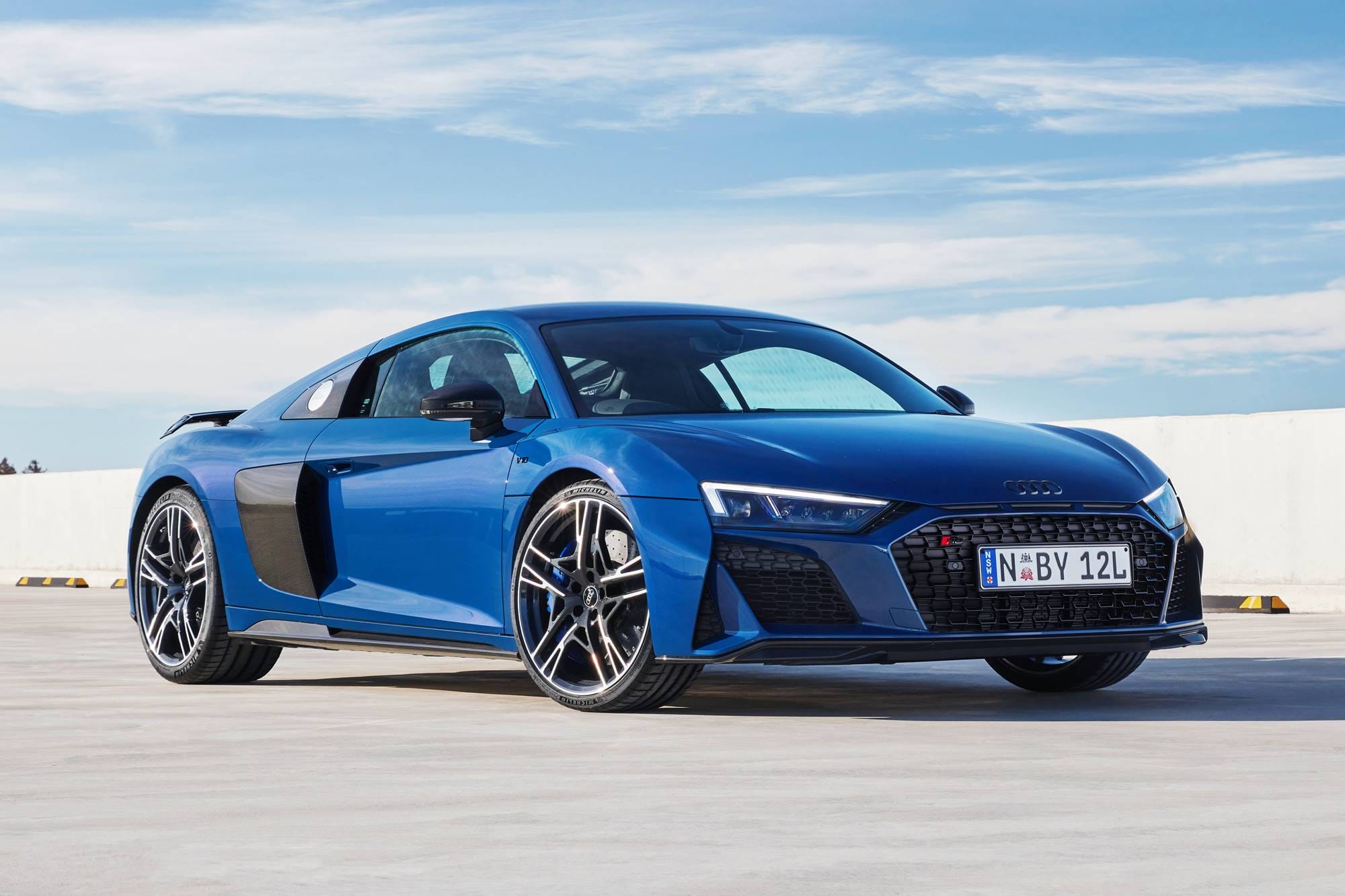 There are 2 R8 models in coupe or sypder, the base model for RWD for $295,000 and $316,500, and the Performance for $395,000 and $416,500.
The engine and drivetrain stars in this sexy Coupe/Spyder quartet.
From 5.2litres, Audi coaxes 397kw/540Nm and 449kw/540Nm respectively. There is no turbo lag, because there is no turbo.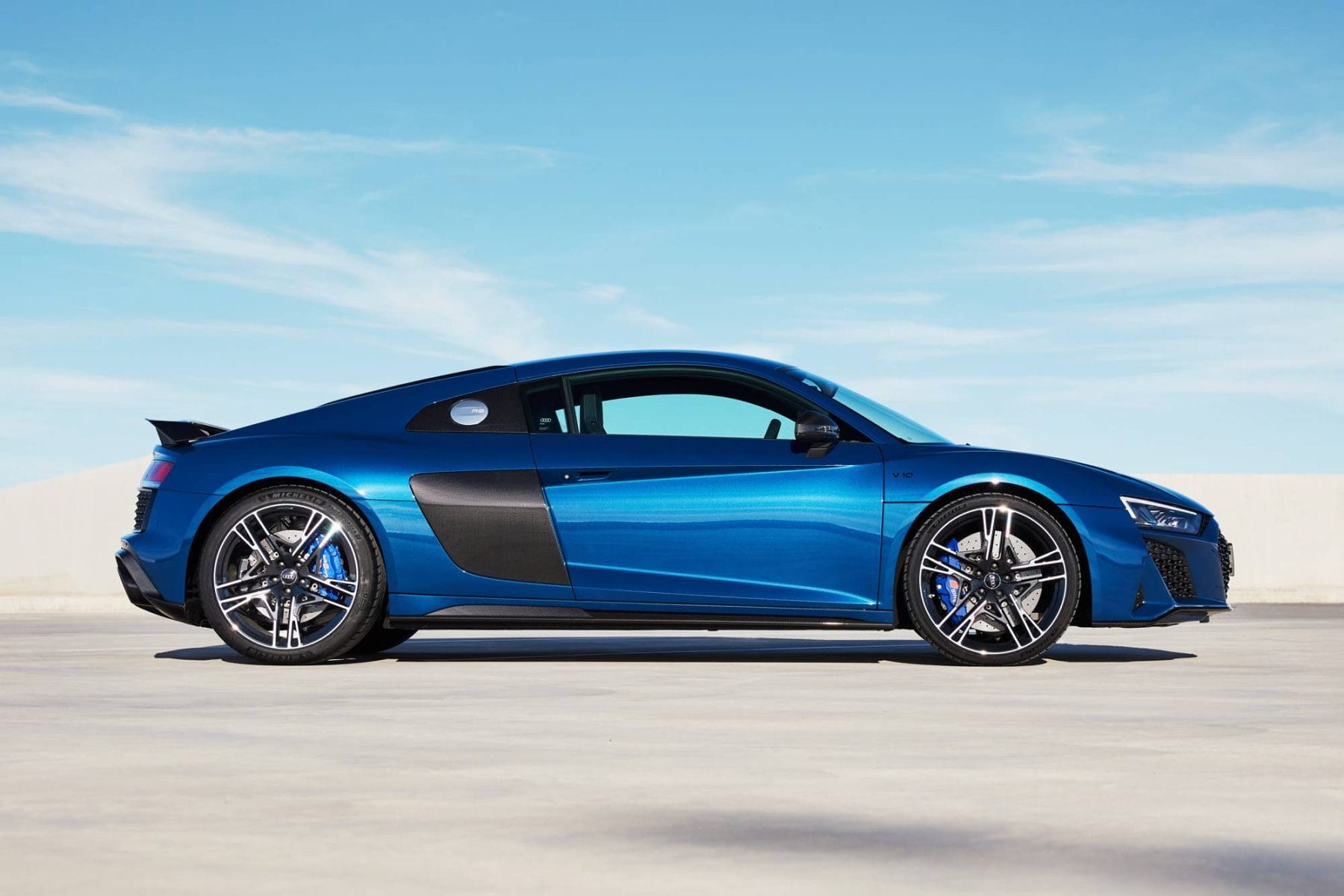 Model
price
engine
power
drive
trans
0-100
L/100k
CO2 g/km
R8

$295,000
V10
397kw

540Nm

rwd
7sp

S-Tronic

3.7
12
280
R8 Spyder
$316,500

V10
397kw

540Nm

rwd
7sp

S-Tronic

3.8
12.2
284
R8 Performance
$395,000

V10
449kw

540Nm

quattro
7sp

S-Tronic

3.2
13.4
314
R8 Performance Spyder
$416,500

V10
449kw

540Nm

quattro
7sp

S-Tronic

3.3
13.4
314
*S-Tronic = Dual Clutch (DSG style) automatic
The V10 is on full display under its glass window, but the metalwork hides even more technology. The frame weighs just 200kg. It combines aluminium and carbon fibre to take the weight to 1,595kg.
Fully automatic headlights combine LEDs and Lasers for a 500m worth of forward view.
There is a family resemblance between R8 and TT, but only if the glance is a quick one.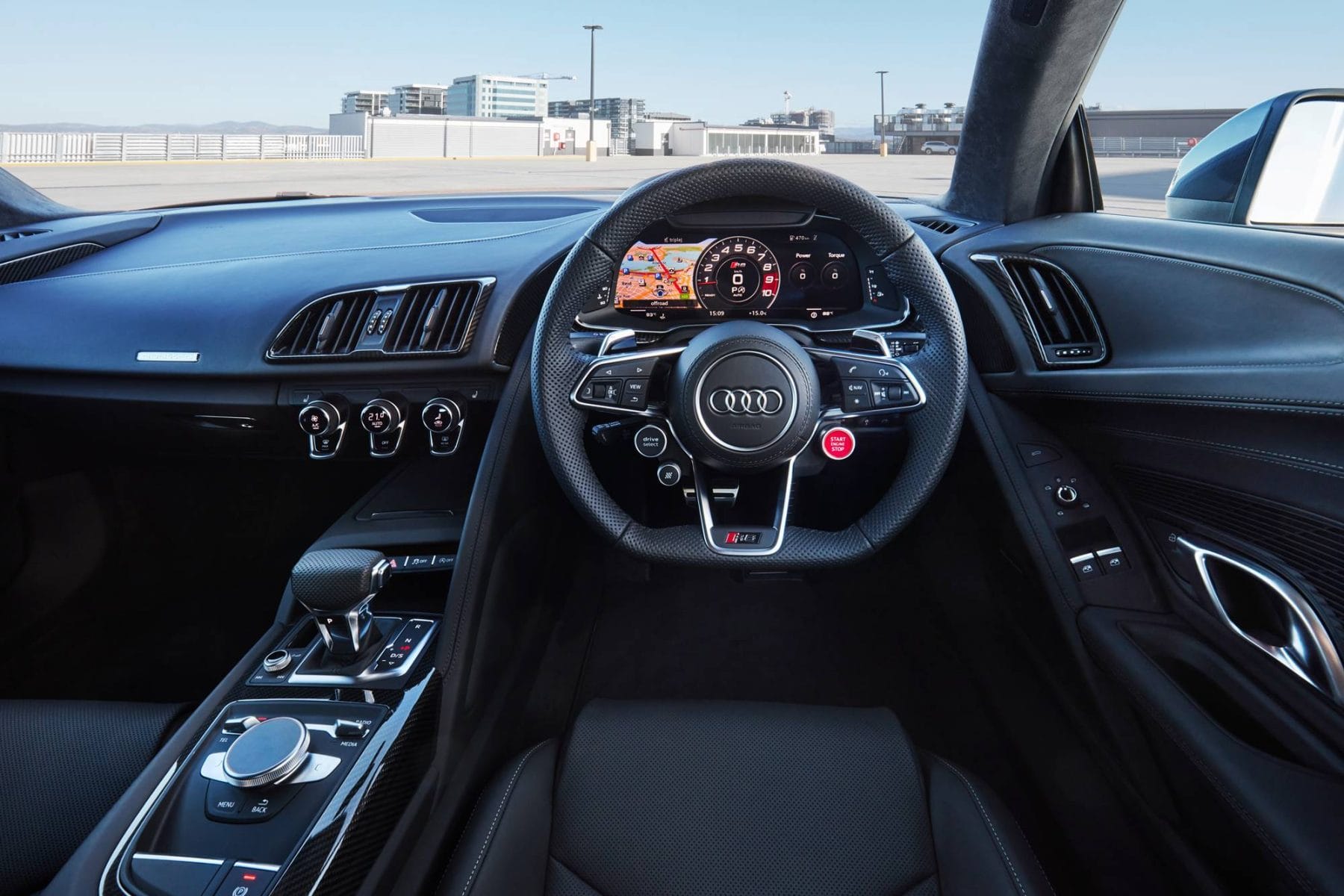 Audi R8 Inside:
The big R8 GT car's interior design is all pleasure. Considering the vast power lurking behind your head, the cabin feels so normal.
The new digital driver's display features a tacho that remains in your peripheral vision as you focus on the track ahead. It flashes red, and the 7speed S-Tronic snaps to the next gear.  The gear lever, centre console, dash and seats, all feel familiar.
It is luxurious as befits a car worth over 400k.
We found the climate controls difficult to fettle if in a rush and are more like TT controls than other Audis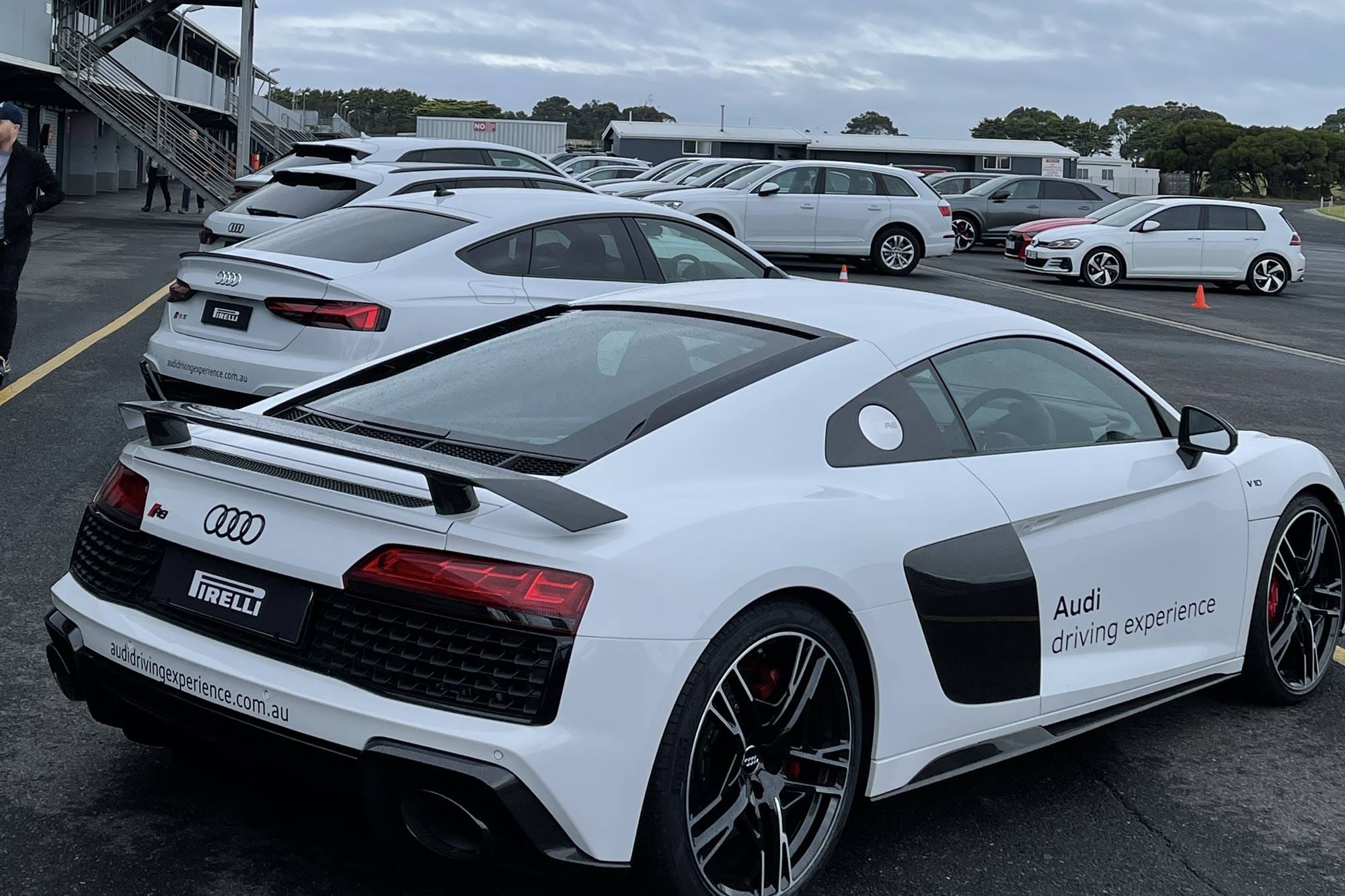 Audi R8 The Drive:
Today's test was a track test, the thing R8 was built for.
Everything about it is sexy, and as track focused as the Audi is, it is every bit the true GT car.
We started with a briefing. The day was periodically damp, and a moist track can be a challenge., Steve Pizzati did his thing, then we were off.
Of the 5 R/RS cars on offer, the R8 sat at the end of the queue.
I entered the cabin with due deference, with the engine already running. I shifted the S-tronic in to drive, then "sport" with a further pull. There was a shift in the R8's personality, as if it wasn't angry enough as it was.
We moved forward, slowly at first.
I followed the instructor in an identical R8, something you'll never see anywhere else. The duo of V10s was hurtling along the 4.2km course at more than twice street limit. A single slip at 220kph could mean disaster. As we came in to corners, the two-way cackled with calm and precise directions that were followed to the letter.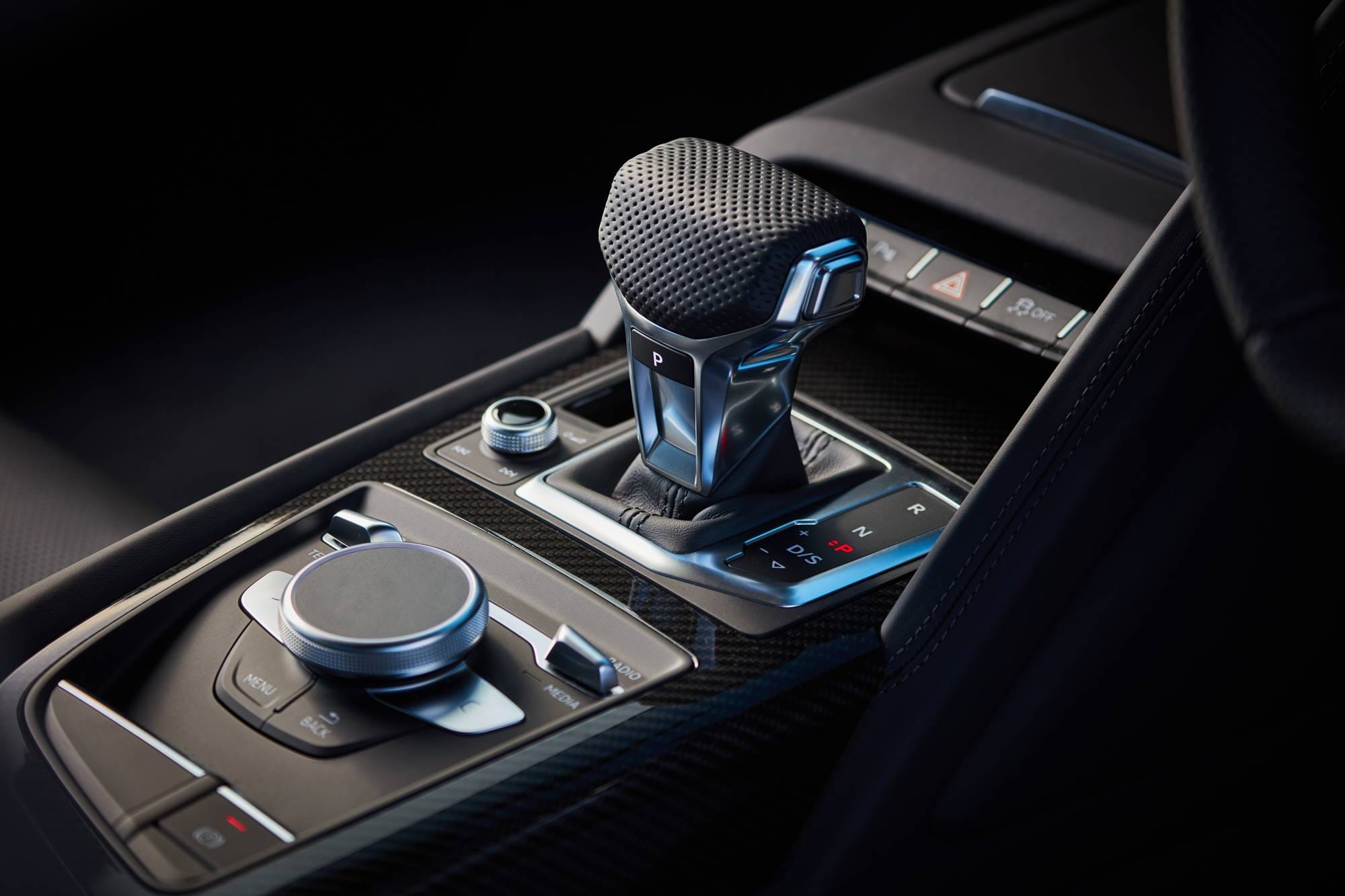 Since braking at these stratospheric speeds in no way resembles stopping at traffic lights, I was cautious enough to be calmly enthusiastic. A light dab of brake causes the body to shift and shimmy. The engine screams, and tyres squirm and scramble for grip on the greasy tarmac. Then, you enter your first corner, hit your first apex, you rocket out the other side. As you hit the gas, the double clutch physically selects a nice low gear, causing the revs to rise to, and the QUATTRO to hunker down.
You're no longer driving a car. Instead, you're piloting your soul through time and space.
You're moving in a way that is independent of thought or motion. The constant cackle of two-way chatter barely registers. Its instruction is transmitted through your hands to mother earth. Your aware of the massive forces exerted as your body changes direction, and of the cacophonic soundtrack, but the spell is broken in an instant.
You've completed 6×4.2km laps and you're cooling the car down. I had driven at around 230kph for the first time in my life. It was the fastest this human had gone, while at the wheel.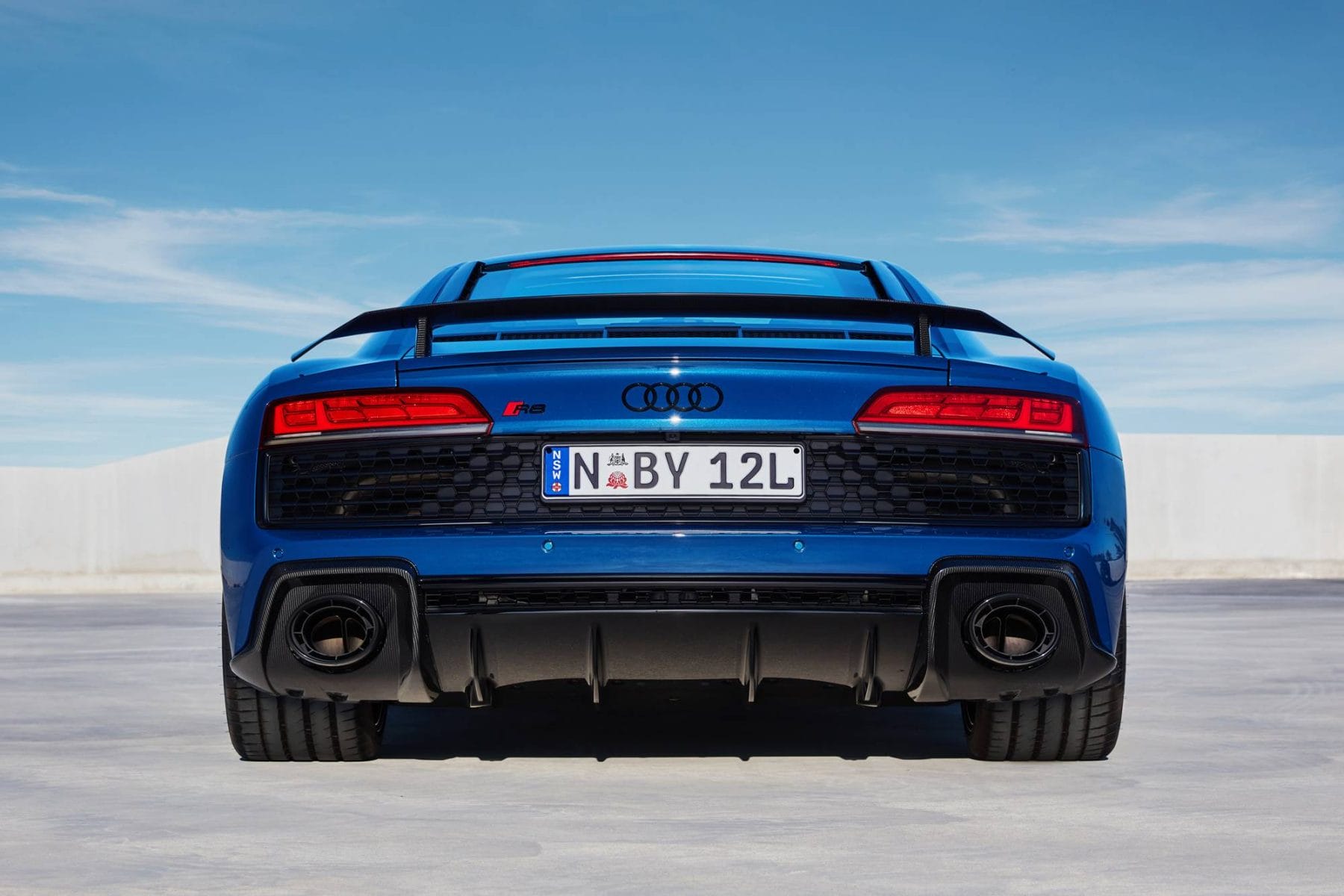 You coast in to pit lane, stop, and put the S-tronic in to park. No brakes are used lest they lock shut as they cool.
It is like a drug, you could drive for a thousand years, you will never feel this again.
Audi R8 Performance QUATTRO Price: $395,000 (Spyder $416,500)
Audi Test Track Drive Day TT RS, RS5, RS6, RS Q8 and R8