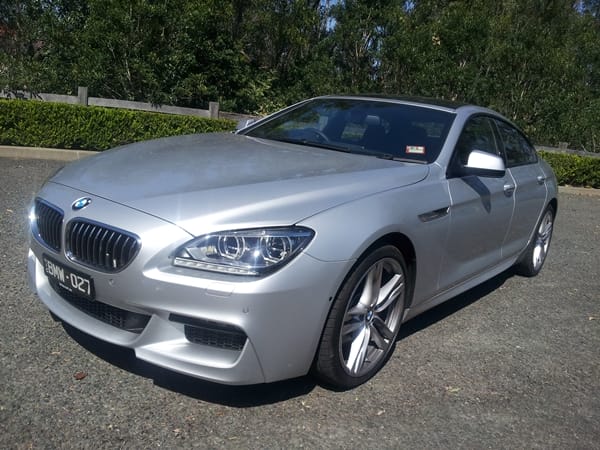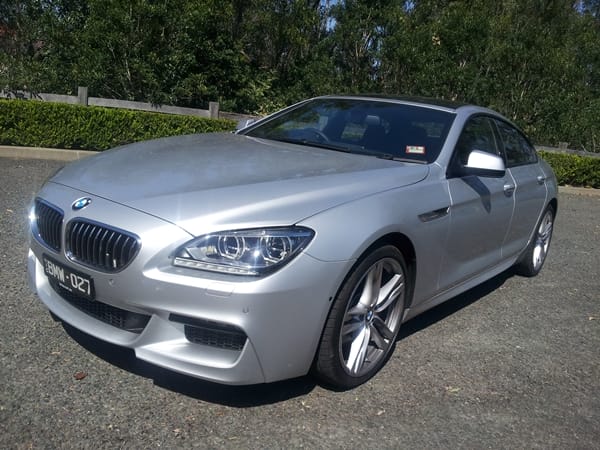 The BMW 640d Gran Coupé is an enigma in an at times bland automotive world. The BMW 640d Gran Coupé is both the personification of form over function and at other times function over form.
Designed as a four door Coupé the 640d is beautifully stylish with long elegant lines. However that very design almost ensures that as a large luxury tourer it really is only suitable for two occupants.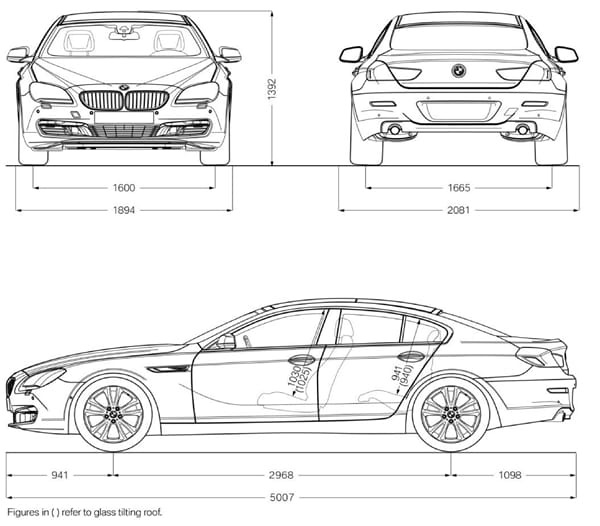 The overall length is a touch over 5m with a wheelbase of a touch under 3.0m at 2968mm. Width is about 1.9m and height is just under 1.4m. So the proportions gives the 640d a long lean, wide stance combined with the Coupé look. There is no denying that this is a very attractive vehicle with a low roofline that flows seamlessly to the rear.
Externally the BMW 640d features the optional Adaptive LED Headlights, the light rings are slightly flat at the top and bottom. High and low beams are generated with the LED units that are positioned on horizontal ribs across each of the light rings, projecting their light on the reflectors facing them. Also featured are, front fog lights, frameless door windows, flared wheel arches and 5 dual spoke alloys.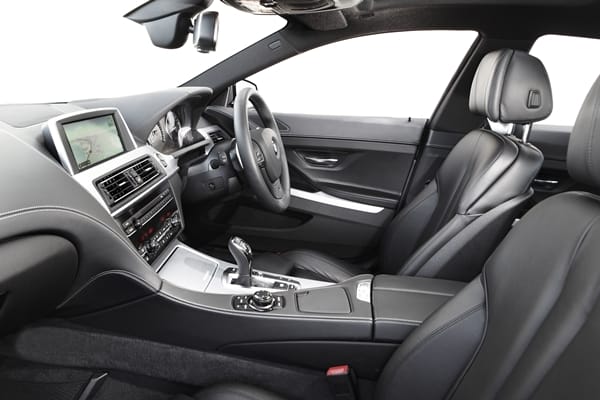 Open the driver's door and you step into a cocoon style cockpit where everything is oriented towards driving pleasure. The driver's seat is as you would expect incredibly comfortable. Multi electrical adjustments and a height and reach electronically adjustable steering wheel mean that any driver can find a comfortable driving position. There is also a handy heads up display for the driver. The front passenger is likewise looked after with very comfortable electrically adjustable seat.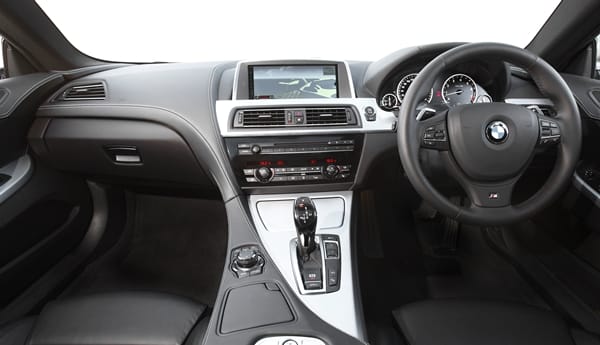 The M leather steering wheel is a beauty. Thick and fitting snugly to hand it is smaller than you might imagine but provides superb feedback and feel that adapts to the current speed. It is without doubt one of my favourites.
In front of the driver lies a four dial LED instrument cluster that changes not only colour but functionality when you select different driving modes. For example the colour is a pacifying blue in ECO PRO mode , a burgundy like colour (don't blame me if that isn't the right definition, I am a bloke after all) in comfort mode and a bright red in Sport and Sport+ mode. The main dials also change functionality i.e. in either of the sport modes the left dial becomes a digital speed reading and the right dial becomes a modified tachometer.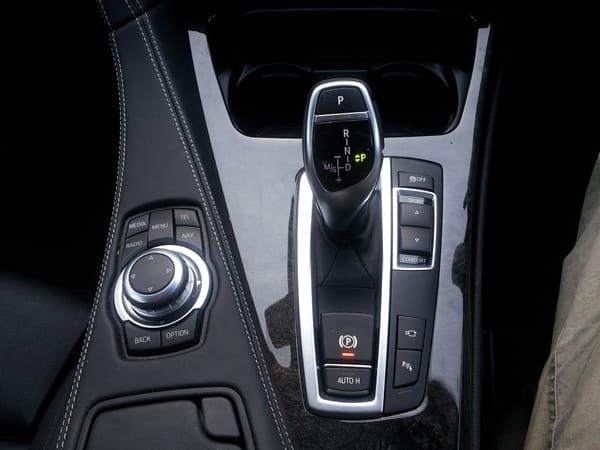 The standard iDrive control system includes an on-board monitor with an exclusive flat-screen design. In combination with the BMW Professional navigation system, the BMW Series 640d Gran Coupe is equipped with a 10.2-inch display, that is one of the better ones anywhere. I have mentioned it before and will again, I am a big fan of the simplicity and intuitiveness of the iDrive system.
Unfortunately there is limited storage space. The door sills will hold smaller items, no drink bottles though. The centre console has two cup holders and a lockable centre storage bin that is handy but compromised by the phone holder. The glove box is adequate. One thing I do like is the small area in the door handle that is ideal for sitting the key fob in.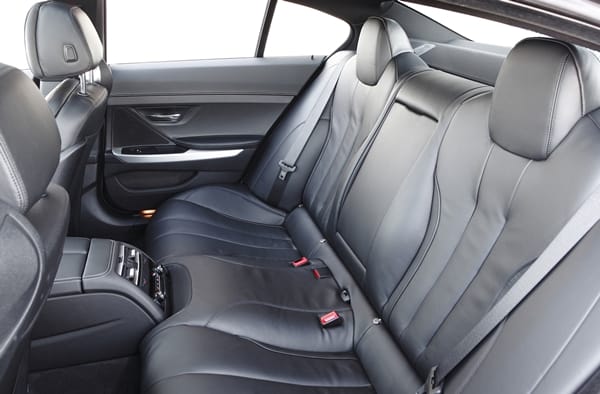 The rear seat area is problematic. The centre console extends into the rear passenger compartment so essentially the 640d is a four seater that has an optional +1 arrangement. The rear seats are comfortable, however for taller passengers entry is difficult, there is very little knee room if the front seats are back and head room is crowded. While visibility from the rear is good, passengers may feel a little crammed. That is bewildering as the vehicle length and wheelbase of the 640d should usually translate to plenty of rear leg room.
The boot has a volume of 460 litres, and can accommodate up to three 46-inch golf bags which I assume is important. The volume can be expanded up to 1,265 litres thanks to the through-loading system and the folding rear seatbacks.
The BMW 640d Gran Coupé is paced full of comfort features like 4 zone climate controlled air conditioning, soft self closing doors, sunroof, quality audio system etc. There are way too many features to list here and the brochure is best for that. Unusually for a European prestige vehicle the M Sport package is a no charge option. That being the case buyers should grab it.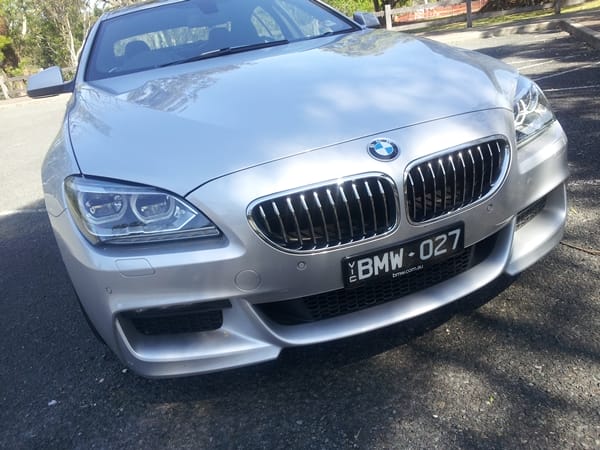 Driver assistance systems and mobile services available with BMW Connected Drive include technology such as the BMW Head-Up Display with full-colour graphics, the parking assistant, Surround View, Active Cruise Control with the Stop & Go function, Lane Departure Warning System, Speed Limit Info, High-Beam Assistant and BMW Night Vision with pedestrian warning.
As you would expect safety is a key feature with standard airbags for driver and front passenger, side airbags for driver and front passenger, head airbags for front and rear seats, belt latch tensioner and belt force limiter integrated in the front seats, crash-activated head restraints at the front, crash sensors, run flat tyres, Tyre Defect Indicator. Driving Stability Systems (DSC) included as standard are : ABS, ASC and DTC (Dynamic Traction Control), CBC (Cornering Brake Control), DBC (Dynamic Brake Control), Dry Braking function, Fading Compensation, Start-Off Assistant, Dynamic Damper Control
Also included on the test vehicle were Adaptive Headlights with cornering lights, variable light distribution and adaptive headlight range control, High-Beam Assistant, Park Distance Control, rear-view camera, Surround View incl. Top View and Side View, BMW Night Vision with pedestrian recognition, Head-Up Display, Active Cruise Control with Stop & Go function, rear-end collision warning with braking function, Lane Change Warning, Lane Departure Warning, Speed Limit Info, Automatic/Advanced Emergency Call .
Like all BMW diesel engines the 640d 's straight six engine is smooth, powerful and delivers an uninterrupted surge of power while maintaining incredible economy. The 3-litre all-aluminium engine boasts a maximum power output of 230 kW @ 4,400rpm and delivers its maximum torque of 630 Nm from as low as 1,500 rpm. This power translates to a 0-100 kph sprint time of just 5.4 seconds and an electronically governed top speed of 250kmh.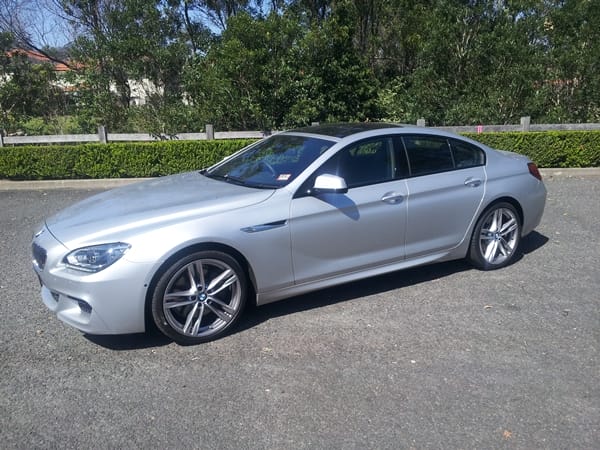 This awesome engine delivers all this power through an eight-speed Sport automatic transmission with Auto Start Stop function. The transmission allows a choice of driving experience ranging from ECO PRO Mode through comfort, sport and sport +. Each has very different and unique characteristics and changes the demeanour of the vehicle accordingly.
Average fuel consumption ranges from 5.6L/100K on highway to about 9.0 L/100K around town. CO2 emission levels are 148 grams per kilometre. Given a vehicle kerb weight of 1800 odd kg then these performance and fuel economy figures are stunning.
BMW vehicles are about luxury, prestige but above all else driving dynamics. The 640d Gran Coupé continues this tradition. Around town in Comfort mode the 604d provides a combination of economy and handling that is almost spot on. I seriously don't know why anyone would choose Economy mode as the Comfort mode is economical enough without compromising fun.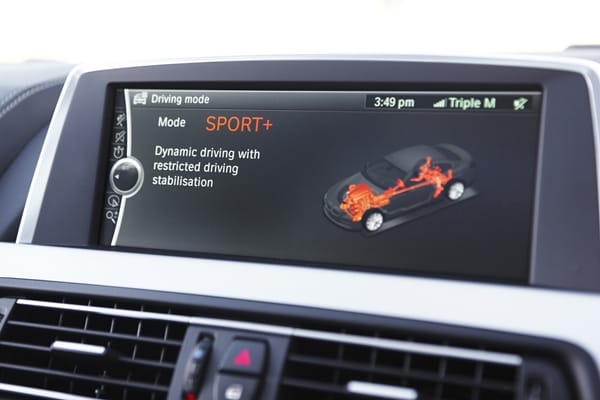 However switch the mode to Sport or even Sport+ if you are confident and then whole characteristic of the vehicle changes. Here you have a super saloon that has the performance and dynamic handling you would expect of a $200,000+ vehicle.
It is fast, smooth, sticks like superglue around sweeping corners, changes direction without question and even the run flat tyres aren't intrusive. In short it displays the traditional BMW values and is a bundle of fun to drive.
Like a lot of the prestige BMW vehicles the 640d Gran Coupé is designed for a certain niche market. It has style to spare, a combination of handling, fuel economy and performance that is hard to match and an indefinable quality that speaks volumes to casual observers. It is not without faults however prospective buyers probably won't be deterred by those.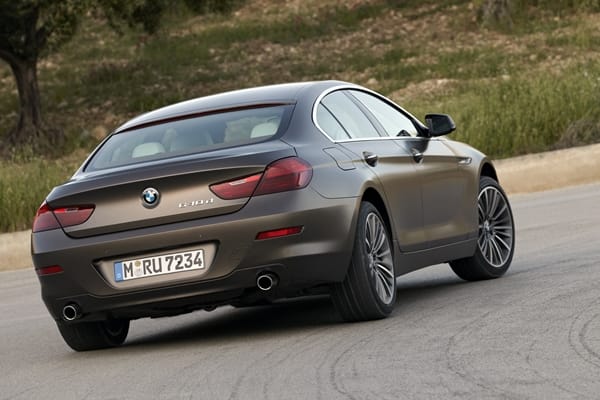 What is good:
• Performance and fuel economy balance
• Build Quality
• Style
What is not so good:
• Rear seat room
• Lack of storage internally
• Nearly $40,000 in taxes
Model BMW 640d Gran Coupé
Model Price $203,740 RDAP
Engine 3.0L straight six Diesel
Drivetrain RWD 8 speed sport automatic
Power 230 Kw @ 4,400 rpm
Torque 630 Nm @ 1,500 rpm
Safety TBA
CO2 Emissions 149 g/km
Green Vehicle Rating 3 1/2 Star
Economy (ADR comb) 5.7L/100km
Tow Capacity – N/A
Tow Ball Rating N/A
Servicing $Not Supplied
Warranty 3yr with full roadside assist
Overall AnyAuto Rating 88/100
Behind the Wheel 9
Comfort 9
Equipment 9
Performance 10
Ride & Handling 9
Practicality 8
Fit for Purpose 7
Build Quality 10
Environment 9
Value for Money 8